One of the things I love to do when flying across the United States is to browse the SkyMall catalogue. It was in the seat pocket in front of me on my United Airlines flight from LA to Orlando this week (thanks for the wide United Plus seat by the way. No I'm not offended that you thought my bottom needed it) and I just had to show you some of the more stupid stuff.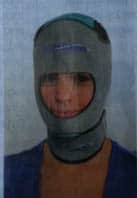 First up is the Face Trainer. This picture is what got me started on my idea for this blog – a showcase of the ridiculous.
You put this baby on and start working your face muscles out. No creams no surgery, they promise. Just 10 minutes a day and your face will get fit. "Participants received a 71% reduction in sagging."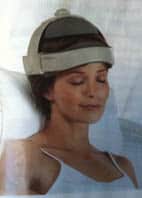 Ok, sticking with the head, check out this massager. I like the concept, but outside the privacy of your own home you'd look like you were recovering from brain surgery. It has heat, vibration, magnetic therapy and music going on and is a steal at just US$199.99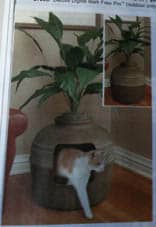 I do love the pet stuff. They have some quite cool things actually, I'll give them that. But for the purposes of this mockery I chose this secret kitty litter hidden discretely in the pot plant.
No word on how you get your cat to pee in the dark, but this would look perfect in any home.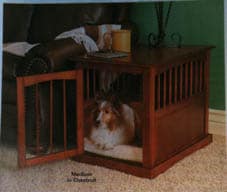 Or how about the dog bed? This is created in a fabulous walnut veneer to "blend beautifully with your decor". It also comes in 2 sizes and has a latch so you shut Lassie in if you fancy.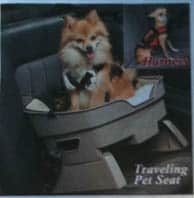 And then there's this doggy car seat and harness. The whole family can now be strapped in so you can crash the car to your heart's content.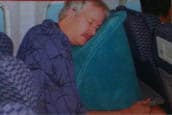 I wonder if this guy gets grief when he goes out. I'd be keen to try this airplane pillow. It does look comfy for upright sleeping, but the dent to my reputation would be irreparable. There is no way people aren't going to conduct tours past this guy's seat.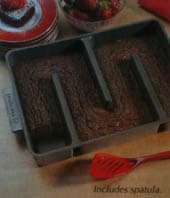 This is probably the best thing to pay real money for on my Ridiculous list: the brownie baking tray. Designed so that everyone gets a crunchy edge piece. If you like edges that is. Bummer if you don't.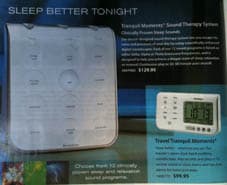 And finally, I have sometimes wistfully thought about rigging up sprinkler systems on the roof above my bedroom so I can turn rain on whenever I want to be lulled to sleep. This would be cheaper. For $129.95 I can have "sound therapy" that includes a thunder storm, white noise, ocean surf, rain, summer night, rejuvenate, marching band (not really). But I think I'd want it to shut up after 5 minutes.
If these things look like a bit of you, you can order online at SkyMall.com. But you have to promise to comment below if you do!!