I packed in to the media scrum today in a sneaky building on Auckland's Fanshawe street affectionately named by Air NZ as Hangar 9 for the big reveal of the "ground breaking" new seats. This building has been hiding a full scale replica of the 777-300 cabin and for the last 3 years Ed Sims and a team of designers from the USA and NZ have collaborated, argued, tweaked and tested 30 variations of new aircraft seats – making them out of polystyrene and cardboard – until they finally settled on one to make out of proper seat stuff. They even used actors to fully test them out and told them to play specific roles (business man, backpacker, small family) and made them sit/lie in them for up to 6 hours at a time.
From April 2010 you will be able to book your bottom into one of the new seats for Premium Economy and Economy for travel from November between Auckland and Los Angeles in the first instance. The lie flat Business beds are being enhanced (read comfier mattresses, bigger TV screens, more stowage and improved reading lighting) and the service is being vamped up, but the other classes are a big change.
Let's start with Economy: This mum and daughter were hired to show us how to sit in the new seats. Drum roll please….. here is the new 'Skycouch'. This totally new concept for economy seats has the ability to hoist the footrests up to create one giant mattress so little girls like this one can lie down. Or, if you have said your prayers and find yourself in a row of 3 ON YOUR OWN, you can now whip up those annoying arm rests, pull up the foot mattress and create your own lie-flat bed. For naughty girls, this is the 'spooning' seat.
There will be 11 of these rows. But that's not all. Everyone will have bigger TV screens, a 'sleep pillow' that can slip over your winged headrest so no more dropping it on the floor. There's a cup holder and PC, USB and iPod ports. Plus every passenger will get an eye-mask with their pillow and blankie so as not to be affected by the new 'mood lighting'.
But wait… no longer will there be a one-stop meal service then ni-night, it's now dine-on-demand. How cool is that? This is a world first in the airline industry. You can order your meal from your own TV screen and with new ovens they can whip up crispy bacon and eggs and do your steak how you like it in Premium and Business class or tapas and pizza grazing throughout the night. No more cluttered trays with the whole shebang on it all together and no where to put your wine glass. Snacks on demand is the big new feature in between your meals and all ordered from your on-screen menu. (When the crew get their rest was not mentioned, they will be busy…)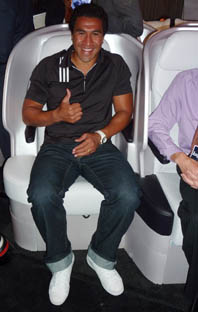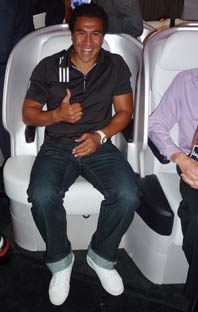 Premium Economy: this new 'Spaceseat' was unveiled today with Mils Muliaina and Sarah Ulmer sitting quietly in the show room. It has a hard shell around it so the guy in front can't lie back on your lap any more. They'll be configured in a 2-2-2 layout so most will have aisle access. Plus you get a cute foot cushion (which Ed Sims is expecting to be regularly stolen, although I was eyeing it up and you'd need a rather large cabin bag or very loose dress). The Otto (short for ottoman) is a wee bean bag that you can shove your feet onto or squish them into instead of the old rigid footrest. Plus Premium has all the aforementioned Economy trimmings like power ports, larger screens, more storage…
They'll also be treated a little more like Business passengers with a cocktail on arrival and the ability to swing your legs around to dine with your companion on a little shared table. Again, food on demand, etc, etc.
New look cabin: we've already heard and seen (check out my previous blog here) the bright new Air New Zealand uniforms and there was some chilling speculation that the new cabins will be the same hot pink and teal blue. But no. They've gone for "ink purple and chalk". Now chalk could mean the light blue that I used to smudge on my eyes as a kid to look grown up, but I can assure you, having sat upon it today, it is off-white and frankly very elegant.
Well done Air New Zealand. You made me proud to be a kiwi today.