Indochina is made up of Vietnam, Cambodia and Laos and this blog (while quite long!) covers some very cool highlights of the region – and some inside tips you'll want to have your camera and taste buds on standby for…
If you haven't been here before, a great way to see this part of the world is on a tour. If you took, say, this 15-day Highlights of Indochina Tour, the organisational palaver of where to stay and how to get around is done for you. You'll still have plenty of free time to beetle off and do your own thing. You also get excellent guides to give you the insiders low-down.
Vietnam Highlights:
• When in Hoi An, visit Miss Ly's Cafeteria for their divine wontons and Cau Lao flat noodles. Oh and you've got to try Pho (pronounced Fur) – a local soup made with chicken, rice noodles and garnished with fresh basil, lime and bean sprouts. If travelling and sampling the exciting tastes of local food tickles your tastebuds, try a cooking class (you can find them everywhere). For Vietnam's answer to Gordon Ramsey visit the Hai Café in Hoi An! He's not quite as fierce but certainly forceful in the kitchen – and shows you some beautiful Vietnamese dishes which you then you get to gorge on after your lesson.
• Halong Bay in rain or shine is just stunning. Doing it as an overnight trip, not just a day tour, is recommended as it's at least four hours from Hanoi and the experience of staying on a junk boat for the night is absolutely worth it.
• If you're after a tailored outfit, Hoi An is the place. They have fabulous (and I mean fabulous) tailors here, who in the space of 24 hours will rustle you up a gorgeous number. Just take a picture in and say 'I want that one' and before you know it, they will have taken your measurements and you'll have a new ensemble in no time. 'Yaly Couture' comes highly recommended.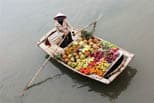 Cambodia highlights:
• Head to Phnom Penh if you are interested in the amazing and sad history of Cambodia's Khmer Rouge rule.  Places of note are: Tuol Sleng detention center and Choeung Ek, one of the infamous "killing fields".  While sad these places are also full of hope and a testament to human endurance and well worth the visit.  Both places offer guided tours conducted by locals who suffered through the regime.  See both in one day, using a tuk tuk.
• Get a three-day pass to see the amazing sites of Angkor Wat and surrounding temple complexes in the busy town of Siem Riep.  If you have time, take a sunrise tour of Angkor Wat/Angkor Thom. Look out for Ta Prohm (used in Lara Croft movies), and the faces of the Bayon Temple at Angkor Thom. The best way to see them in a day is to hire a tuk tuk and walk in between the temples where the local children will delight in testing their history/geography skills with you! At night head to the centre of Siem Reap to try the street food and music. With dishes as low as $1 for amazing food it's an opportunity you cant miss!
• If you are looking for some R&R, but still with great night atmosphere head to Sihanoukville in the south of Cambodia. Idyllic beaches, great restaurants and fantastic scenery. Great for relaxing after busy Phnom Penh. Jump on a bike and head out to the more distant, idyllic Otres Beach and try the cheap and amazing seafood BBQ at night.  If you've had a few too many tipples on the beach the night before head over the infamous Monkey Republic. The Heartstopper breakfast will sort you right out!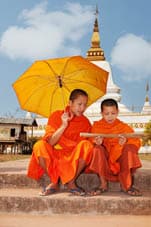 Laos Highlights:

• Luang Prabang during Laos New Year is great fun.  Street parades, flour throwing and water fights galore. But if you can't head there in New Year, Luang Prabang is still worth the trip. Charter a long boat for a day trip to the Kuang Si waterfalls. Watch the locals compete in somersault competitions, or climb up to the top of the highest waterfall for a spectacular view.  Luang Prabang's night market is a sight to behold and for $3, all you can eat side street BBQ food is well worth a visit!
• Alternatively use Luang Prabang as a stop off point and head to up the Nam Ou River to the relaxing villages of Nong Kiaow and Muang Ngoi.  Muang Ngoi is the more noteworthy of the two, with friendly locals, great cheap food and accommodation and fantastic scenery.
• If there's one place everyone heads to in Laos, it's the infamous Vang Vieng known for tubing, swings, slides and ziplines – this really is a grown ups playground. Hire a push bike or scooter for the day and visit the numerous caves and waterfalls, along with the beautiful Blue Lagoon.
• Beautiful scenery is one of the main highlights of Laos, and there is no better way to see this than to head down to Pakse and hire a scooter to ride around the Bolaven Plateau.  A three day trip will take you around small villages, dirt tracks and numerous stunning waterfalls.  You'll be enchanted by the sunset at Tad Lo waterfall, (just one of the countless waterfalls along the way), surprised by the overwhelming friendliness of the locals, delighted by the children waving at you from every home and road along the way and stunned by the amazing scenery at every point in the journey.
**United Travel and Singapore Airlines have teamed up to provide two awesome Indochina packages. Click here for details on Highlights of Indochina and Taste of Vietnam tours. Flights are ex Auckland (or Wellington via Auckland). Accommodation and some meals are included, domestic flights and transport is all taken care of, as well as your entrance fees. You'll also get a local guide and an expert Western tour leader.
Hot tips and recommendations were expertly provided by intrepid travellers Nicola Spink and Laura Barker.