Auckland Scene with Luke Oram: For those of us hanging on to the last remnants of a dying summer, the barbeque is still far from being oiled down and retired. There's a few more lazy afternoons to be squeezed out of this temperate purgatory, if you ask me.
And none of this hauling the brazier down to the school playground bollicks, mind you. I'm talking about a proper, decent kiwi outing. Follow in the footsteps of your ancestors: whip off to the Piha RSA for a few pints and some good home-cooked kitchen fare (quick tip: remove your hat, or you have to buy everyone a round. As far as I know, this is written into their charter – either that, or I got well suckered.)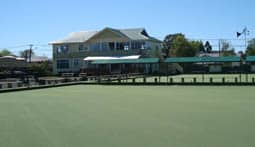 Or, you could hit the bowls. I'm dead serious. It seems like there is a burgeoning scene of gen-Y's who are bringing back the activity once reserved for the blue-rinse sector. Lawn Bowls is actually a ripping good time. We organized a crew of friends a few weeks ago and descended on the hallowed grounds of the Epsom Bowls Club.
If you're not sporty, let the $4 pints be your draw-card. Cheapest top-shelf in Auckland too.
Geoff, the club manager and all-round good bugger, personally fired up the barbie for us, and proceeded to split us into mixed triples for a couple of no-mercy rounds of dominating the kitty and firing it up the green's back end. God, I don't know. The Herald should probably look elsewhere for their sports writer.
You know, we're at the top of the table when it comes to international lawn bowls title holders. Next time you're after a good idea for entertaining a posse, put down the Twister and see Geoff at Epsom Bowls. He'll see you right.
Epsom Bowls, 77 The Drive, Epsom www.epsombowls.co.nz