InterCity just sent through this info on their new 'hop on hop off' trips to make exploring New Zealand so so easy. Especially if you're planning to get around during Rugby World Cup time.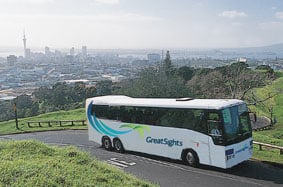 The new flexitrips.co.nz combines InterCity's national coach network plus selected sightseeing tours and cruises operated by GreatSights New Zealand, Fullers GreatSights Bay of Islands and the Interislander ferry.
"InterCity flexitrips provides international visitors with a simple and easy way to explore all that our country has to offer, without having the hassle of driving or the expense of today's high petrol prices." says InterCity Group's General Manager of Marketing and Online Sales Daniel Rode. "InterCity flexitrips is simple to use and gives travellers the freedom and flexibility to explore New Zealand at their own pace."
Starting from NZ$156 for 5 trips anywhere across the country within a 12 month period, InterCity flexitrip passes are sold in multiples of 5, 10, 15, 20, 25 and 30 trips making them ideal for independent travellers.
Trips are based on individual journeys, with each time the traveller boards a new coach counting as a trip. Itineraries can remain flexible with coach amendments permitted up to 2hrs prior to departure without penalty.
InterCity flexitrips itineraries can be self managed online at flexitrips.co.nz or through over 400 retail agents nationwide including the i-SITE visitor information centres, backpackers hostels and other accommodation providers.