Off the highways and by-ways of rural New Zealand are all sorts of amazing little gems to pop into for a homemade scone and a cucumber sandwich. One such gem is a unique high tea experience in Hawkes Bay.
I'm staying in Hawkes Bay for a couple of weeks, so it was decided that a Ladies Who Lunch-Alot was required in the famous homestead of Oruawharo in Takapau.
Getting to Oruawharo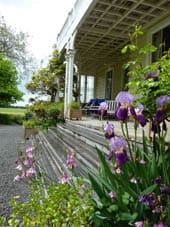 From Havelock North we set off an hour before we were due for lunch, taking the quickest route along State Highway 2. This well-maintained road offers a direct path, allowing you to cover the distance in a timely manner. Prepare your GPS or have a reliable map handy for navigation, ensuring a smooth and hassle-free journey.
As you venture along State Highway 2, be prepared to feast your eyes on the breathtaking landscapes that adorn the Hawkes Bay region. You can duck and weave too through surrounding farmlands, popping out at Waipawa for a nosey through some antique shops. Keep your camera ready to capture the beauty that unfolds around every turn.
History of Oruawharo
Oruawharo Homestead is one of New Zealand's treasures. It carries with it a rich history that adds depth and character to its grandeur.
Built in 1868, this remarkable homestead stands as a testament to the region's heritage and the stories of the people who shaped it.
Originally built using native timber such as matai, totara, and rimu, Oruawharo Homestead was a product of the Victorian and Edwardian eras, reflecting the architectural styles of the time. It served as a pivotal location for the gentry of that era, offering a luxurious retreat amidst the scenic landscapes of the surrounding Oruawharo station.
Throughout its history, Oruawharo Homestead has witnessed various significant events. During World War I, it served as a territorial army camp, contributing to the nation's military efforts. Over time, the grand home fell into a state of neglect, allowing wisteria vines to weave their way through its interiors.
Restoring couples
At the heart of the Oruawharo Homestead's restoration and revival lies the unwavering dedication of its previous owners, Peter and Dianne Harris. Their love for heritage and a shared vision to preserve this architectural gem led them to embark on an extraordinary journey of restoration.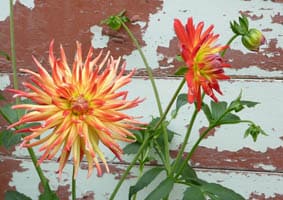 When they first laid eyes on the historic homestead, it had fallen into a state of disrepair. It had been neglected for so long, it had wisteria growing through the inside. Undeterred by the challenges that lay ahead, they saw its potential and embraced the immense task of restoring its former glory.
They've spent about $4 million on the 67-roomed home so far and (alarmingly) still have a lot more to do. About a quarter of a mil went on just burying the overhead power lines to remove the eye-sores.
They have restored and handpainted ceilings, and rebuilt the entire veranda the old-fashioned way with no nails. It has 16 chimneys and here's a quirky tidbit, they discovered live bullets embedded in the walls. The previous owners intentionally installed them to act as fire alarms. Should the wooden building catch alight, shots would explode, waking the household.
The wedding business
The Harris's intended for stately Oruawharo to be their retirement folly, as Peter described it. But when people started to inquire about the refurbishment and whether they could have weddings there, a burgeoning business began.
The allure of Oruawharo Homestead lies in its grandeur, history, and meticulous restoration. Couples are captivated by the timeless charm of the 1868-built homestead, constructed entirely of native timber.
The estate's rich heritage, featuring intricate hand-painted ceilings, stunning verandas, and 16 majestic chimneys, provides a picturesque backdrop for couples seeking a wedding venue that exudes elegance and romance.
Not only the interior beauty captivates the couples. Oruawharo Homestead's expansive front lawn also has become a canvas for breathtaking wedding celebrations. They have the option of hosting their festivities in a charming marquee, nestled amidst the manicured gardens.
This idyllic setting, combined with the homestead's timeless elegance, sets the stage for a truly unforgettable wedding experience. The homestead is surrounded by natural beauty and historic grandeur.
WWOOFing
Oruawharo Homestead not only captivates visitors with its rich history and delightful high tea experience, but also opens its doors to a unique form of cultural exchange through WWOOFing – Willing Workers on Organic Farms.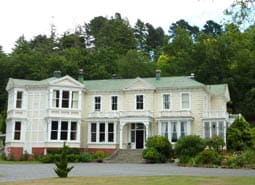 Yes, they are a member of WWOOFing – Willing Workers on Organic Farms. Workers come here from all over the world and become part of the household, sometimes for months at a time. They help in the gardens, carve wooden furniture in the workshop, and help restore the home.
Cost for lunch $20 each. Hugging their 3-legged Birmese cat – priceless.