3 amazing small group tours over 4 weeks – May/June 2020
ITALY • CROATIA • SPAIN
"Thanks again Megan for a wonderful holiday with great people and a fabulous tour leader!" – Graeme and Annette
"Thank you Megan for converting me to the world of small group touring, it was like travelling with a group of friends and family. Whether you are a couple, friends or solo traveller, I would highly recommend travelling with 'Blogger at Large'. Bring on the next tour!" – Kerrie
Three separately sold tours designed for you to join one, two or all of them as we realise many people have visited Europe before and want to see places they haven't been to.
The three itineraries have been designed by myself and Weka Travel to create these wonderful boutique holidays for a maximum of 12 guests per tour. There are a couple of days between each for free time to plan your own holiday and incorporate the tour that most interests you.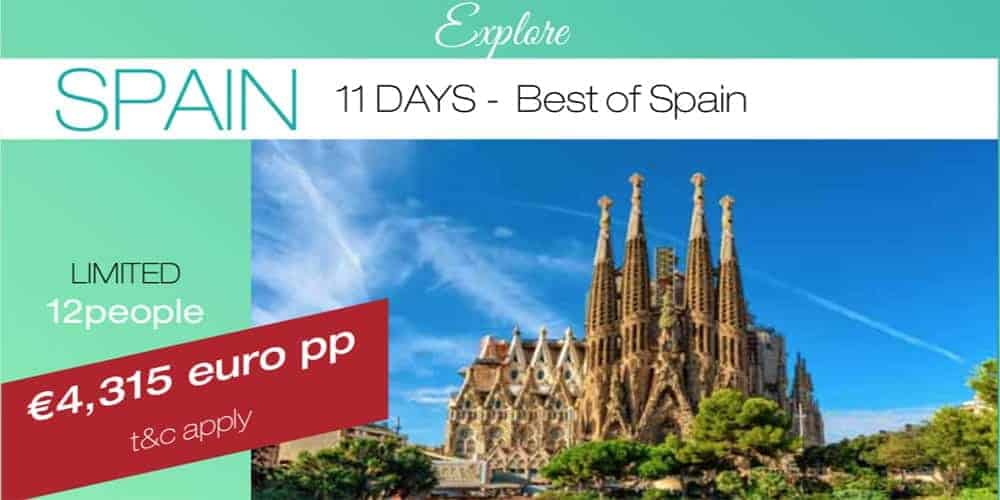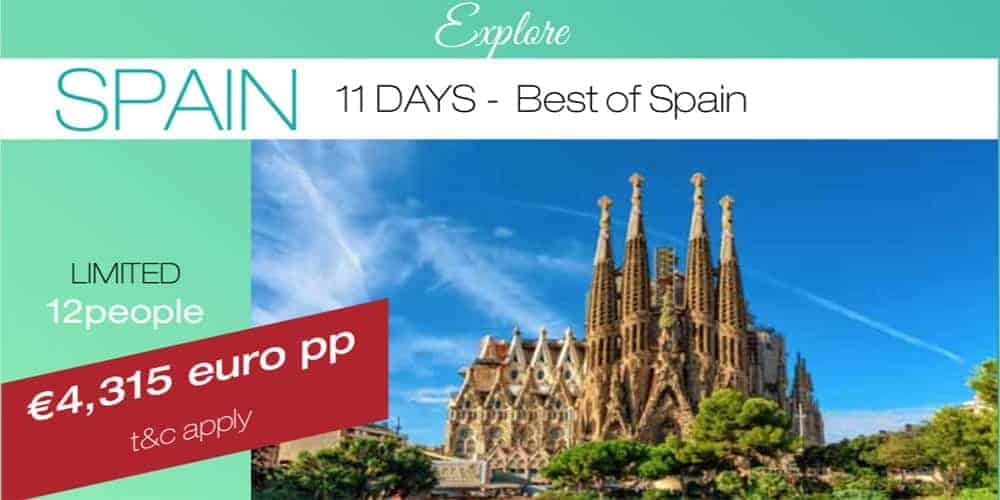 Spain Tour June 2 – 12, 2020
We will meet in Barcelona and be transferred from the airport to our boutique hotel for two nights and begin as we mean to go on with welcome drinks and dinner!
Day 2: Barcelona
This morning our local guide takes us to explore the markets for tastes of Barcelona and great Spanish tapas. Along the way, we'll explore La Ramblas and the Gothic district.
In the afternoon, we will visit some of the amazing Gaudi sites including VIP skip-the-line tickets into the Sagrada Familia Cathedral.
Free time this afternoon and evening to enjoy local restaurants or take in an evening Flamenco show with dinner.
Day 3: Granada
Today we take a short flight to Granada, rather than spend the day on a train, so we can enjoy more time in this amazing city.
Granada, at the foot of the Sierra Nevada, has passed through many hands from ancient Rome, Visigoths to the Moors before falling to the Spanish Roman Catholic Monarchs in the 15th Century. It is a melting pot of cultures and the cuisine, architecture and people make this a must see.
Our Local guide will take us on a walking tour through the markets and main sights including the Cathedral, the Royal Chapel and through the cobbled streets.
Dinner is included at a local Tapas eatery (with Pintxos)
Day 4: Granada
Today we take a walking tour to the stunning Alhambra which is Granada's love letter to Moorish culture. With the backdrop of the Sierra Nevada peaks, this fortified palace was once a walled citadel and is one of the world's finest Islamic buildings with gorgeous gardens and views over the city.
Dinner is included with a Flamenco show as it is here that that the true "language of dance" is at its best.
Day 5: Cordoba
We take a private bus across country to Cordoba, and enjoy a walking tour of the stunning city, also once Roman, and the Moorish Capital before finally conquered by the Christians in the 13th Century.
Cordoba also has amazing cuisine and markets for you to enjoy.
Day 6: Cordoba
Free time this morning to explore the city. After lunch time we visit the Alcazar de los Reyes Cristianos, a stunning fortified palace built over the remains of a Moorish predecessor. It is here that the catholic monarchs Fernando and Isabel met with Columbus in 1486 and the terrace gardens, fountains and palace rooms. There are also remarkable Roman mosaics.
Day 7: Ronda
This morning we take a private bus through the countryside to the town of Ronda which is charming beyond belief and famous for its dramatic escarpments and views and the deep gorge that cuts through the centre of the town.
We will join our guide on a walking tour of Ronda to explore the old bridge and panoramic views, the cobbled streets with little walkways before we visit the famous bullring of Rhonda.
Visit a local winery for wine tasting before we settle in our hotel for the evening.
Day 8: Seville
Today we head to Seville through the stunning scenery of the National Park of la Sierra de Grazalema. We'll stop at the village of Grazalema, nestled in the valley beneath the dramatic mountains, to explore like the locals and enjoy lunch.
Arriving in Seville we have free time to settle into our hotel before a foodie walking tour dinner together exploring the local tapas and the evening sights.
Day 9: Seville
Morning walking tour through the heart of Seville visiting the Cathedral (the largest Gothic temple in the world and the remains of Christopher Columbus), the Real Alaczar Palace and hear and see the history of Islamic, Mudejar, Gothic, Renaissance and Baroque styles.
Free afternoon and evening.
Day 10: Seville
The Plaza de Espania is the centre of our walking tour this morning which is a spectacle of light, and majesty. Situated in one of Seville's largest parks, this is an architectural masterpiece.
Enjoy a free afternoon, and tonight we end our tour with Farewell dinner together in a local restaurant.
Day 11: Depart
After breakfast, those who are leaving here will be transported to the airport.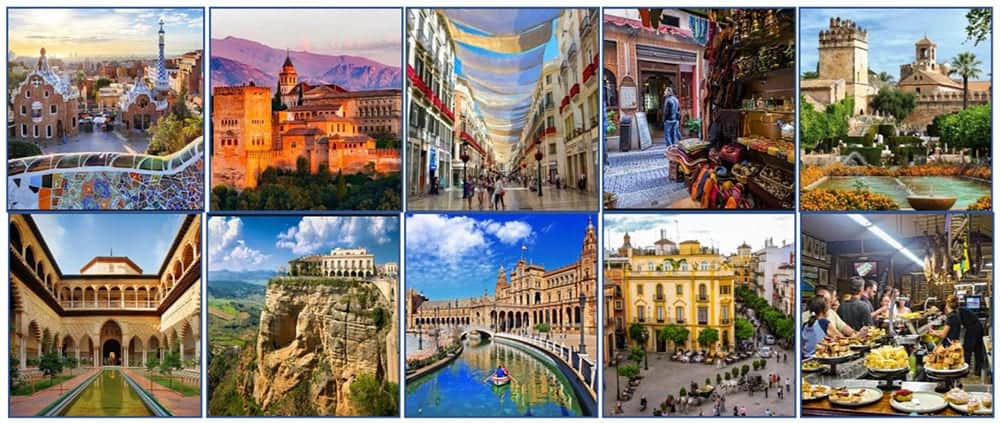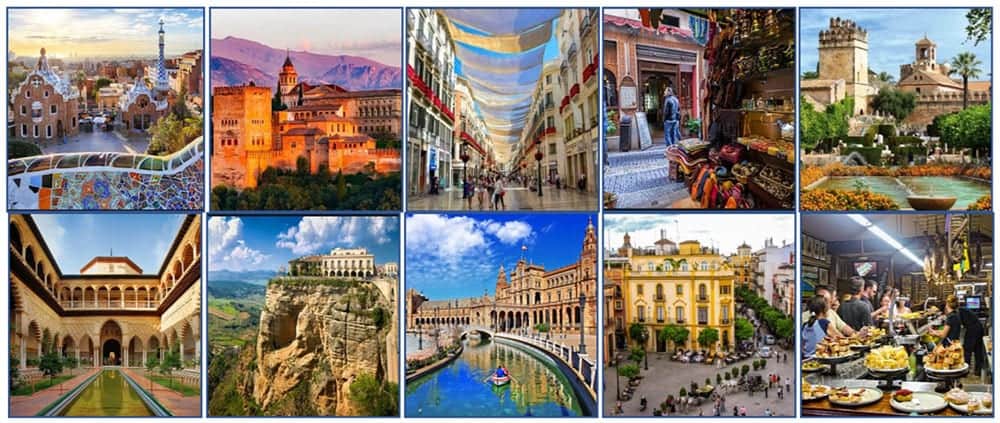 "We just loved our tour to New Orleans and Memphis. It was so wonderful to have all the best pieces organised for us to experience. Every day was exciting and interesting it was a really well balanced tour, giving us personal time so that we could do our own thing or have time out if we so desired. Group time always felt like an adventure and a holiday, to be so well looked after and to have so much fun with like minded people was fantastic. We are keen for another tour with Megan one day soon!"
–Rose and Andrew
Included in tour
Megan Singleton will be your host throughout the tour.
Airport Group Transfers on arrival and departure
10 night's accommodation in boutique hotels
Breakfast (B), Lunch (L) and Dinners (D) as listed
Local tour guides
Private Tours and skip line tickets as listed
Private foodie tours and local experiences throughout
Wine tasting at local winery, banquet farewell dinner
Local experiences with Megan throughout the trip
Hotel city taxes
Gratuities not required
And Much more as listed in the itinerary.
Cost: €4,315pp twin share. If you'd like to have your own room and cabin, the extra supplement will be €1,985.
Note the price is in Euros. Maximum 12 guests.
You'll also see airfares are not included to allow for individual flexibility. We can assist with airfares on any dates you'd like to travel, and perhaps spend time before or after the tour visiting friends or family.
Secure your place on this small group tour for NZ$1,000.
Email megan@bloggeratlarge.com for the registration form.