After much persuading, Kiwi expat Catherine Sietkiewicz today becomes our Melbourne Scene Blogger at Large!
She's 20-something with a unique outlook and zest for life that most 20-somethings aspire to. Melbourne has been her adopted home all year and today she starts her series. Check out her tips of the best places to hang, watch people, drink a cocktail…
_________________________
If there's one thing I've learned from living in a country that's predominantly flat – it's that Kiwi's love a good mountain to catch a glimpse of the sky from. Though climbing up the roof of the Myer Music Bowl in Kings Domain might offer you the most thrilling inner city skyline night time views, it's not for the faint hearted! So here's a list of my top 3 (legal…) spots, to spot Melbourne's breathtaking skyline…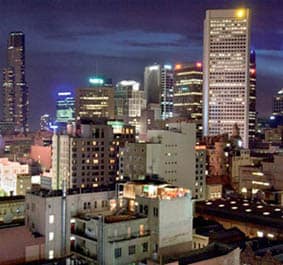 1 Rooftop Bar: You'll find Rooftop Bar on Swanston St on the roof of the old Curtin House buildings. It's Melbourne's premier open air roof top bar and is easily found above restaurant Cookie and intimate venue The Toff. The drinks are well priced – they have the best mulled wine I've tasted all winter! – the company isn't seedy, the music won't put out your conversation, but beyond that… the view is prime. Though there are other rooftop bars around the CBD, none are quite so perfectly situated to give you the most impressive views of the iconic buildings like Melbourne Central, Flinders Street Station and a little old church that is mostly hidden by sky scrapers now, but once would have touched the sky with it's spire. Rooftop bar is open till late most nights all year long and in summer it transforms into an open air cinema. Well worth the flights of stairs to get to!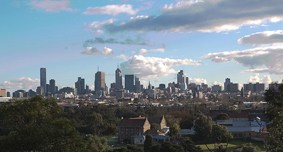 2 If the idea of the Rooftop isn't your cup of tea (or mulled wine. Seriously – it's great!) then 10 minutes out of the city by train is a suburb called Kew. Kew is a Remuera-meets-Ponsonby (for you Jafas!) type of settlement and the old Kew Mental Asylum-cum-snazzy apartment buildings is a great posy to see the city from. A friend described it as "the best free view in the city to see the city," and I couldn't agree with him more.
Pack a picnic, and a thermos of hot chocolate if you're going up on a winter night and sit in the park. If you're up there at 6pm (winter) or 8pm (summer) you'll see thousands of fruit bats fly overhead from the Yarra River where they nest in the day up to the Yarra Valley to eat fruit at night. And, if you're an early morning person rather than a night owl – because Kew is in a natural Thermal duct – it's a beautiful place to watch the Saturday morning Hot Air Balloons from!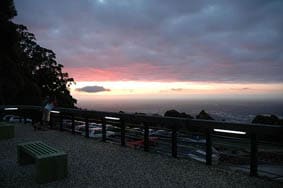 3 If you've got some spare time and want to make a bit of an afternoon of it, I'd highly recommend trekking up Mt Dandenong. Just 45 minutes east of the CBD, it boasts a complete view of Melbourne's major suburbs. There's a restaurant up at the top of Mt Dandenong which has divine food but if you're like me and would prefer a slice of pizza and a picnic blanket on the bonnet of a mates car, the mountain suburb of Olinda has some great little places that do takeout. It'll cost you five bucks to get into the car park, but from there the views of the city lit up like a constellation are just unbeatable. The drive up and back through the Dandenongs is stunning too with native gumtrees lining the windy road all the way up, and even a wombat if you're lucky!