Miss Maud Hotel in Perth has quite a reputation. No, not that sort of reputation! This is a quaint Swedish Hotel above the busy Miss Maud smorgasbord restaurant that buzzes from morning till night and brings "a taste of Sweden" to Western Australia.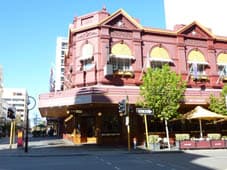 Located nice and handily on the main shopping strip of Murray Street, I arrived on the 7 hour-45 minute flight from Auckland at about 6pm, but with the time difference (it was 11pm local time) my stamina was fading. However, if a girl is staying on a street that has shops open for another 3 hours, a girl needs to suck it up and soldier on.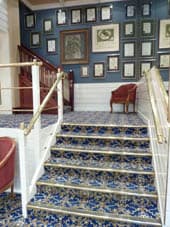 I lifted my bags to the mezzanine lift lobby – about 4 steps up from reception and slid the old-fashioned (and slightly alarming) doors open instead of dragging my suitcase up the stairs to my room. After a couple of pushes of the button, the old girl clunked into life and delivered me safely to the 1st floor. It's a bit of a warren finding the room, but just another few stairs and I was there – Lappland Room, the sign on the door read.
I dropped my things, put eyedrops in my eyes to try and blend with the wide-awake Western Australian crowd, and hit the street. Have you noticed though, that apart from David Jones and Myer, you might as well be shopping in New Zealand? Sportsgirl was about the only shop we don't have at home. And Target. I bought Berocca from Target in my quest to keep my scratchy throat at bay.
Before I hit the sack I went into Miss Maud's restaurant to check out the famous smorgasbord. The place was packed and the food did indeed look worthy of the attention it was getting. Whole prawns, roast meats at a carvery, whopping cheesecakes. And nicely it wasn't all splodged on platters, as can happen at buffets. However my time clock was all wrong so I went to bed without any dinner.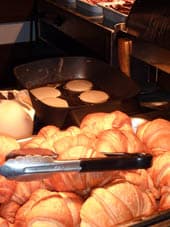 Ahh, but the next morning I headed down for the famous pastries and pancakes and was not disappointed. Copper pots, pans and enormous teapots hang on the yellow walls and the female staff wear little pinnies and handkerchief napkin hats. At least 3 tables had Miss Maud Happy Birthday helium balloons attached to them, but at 8am on a Saturday, the party-goers hadn't yet arrived. There was bircher muesli and fresh fruit, cereals and breads. Hot Aussie food of bacon, mushrooms, eggs and sausages and blokes cooking pancakes, omelettes and waffles to be served with maple syrup strawberries and/or whipped cream. There was also a big pile of freshly made croissants keeping warm under the lamps.
I never usually eat croissants as I need to smother them in butter and seeing as they are made from butter, the result is sure death. However Miss Maud made me do it…
This is a cute little hotel in Perth. 3 to 4 stars and perfectly adequate. Annoyingly the air conditioner has been positioned right over the bed so since it wasn't too hot out, I switched it off. A great spot for those looking to spend more time doing Perthy things than sleeping – and oh so handy to the shops…
Click here for more details about Miss Maud>>>