We've still got our hottest month to go, so even though we've passed the longest day, this weather promises to be around for a bit longer. Here's a secret little spot to hide away in and take advantage of the back-to-school quietness, head to tiny Kuaotunu in the Coromandel.
It's really only famous for one thing: the mega ice creams at the Kuaotunu store. I've seen grown men attempt and fail to get through the Kuaotunu Killer – five enormous scoops on a double cone which holds, I'd hazard a guess, a full litre of Tip Top. You can also have a different flavour for each scoop. My tip is to skip lunch and make this your midday meal.
Kuaotunu is one of New Zealand's most stunning beaches, yet is off-the-beaten track so it isn't overrun with tourists. It used to be a thriving little gold mining town and bush walks off Waitaia Road lead to an abandoned mine, glow worm caves and a kiwi sanctuary. The beach itself is a great place to swim and if you decide you need a decent flat white, just drive fifteen kms over the hill (with views of Mercury Bay) and you'll arrive at Whitianga – home of the Scallop Festival in September. (Read my Scallop Festival story here>)
We arrived at Kuaotunu on a Friday after work to stay at Pohutukawa Lodge. We'd printed off the detailed driving instructions, emailed from owners John and Wendy Buchan, and managed to get away with only one u-turn. (Basically turn right at the Kuaotunu store.)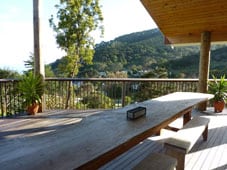 At first glance from the driveway it looked more like a normal holiday home than a lodge, albeit large (it sleeps 10). But it wasn't until we walked past the ping-pong table and rack of reef shoes at the door up the stairs to the main living area that our eyes lit up. The native timber floors and pitched ceiling dragged our eyes through the sliding doors to the enormous wrap-around deck, literally in the top of a pohutukawa tree, to the killer ocean views.
With a fully self-contained kitchen we got busy creating a yummy dinner to have outside with a bottle of wine at the massive home-made macrocarpa table, then rummaged through the CD selection, put some tunes on and sat until dark (having also found the lights to flood that gorgeous tree).
This would be an ideal spot to come with a few mates. It is a two-story house built literally around the pohutukawa tree it is named after and has decks on several levels, some with hammocks and others with chairs. You need to bring your own linens but have full use of the well-stocked kitchen including tasty condiments.
The next day The Bloke took on the Kuaotunu Killer, and failed.