A guest post from Luke Oram
_____________________
If you're like me, you'll still remember the days when it was a rare occasion for a Big Name International Band to make the trip down under. It was almost as if little old New Zealand didn't feature on the universal music promoter's map, either that, or we were mistaken for Tasmania's crooked flotsam. Whatever.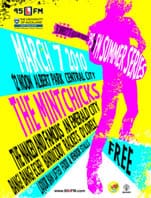 Things are changing nowadays though, thanks to venues like Vector in the CBD – big bands are coming over in droves. We're entering a heyday people. Who would have thought the day would come when you were spoiled for choice when it came to international shows. This week alone you would have found yourself navigating the likes of Pavement's first reunion show, teen angsters Paramore, Boz Scaggs and Mick Fleetwood's Blues Band. God, the list goes on like an Irishman in a fistfight.
All that being said, let's not forsake the brilliant showings from local bands in Auckland – all across the city's campus (campuses? campi?) the sweet sounds of O-week are ringing out. I wombled across the road to see Katchafire in vintage form at Unitec this week; make sure you catch Tour of Dirty on Friday too, featuring Tiki, Concord Dawn, The Opensouls etc.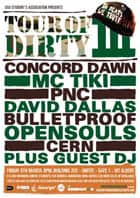 And if you want to see the cream of the local crop, head over to Albert Park for the bFM Summer Series – it's the 20th anniversary of the Summer Series and they've wheeled out the king hits for this one, including our native mischief-making sons The Mint Chicks, The Naked and Famous, Bang Bang Eche, An Emerald City, Rackets, O'Lovely and Bandicoot; a group of crazy kids that everyone's making a fuss over.
Best of all, it's free! Grab a picnic blanket and head to Albert Park this Sunday March 7th from 12 noon.
Auckland, you're very good to us.
bFM Summer Series, Albert Park, Sunday, 7 March 2010 – 12-7pm