I may be too late for this Father's Day, but here some cracker ideas I've put together for gifts and experiences to share with our dads. Bookmark this page and refer to it for his birthday if you're all sorted for this Father's Day 🙂
Tickets to a game: what's cooler than seeing a rugby, baseball, ice hockey game with your dad? It's a great excuse to get your old man to come and visit if he doesn't live in your town too – buy him tickets to an All Blacks game and he's obliged to come visit! We took my dad to a baseball game in Anaheim (actually my husband took him and mum and I had a posh dinner at Disneyland. No, not an oxymoron). At Angel Stadium the nachos were served in plastic baseball helmet bowls, the national anthem is sung with more vigor by the crowd than anywhere in the world I've been to, then at the top of the 6th inning the crowd stands to sing "Take me out to the ball game". The atmosphere is electric. Here's my blog when I went last time to give you a bit of the vibe.
Audio books: These are a great way to pass a long plane ride or car journey. Dad and I are both fans of Jack Reacher, so I downloaded a couple of his books before our big family trip to the US this year for the flight. You can get a cheap monthly subscription from Audible, which I had for about a year until I couldn't keep up with the new book every month!
Anti-snoring pillow: ok, this might be more of a gift for mum, but this is a brilliant discovery my husband and I made earlier this year when we were on a cruise. Our butler (yes, we had a butler) came offering various pillows and casually announced that the buckwheat pillow stops snoring. I snaffled it up quick as a flash and it worked so well we bought one before we disembarked. I've written this blog about where you can find them in New Zealand. It's still working for us!
Dad grooming: I don't mean highlights or a manicure. But my husband and brother found a barber in New Orleans who specialised in wet shaves. Cut throat razor shaves. It also included a cheeky whiskey if they so desired. In Auckland you can send dad to Mens Works in the Viaduct for a wet shave. It'll set you back $59 and takes 30-40 minutes. He'll start with a cleanse and exfoliation, then lathered up with shaving cream, popped under the steamer for 3-4 minutes, then shaved once with the grain and once against grain. A mud mask is applied for 6-7 minutes to dry, then he'll be moisturised and sent out the door. The describe it as a short sharp luxurious treatment. You can go cheaper, but you won't get the full drinks service. Oh and they use Triumph & Disaster products which is ex Black Cap Dion Nash's manly face stuff.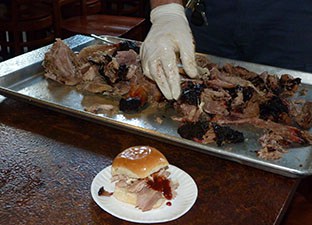 Cook dad a meal: I took my dad to one of the best BBQ restaurants in Memphis. We went early in the day because I was going to interview the manager and get a sneaky peek on how to make melt-in-your-mouth smoked pulled pork. My dad is a big barbecue fan, so he came too. It was so so good. We got to taste a 12-hour smoked pork shoulder then went back that night for dinner. All 6 of us. I wrote this blog about it, including how to make it yourself at home. A great gift for dad is a card with your offer to cook him dinner.
Man steaks: if you can't be bothered cooking him dinner yourself, you can't go wrong with a huge hearty steak bigger than your plate from The Angus Steakhouse on Fort Lane in downtown Auckland. Dad was visiting for the cricket last summer so we popped in here for dinner.
What suggestions do you have for dad?
_______________________________