Being hard done by this year without too many public holidays in which to dash off for a few days, you might just have to throw a sickie and invent your own. Of course I didn't do that… But if you want to, all I can do is innocently make some suggestions for holiday ideas within cooee of Auckland where you may wish to 'recuperate'.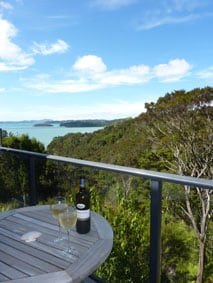 Bay of Islands – Bay of Islands Lodge
Head north to the Bay of Islands and enjoy the seclusion of this cliff-top property at Paihia with stunning views over native bush to the Veronica Channel. (I have no idea who Veronica is either.)
Owner and chef Peter Meier came here from the Hunter Valley and built Bay of Islands Lodge in 2005. He had been the award-winning chef at Casuarina where he was known as the Flambe King and would cook your meal right at the table. These days it's a little more relaxed. More about mixing with other guests who are staying in the four guest rooms, with an infinity pool that drops off into the ocean views.
Peter and his Kiwi wife Glennis, serve dinner at a big table in the open-plan kitchen/dining room help yourself-style. Asking for the seared beef from the guy across from you is a natty way to break the ice – or any ice that hadn't already been broken over a pre-dinner drop of local sauv.
During the day you can take a ferry across the bay to Russell, head five minutes up the road to Waitangi – the official birthplace of New Zealand, or just potter around the shops and cafes of Paihia.
Jump to Bay of Islands Lodge >>>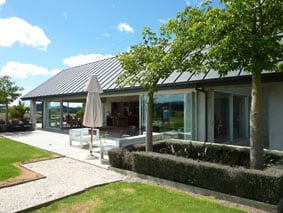 Matakana – Takatu Lodge
Even without the famous weekend Farmers' Market, Matakana is packed with things to do. Or even more perfectly, nothing to do except enjoy a long weekend at this architecturally designed lodge set in the middle of a vineyard.
Owners John and Heather Forsman offer all their guests a glass of their own boutique wines (their rosé is so good that Peter Gordon bought the lot for his London restaurant, sorry).
The main dining and reception area has a cosy open fire and the living room has ceilings as high as the moon. Ten-metre wide French doors spill onto this patio with the vineyard at the end of the front lawn, and the kitchen is fully involved in the middle of the hospitality. Their luxurious suites also have French doors opening on the vines and decadent bathtubs with a view too.
Within a few minutes drive from Takatu Lodge you have the rugged and beautiful Tawharanui beach, or tiny Buckleton's Beach for fish n chips and a glass of wine. Not far is Snell's Beach where the Brick Bay Sculpture Trail is well worth a visit. Or you can venture to Goat Island for a snorkel, dive or a glass bottom boat tour. But then again, just calling in to Charlies Gelato Garden for homemade gelato before making your dinner plans might be the ticket.
Jump to Takatu Lodge >>>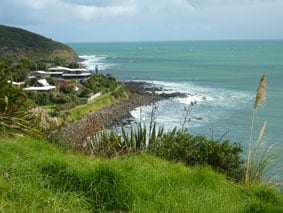 Raglan – Waoku Lodge
If you thought the seaside town of Raglan was only for wetsuit-clad, tattooed surfers, think again. Just two hours drive south of Auckland (about 40 minutes from Hamilton) is this rugged west-coast beach – with a little piece of luxury overlooking Whale Bay.
Rob and Sharon Southern have done wonders with his once run-down property and turned Waoku Lodge (about 8km out of Raglan at Indicator's Point) into a luxury bed and breakfast that was voted in the Top 40 Best Affordable Beach Resorts by prestigious Travel + Leisure Magazine. With only three suites, two with private spa pools on the veranda overlooking the ocean, this is a breathtaking spot.
There is a fully functioning kitchen in each suite so you can choose a self-catering stay or have Sharon whip up one of her fabulous meals. We chose the latter. At 7pm, after the sun had gone down and the spa pool was bubbling away for later, Rob arrived with an amazing warm crab and crayfish dip with caviar served in a paua shell for a starter. He lit the candles and set up our romantic table for two, then returned later with a delicious dinner.
This is a place to come if you really want to get away. Soak in the spa pool, do the crossword, watch telly, hunker down if its stormy and watch the whitecaps race to shore, or pop into Raglan and browse the arts and crafts before returning for happy hour – and another spa.
Jump to Waoku Lodge >>>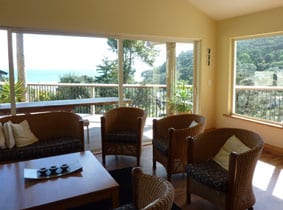 Coromandel – Pohutukawa Lodge
Just out of Coromandel town is the tiny beach of Kuaotunu. It's so off-the-beaten track hardly anyone knows about it – until now. In fact it's probably only famous for the ice creams sold at the dairy. (I challenge any grown man to take on the five-scoop Kuaotunu Killer and get through it!)
Pohutukawa Lodge is a huge family holiday home, built in 2008 by John and Wendy Buchan. It can sleep 10 – although that includes bunk beds in some rooms. But if it's a long weekend break you're after with the kids, or two other couples, this is a fabulous spot.
With wraparound decks on two levels and a giant pohutukawa tree merged into the outdoor living and lit at night, this place is so peaceful you'll want to move in. It's fully self-catering but the kitchen is well stocked with cookware, spices, tea and coffee.
Kuaotunu used to be a thriving little gold mining town and bush walks off Waitaia Road lead to an abandoned mine, glow worm caves and a kiwi sanctuary. The beach itself is a great place to swim and if you decide you need a flat white, just drive 15 kms over the hill (with views of Mercury Bay) to Whitianga – home of the Scallop Festival in September.
Jump to Pohutukawa Lodge >>>