If you were a chocolate, what kind would you be?
Calling all chocolate fiends – fancy seeing, doing and tasting something a little different on your visit to New Zealand's capital city, then how about embarking on a Chocolate Tour of Wellington – and find the answer to that question!
Wild About Wellington runs all sorts of quirky little tours including Boutique Beer Tasting with owner Jennifer Looman.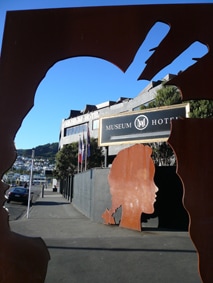 I popped down for a weekend recently to visit my niece and decided to scoff my way around the city – and learn a little history while I was at it. It was fun. Jennifer's a hoot and I stayed at the Museum Hotel, just across the road from Te Papa (in fact it used to be on the Te Papa site but was moved 200 metres across the road).
From my room I walk through the chiffon curtain lined lobby like an actress looking for the stage. Even the loos in the lobby are worth popping into – even if you don't need to go. People have been known to have wedding photo shoots in here!
Click here to read my story 'Choc till you Drop in Welly' on the NZ Herald's site and maybe learn a little Wellingtonianisms while you're at it…