Guest blogger Catherine Sietkiewicz is all light-headed for these churros
____________________________
When the saying "full of sugar and spice and all things nice" was coined – it must have been directly after the first sip of a San Churro Chilli Hot Chocolate.
San Churro, so the legend goes, was a Spanish monk who had witnessed the miracle of Aztec chocolate healing people of all sorts of ailments including the Queen of Spain and made it his life ambition to spread the goodness of the sweet treat across Europe. Sounds like a stand up bloke if you ask me!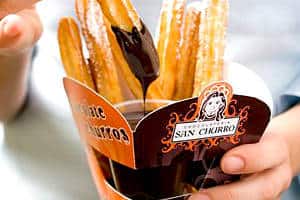 The legend of San Churro's passion for chocolate eventually found its way to Melbourne and the first of San Churro Chocolateria's was opened. San Churro smells like Christmas dancing with Easter. Cloves, cardamon and cinnamon mixed with molten hot chocolate beverages or glacial cold chocolate ice cream. Topped off with warm interiors and inviting arm chairs it's the perfect place to unwind and top up those all important blood sugar levels after a long day's shopping and schmoozing around Brunswick or Chapel streets.
My picks off the menu include the Hot and Cold – which is possibly named after Melbourne's schizophrenic weather – but most likely for its decadent combination of San Churro's signature Hot Chocolate, teamed with a scoop of creamy vanilla ice cream in the middle that slowly melts not only in the cup but in your mouth as you enjoy it. And another thing I just can't help but come back to is the Chilli Hot Chocolate… although at first the idea of chilli and chocolate might sound like a curry that got a little too friendly with desert, just go back to the image of Christmas dancing with Easter and give it a whirl – you wont be disappointed!
There are 10 locations in Victoria alone (and more in greater Australia) to refuel with sugar, spice and all things nice.