*Take Notice! Taupo Workshop coming up – August 28th!*  
SPECIAL 20% DISCOUNT FOR 2 OR MORE TIA MEMBERS 
The hot topic on everyone's lips is how to get my destination or travel product noticed in the media and get more bums on seats and bods in beds.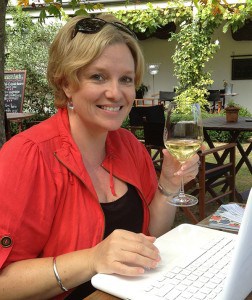 Award-winning travel writer and blogger Megan Singleton has created Take Notice! a Media Training Workshop offering a unique opportunity to gain hard-earned insight into how you can get noticed.
New Zealand is blessed with great tourism product, so gaining the media advantage is vital to grow your business.
With 14 years of experience as a writer, editor and also PR manager for various travel brands, you will gain insights into how your product can have a global reach with a tailored touch to ensure the competitive edge.
Megan's website, Blogger at Large, is one of New Zealand's largest travel blogs, she has a weekly travel column with the NZ Herald, speaks each Sunday on Newstalk ZB to Andrew Dickens and is also Expedia's blogger for Australia and New Zealand. She understands SEO and the role of social media and for time-poor managers, she will tell you frankly what to spend your time on and what not to bother with.
During her time as travel editor at Yahoo!NZ the channel grew from #18 to #1, and Megan is used to being pitched to by travel brands who could learn some easy lessons in how to be more effective with their media marketing.
You will learn about
–       hosting media and how to get the most out of them
–       who to invite and why
–       how to effectively tell your story
–       and the all-important question: calculating ROI
–       and a whole lot more!
The social media session will give you straight-up advice on where to engage with your customer as the travel industry evolves faster than a block of blue cheese.
_____________________________________________________
Here's what they're saying about Take Notice! media workshops:
"I attended one of Megan's events and it was fantastic! As a PR novice it gave me clear ideas of where to start and how I could get the most out of my time when working with journalists. And not just your traditional journalists but also new media options. Megan is an engaging speaker but is also completely approachable and professional. Thoroughly enjoyed the day and wouldn't hesitate to attend another one of her events again." – Sarah Greener, Rock the Boat, Bay of Islands
"I loved Megan Singletons Take Notice! Media Training workshop.  Attended the one in Auckland and got lots of great tips on working with not only mainstream media but using social media to your advantage as well. I've been a fan of her blog for a while now and in her presentation she gave a lot of personal examples to help with different topics in particular social media, as well as a number of interesting stories from the many different destinations and experiences she's had while travelling and writing.  I will be looking to implement a number of the media and social media tips I learned to help with the portfolios I look after at Air New Zealand Holidays." – Penina Momoisea, Air New Zealand Holidays
____________________________________________________
Book your place now on the Taupo Take Notice! Media Training Workshop
When: Wednesday August 28th, 9am-12
Where: Wairakei Resort, Taupo

Cost: Usually $195, including notes and morning tea. Book 2 or more and pay just $155 each. Prices are inclusive of GST.
Email me on megan@bloggeratlarge.com for more details or just register below. Numbers are limited!