Enough with the romance already. If you think Valentine's Day is too sickly sweet, The Luxury Travel Bible has gone a little more raunchy and come up with the Top Ten Sexiest Hotels in the World…
They include a range of designer hotels, from luxury boutique hotels with all-black walls and bedside copies of the Karma Sutra to hotels with 007 suites for those who like their liasons dangerous and their luxury stays lusty.
Andaz San Diego, San Diego, California, USA
Can a suite really be stylish with a stripper's pole at its centre? We think so. It is all about how you present it.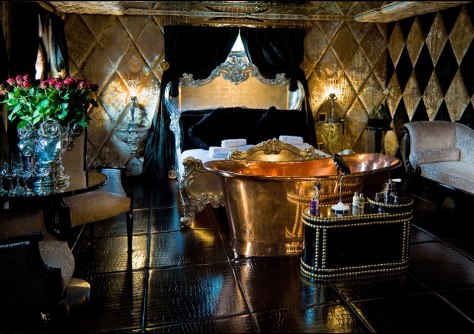 Crazy Bear Hotel, Beaconsfield, UK
This is where English eccentricity meets s-excess and it works.
Fleming House, Goldeneye, Jamaica
Make like 007 in this house built on a cliff, overlooking a beach and designed by Ian Fleming himself.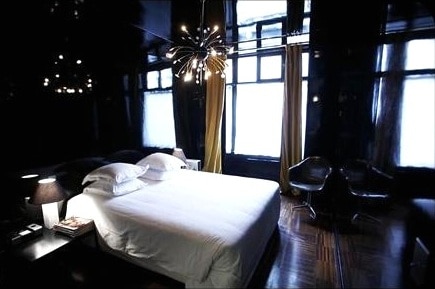 Hotel Amour, Paris, France
Who could resister a hotel called 'love', especially when it is in Paris?
Hotel Sezz, Paris, France
There is no denying this is a devil's lair ripe for raw seduction.
Maison Moschino, Milan
Who's been sleeping in my bed? Fairytale fantasies take flight in this hotel where beds are dressed as ballgowns and even a Little Red Riding Hood has her wolf tucked up in bed.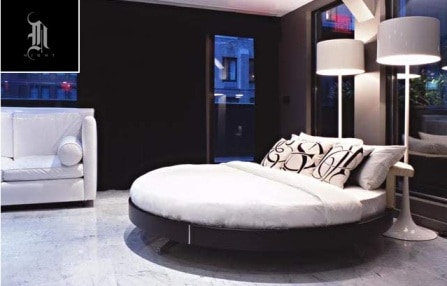 Night New York, New York, USA
Black is always sexy right? The nearly-all-black Night New York hotel, in the heart of Midtown Manhattan, was inspired by the 'pulse and passion of Gotham after dark'. Sounds promising.
The Library Hotel, New York, USA
A hotel which bases itself on books may not seem that sexy (hey, didn't you know the mind is the real erogenous zone?) but wait until you see the books….
The Palms, Las Vegas, USA
Hugh-Hefner inspired dreams, come true at The Palms – for a price.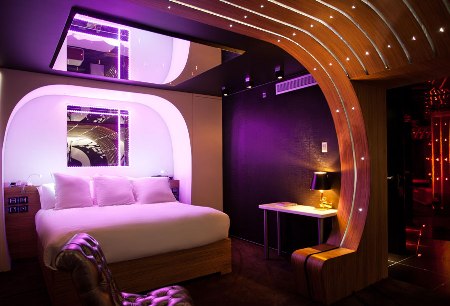 The Seven Hotel, Paris, France
Floating beds, starry ceilings, mood lights, the 007 suite ..so many reasons to include this one ..
For more information and websites for each hotel, jump to The Luxury Travel Bible story.