Awww, check out Macy's Christmas window and live webcams!
I love Christmas and all its trimmings. The decorations, the music, the smell of cinnamon. But how cute is this?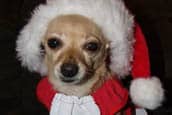 Macy's in San Francisco's Union Square is famous for its Christmas pets supplied by the SPCA and in need of adoption. Each year the window is decorated with fun Christmas toys and each day from 9am to 9pm in come the cats and dogs, kittens and puppies. All homeless and all looking for some Christmas cheer.
Click here to see the live webcams and whistle 'How much is that doggy in the window' as you do.
And if you don't see anyone lying on Santa's armchair, check the time. They may have been taken home for the night.