Here it is! My new favourite playlist of tracks for driving across the States.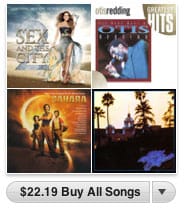 I've put in some oldies like Otis Redding's Sitting on the Dock of the Bay and new kids like Katy Perry's Waking Up in Vegas.
Click on the link below to open the playlist in iTunes, then download the whole album for the random amount of NZ$22.19, or just select the tracks you want. You'll pay through your iTunes account, just like normal.
This is what's included in the American Road Trip playlist:
New York State of Mind, Alicia Keys; The Dock of the Bay, Otis Redding; Sweet Home Alabama, Lynyrd Skynyrd; Hotel California, Eagles; On the Road Again, Willie Nelson; Basin Street Blues, Louis Prima & his New Orleans Gang; Massachusetts, Bee Gees; Waking Up in Vegas, Katy Perry; Route 66, Dr Feelgood; Free Fallin, Tom Petty (as a nod to Tom Cruise and 'show me the money'); Californication, Red Hot Chili Peppers.
Click to open this playlist in iTunes – American Road Trip