I'm as excited as a kid in a candy store for the upcoming Whitianga Scallop Festival! In fact I reckon even a kid would take a freshly sauteed scallop over a gummy bear any day.
The famous festival started in August 2005 and about 2500 people came that first year to sample the locally harvested scallops and enjoy the festivities. Today numbers are capped at 6,300 tickets to the public to ensure the queues aren't too horrendous – especially for the porta loos!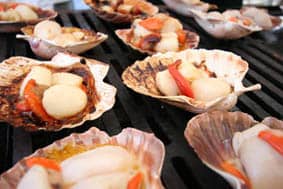 The main day to get amongst the molluscs is Saturday August 28th where 100,000 fresh scallops are expected to be consumed, but the festival officially kicks off tonight with a four-course Monteith's scallop and beer-match dinner at Salt Restaurant (tickets $70).
If you like golf with your scallops then take Friday off to play in the Mercury Bay Scallop Festival Open (tickets $40) which includes a seafood lunch and spot prizes.
The 'miscellaneous' free activities all kick off on Friday too with Shamus – the ultimate danger show in the afternoon, and the Blacksmith Lane Street party that night, followed by Scallop Idol at Smitty's Bar at 8pm.
But Saturday is the big day. You can see, smell and taste from 70 scallop stalls selling and sampling Neptune's hors d'oeuvres from a marquee village in the centre of town that sprawls to the waterfront and all the way to Taylors Mistake Park.
You'll also find art and craft stalls, live music and entertainment and the surrounding cafes and restaurants are all in on the extravaganza. I'm going and I can't wait.
For more info and to get your tickets (adults $50, children 13-17 years $10, 5-12 years $5) for the Whitianga Scallop Festival click here.