Learn how to create a blog that people want to read and brands want to work with!
________________________
Auckland • November 4
Final class for 2017 – Register below!

________________________
Once you know your "why" you will have the energy and passion for your "what".
In this class we'll uncover what your passion is then unpack how to turn that into a blog you will love to build and grow and eventually make money from.
I don't know about you, but I have done loads of online courses and read countless websites over the years about blogging, but there is nothing that fast tracks success like a live class where like-minded bloggers come together to learn the tricks of the trade and add some tools to their arsenal, to brainstorm together, ask questions as you go and really focus on the outcomes you want for your blogging business.
If you have a blog and are needing some direction or inspiration on how to grow it into a useful tool to promote your business or even turn it into a stand-alone business and create the lifestyle you want, this half-day master class is for you.
Listen to my chat with Mel Homer from the Cafe and The Mix about the ingredients that make a great blog >>
________________________
I'm Megan Singleton and I've been blogging professionally since 2006 and this course covers the things that I have found that work – and I'll tell you the things that don't!
"Online content creators (aka bloggers like you and me) are sought after in many industries, and it's only going to get better. If you can become an expert blogger, know how to deliver great content and ideas to brands and have the tenacity to stick with it, you will be in demand – and soon living the life you love."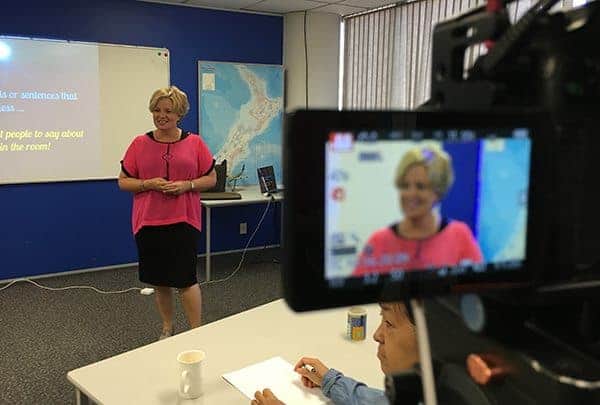 This is a really practical, hands on workshop because I know your time is precious. There are a million other things you could be doing of a morning, so I want to make sure this investment of your time and money into your business is worth it. In fact I believe it'll be the best $145 you'll spend on professional development this year!!

What she said!
"I came across your website while searching for tips on how to start blogging. I had so many ideas in my mind, but I lacked direction and I needed a starting point. However, after attending your class, I was able to refine my thinking and what I really wanted to write about came into focus. My heart jumped, I had butterflies in my chest, such was the thrill of reaching a conclusion. During the first half of the class, while we were asked to come up with five titles, I struggled; the idea was there, but it wasn't fully evolved. By the end of the class I had written down 24 titles – 24 topics for my future blogging. I am looking forward to attending any of your future classes." – Fai Kanno
________________________
Yes, you'll be doing some blog writing exercises, working on creating powerful headings, using images and leaving with a raft of ideas for great posts, so bring your laptop (or a trusty note pad and pen) because you'll have new posts ready to start you on your way, or to inspire you to keep going!
You will also receive a link to the visual presentation to recap at your leisure following the class.
Who should attend?
If you have a blog and want to learn how to monetise it and work with brands, this workshop is for you.
If you want a job as a blogger, this workshop will give you a great leg up into what is required to be successful.
If you're already blogging but no one is reading, this workshop will show you some great ways to promote it.
If you want to use content to promote your business, this master class will show you what works.
What the Blog Training Masterclass covers:
How to create content that works
How to define your unique voice
The importance of your niche
Positioning yourself as an authority/thought leader
How often you should be writing new posts
How to use images cleverly
How to use crowd sourcing so effectively you won't be having to write a blog post every day
How to use key words to attract search engines
How to promote your content on social media (and which ones not to bother with)
How to work with brands
Income streams your blog can create
How to create a Media Kit
Plus some more gems and basic dos and don'ts of successful blogging
What they said:
"Megan combines boundless enthusiasm and infinite wisdom to deliver an enjoyable, practical workshop that will cure the most stubborn case of writer's block. I left the training session with renewed passion for writing and oodles of inspiration for my next blog posts!" – Nadine Maffre, Miles Media marketing co-ordinator, South Pacific
"Had an absolute blast at the Blogging is The New Black workshop! Megan is so inspiring and an absolute social media pro. The class really motivated me to take my blog to the next level and I'm excited to see where it will go from here!" – Rachael McLaren
"I learned more in two hours at your blogger training than I did at a two day social media course held overseas earlier this year." – Peter Fleming, The Tour Company & The Cruise Club
Quick bio:
A former graphic designer, Megan is an award-winning travel writer, editor and full time blogger (who still loves Photoshop). She is the Sunday travel correspondent on Newstalk ZB, as well as freelancing for several publications in New Zealand and overseas.
Her work has been recognised internationally when she won the contract to be Expedia Australia and NZ travel blogger for 2013 and was Yahoo!NZ's travel editor in 2010/11 where she oversaw the travel channel grow from #18 to #1 in New Zealand. Today she also blogs for Skyscanner, MasterCard, helloworld and receives frequent requests to write guest posts.
Megan began blogging full time 11 years ago and now runs Blogger at Large, her own successful travel blog which gets over 65,000 views per month.
In the media:
Stop Press marketing and advertising magazine interview: From blog to brand – Megan Singleton describes how she built her travel blog into a brand. I hope it inspires you!


Save
Save
Save
Save
Save
Save
Save
Save
Save
Save
Save
Save
Save
Save
Save
Save
Save
Save
Save
Save
Save
Save
Save
Save
Save
Save
Save
Save
Save
Save
Save
Save