New Caledonia is French/Melanesian and one of the lesser known Pacific Islands. A holiday in New Caledonia is unlike anywhere else in this region.
I spent a year working with the awesome team at New Caledonia Tourism NZ, visiting this gorgeous little slice of the South Pacific, writing two blog posts a month (here's a bunch of my blog posts if you're looking for information).
But as with all good things, this too must end and this is my last post with my tips and advice on New Caledonia vacations, so I've decided to cover off 16 things you need to know about visiting New Caledonia and a few things to do
1. Your passport must be valid for 3 months beyond your return date, or for the duration of your stay if you have an EU passport for travel to New Caledonia.
2. The currency is the Pacific Franc, or CFP (Comptoirs Français du Pacifique). Click here to check the current exchange rate. As a ballpark, 100 CFP = about $1.30 NZ
3. The weather is on par with Brisbane. New Caledonia weather is pleasant year round, but probably not sunbathing weather in winter. Expect highs of about 20C in winter (June/July) and in the 30s in summer.
4. Tontouta Airport is about 45 minutes drive from Noumea and the main ground transport company is Arc en Ciel so if it's not already included in your package, click on the link to book.
5. Noumea is spoilt for choice when it comes to accommodation from beach front hotels to many just a short stroll from the beach. If you're looking for the best place to stay in Noumea, I'd stay at Anse Vata Beach and I'd also choose a hotel with a kitchen. Most hotels do have this option and it's great for doing your own breakfasts, keeping your cheeses (see next point) or even cooking other meals if you fancy cooking.
6. Head for the biggest Geant supermarket and stock up on gooey French cheeses, delicious pates and proscuitto to enjoy for happy hour (or lunches) on your balcony.
7. I also highly recommend going to Port Moselle in Noumea where the boats bring freshly caught fish daily. A kilo of tuna is about NZ$12. There's also handcrafts and fresh produce for sale here.
8. There are a few wine stores around which run tastings, as well as sales (of course). You'll be pleasantly surprised to find very affordable French wines, right through to the "good stuff" if you want to spend a bit more.
9. I'd ask your hotel receptionist or concierge about where the nearest boulangerie (bakery) is so you can head there first thing each morning and buy fresh, warm criossants, pain au chocolait and baguettes for breakfast.
10. Most attractions and shops are closed on Sundays and Mondays so if you don't want to just relax on the beach or lounge by your pool, it would pay to book an excursion from home before you get there. It's hard finding tours (in English) once you arrive on a Monday!
11. A cool thing to do on Sunday or Monday (or any day actually) is take the water taxi (about NZ$15) from Anse Vata beach across to Duck Island (Ile aux Carnards) with a picnic, or buy from the cafe there, rent a sun lounger and snorkelling gear and spend the day in and out of the crystal clear ocean.
12. The Isle of Pines is really worth going to for a night or two. It's about two hours by ferry or 20 minute from Magenta Airport in Noumea. Here you'll find sand that is as soft as talcum powder along Kuto Beach. I thought the run down prison was incredibly photogenic, but I also had a guide for a few hours and popped all over the island seeing where they make sandalwood, grow vanilla and some amazing beaches.
Here's my post on Things To Do on the Isle of Pines.
13. If you want to meet the local kanak people and join a family for their traditional bougna lunch, head north into the hills and be welcomed into the home of a local family and help them prepare your meal.
Here's my post on booking a tour where this is included.
15. If you're a hiker and birder, then go south into nickel territory where the soil is red and the lakes shimmer and spend a few hours exploring with Francois, the Bear Grylls of New Caledonia!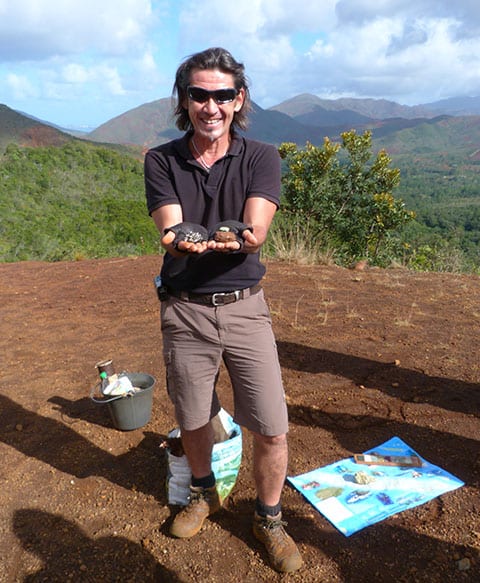 16. If you're a war history buff, a visit to Bourail (about 2 hours north of Noumea) to the New Zealand WWII Cemetery is a moving experience. They hold a service here every ANZAC Day, but on any other day you can let yourself in the gate and wander silently around the headstones in this peaceful cemetery where many fallen heroes lie.
And that, my friends, is what I've learned in a nutshell about New Caledonia. Feel free to add your tips in the comments 🙂
>> If you'd like to take NZ$40 (€25) off your hotel booking with Booking.com, jump on this link to use my code <<
Save