West Australia's Margaret River region makes for a fabulous road trip from Perth!
Grab your bestie and follow my five day itinerary around the Margaret River region visiting beaches and wineries, cheeseries and watching sunsets with a sneaky bottle of wine on the beach.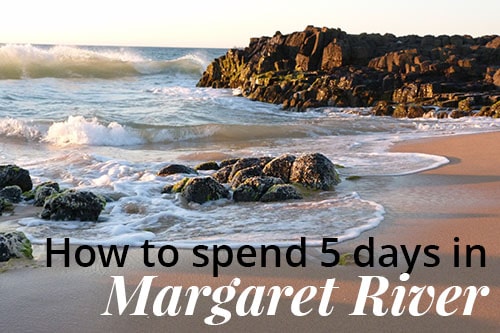 But first things first, let's clear up the matter of Margaret.
She is not Murray (although they sound like they went to school together). She does not hold houseboats afloat like the Murray River, instead she meanders quietly through remote bush. So discrete is the Margaret River, that we only saw her once and that was after we made a special effort to find her!
But the Margaret River Region, now that's a place to spend a good week exploring.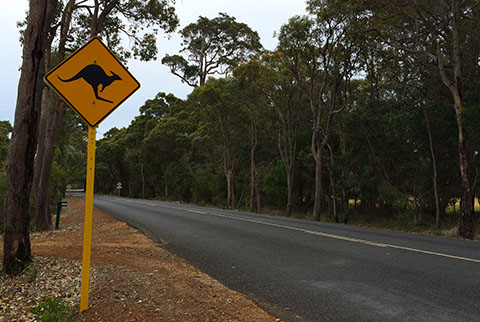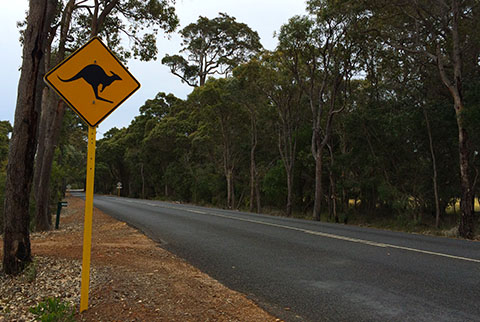 Remarkably this whole peninsular that stretches 140km from Cape Naturaliste in the north to Cape Leeuwin in the south where the Southern Ocean meets the Indian Ocean is named the Margaret River Region.
Righto, now that we have that clear, let's get started on my 5-day itinerary of Margaret's region:
Day 1
Rottnest Island: Ok, we're still in Perth, but a day trip out to Rottnest Island (Rotty) is well worth doing before you hit the road. The whole family will love this. Cute quokkers (rat-like marsupials) are the reason the island is called rottnest (rat nest).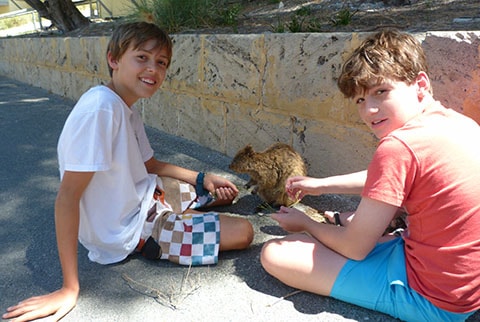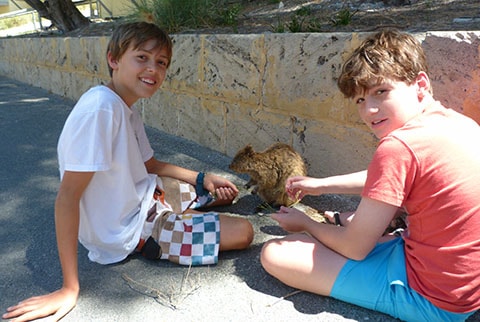 Take the ferry from Perth for the 60-minute cruise down the Swan River to Fremantle then 30 minutes across to Rottnest Island, or catch one from Freo (Fremantle!).
Once we got to the island we had booked a thrill ride on a jet boat which was a very cool way to see the entire island and the amazing crystal clear waters. The boat roared into tiny beaches and bays, and we stopped to see dolphins and New Zealand fur seals and turned in circles under a towering osprey eagle nest.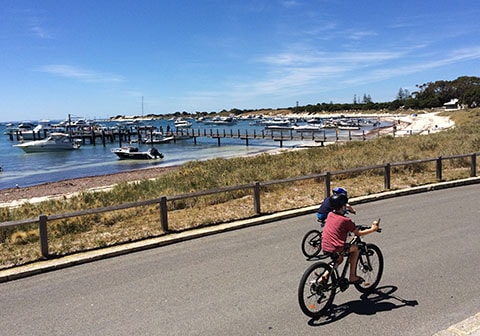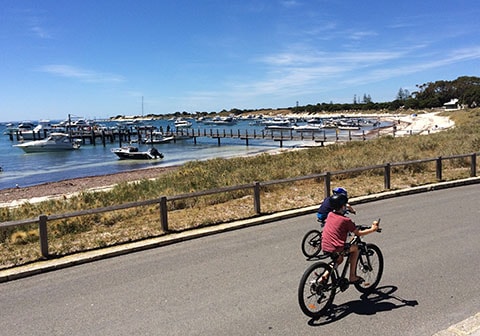 Then we hired bikes and tootled around the island village, past the many old cottages that are now holiday rentals and over to Geordie's Bay for lunch. Then back again for a final pint at Hotel Rottnest, which has a huge beachfront garden and tables and chairs, before the ferry back to Perth (or Fremantle).
See my photo blog of my day on Rottnest Island >>>
Scarborough Beach: if you want to glimpse your first west coast sunset, then the Rendezvous Hotel at Scarborough Beach is a great spot to spend the first night. They have a restaurant overlooking said beach that starts with breakfast, but I'd make a beeline here for dinner. My friend Nic braved the ocean the next morning, trying to convince me it was actually quite warm. In fairness, I got talking to an old codger in his togs who also told me it's much warmer here than down the coast. Didn't convince me though.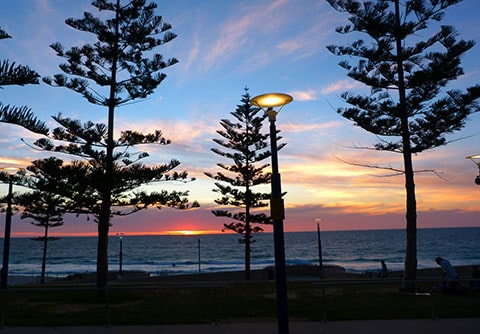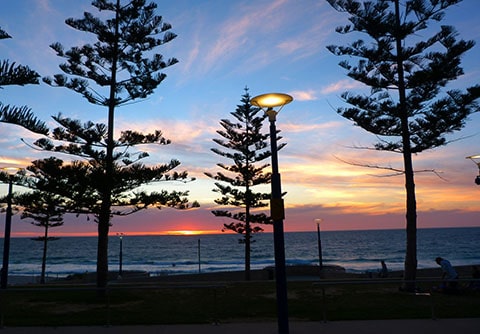 Day 2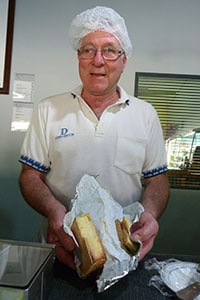 Bunbury: Drive via Harvey Cheese and stop in to visit Robert St Duke, the cheesemaker. He hand makes all his cheeses from locally supplied milks and his OMG gooeys live up to their name. You can even do a cheesemaking class here if you're so inclined. Stock up for happy hour and head out.
Bunbury is cute! We stayed at Mantra Bunbury which sits on a quiet bay with the wild west coast over the headland with shops and cafes behind us.
The hotel itself is cool, built partly in old silos (have brekky or a drink in the circular bar/restaurant) and within walking distance is the Dolphin Discovery Centre where you pay $10 to visit the small, but fascinating aquarium).
The highlight here though is to await the wild mammals that apparently swim in all the time to play with tourists standing with hopeful hearts in the water. Sadly we'd missed them by about half an hour.
The sunset at Bunbury was magic and we nibbled on our cheeses with a bottle of wine (sshhhh) and talked long into the darkness.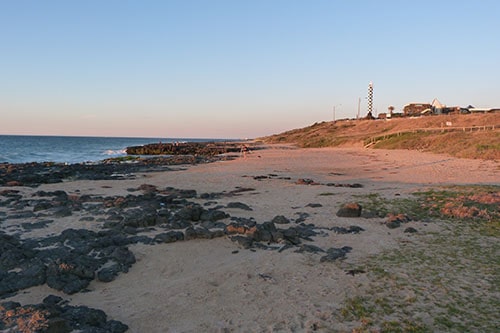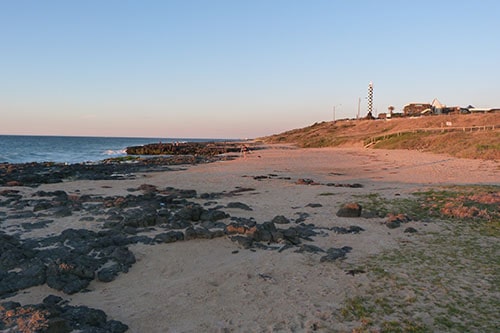 Day 3
Yallingup: We set off for Busselton (about an hour from Bunbury) to see the southern hemisphere's longest wooden jetty. It's 1.8km and you can walk it ($3 for access) or take the little train which ambles along on the hour ($12). At the end is an underwater observatory that you can also visit ($29.50). If you're short on time (which we were) climb the lighthouse, which is now a gift shop and art gallery, and take photos instead!

Lunch at Vasse Felix: this was a truly memorable experience. I'd highly recommend not only making time to wander around the sculptures in the garden, but allow at least 20 minutes for a wine tasting first and more time to browse the art gallery. Upstairs the restaurant overlooks the rolling vines and the menu is awesome. We happily knocked off 3 hours here as we were lucky enough to meet the truly awesome chief winemaker Virginia Willcock who took us through a VIP tasting in the underground cellar that looks like a hobbit house.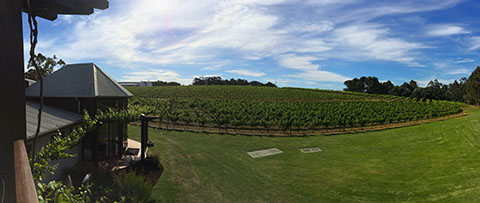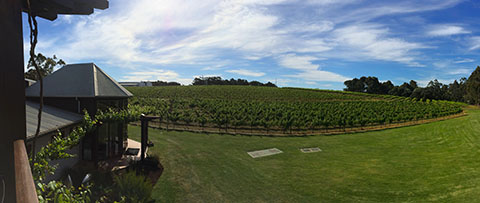 Bedtime: Stay at Seashells in Yallingup. It's about a km from the beach, a nice stroll (with any cheese you didn't eat last night). This is a 4.5-star stylish apartment-style hotel has studios and 1 and 2 bedrooms with your own laundry facilities, a separate living room and balcony overlooking the restored Caves Hotel pub for dinner.
Day 4
Up bright and early because we are still on New Zealand time (that is, 5 hours ahead) we grabbed coffee from the Caves Hotel next door and set off along Caves Road to Margaret River town for breakfast. This whole peninsular is full of limestone caves. We blinked and missed the actual river trickling under the bridge just before the town, but asked the lady in the tantalising clothes boutique where to eat and she suggested eggs benedict in the window at Muster Bar and Grill. Check.
Then off down Caves Road we went bound for Jewel Cave. What a wonder! Make sure you do the tour of this enormous underground cavern decorated with the most remarkable stalactites and -mites you ever did see. (Or buy a group pass and visit Jewel, Lake and Mammoth caves). I never knew cave formations could be so intricate (some look like a forest of trees) or even weirder. The bacon shawl has to be seen to be believed.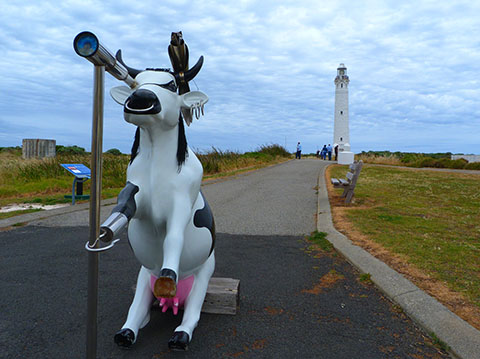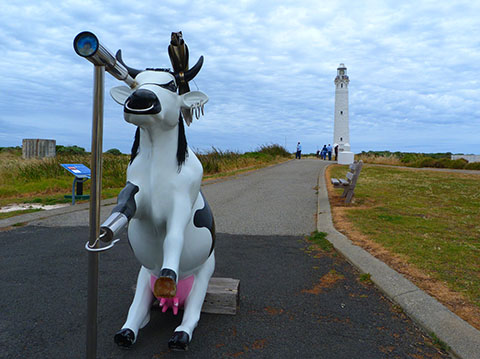 We resurfaced and headed further down the cape to Cape Leeuwin Lighthouse where the Southern Ocean collides with the Indian. It's a windswept place and oh how I would have hated to be a lighthouse keeper here back in the day! Fortunately it's now automated and instead of climbing up the 176 steps with a bucket of kerosene, you can just climb with your camera for the views.
Day 5
Back in Yallingup overnight, we decided to check out some other cafes the next morning and finally settled on stunning Bunker Bay at the northern end of the cape where the Naturaliste Lighthouse is and where you can take walking tours the whole 140km back to Leeuwin (over several days!) Between September and December the huge Southern Right Whales are seen up here. Alas not today 🙁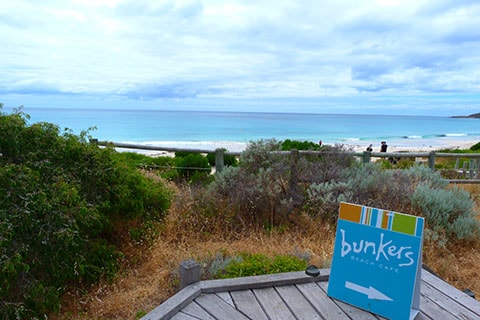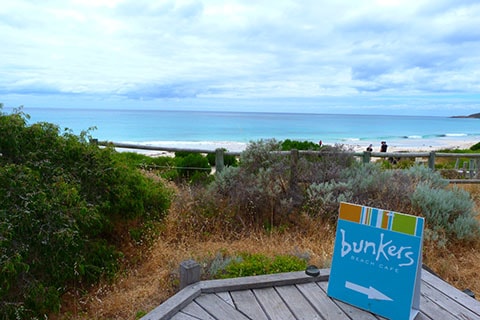 Lunch at Aravina Estate: this would be my pick of wineries if you have just one day to imbibe. Why? It's so eclectic and caters for such an odd spectrum of tastes that everyone in your group is bound to find something of interest. There is a children's playground where I was told local mums come with their little ones on a daily basis and just have coffee. There's the vintage sports car museum that owners Steve and Hayley Tobin have been collecting – including Twiggy's 1969 Lamborghini Miura. Petrol heads come from far and wide just to gawp in here. But the most exciting room for me was the homeware store! I once wanted to open a shop like this and we ended up making a few cheeky purchases to stuff into our carry-on luggage.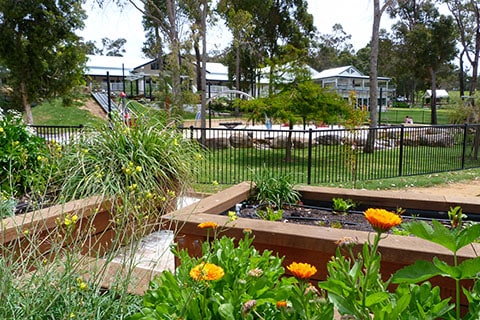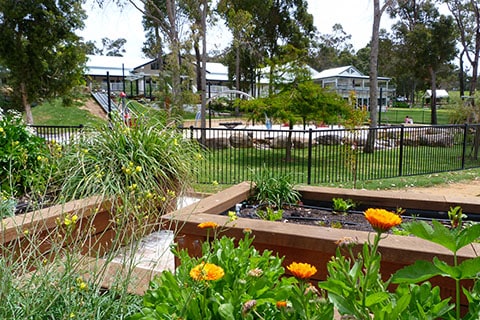 The restaurant is run by celebrity chef Tony Howell who came over to our table for a chat, after sending out incredible dishes. His passion for the local produce is inspiring and they grow a vege and herb garden next to the playground. The next thing they're working on is a garden tour among their incredible forest of hydrangeas, and there was whisper of a new cidery that might be popping up here in the near future. Watch this space!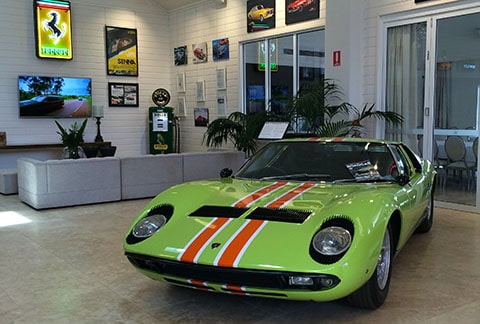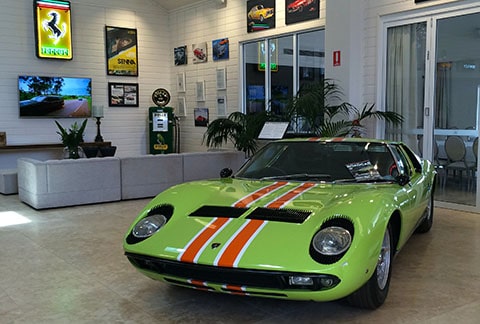 Then we drove three hours back to Perth, via dinner with friends at Little Creatures pub in Fremantle.