In 12 days and seven different destinations onboard our Royal Caribbean ship Vision of the Seas, I would rate the little Greek island of Santorini as my favourite place – and one that I'd happily come back to for a week, although it would be a swimming, sunning, reading, eating and drinking kind of holiday. But hey, what's so bad about that, right?
If you have one day on stunning Santorini here are three things to know:
1: Get up early and disembark as soon as you can. That's if you haven't booked an official ship excursion, of course. On our ship we have a free for all for getting on shore via the tender boats between 7 and 8am, after that you have to take a number and it could be hours until you're on terra firma.
2: Plan to spend €5 to take the cable car up to Fira or you can pay the same amount for a donkey who will trot you up the winding, poop covered cobblestones about 300m to the top. Note: there is a massive line for the cable car coming down so we ended up walking down. Jelly legs from 25 minutes doing thigh lunges!
3: Rent a buggy or quad bike so you can tootle around at your own pace, stopping for photos, food and shopping. €50 for the buggy or €40 for the quad for the day. A bargain we thought. The double seater buggy had already been booked, so we grabbed a quadie and set off for the gobsmackingly picturesque end of the island, Oia (pronouced Ee-ya)
Scroll down to see my tips and highlights of Santorini!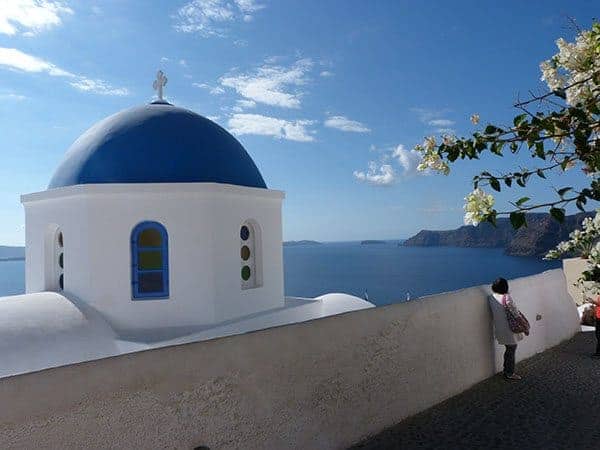 Visit Oia
Those hero pictures you see of blue domed while buildings are taken in Oia, the farthest outcrop of Santorini to the north. I was also very pleasantly surprised and utterly delighted at the quality of shopping. Ok, you can find tacky souvenirs if you really want that fridge magnet, but mainly you have local designers and artists selling paintings, sculpture, clothing, jewellery. And yes T-shirts!
I bought a gorgeous handmade ceramic figurine and had it shipped to New Zealand for an extra €35 (her photo is below).
Choose a taverna overlooking the ocean with houses dribbling down the hillsides and order hummus, taramasalata, calamari, haloumi cheese, Greek salad and a beer (although probably not all of that just for one). Sublime!
Wine tasting on Santorini
Believe it or not there is a wine industry on Santorini. In fact the first vines were planted here 3000 years ago! The soil is volcanic and pumicey and it hardly ever rains, but it is humid.
We found Gaia Wines, (pronounced Yaya meaning life), a little cellar door of a tasting room out by the airport right on the beach, purely by chance. The whites are dry and salty. I know from more than just the spiel that Leto, the Greek girl with the Scottish accent gave us, as I had a cold and sinuses had wrecked my taste buds so all I had to go on was tongue tastes – salty, sweet, sour. Yes I could taste the salt from the skins. They also do a fabulous balsamic vinegar. Except they're not allowed to call it that because it's not Italy.
We headed back to the main town of Fira, dropped off the bike, and saw the cable car queue was wrapped around a courtyard and past a bunch of shops. We thought it looked like an hour long, so decided to walk down. I'd not recommend it for anyone without sturdy footwear or dodgy knees. By the time we reached the bottom the last tender boat was arriving and I was gasping for it to end!
Here are some of my pics I took in Santorini. Feel free to pin them using the Pinterest button if you want to share, or better yet, I'd LOVE you to share this post to your Facebook friends. Let them know you've picked the next group holiday destination 😉
If I've whet your appetite for a cruise in the Med, read my latest post on what you can expect on a Royal Caribbean cruise ship >>
(Find hotels in Santorini here on Booking.com >>)
Save
Save
I arrived in Santorini on the Royal Caribbean ship, Vision of the Seas. Check out their website for Mediterranean itineraries so you too can spend a day here!