A weekend in Sonoma is a charming place to visit!
I write this post sitting up in bed at the Vintners Resort on a misty winter's morning. It's the cutest hotel room – with its own fireplace! Admittedly it gives off no heat and is more about ambience than practicalities, but it sure looks the part 🙂
It would make the perfect start for a girls weekend in Sonoma and there are some delicious foods you really to try too!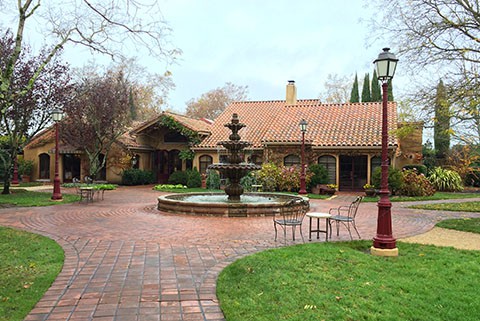 There really are so many great things to do in Sonoma, but this is my first visit to California's famous wine country so read on to see a few things that surprised me about Napa's big sister…
You could even base here and use it for other day trips along the California coast to places like Napa.
Here are 5 things you may not know about Sonoma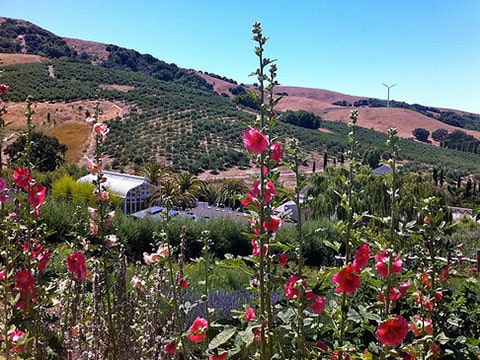 1. There's Sonoma County, Sonoma Valley and Sonoma Town
And Sonoma County is huge. One million acres huge (404,686 hectares) covered with 500 wineries and 400 of them have cellar doors for your tasting pleasure.
Sonoma Valley is just one of five separate wine growing valleys in Sonoma County, so if you're planning a tasting day, make sure you're not picking vineyards that might be a 2-hour drive apart!
2. Peanuts!
Famous cartoonist Charles M Schulz lived here in Sonoma County (his wife and kids still do) and there is a museum in his honour with some of the 17,000 Charlie Brown strips Schulz produced.
The photo below shows a wall in the back of the room made of ceramic tiles of all his cartoons. Very clever. He lived just down the road and his office has been recreated here.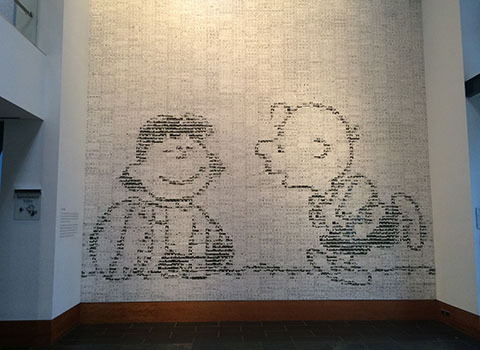 The man was a machine producing a cartoon every day, many of them funny, some political and most with a little spin on what was going on at the time.
So proud of Charlie Brown they are in Sonoma that the local airport is named Charles M Schulz airport and features life-size figurines to greet incomers.
3. Visit the Redwoods
Sonoma is also giant redwood country and a trip to Armstrong Redwoods State Reserve to walk their gentle tracks is awesome. Especially if you can wing it, like I did, that no one else is around and it's just you and the sound of silence in the woods.
Allow at least an hour. I needed two hours for all the stopping and photographing I did.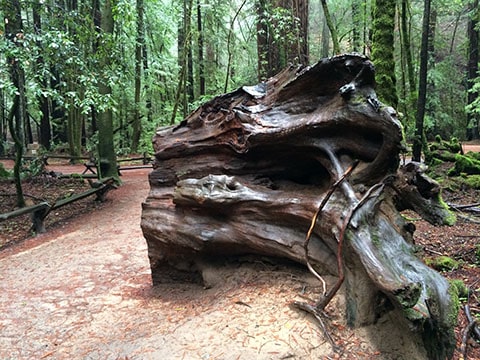 4. Sonoma is on the coast!
It's rugged out here. It's like Big Sur, further south of San Francisco, and the west coast sunsets are amazing.
A gorgeous thing to do would be to pick up a bottle of wine, grab a picnic or cheese from one of the many cheesemakers in the area (have a look at this cheese trail map) and head to the beach to watch the aforementioned sun setting over Bodega Bay.
Sonoma is one of the most beautiful stops on a San Francisco to Mendocino road trip.
3 fun things to do in Sonoma
1. Visit Bodega Bay
Alfred Hitchcock's horror movie Birds was filmed here and die-hard fans, as well as the curious, can visit the General Store and pick up some memorabilia and take photos of Potters school house.
2. Take a wine and food tasting walking tour
I took a wine country walking tour meeting in Healdsburg, where the rotunda was decorated for Christmas and surrounding restaurants provided freshly cooked treats and wine tasting rooms meant we didn't need to walk far to taste lots of varieties.
3. Take a cooking class
I joined up with Relish Culinary Adventures and learned how to make Christmas appetisers. There were about 12 of us, then we all got to sit down and eat the product of our hands!
Frequently asked questions
Where is Sonoma County?
Sonoma County is just north of San Francisco and is bordered by Napa Valley running along its eastern side.
How far is Sonoma from San Francisco?
About 45 miles and will take about an hour to Sonoma town.
How far is Sonoma from Napa?
Well Napa Valley runs all the way up the western boundary of Sonoma County. The distance from Santa Rosa to Yountville is about 28 miles and will take about 50 minutes to drive.