In 2016 we bought our first home – a bach (North Island slang for holiday home) on Waiheke Island!
This stunning island in Auckland's harbour just 35 minutes by ferry from down town Auckland, is famous for wineries and surrounded in beaches and bays. It is one of the best hidden gems in the world. In fact in 2015 Lonely Planet named it as such.
Our place is a little 1972 classic Kiwi bach (they call them cribs in the South Island) that had just been beautifully renovated and as I type I am sitting on my deck listening to the summer cicadas.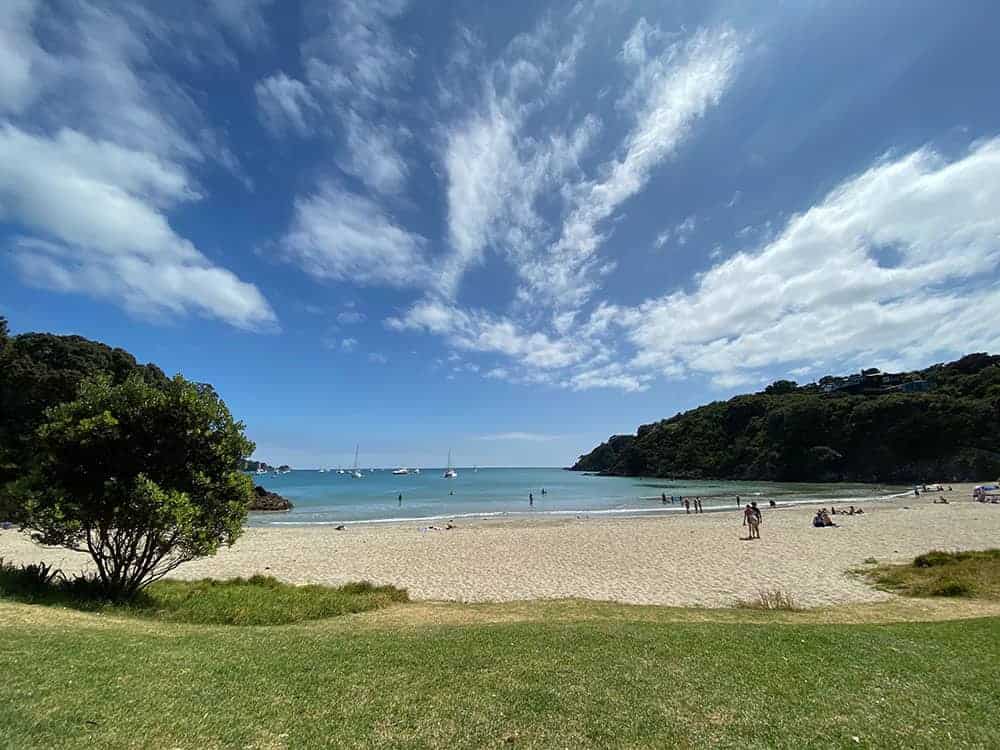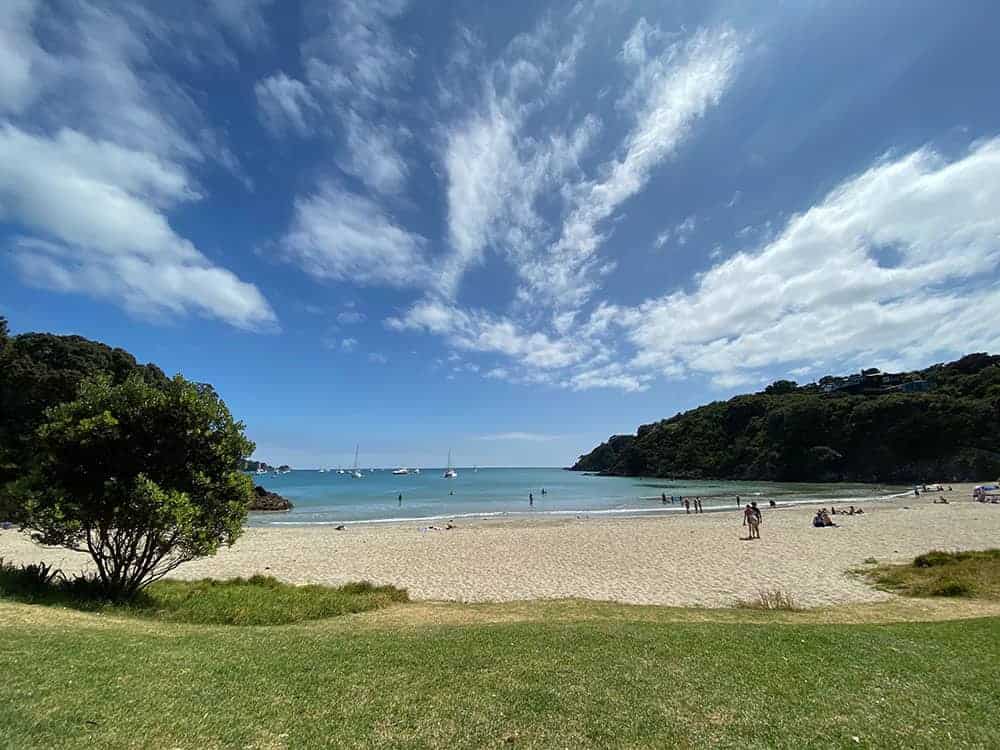 So in the name of getting to know my new surrounds, I have been visiting Waiheke Island's wineries for a wee nibble of their fare and a splash of the local nectar. In fact I had been taste-testing Waiheke vineyards long before we bought our little place, but now my mission is to add to this list as I down each glass.
If you are planning a visit read this post which gives a full run on things to do on Waiheke Island and if you're wanting to know how to get around on Waiheke this post has you covered.
So here's my current review of eight wineries that all have restaurants or at least cheese platters available to sit outside:
You can walk here from the little village of Oneroa or even from the ferry at Matiatia if you feel like a 2km hike up hill. And you should.
In the last few years Cable Bay has undergone a transformation. They have two dining rooms: the restaurant which is more fine dining, but it's the outdoor lounge they've created in a sunken veranda under a huge canopy, looking across the lawn and lapping up views of the city, the hip music of an afternoon, and the laid back vibe that's got me.
Don't be surprised if a helicopter hovers in dropping off guests, but it's the sunset views that I'll be bringing friends and family for time and again.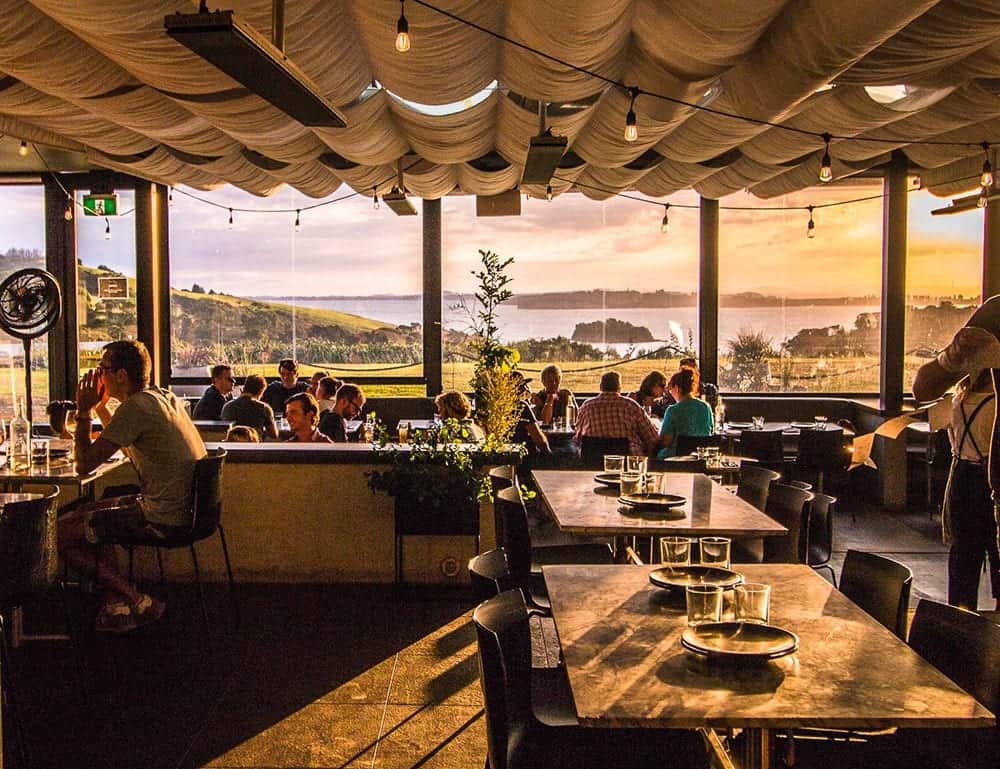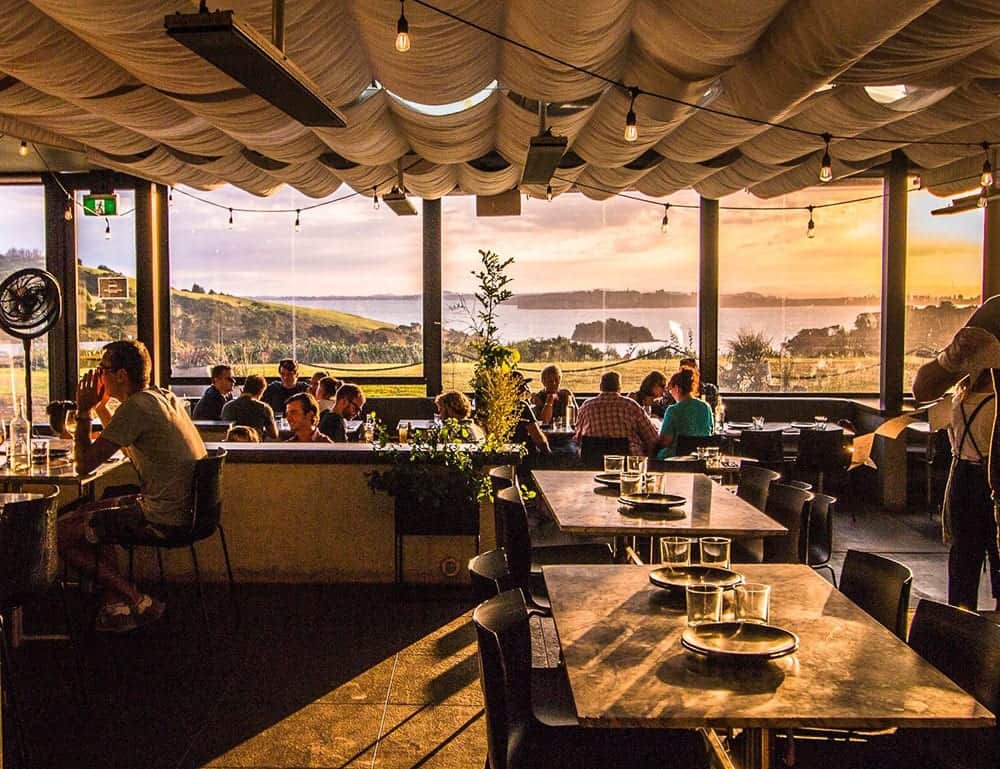 This might be my new favourite! My first love is Cable Bay for the rolling lawn, the casual vibe and great food in the veranda restaurant, but come up here to Thomas's Bach Restaurant at the Batch Winery, confusingly named but worth the effort to get to.
It's on the Waiheke Explorer wine-bus route too (link below). I've been a few times this year now, for lunch, for a glass of wine whilst watching the views from the mainland's eastern beaches to the CBD and across to Auckland's north shore and around to the Coromandel.
Then recently we were there for a wedding of a gorgeous friend who stood under the huge tree on the front lawn wrapped in the breathtaking view and signed her name on a wine barrel. Gorgeous.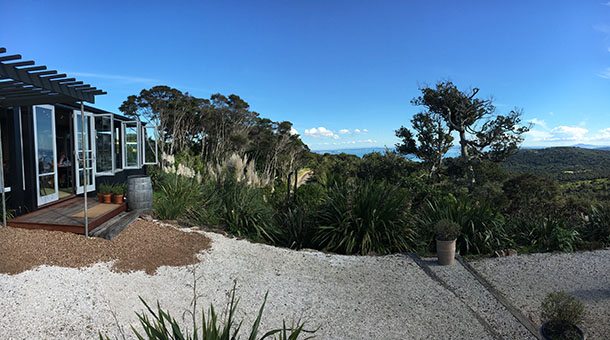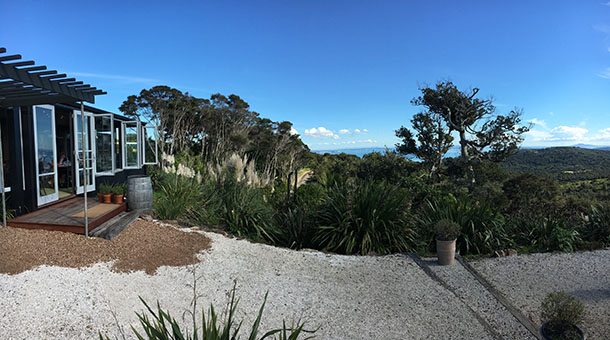 Located in Surfdale, just near Oneroa, this gorgeous little winery was in the throes of setting up for a wedding and as the clouds rolled around the seating for the ceremony moved from inside to outside under a monstrous tree on top of a hill with sweeping views over Putiki Bay.
Now owned by the University of Auckland and home to the Goldwater Wine Science Centre, named after the founders of the vineyard in the 1970s, where students are immersed into the operating and creating of wines in a hands-on way.
We ordered a charcuterie and a cheese platter for four of us, and tried wines by the glass outside as a group of lads played petanque and their girls drank wine and giggled at a table beside them. A perfect couple of hours!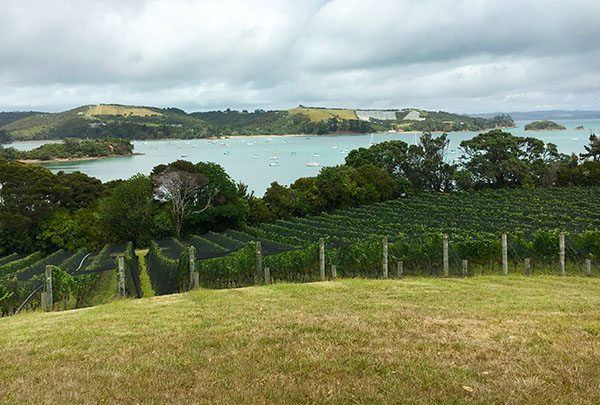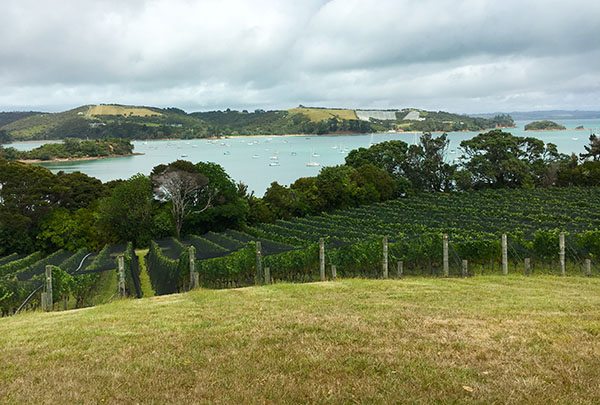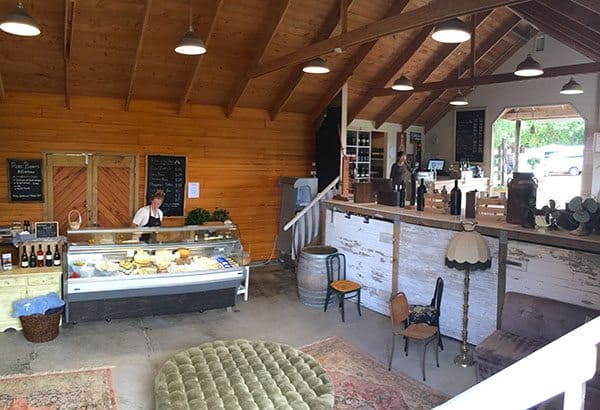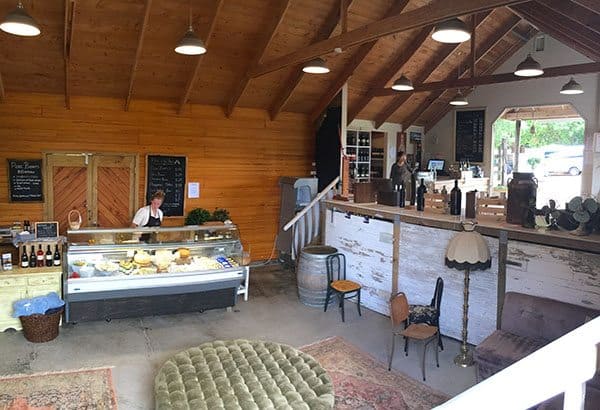 It's a hike to get to, about half an hour on a dirt road (you'll need your own car as hire companies don't allow their scooters to come out here) across the island, or you could arrive by boat at high tide and get off on the jetty, to enjoy one of their famous platters.
There is limited indoor seating, but a large marquee with roll-down wind shelters makes for the best of both worlds, right on the beach and without the wind.
There are several picnic tables dotted on the lawn, kids playing cricket, and those platters. A really great winery for a casual lunch with friends sitting on the edge of lapping waves, and one we always bring first-time visitors to.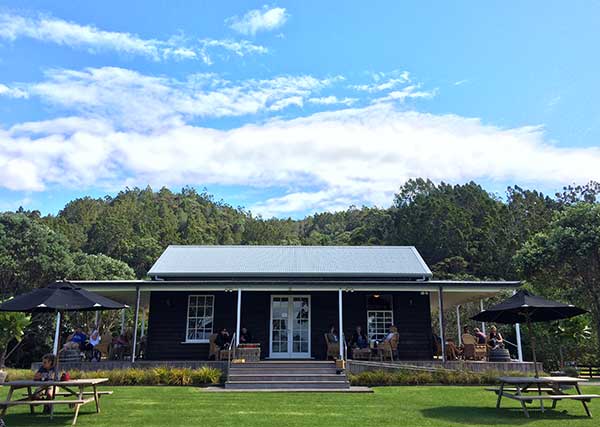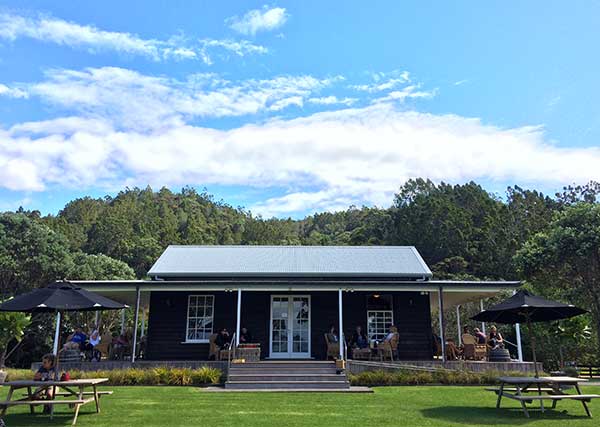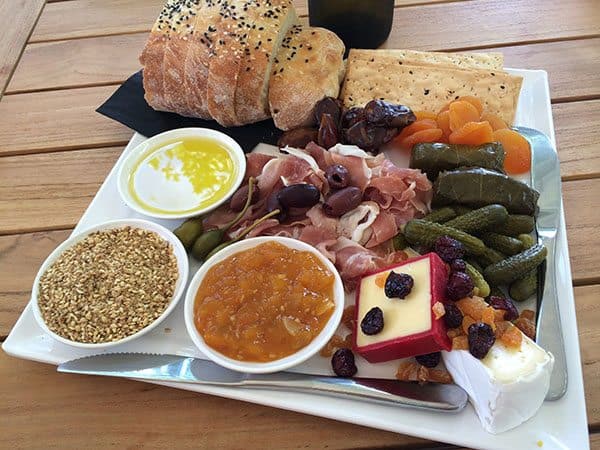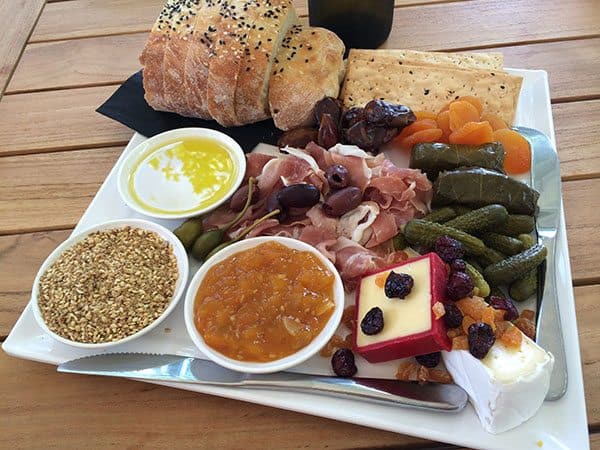 This winery restaurant specialises in Spanish and Mediterranean tapas plates, and they win awards for it too!
They also have a gin distillery here which adds a quirky element. That and the mosaic scultpuring around the building. Their food has seen the restaurant listed regularly in top 50 lists in Auckland.
The feature here is the unique building and the food. But if you happen to have any broken crockery bring it out, they'll love you for it!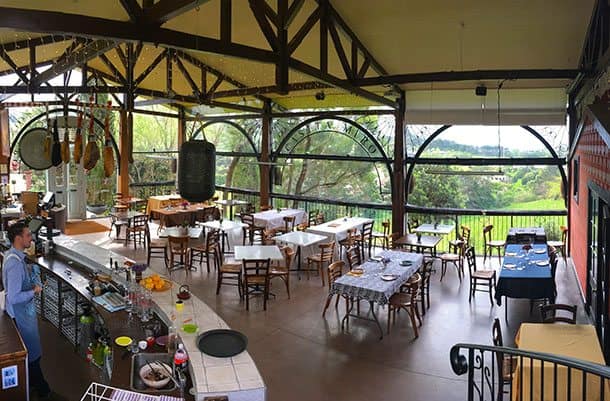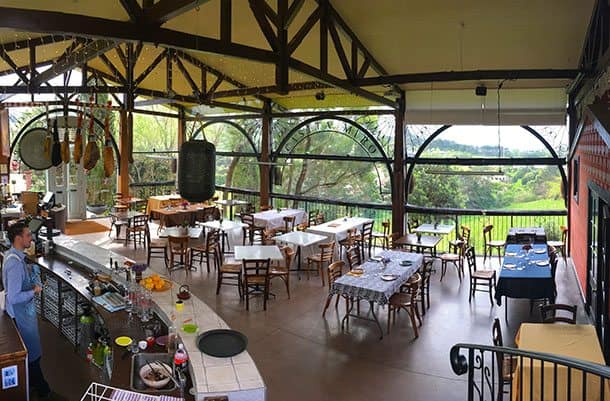 Probably the newest winery on the island which opened in 2016 (on the site of the former of Saratoga Estate), this is an awesome restaurant surrounded by vines.
Look for the curved wood slat ceiling as if you're dining in a wine barrel and the incredible lighting that is handmade from gnarly grape vine roots and hand blown glass bulbs.
There is a small cellar door for private functions but a large restaurant up the steps with indoor and outdoor seating and even a huge fireplace surrounded by leather couches for you to wait for your table.
You won't have the ocean views of some of the other wineries, but this restaurant is worth coming for alone.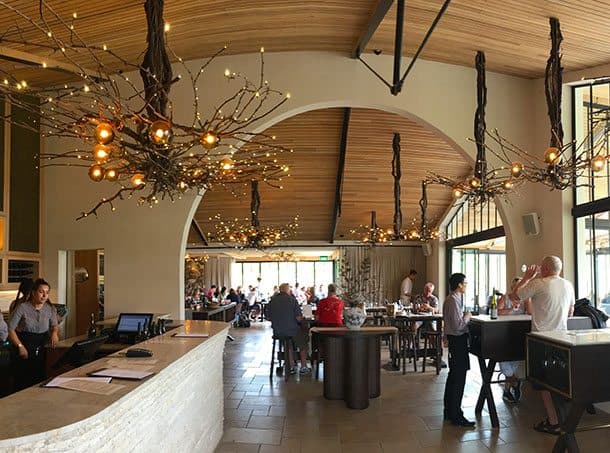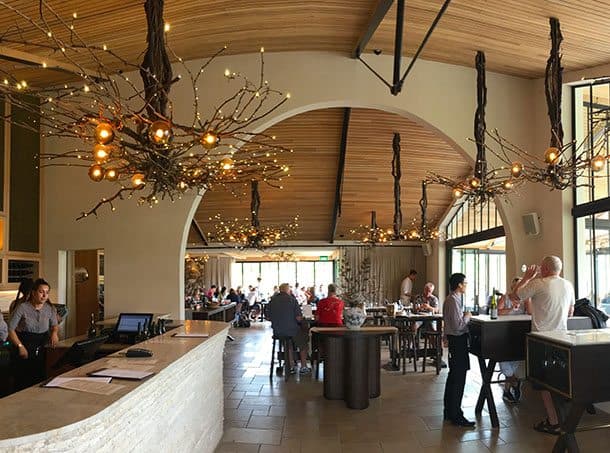 As we arrived a helicopter was just lifting off only to travel about 1km over the trees and put down its thirsty guests at Cable Bay.
The first thing that wows you at Mudbrick are impressive Italian-inspired gardens with their views towards Auckland city.
There are two dining areas here : the tables and chairs outside the tasting room and gift shop or indoor casual dining if the weather is being awkward, and the fine dining restaurant where many bride has sat.
The perfectly manicured hedges are stunning, and again you can eat and drink inside at the fancy tables, or sit under one of the umbrellas outside for a sip, and swoon at the trimmed hedgerows. This winery makes every BEST OF list on Waiheke.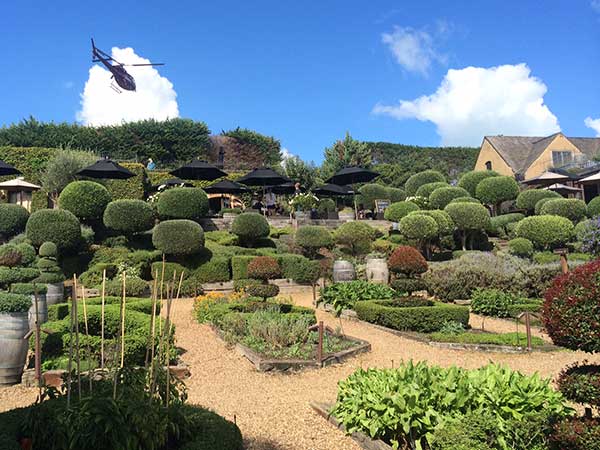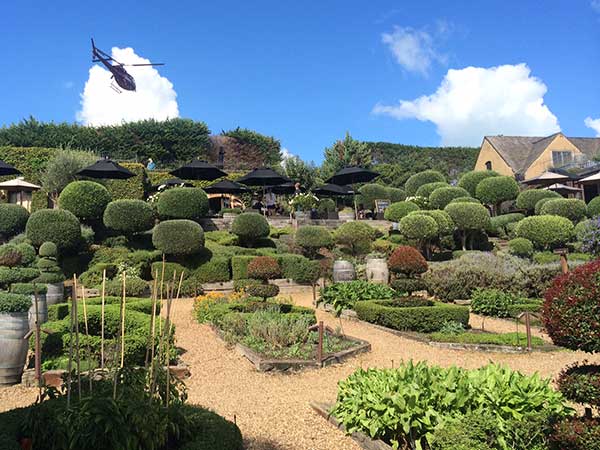 This casual winery has outdoor seating virtually among the vines. The woodfired pizza oven spits out the best pizzas on the island, according to the New York Times, and their syrah has won 18 awards since 2004.
This is a great winery to visit if the kids are in tow, meal sizes are generous and the trampoline, sandpit and bikes will keep them amused while you taste.
___________________________
How to explore Waiheke's top wineries
The Waiheke Island Explorer is a double-decker hop-on hop-off bus that leaves from the Fullers Ferry at Matiatia and stops at many of the wineries listed here about every half hour, as well as Oneroa for cafes and shopping. Cost $60 for one day pp. Family passes and 2-day passes also available.