Update: I loved this place so much that I went back for my birthday in 2018 (and paid my own way). Here's why I love Fiji Outrigger Beach Resort…
___________________
For a truly Fijian experience, my advice is to get off Denarau Island with its luxury hotels jostling for space on the water's edge and a sea you can't swim in because it's usually so rough, and head down the Coral Coast to the Outrigger Fiji Beach Resort.
It's about an hour and a half's drive into the heart of the Fijian way of life. You'll drive through Sigatoka, a major town with produce markets and local shops, and past some of the communities that Outrigger supports.
Here's why I can wholeheartedly recommend Outrigger Fiji Resort
Spread over 40 acres, there are 252 rooms including a hotel and individual bures. Seven are absolute beach front bures – so be in quick! It's been designed to resemble a Fijian village and you'll find tiny touches everywhere, as well as the fabulous staff who are all local and who will greet you with "bula" every time you see them.
What families like at Outrigger Fiji
Kids Club: your "little riggers" can join the kids club activities from age 3-7 and "beach riggers" from 8-12. For your cooler than cool teens, there is a program for 13+ which includes spear making, fort tours, hiking, and a trip to Sigatoka for sand duning.
The nanny program has proven extremely popular as they started with 6 nannies (meimei) and now have 36. You can hire a meimei for the week (FJ$350 for 4 days) and they will take your little ones to kids club activities, babysit as required and even go out on day trips if that's what you want to do. The children adore their local Fijian meimeis and some have even been hired permanently and moved to New Zealand or Australia!
Pool: a large family pool has a gentle lazy river edged with loungers. Position your family at the different depths and you'll find groups throwing balls or even a game of water polo. (There's another adult's pool on site, so don't panic if you want some quiet time!)
Dining options: Check out packages as from time to time kids dine free, but your family will most likely have all their culinary needs met at Vala Ni Kana. This huge open restaurant serves buffet breakfast, lunch and dinner and a cultural show happens in the evenings on front of the hot food. There is plenty of choice and it's worth poking your nose in with or without kids to check it out before making your final decision.
Beach time: At the bottom of the resort is the lagoon makes this resort so popular. The sea is shallow and calm and on a gorgeous day you can swim, snorkel, take out a kayak or paddle board. Little ones in water wings are safe as houses here as the waves crash onto the reef in the distance.
Cultural activities: Each day there are activities, classes and demonstrations: kava ceremonies, fire walking, torch lighting, sarong painting, cooking and more. On Tuesday nights the fire walking show starts at 6.30pm in an amphitheatre on the resort and the tradition of how it began is narrated. There is an extra charge of FJ$20 per adult.
______________________
Adult time at Outrigger
Bebe Spa: pronounced benbay, I had 3 treatments in my 5 days at this award winning spa! Admittedly 2 were treats from the resort to our media group, but they were so good I went back and paid for a 3rd! Set high above the resort on Vakalomalagi hill (Heavenly hill), you'll be taken up to the spa by golf cart (which incidentally is next to the wedding chapel with its sweeping views across the lagoon and out to the ocean). Each room has ocean views and my therapist Shivanjani won Australasian spa therapist of the year in 2014. Talk about bliss.
Beachfront bures: There is hotel accommodation in the main building as you enter the resort with butler service and a free glass of champagne or beer and canapes delivered every evening to your room, as well as bures dotted throughout the grounds. My pick for the ultimate in decadence would be one of the few beach front bures, or maybe the second row behind. You have a little hammock on your veranda and lie in your bed under a tapa cloth ceiling, under a palm leaf thatched roof.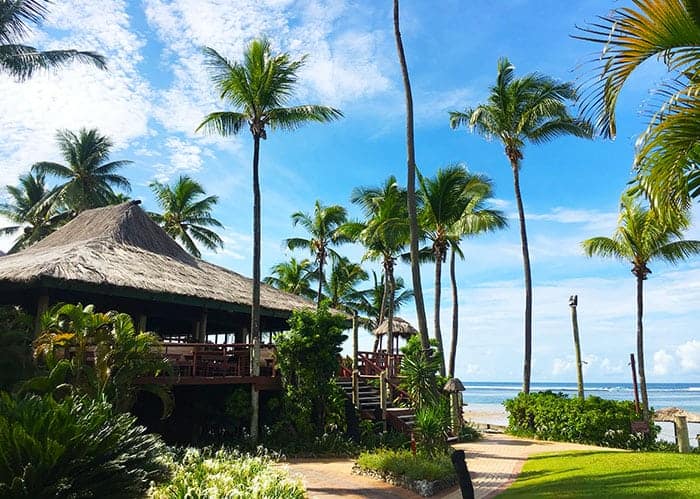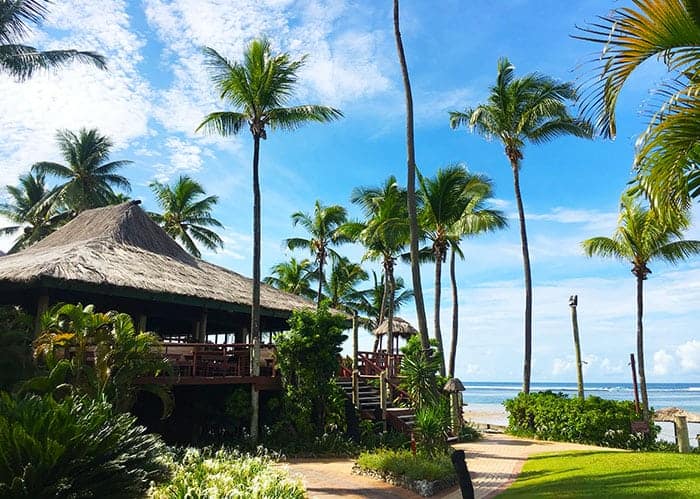 Cocktails on top of the hill: Back up by the spa (by golf buggy) and up the steps is Kalokalo Bar. Children are not permitted. Come here for a sunset cocktail and tapas before heading back down to one of the restaurants for dinner.
Vahavu Pool: this adults only pool has a swim up bar and is edged in sun loungers. It's also directly in front of Vahavu Bistro so you can hang out here all day. Oh and it's right beside the guest laundry, which I was thrilled to find as I'm on a 3-week trip! FJ$4 per load and you buy tokens at reception.
Cooking class: This was a highlight for me! You can read about my cooking class with Fiji's famous executive chef here and I've included a recipe for fantastic coconut chilli prawns which I will definitely be trying at home!
______________________
Dining options at Outrigger Fiji
There are several dining options so you could stay all week and never try everything!
Ivi fine dining: This was where our cooking class was held and where my husband and I dined on a delicious deconstructed lobster mornay. The staff are all from local villages, many having trained through the ranks right here at Outrigger under executive chef Shailesh Naidu.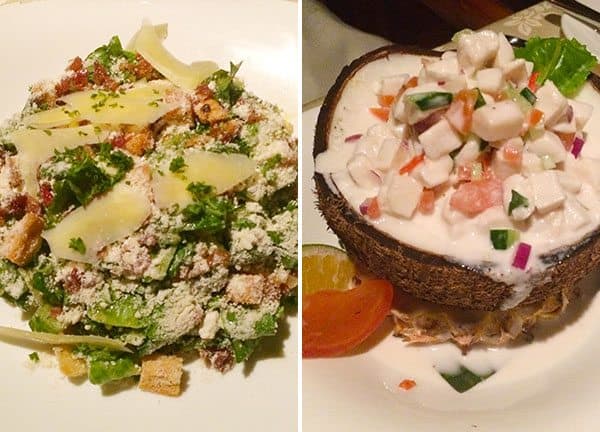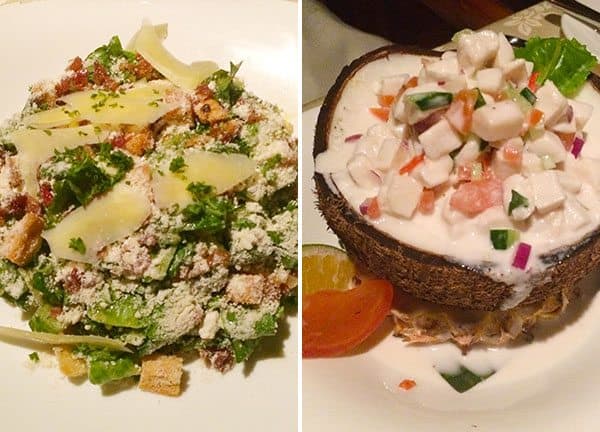 Vale Ni Kana: the huge buffet restaurant in an open bure. For breakfast alone your choices include fresh fruit and juices squeezed in front of you, as well as smoothies. Cereals and yoghurt. Plenty of bread options of toast and pastries, plus cooked English brekky food and an egg station for omelets. The dinner theme changes each evening and this is where they perform a free nightly music and dance show.
Sundowner Bar: Head down here to the ocean front for a tipple on the deck and let the ocean breeze play with your hair. You can also have an a la carte breakfast here and they serve lunch and dinner too. On Sunday evenings the local church choir comes and sings. And oh how they can sing!
Baravi: I enjoyed eating here one night for something a bit different and quieter than Vale Ni Kana. It's beside the main pool and is designed to take you on a culinary journey through India, Thailand, China and Singapore. It also has a sports bar and an open kitchen so you can watch the chefs preparing your butter chicken while the rugby is on above the pool table.
Takia Cafe: situated in the main lobby, they serve a very decent flat white – even if it has to be with Long Life milk!
Kalokalo Bar: high up on the hill beside the spa and wedding chapel, this is a great spot for a pre dinner cocktail. Get here around sunset and have a nibble on some tapas before heading back down to sea level again.
Leave the resort: one of the best things about the Outrigger is that it is located in a village. You could easily dine in the resort every day and be quite happy as there is so much choice, but you can also walk along the beach (turn right at the lagoon) and a little path leads you up to the road where about three locally owned restaurants are serving delicious homemade food from pizzas to kokoda.
______________________
Volunteer!
One of the highlights of my stay at Outrigger Fiji Beach Resort was joining their weekly community project that guests can also participate in. They have been working on a new meeting room/school hall in a village near Sigatoka, so I donned my "round home" clothes (fortunately I knew to pack some!) and went off to paint. Here is my post about that day and the cute kids we met who loved our gifts >>
(Check out the best rate for Outrigger Fiji Beach Resort here on Booking.com>>)
Save