I can't speak for every hotel on Fiji's Denarau Island, but I can show you my two days slithering about the Sofitel…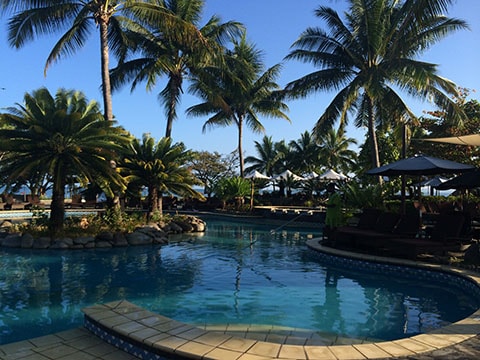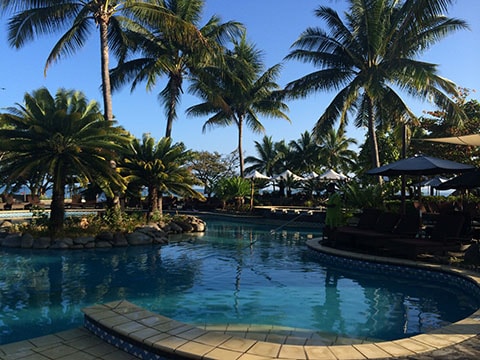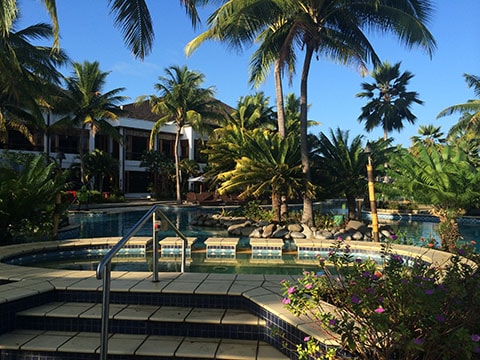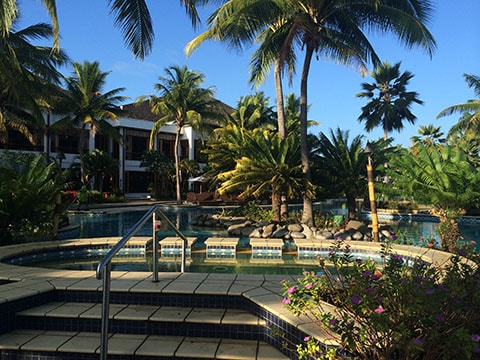 The pool area is shaped, meaning there are nooks and curves that you can slip into and out of without a wayward volley ball or noodle bonking you on the head. There's also a kiddie slide (although adults have been known to come down it) which is at one end. There is no designated kids' pool as such, but the fun is down one end. Unless the volleyball net is up!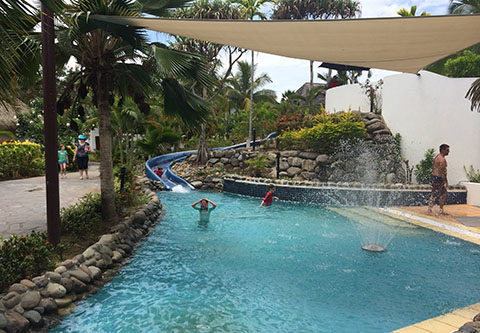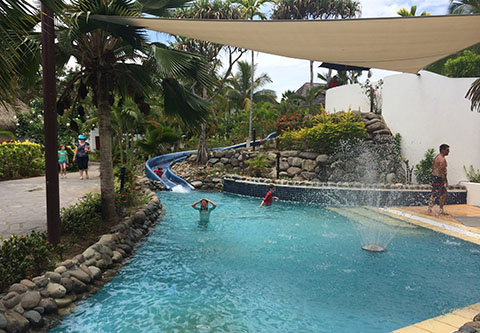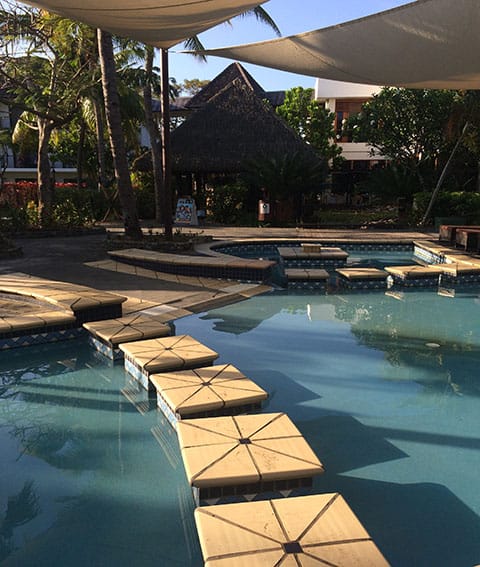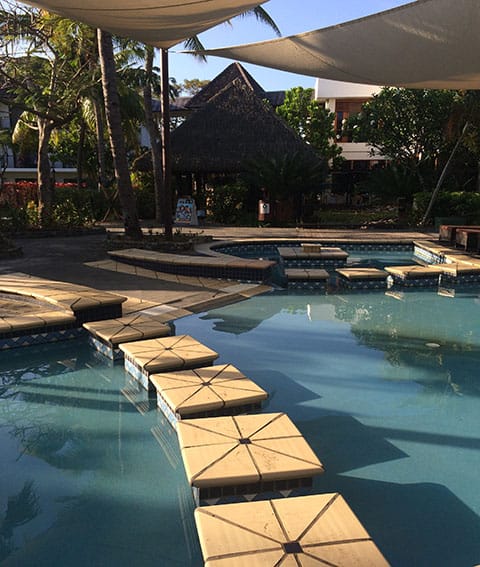 Out on the ocean there are jet skis, a banana boat ride (minimum 4 passengers) and these big wheeled bikes for a bit of exercise.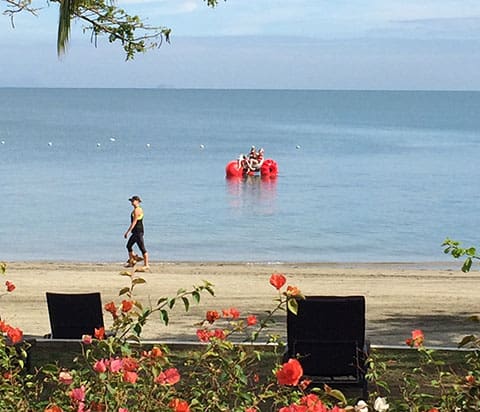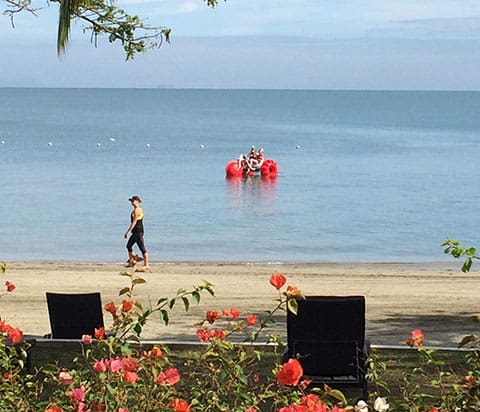 Plus a deck chair or a hammock for no exercise.
Weddings are happening all the time and this little chapel is where you can say I do. Or they'll set you up some chairs on the beach. It can get windy beachside though, so my advice would be to use the chapel then you can decide where to have photos and outdoor drinks/dinner depending on the weather.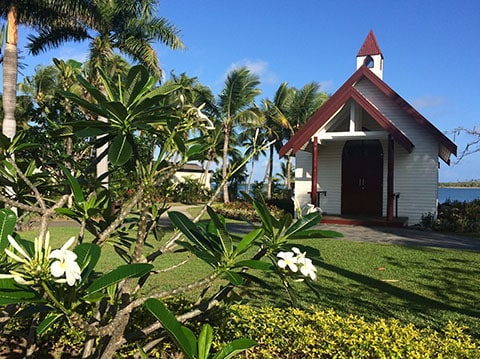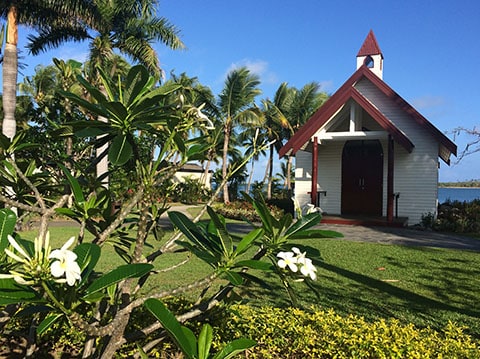 Get a breakfast package included if you can because you could easily eat just 2 meals a day here, starting with either a buffet breakfast at Lagoon (champagne is included), or go to Salt, the adults-only restaurant on the beach for an a la carte brekky. They also do yummy lunches – calamari Caesar salad anyone?
The highlight for me was my dee-vine spa treatment at So Spa. I went for the sunburn treatment, not just because I had stupidly burnt my back and arms the day before when I was out island hopping showing too much skin like a hussy, but because it's also a unique treatment that I haven't seen elsewhere.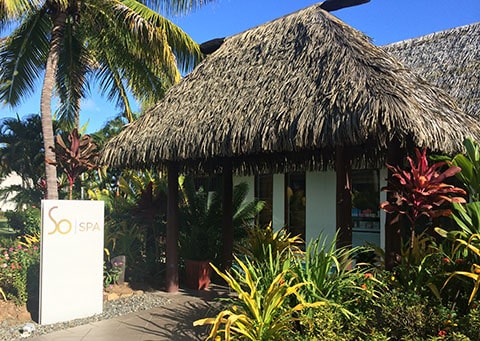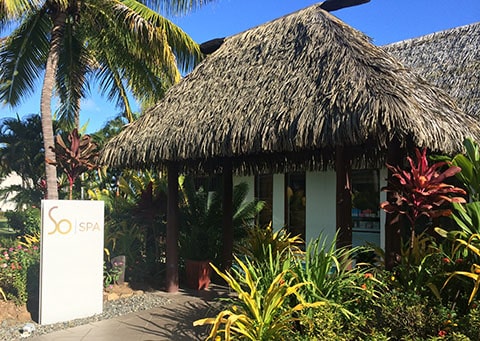 They have all your usual gorgeous treatments using Pure Fiji products and the Dilo After-Sun Soother ($190 FJ) is 60 minutes of rehydrating icy compresses soaked in minerals and wrapped on red and painful skin. While your hot skin warms up the ice cloths, your body is massaged with dilo infused moisteriser. A quick research on the benefits of dilo will tell you that it's "the tree of a thousand virtues" and grows here in Fiji. It's great for all types of skin conditions from wounds, ulcers, ringworm, burns, bruises, dry skin, acne, psoriasis and even arthritis and hair loss.
Charline, my therapist, also gave me the best head massage of my life with oils that left me with a slicked back 1950s do which I was planning to leave in for the 10-hour flight to LA that night on Fiji Airways, but I couldn't stop touching it and getting oily hands so washed my hair in the Fiji Airways showers in the Lounge!
Another cool thing is spa manager Sonia's idea for a Kids Spa. So far it includes hair braiding by the pool (1 braid to a full head), an up-do if mum and dad are taking you to the posh V Restaurant for dinner, make-up and manicures and pedicures. Prices range from $2-$85 Fiji $. It's going so well that they are hoping to build a new poolside cabana and open their kiddie spa there.