Do you want the inside scoop on dealing with media in your tourism or hospitality business?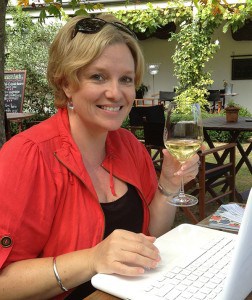 Award-winning travel writer and blogger Megan Singleton has created this International Media Training Workshop offering a unique opportunity to gain hard-earned insight into how you can get noticed above the crowd.
After speaking at conferences on aspects of working with media in the travel industry, Megan has combined her 15 years of experience as a writer, editor, blogger and also PR manager for various travel brands into this indepth half-day workshop.
You will gain insights into how your product can have a global reach with a tailored touch to ensure better results.
Megan's website Blogger at Large is one of New Zealand's largest travel blogs, she speaks each Sunday on nationwide radio Newstalk ZB, has a weekly travel column in the prestigious New Zealand Herald and is also Expedia's blogger for Australia and New Zealand.
During her time as travel editor at Yahoo!NZ the channel grew from #18 to #1, and Megan is often pitched to by travel brands who could learn some easy lessons in how to be more effective with their media marketing.

In this three-hour workshop you will learn :
–  easy tips for hosting media to get great results
–  who to invite on a press trip 
–  planning press trip itineraries
–  working with editors, bloggers and freelancers
–  how to tell your story so they won't forget you
–  quick dos and don'ts for hosting Chinese visitors and media
–  the all-important question: when to offer a comp
–  PLUS a whole lot more!
The social media session looks at case studies and clever ideas to inspire you on how to engage with your fans and build a community as the travel industry evolves faster than a block of blue cheese.
You will also be inspired by some successful and creative uses of Facebook, Twitter, YouTube, Pinterest and Blogs from others in our industry.
If you'd like to facilitate a Media Training Workshop for your destination or organisation, drop me an email: megan @ bloggeratlarge.com
_______________________________________________
What they're saying:
"In September 2013, Megan Singelton conducted a Take Notice! International Media Training seminar for members of the New Orleans Convention and Visitors Bureau. Our members appreciated her tips on how to  gain more publicity for their brands through media relations, hosting more effective press trips and social media. One hundred percent of the respondents to our post-event survey said they would recommend Megan's training to a colleague! Megan also offered great advice to our PR team about how to be more successful. If you are looking for a highly engaging and entertaining speaker who will "tell it like it is" based on her years as a veteran journalist traveling the globe, hire Megan Singleton." – Kelly Schulz, Vice President Communications and Public Relations, New Orleans Convention & Visitors Bureau
"I greatly appreciated Megan's presentation, as she brought a refreshing and direct voice to the table regarding how qualified writers view the travel services they receive.  More importantly even, she reinforced the need of the industry to weed out some of the inquiries for free accommodation and meals through a more thorough look at writers credentials, reach, and qualifications. Her presentation included tons of "you can do this" practical advice!" – Marc Becker, Area Director of Sales & Marketing, New Orleans Hotel Collection
"Megan Singleton provided a useful and informative workshop for the Marina del Rey CVB and its partners. Her materials are relevant and can be applied to a wide range of tourism professionals including hotels, restaurants, attractions and destination marketing organizations. Megan's warm and personable character allows her to connect very easily with people and we received good feedback from our attendees. I would highly recommend Megan's social media and PR workshop to any destination marketing organization looking to educate their partners on the latest trends and tips!" – Janet Zaldua, Executive Director, Marina del Rey Conventions & Visitors Bureau
"I loved Megan Singleton's Media Training workshop. Got lots of great tips on working with not only mainstream media but using social media to your advantage as well. I've been a fan of her blog for a while now and she gave a lot of personal examples to help with different topics, as well as a number of stories from the many different destinations and experiences she's had while travelling and writing.  I will be looking to implement a number of the media and social media tips I learned to help with the portfolios I look after at Air New Zealand Holidays." – Penina Momoisea, Air New Zealand Holidays
"Prior to attending Megan's workshop we had a couple of great PR opportunities which in hindsight we could of done more with. When the next opportunity came along I was armed with the knowledge gained on Megan's workshop about approaching editors  so I decided to give it a go.  I approached an editor at the Otago Daily Times and with a bit of thought as to why it was an interesting story I had a very successful discussion and hey presto: front page of the Business Section in the ODT.  Thanks Megan!" – Jayne Shirley, The Duke of Marlborough Hotel, Russell, Bay of Islands
"I attended one of Megan's events and it was fantastic! As a PR novice it gave me clear ideas of where to start and how I could get the most out of my time when working with journalists. And not just your traditional journalists but also new media options. Megan is an engaging speaker but is also completely approachable and professional. Thoroughly enjoyed the day and wouldn't hesitate to attend another one of her events again." – Sarah Greener, Rock the Boat, Bay of Islands
"I didn't think I would gain much from Megan's workshop for our small business but it was invaluable! Megan's persona instantly put everyone at ease and her material was so relevant that everyone was very enthralled." – Suzi Jones, Outrigger Motel, Paihia
________________________________________________