The weekend before lockdown, my husband and I whizzed down to the Wairarapa to spend three nights staying in Martinborough, Greytown and a little boutique winery just outside Masterton.
The reason was because domestic travel around New Zealand is going to be our new "exotic" getaway for a while, and I wanted to be part of helping the tourism and hospitality sector recover by letting you, dear reader, know about some little nooks you may have not been to for a while – or ever!
This post now features in my Top 10 posts of 2021.
I'm going to say outright, Martinborough has everything, and I would suggest you spend at least two if not three nights here to pivot from coast to winery, boutique to pub and all the little eateries in between.
Where is Martinborough?
Good question!
Martinborough is one of New Zealand's hidden gems, off the main route of big cities and famous wine regions that tourists visit, and more the escape for Kiwis in the know. It's virtually on Wellington's doorstep, so is a popular weekend getaway for Wellingtonians.
It is the little dot on the map below, located in the heart of the Wairarapa (lower North Island) and is an easy drive from Wellington (80km), Palmerston North (133km) and Hawkes Bay (250km from Hastings).
It's known for its boutique wineries and the iconic annual Toast Martinborough, the wine and food festival held here each November.
But this time we went, it wasn't the vineyards we frequented, rather we just hung out in the little village of Martinborough itself and the next day drove all the way down to Cape Palliser (69km, about 1 hour and 20 minutes) to climb the 252 steps up to the lighthouse. More on that puffy effort below!
Where to stay in Martinborough
The pièce de résistance is the Martinborough Hotel, right on the square, built in 1882. It's an elegant old lady that could tell many a tale of the travellers and settlers who have stayed and imbibed over the years.
There are only 20 rooms. The luxurious suites out the back have been newly refurbished, each one unique, in a beautiful garden setting and this is thee place to stay. The original character remains in the heritage and petite suites upstairs above the bar and restaurant, and each is decorated individually, some with claw-foot bath tubs, all with Ashley & Co bathroom products, and French doors opening onto the wraparound veranda on the first floor. Each has unique linen curtains and plush bedding.
The ground floor restaurant, Union Square Bistro & Bar, is one of the best in town and the bar is a great place to plonk for an ale and watch some sport, or sit outside with a wine under the umbrellas and soak in the village vibe.
Look to the right and you'll see the oldest family business in town: Pain & Kershaw general store, which has been run by the Kershaw family since 1910. P&K, as the locals call it, is now a grocery, general store and Mitre 10 all in one.
Things to do in and around Martinborough
Visit wineries!
Back in the day, Martinborough was the hub of the Wairarapa farming communiy until the 1970s when wine from the "old world" started to become a thing in New Zealand. The soil here was deemed similar to Burgundy and thus paddocks were transformed into vineyards and pinot noir was planted. Within a few years the accolades were pouring faster than an uncorked bottle.
Today there are more than 20 cellar doors to keep you from becoming parched in Martinborough and eight wineries also offer food (check first as they are not all open every day). The good thing is they're within cooee of the each other if you are walking or cycling (unless you have a sober driver like I do!).
The "big boys", the heroes of Martinborough's wine scene are:
TK (Te Kairanga)
Luna
Palliser Estate
Ata Rangi
They all provide wonderful tasting and dining experiences and if you haven't visited them before, you will want to.
But these groovy guys are also delightful and worthy of your presence:
On Giants' Shoulders
Moy Hall
Poppies Martinborough
Colombo
Coney Wines
Shopping & eating
The best thing about visiting shops in little towns in New Zealand are the staff – and of course the stuff. But the owner is usually the one you'll meet behind the counter and get chatting to. You'll find a handful of homeware and boutiques shops, and ones selling jams and sweets, a bakery and burger and pizza joint.
Wander into the bottle store and choose a local wine to take home (if you're not going to make it to the winery itself), or if you're like me, get entirely distracted by all the cute bottles filled with New Zealand gin. The gin scene is a big deal in NZ – but I digress.
It was at Jessica's Living Room, just opposite the Martinborough Hotel, that I was recommended to try the fried chicken pieces at Mesita Wine Bar, just round the corner. I had been browsing her beautiful homeware and curiosities and we got chatting. As you do. So I went back to the hotel where the husband was resting in our room and told him we were off at 5 for a pre dinner snack. Mesita lived up to its recommendation when the plate of three hot, crumbed pieces of chicken arrived drizzled in honey. Mexican KFC, we called it. Washed down with a margarita and I had pretty much spoiled my appetite for dinner!
The Wine Bank is a great way to taste the best wines in the whole Wairarapa region – in one room! It is located in a former bank on Martinborough Square and you get a kind of credit card then go round and slot it into the machines and help yourself to full or half glasses.
Martinborough Brewery. Beer lovers rejoice, because there is more than just wine in this wine-soaked town. In fact they say the favourite drop of a wine maker is a beer. At another location on Martinborough Square you'll find this brewery and tasting room and can also imbibe in their garden bar.
Taste the good oil
Where there's grapes, you'll usually also find olives! Local oil producer Olivo offers tastings of their award-winning olive oil and infused oils, like porcini or fennel, and learn some interesting facts about the oils, what they would be great with and take some home.
Visit Cape Palliser
I had never been to Cape Palliser and for some reason I really wanted to go. It's a decent drive (about an hour an a half) past farms and down country lanes to the southern coast of the North Island.
I made the breathless video here at the top – you can see the tourists leaping up like mountain goats. Unlike myself. What climbs up must climb down…
We set off from Martinborough and stopped at The Land Girl Cafe for a smoothie and a yoyo (for me anyway). This cute roadside cafe is in the middle of nowhere, on the front of a paddock and filled with Kiwiana souvenirs and locally made bits and bobs. The "dining room" has mismatched furniture and the food is made to order from the little counter, while the owner sat around the corner on the computer. It's adorable!
The road to Cape Palliser is so coastal, some of it has crumbled into the sea. It's a lovely drive and you'll finally get to the lighthouse carpark when the road can go no further. Now it's time for the wooden steps. All 252 of them! I shot up the first 100 like a gazelle, using the handrail to haul myself up. Then it was about 20 at a time, with a break for gasping and taking in the views as well as the breaths.
I could see what looked like a young (fit) couple getting out of their car down below and I knew I had to get to the top before they came scooting up my rear. Where is my husband, you ask? He'd long bolted to the top. Someone must have shot a starter gun at his backside, as clearly one of us thought it was a race!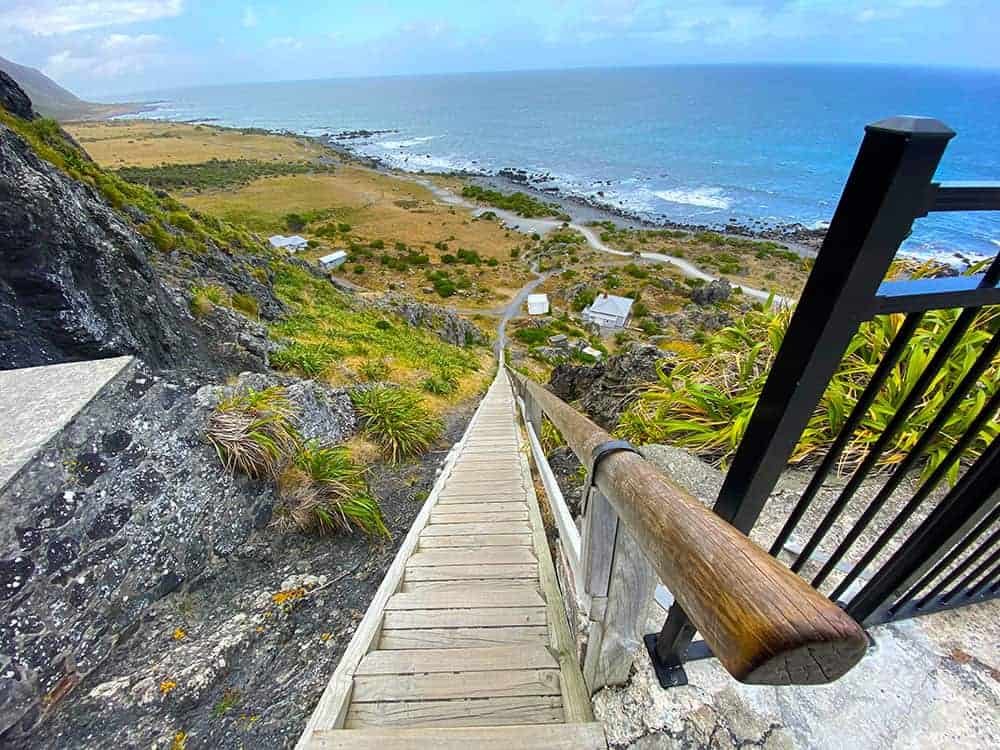 BUT what no one told me was that when you climb up 252 steps, you also have to climb down!! By now my legs were wobbling like jelly and I was again gasping the hand rail to stay upright. And yes, as you suspected, my thighs ached for four days afterwards. (I really should do steps like this a couple of times a week!)
After looking around and taking photos, we made our way back this time to Greytown where our night at the White Swan was booked.
Oh, you could also stop at Captain's Table food truck and grab fish and chips to eat on the beach before you leave the coast.
Visit Greytown
Greytown is an adorable little town – one main street actually. I stayed a night here (at the iconic White Swan) after my night in Martinborough, but you could easily drive through here in 15 minutes (18km) for the shopping.
If you go via Featherston you could pick up some local cheese from C'est Cheese for a picnic or to go with your tipple before dinner.
In a nutshell, people come to Martinborough for the wineries and Greytown for the boutique shops. More on that in my next post.
If you're ready to see more of New Zealand, but don't know where to start or how long to allow, you might like my NZ Itinerary post.