Here are 9 great things you must do in Barcelona!
Three days in Barcelona at the end of our 12-day cruise on the Vision of the Seas was just enough time to stay busy and see and do the city's greatest highlights.
(An extra day and I might have also gone to the beach, which everyone raves about!) We also booked a day tour with Viator Tours which was a brilliant way to get to see so many things in a short time (read: skip the lines) – and learn a bit too!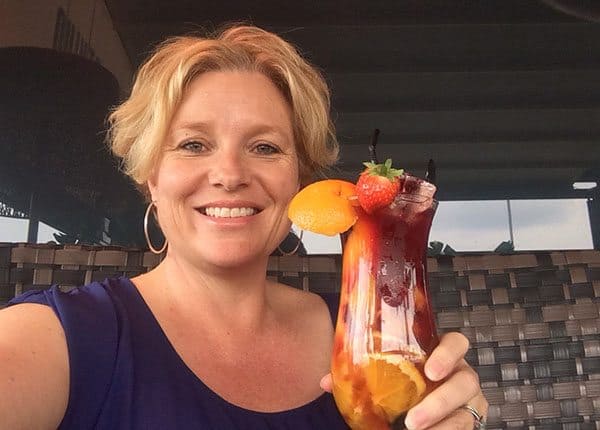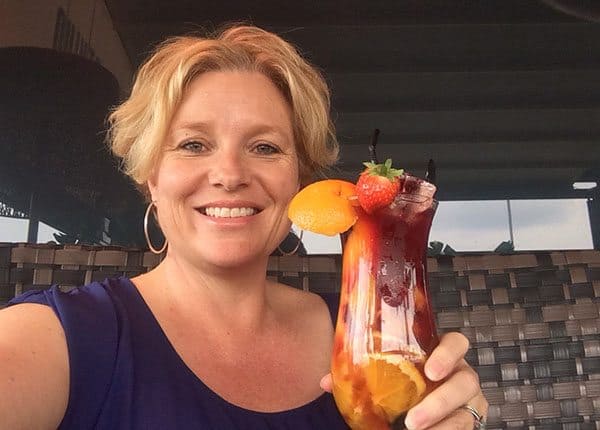 But after dillying and dallying over which part of the city to stay in, I finally chose an Air BnB apartment in Poble Sec.
It's a quiet neighbourhood to the left of Las Ramblas and about a 15-minute walk away (well ours was at least). At first I was disappointed. Not in the apartment, it was great with very cute balconies over the street, but that maybe the location was a bit far. Then after wandering the noisy parts of town and returning to our quaint street and neighbourhood bars, I changed my mind.
Here's the Air BnB we used in Barca >> (Warning though: the apartment is on the 5th floor and there is no lift!)
Ready to see the best of Barcelona? Let's GO!
(Scroll to the end where I have added a bunch more photos too)
1. Visit Sagrada Familia
The undisputed hero of Barcelona, make that Spain!
As part of our Viator Tours day out, we skipped the lines with our VIP passes (you can and SHOULD buy passes online if you don't include it in a tour to avoid hours in queues) and spent some time gawping in awe at the exterior first.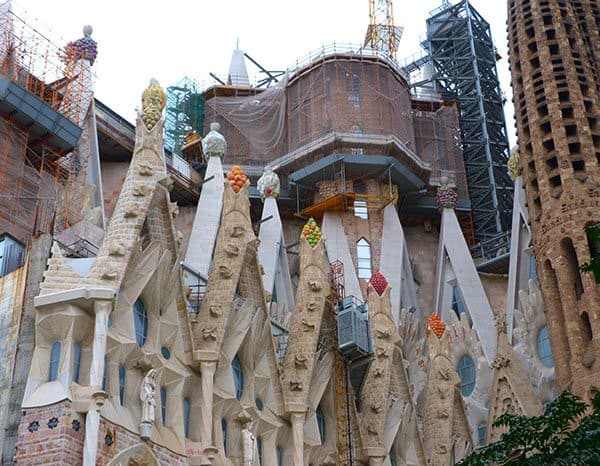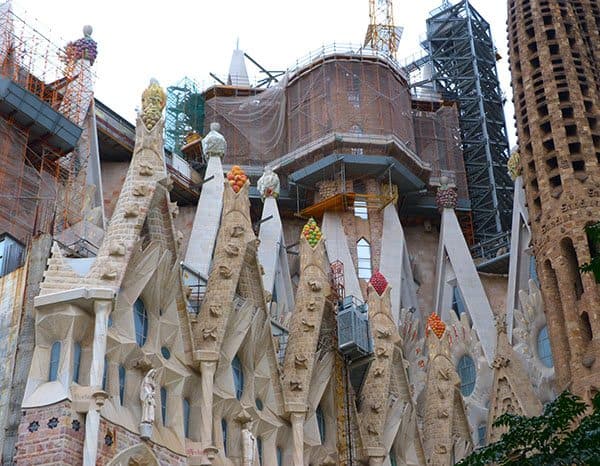 It's as high as forever and I had to hold onto my husband's arm to look all the way up. This astonishing cathedral was designed by Antoni Gaudi and construction began in 1882. It's still going!
The plan is to have it finished by 2026 to commemorate 100 years since Gaudi's death. But in 2010 they had only reached midway with some of the more challenging work to come.
Take some time to really look at the walls and (thanks to our guide pointing things out) notice the various sculpted Biblical stories and also you'll see different design themes as other architects and sculptors have added their touches.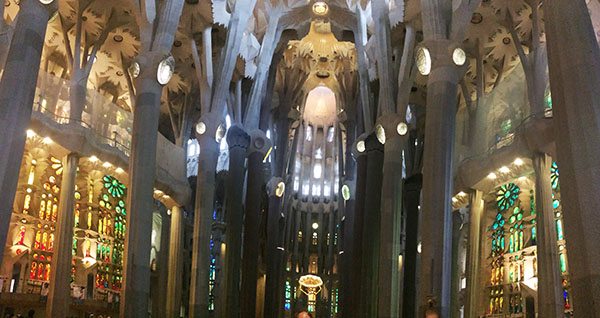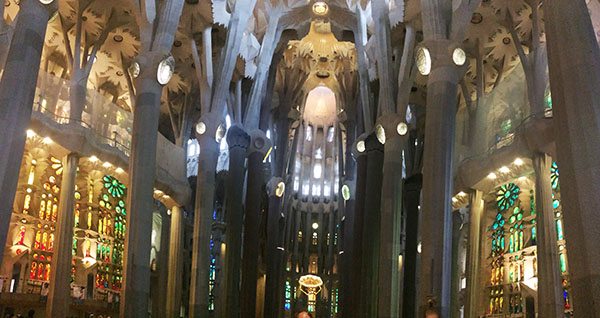 But step inside and you'll twirl in circles under the soaring towers. Take note of the stained glass designs on each side depicting Christ's birth and his death.
Walk through and pop out the other side and have a look at the scale model and you'll see just how much more there is to do – especially when it's just funded by donations and tickets from tourists like you and me!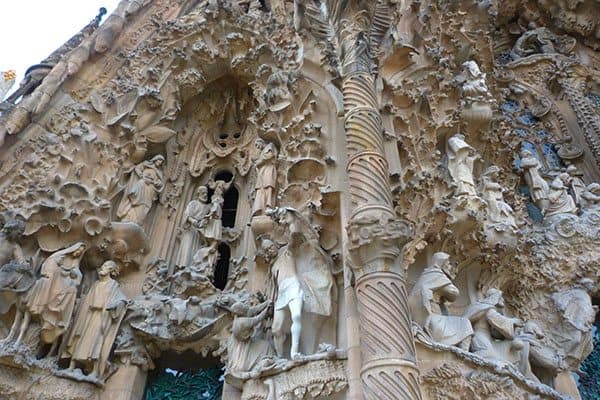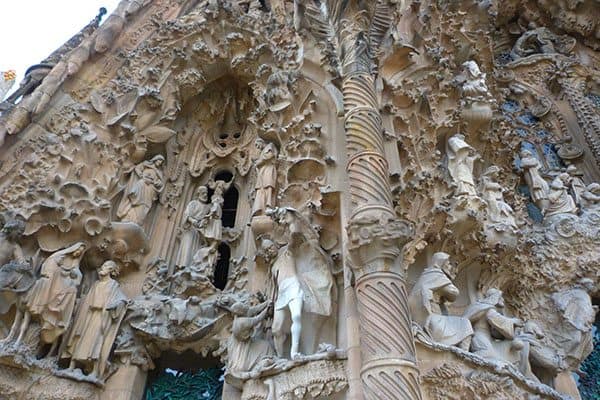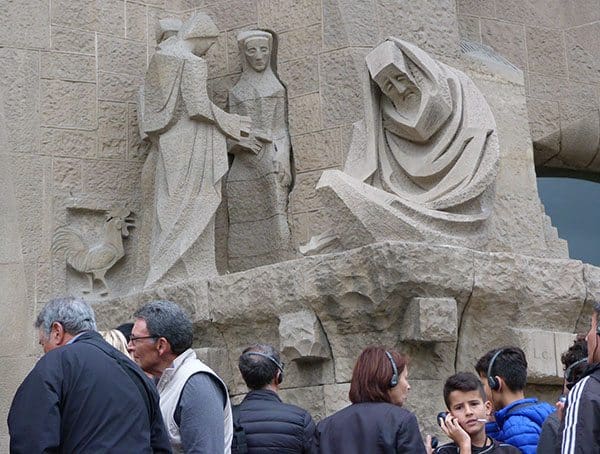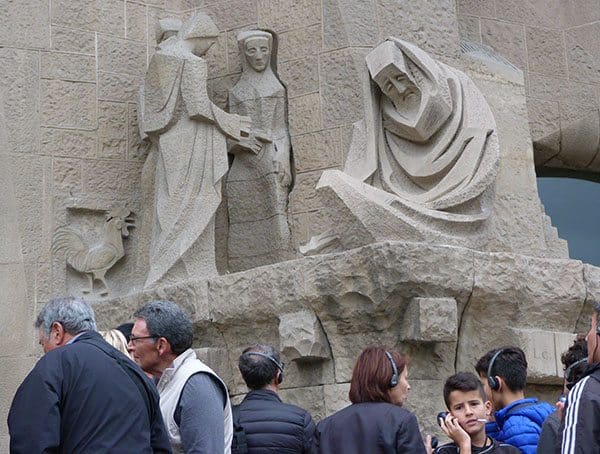 2. Stroll Las Ramblas
But only once. This famous tiled road dotted with street vendors and cafes and edged in permanent shops, bars, restaurants and hotels is heaving with tourists and if you eat here it'll be more expensive than the cool neighbourhoods you could just cab (or walk) to.
But walk along Las Ramblas to find a place for a sangria and some tapas, take your selfie, gawp at the people then say adios.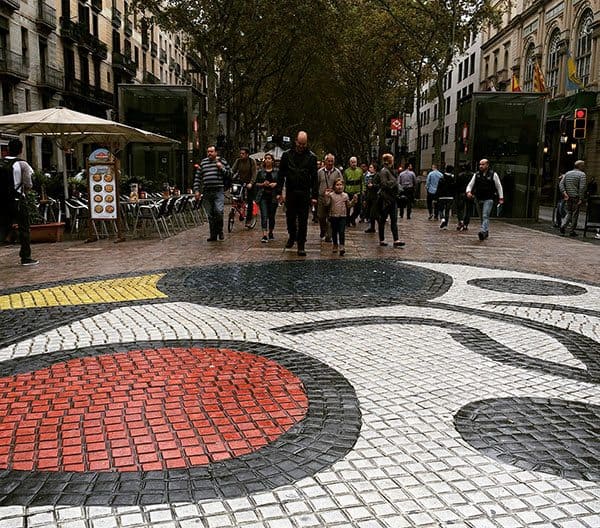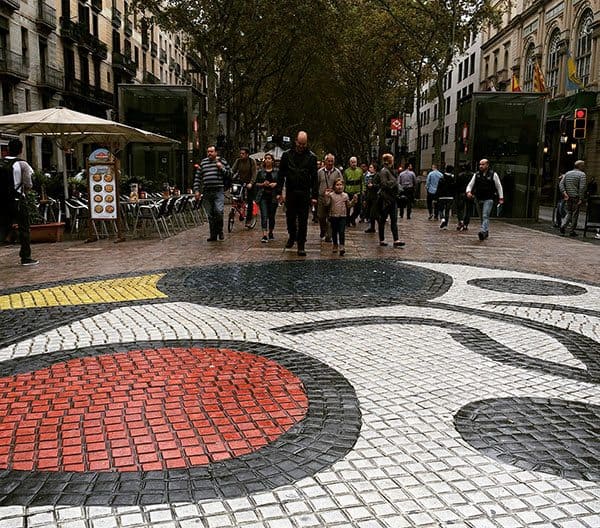 3. Visit La Boqueria
The ONE reason to return to Las Ramblas is La Boqueria, a huge food market just off Las Ramblas and an amazing place to go for breakfast, pick up snacks, buy fruit, juices or even take home all the fresh ingredients you want to cook at yours.
We had been deboarded from our cruise ship by 8am so wandered up Las Ramblas dragging our wheelie bags and looking for somewhere to fill in a couple of hours. This was ideal.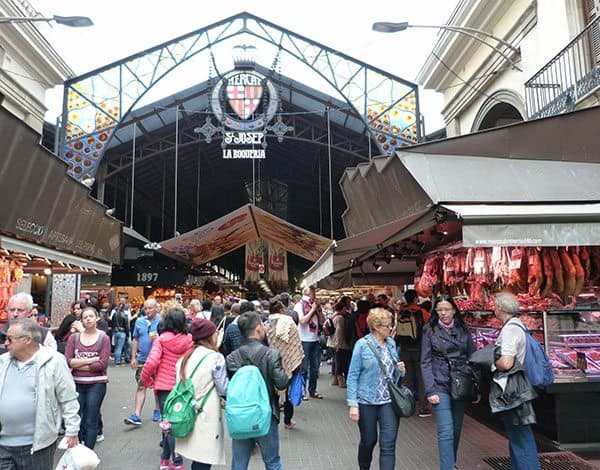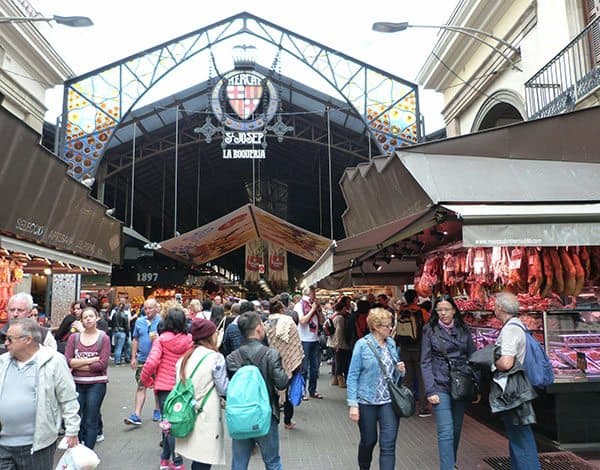 The famous street was quiet as stall holders were just beginning to put out their wares for the day, but the market was buzzing.
Seating is limited so we found a cafe on the perimeter and had a croissant and a coffee, then grabbed a freshly squeezed juice after wandering through to take photos.
4. Camp Nou Experience
Football is huge in Spain. I must admit I'm not a huge soccer fan (football!) but I do love a live match of anything with a screaming crowd of fans.
However FC Barcelona, whose home ground is Camp Nou, are so popular (they are the World Cup winners after all) that a visit to their stadium mid-week is also an experience.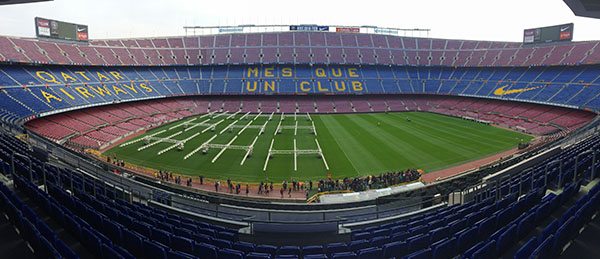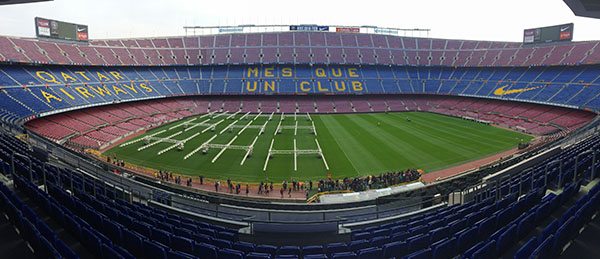 In fact it's an organised tour. It's full of fans from little kids in their favourite player's shirt to their parents excited about the possibility of standing on the hallowed ground.
How cool this would be at Eden Park as an All Blacks Experience? They even sell little sods of grass in glass frames!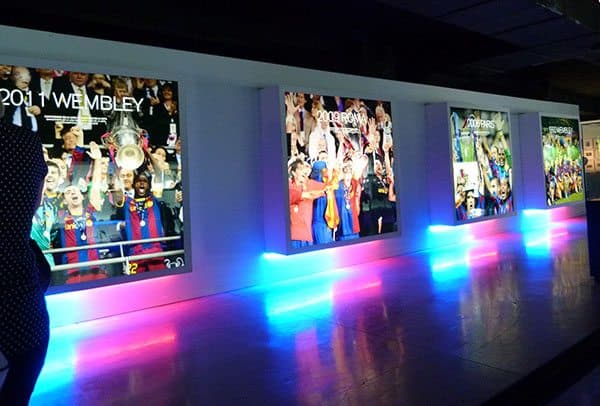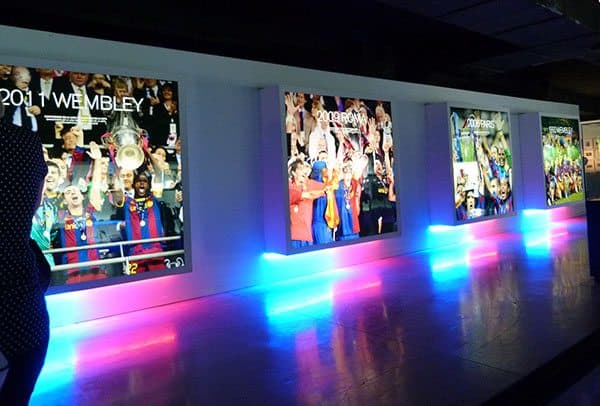 5. Roam the Gothic Quarter
Originally I thought I'd like to have stayed in this part of Barcelona, but after wandering through the labyrinth of narrow alleys opening onto little piazzas, I think it might be noisy, although lively (read that as you wish!).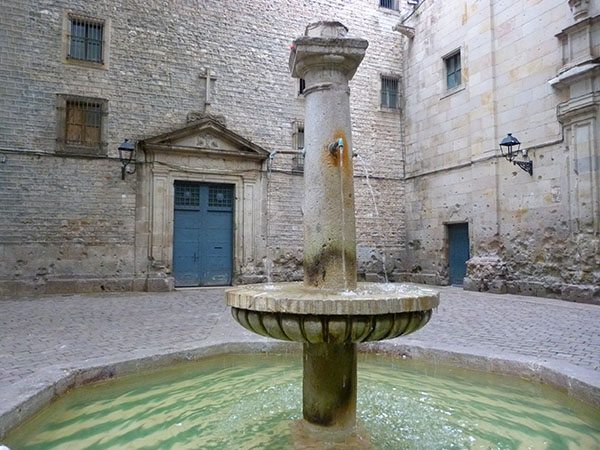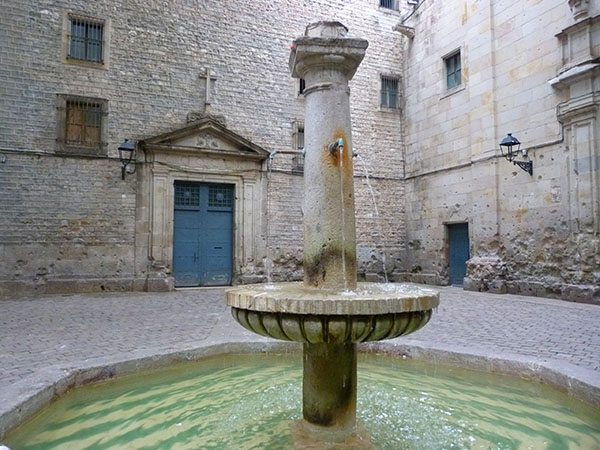 We followed our Viator Tours guide and I can recommend doing it this way, before going off to explore on your own.
There are just too many things to miss like quiet town squares with fountains, the bomb shell scars in the walls of a church, the painting of 13 year old saint Eulalia, killed by the Romans in the 4th Century for her Christian beliefs, but who was replaced by another saint and now weeps over the alley, and hearing about the wars and walls of the city.
Not to mention our guide's own tips for where to eat and drink when she's done with you. Shopping is very good here if you like antiques, boutiques and artisans' crafted goodies.
6. Eat the Pinchos
One of the highlights in Barcelona for me was the delicious Spanish food. The Iberian hams hanging in stores and the pinchos!
How happy was I to find these tiny bite-sized morsels in tapas restaurants all around us? Very.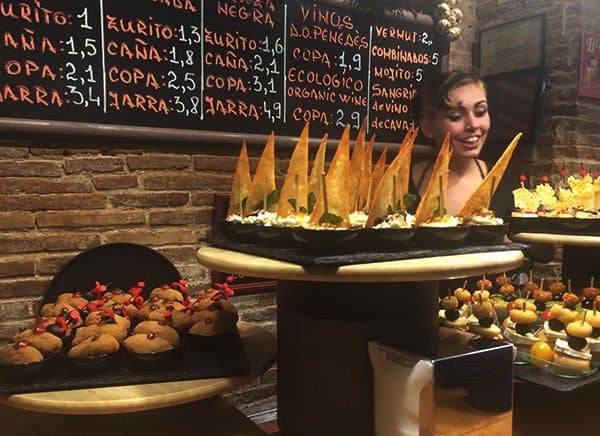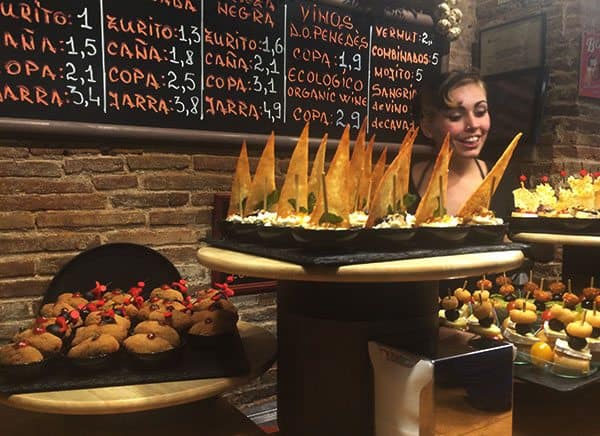 For €1 each these bruschetta's come loaded with all types of toppings from smoked salmon to chorizo with olives, cheeses, even a chicken drumstick all with a teeny flag on a toothpick. You help yourself like a sushi bar and at the end they tally up your sticks.
Plan to spend under €10 per person for dinner!
If you love traditional Spanish foods you'll be very happy hunting down things like paella, tapas with a drink, gazpacho and more in Barcelona.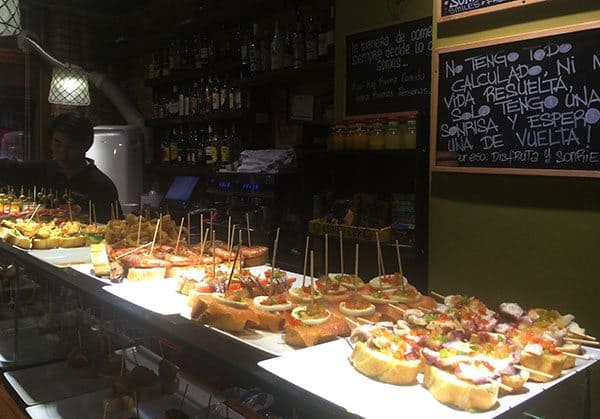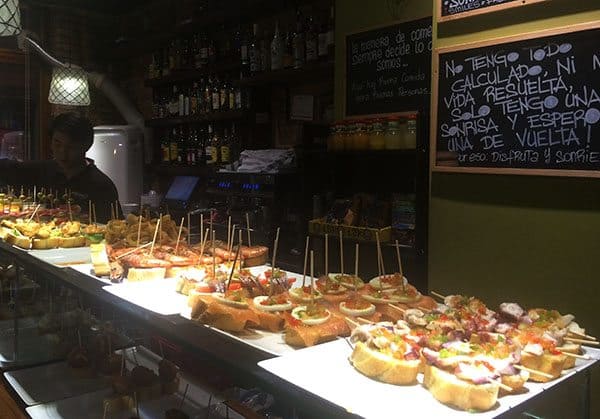 7. Shop in the Arena
This former bull fighting arena still has the original circular facade but inside is a five-story shopping centre with a rooftop of restaurants and bars.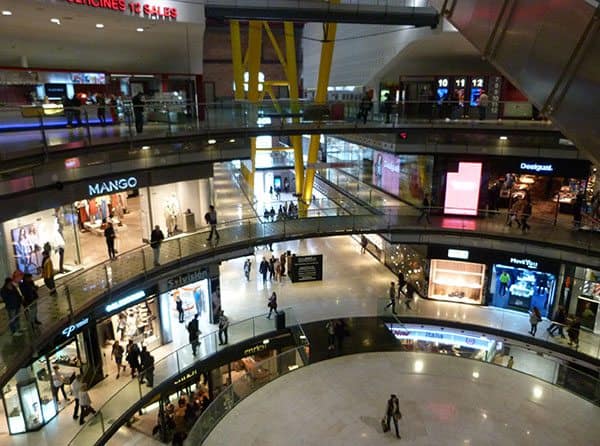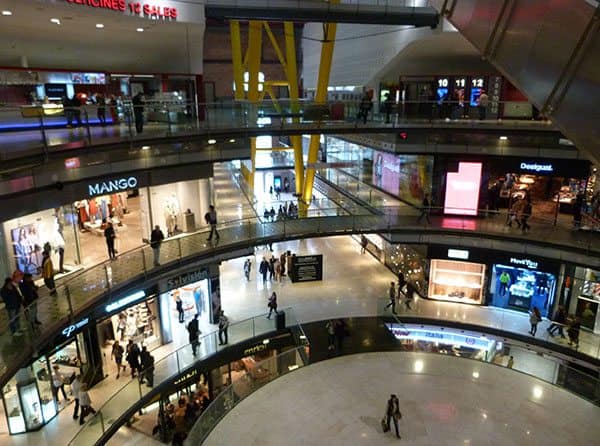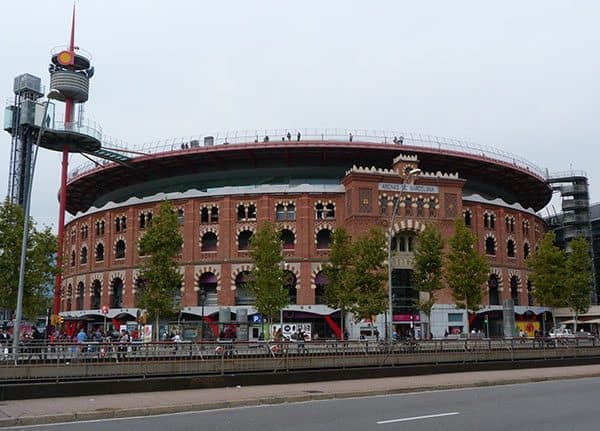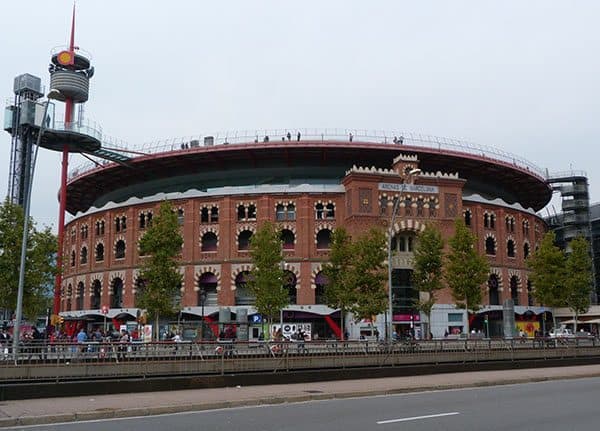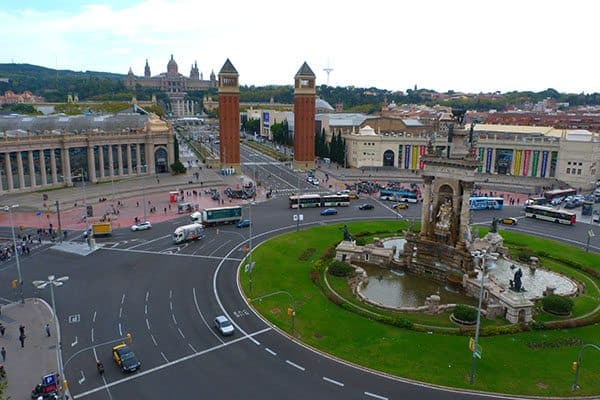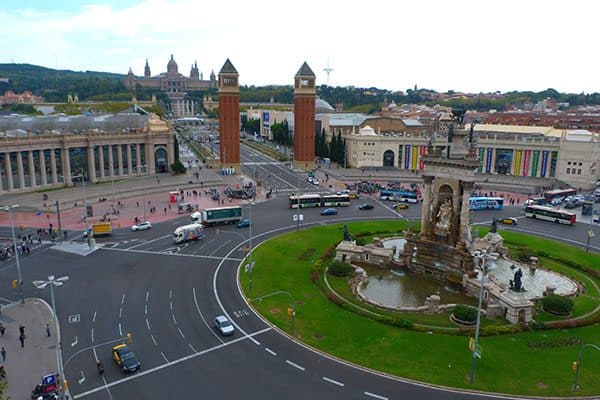 Our Air BnB flat was only about 2kms from here so we got off the Metro from Camp Nou to get our retail fix then had a cocktail in one of the bars on the circular rooftop promenade then promenaded around to take in the 360˚ views and walked home.
8. Visit Parc Guell
Antoni Gaudi was the crazy architectural figure who ensured Barcelona is emblazoned on the mind and cameras of every visitor to the city once they return home.
Here at Parc Guell he got to roll out some of his incredible ideas for the very wealthy owner who was looking to create a new suburb above the city for his daughter who had breathing difficulties.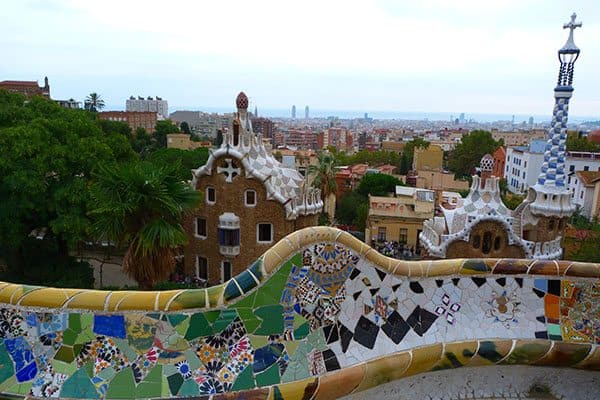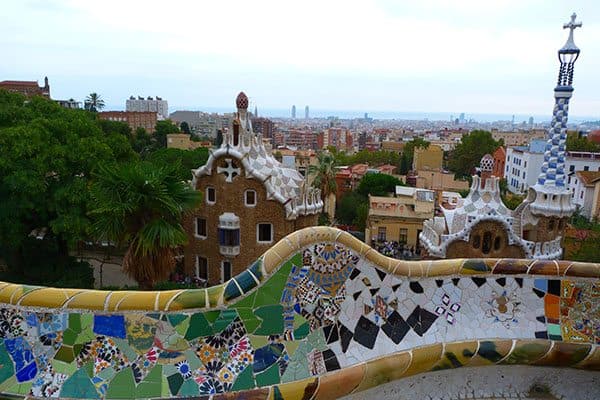 The park is free to enter and walk through, but if you want to sit on the mosaic tiled seat that winds like a ribbon around the edge of a huge flat ground, you'll need to pay. Just a couple of € though.
But what really fascinated me (again, thanks to our Viator Tours guide) was the underneath.
I had visited this park before many years ago and no one told me what was underneath!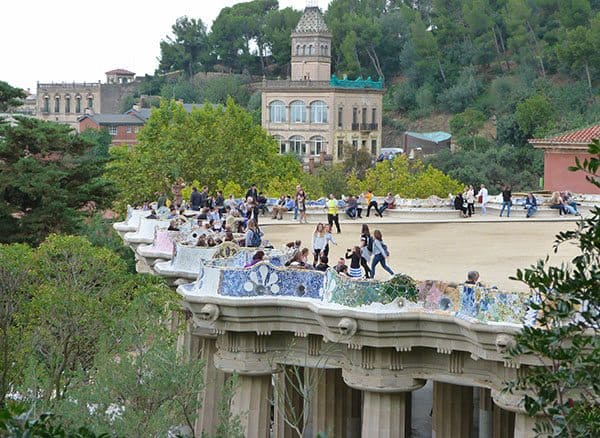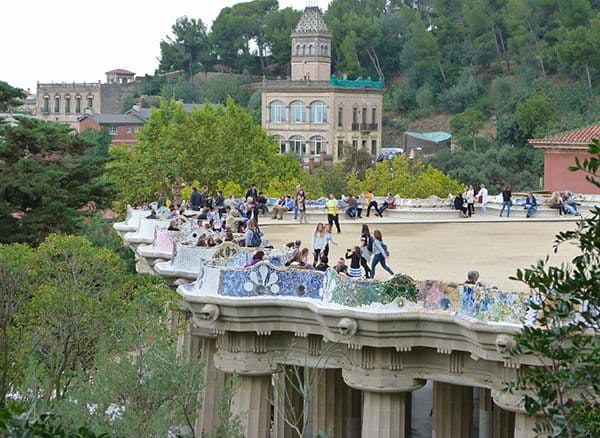 It's a clever water storage system where rainwater that seeps through the earth above (where everyone takes their photos) is funneled into what looks like pillars holding the whole shebang up (and they are) but also double as 1200 sqm water storage for the houses (that were never built) and lavish gardens planted here.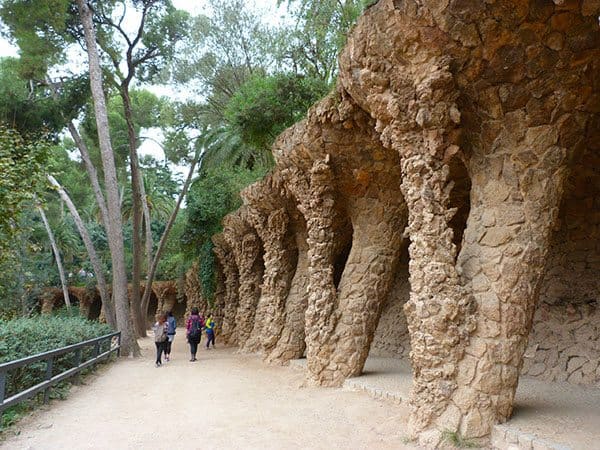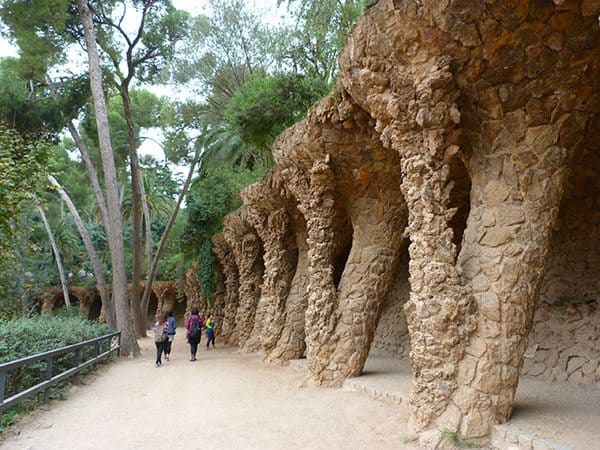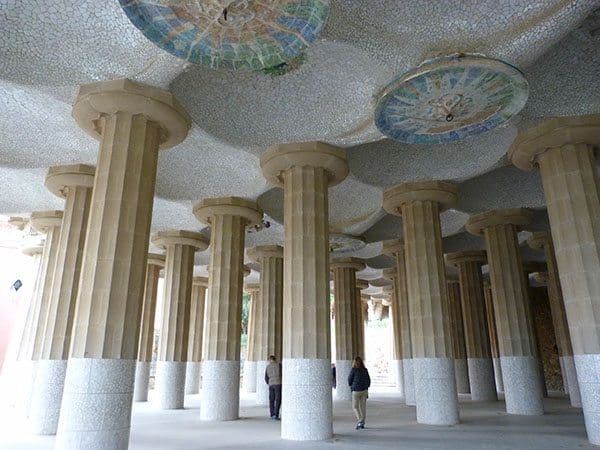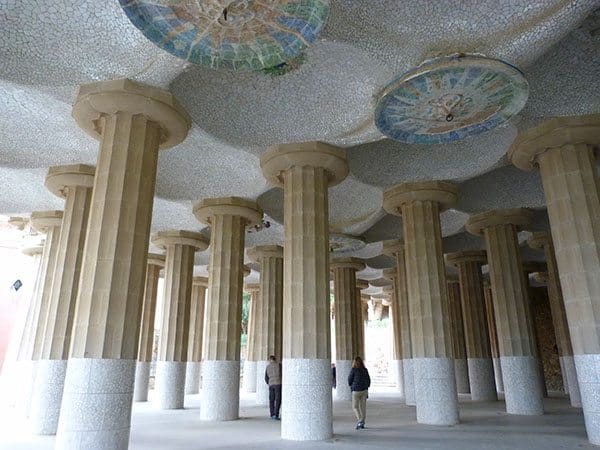 9. Tour through La Pedrera
One of Gaudi's most famous private works was Casa Mila, nicknamed La Pedrera meaning the stone quarry.
It's now a UNESCO Cultural World Heritage site and an over-the-top building he designed for Pere Milà and his wife, the wealthy Roser Segimon, built between 1906 and 1912.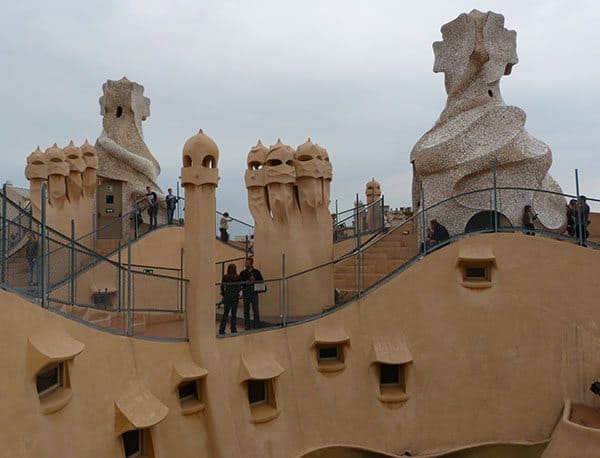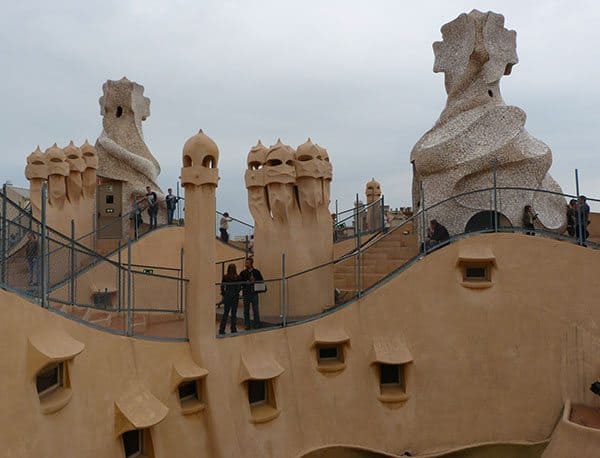 Word has it that she was a tough customer to please and after Gaudi had also designed and built all the very cool fixtures and furniture too (after she commissioned it) right down to the ergonomic brass door knobs, she would decide she didn't like it and a lot was scrapped.
She stayed living here after her husband died and the property was converted into apartments. She eventually passed away in 1964.
Over the following years many of Gaudi's quirky elements were destroyed or removed and it even housed a Bingo hall.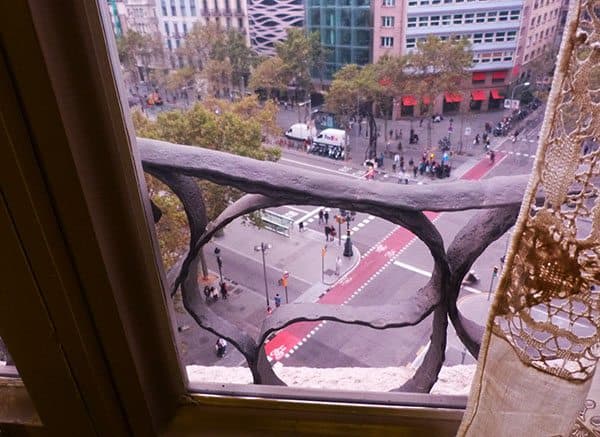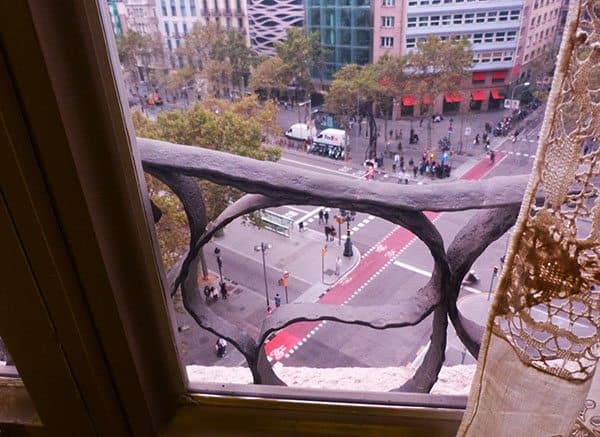 In the 1990s, painted dreary brown and run down, a restoration project began and today, it's absolutely worth wandering through and reading all about it, seeing its amazing design and swinging by the gift shop on the way out where I bought a Gaudi-inspired silver ring!