This post is a growing list of 39 countries and the rules around passport and visa requirements for entry…
A cautionary tale: Last year our friends were about to embark on a family holiday from New Zealand to Vanuatu and stayed with us in Auckland before their departure the next day. They'd booked a deal online, entered the required details, got their tickets and arrived at ours bouncing with excitement, snorkels and masks, sun hats and sun screen all carefully packed.
The next morning they left our house bright and early and an hour later we got a phone call. Dad's passport had 5 and a half months before it expired and they were refused departure. Even a phone call to the Vanuatu consular went in vain who told Air New Zealand that if they carried him, he would be sent home. After a few more phone calls and racking of brains about how to change their holiday, Air New Zealand graciously let them book a trip to Sydney instead where snorkels and masks were not required. Expedia came to the party too with a part refund on accommodation.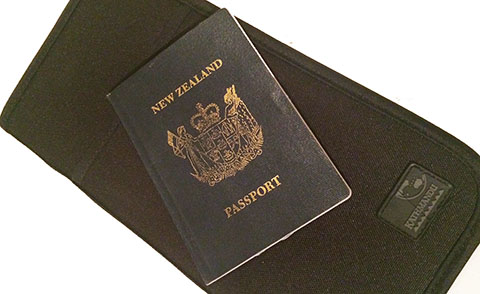 So to make sure the same fate doesn't befall you, I have gathered together this list of countries and added links for you to do any further investigation you might need regarding how long your passport needs to be valid and whether you require a visa to visit…
*Please note: I am not a travel agent. If you have specific questions about your own passport, please contact your travel agent, the airline you are flying with or the embassy of the country you are visiting. I won't be publishing any more comments about individual passport questions. My aim in this post is to provide you with an easy one-stop article of links to help you research your travels. Any other questions should be directed to the relevant authorities. Hope that makes sense 🙂
________________________
So, how long does your passport need to be valid for travel to…?
Argentina – a passport valid for the duration of your stay. A visa is not required for stays up to 90 days.
Australia – valid for duration of stay. A visa is also required for passport holders from Britain, EU, Canada, USA.
Brazil – 6 months validity beyond your stay, plus a visa is required for US, Australian citizens. New Zealand and UK do not require a visa.
Cambodia – 6 months, plus a visa which can be obtained on arrival or in advance
Canada – valid for duration of stay you'll also need an ETA visa for CAD$7 from most countries. Click here for visa info
Chile – passport valid for 90 days beyond departure date. A visa is not required for stays up to 90 days.
China – 6 months passport validity and you'll also need a visa if you're from the countries on this link. And here's a very important detail to note: even if you are doing the 24 hour or 72 hour transit without a visa, if you stop twice in China you will need a visa. Despite my brother-in-law and his girlfriend doing all their research telling them no visa was required and boarding a flight to Beijing from Amsterdam, they were declined onward travel and had to purchase a new direct flight once they were in Beijing. €1500 later! It seems that one employee decided this was the rule, despite assurances by the airline it wasn't. Moral of the story, don't stop twice when transiting through China if you can help it!
Croatia – 3 months passport validity beyond the length of stay. A visa is not required but a return ticket is if you not travelling on an EU passport.
Cuba – You'll need 6 months after departure and a visa. Read my 20 Things You Need To Know Before You Go To Cuba here >>
Dubai – 6 months after expiry. Read my post on 6 Things To Do In Dubai here >>
Fiji – 6 months
France – 3 months 
Germany – 3 months
Greece – 3 months 
Hong Kong – 1 month.  You might like my post on Where to Shop in Hong Kong here >>>
India – 6 months (actually they say 180 days) And you may need a visa if you're from NZ, Australia, UK, USA, Canada or the EU
Indonesia – 6 months 
Italy – 3 months
Japan – valid for duration of stay
Malaysia – 6 months 
Mexico – 6 months is recommended, although you may be able to have shorter if you can prove your length of stay is over before your passport expires. Read my post on Baja Mexico is the Next Big Thing >>
Myanmar – 6 months beyond the date of departure. Visas are also required and cannot be acquired upon arrival, you need to sort this out before you arrive.
Nepal – 6 months plus a page free for a visa. You get your visa on arrival for $25.
New Caledonia – 3 months, or duration of of stay for EU nationals 
New Zealand – 3 months
Oman – 6 months. Here is my post on 5 Great Things To Do In Oman >>
Philippines – 6 months
Rarotonga (Cook Islands) – 6 months
Singapore – 6 months 
Samoa – 6 months 
South Africa – 1 month (although I have had a note from a reader that this is now 6 months. So please check with the embassy or airline before you book.) Also note that visa rules have changed and New Zealanders are required to obtain a visa. Click here for the list of exempt countries >>
Spain – 3 months. I loved Barcelona, so if you're heading there read my post 9 Best Things To Do In Barcelona
Sri Lanka – 6 months – and at least one blank page in your passport! You may also need a visa and can get that online through ETA (Electronic Travel Authorisation System)
Tahiti – 3 months
Thailand – 6 months
USA – 6 months longer than your intended stay and a Visa Waiver must be purchased online at least 72 hours before departure for US$14.
Note: if you have EVER visited these 7 "banned" countries: Syria, Sudan, Somalia, Libya, Iran, Iraq and Yemen, you will NEED a visa to enter the United States. You cannot use the ESTA visa waiver. But the good news is your visa is valid for 10 years. Just make sure you allow plenty of time (like maybe even a couple of months) to arrange your interview at your local US Consulate and the processing time.
_____________________
USA Addendum: after this post was published, all sorts of hooha ensued about whether or not we can enter the United States with a passport valid for less than six months, and it turns out that New Zealand (and all these countries listed here) have signed an agreement with the USA that we can enter as long as our passport is valid for the duration of our stay.
(And here is my post with a link to apply for your ESTA Visa Waiver – don't get duped and pay too much!)
____________________
Vanuatu – 6 months  Check out my short videos I made in Vanuatu if you need an excuse to visit!
Vietnam – 6 months after your visa has expired. And yes, just about everyone needs a visa. You can get them at your local embassy or online and pick up at the airport. Note: if you are entering Vietnam another way (via road or river boat, for example) you need to get one BEFORE you enter. Click here for info on your Vietnam visa and how to go about getting one online >>
Save
Save
Save