If you love rides, you'll probably be all about heading to Disneyland when you visit LA, but actually, the innocent sounding Knott's Berry Farm will have you gasping for breath and begging to get off some of the scariest roller coasters and rides in the world!
Knott's Berry Farm started in Orange County California in the 1920s as a berry farm and is where the boysenberry was first propagated. Who knew?! Cutely there is still a berry farm on site and an olde worlde shop where you can buy jams including the aforementioned boysen.
Now it sprawls over 57 acres (23 hectares) of prime OC land with some of the most extreme rides you'll ever encounter that attracts over six million thrill seekers a year.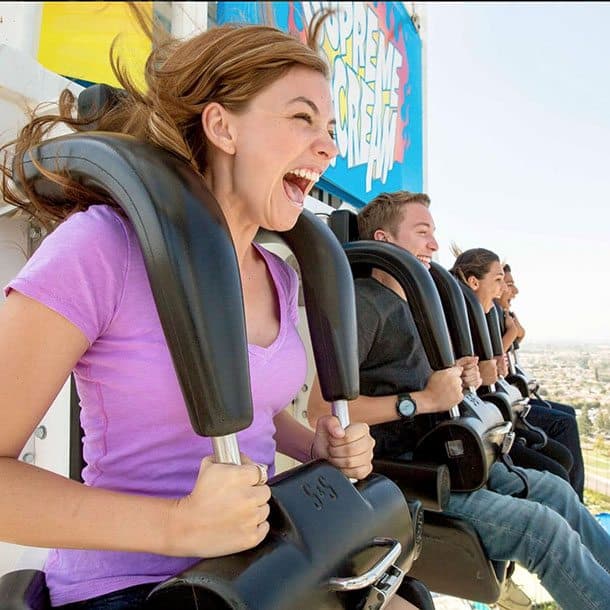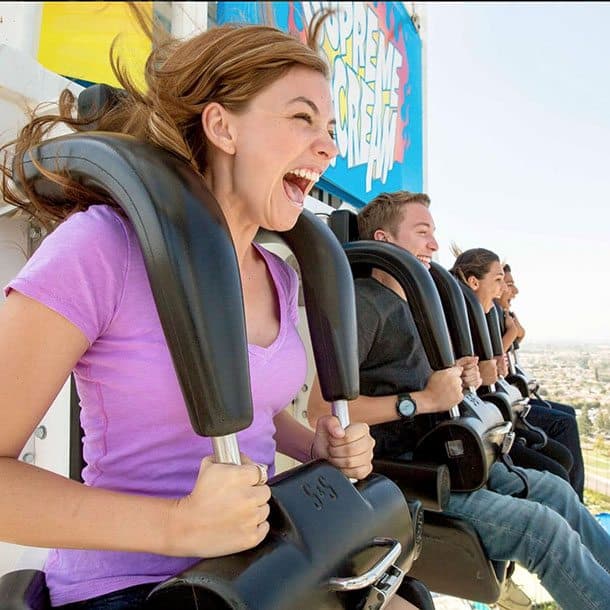 But for those with a love for nostalgia, the original ghost town is still here with the wild west themed train where the faint hearted should prepare to have their britches shunted off when armed bandits break into your carriage. Fun if you're expecting it. A pant-ruiner if you're not. (I'm looking at you cousin Kate!)
There are olde worlde gift ships, saloons and blacksmiths working alongside stocks to lock up your friends for a selfie and a coal train ride.
But really that's all the just the side show to the monster rides that have proven to be too scary for me. I have tried some of them and others I just stand and stare round-eyed at the screaming punters wishing they were standing round-eyed with me.
This is the newest ride: Hang Time. Have a watch (it's worth waiting out the ad for, promise!)
I did go on the Supreme Scream, which has a misleading name. It shot us into the air so fast it rendered me speechless. Screamless. Gasping for a gulp of air during the 45-second duration.
It's a vertical rocket launch ride with shoots you on your seat 77m into the air in three seconds with speeds maxing out at 80kph, you suspend weightless for a moment in time where I swear I could see the curvature of the earth as I looked for my stomach somewhere below, then down we rushed for a bounce which took us halfway up the tower again before it all ended.
Here's my night time video of it, just so you get the gist.
After that moment I was no where near game to get on Xcelerator The Ride which is the fastest roller coaster in the park. I stood and watched people's faces slip off as they were shot out of the gate reaching 130kph in 2.3 seconds, then hurtling 90 degrees straight down where they can gather their features again before spinning away.
The new ride, HangTime opened in 2018 and has the steepest drop in California with twists and turns featuring a negative-g stall loop. Apparently that means you'll feel weightless. Personally I'd rather float sedately in a pool for that feeling, but this ride ensures Knott's Berry Farm is on the list for extreme theme park junkies.
But for the rest of the family, the Peanuts characters call Knott's home, there are tamer rides too that soak you (and then you can stand in front of full body dryers if you want to), plus kid-friendly ones.
But food was the original drawcard to this park that is nearly 100 years old and each March the Boysenberry Festival takes place.
It's a cool story: Walter and Cordelia Knott originally bought the farm in 1920, and in 1928 in the midst of the Depression they bought more land and built a 25m tea-room, berry market and nursery where berry plants were sold.
Walter worked on propagating the loganberry, raspberry and blackberry from the scraggly vines that Anaheim Parks Superintendent Rudolph Boysen had been working on. He finally hit success, named the new berry after him and today every boysenberry in the world can be traced back to Knott's Berry Farm.
In 1934 Cordelia served eight fried chicken dinners on her wedding china and now they serve chicken to 1.5 million diners a year at their chicken restaurant here in the park.
Click on this link to find out more about Knott's Berry Farm next time you're headed to Anaheim!