I just had a whistle-stop 24 hours in Malibu, my first visit to this western Los Angeles city after visiting LA at least 20 times now!
It's not far to drive here, just north of Santa Monica where Malibu's famous beaches are dotted with surfers, and its boutiques stocked with celebrities. I also found a delicious food scene, and a cute beach house-styled hotel with a rooftop for a sunset drink.
You might also like my picks for 12 marvelous day trips from LA post! featuring beaches, desert, small towns, islands and yes – a certain theme park 😉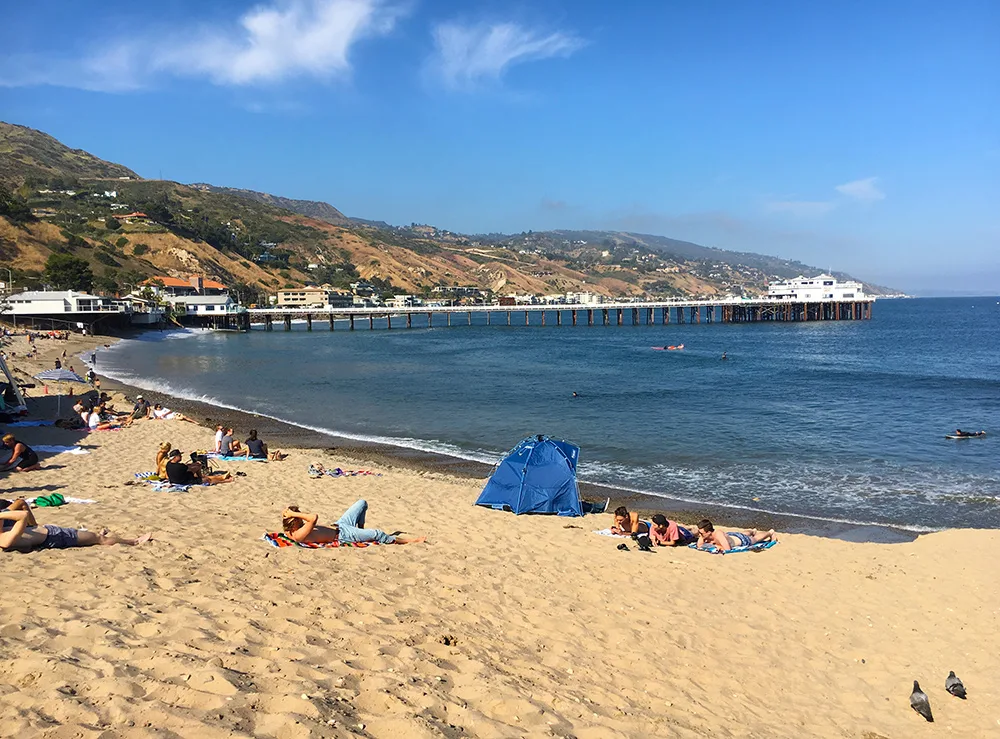 Where is Malibu?
Malibu is located between the Pacific Ocean and the Santa Monica mountains, about 14 miles north of Santa Monica (a 25-minute drive). It's so close to Los Angeles, yet feels so very different and so very far away!
Things to do in Malibu
The Malibu Surfline is famous among surfers the world over for its right hand pointbreak where expectant surfers sit dotted on the ocean like cracked pepper on a massive deep blue platter as the Pacific Coast Highway roars past just off the high tide mark.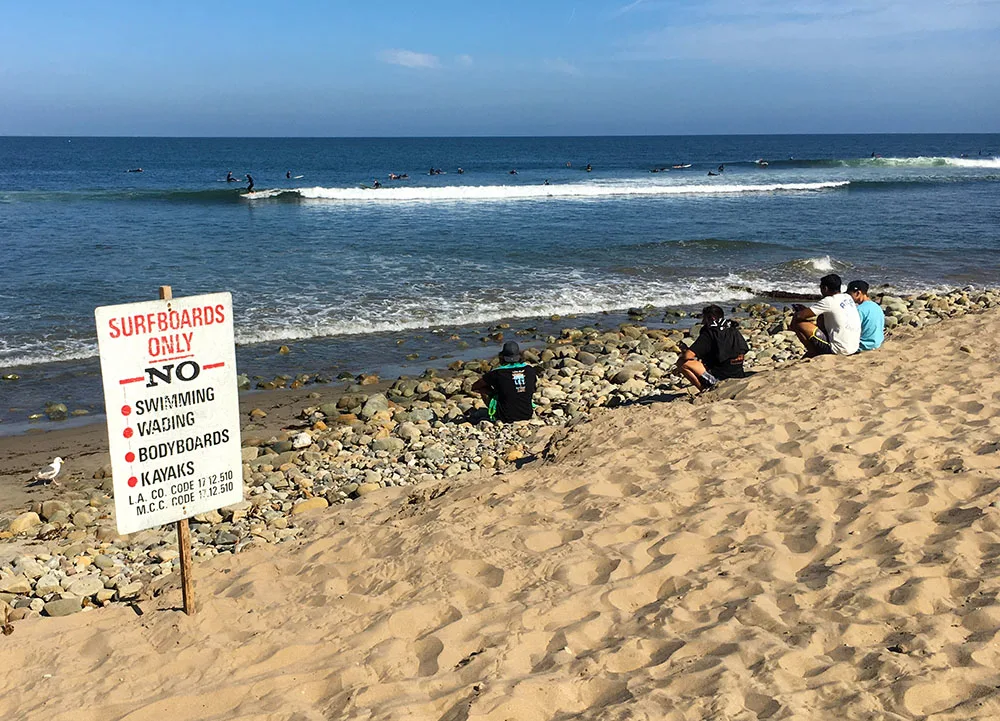 It's also a locale for the rich and famous, some with houses literally hanging over the waves on stilts by the pier.
With all the climate changes going on, I can't see why you would! In fact the house across the road from our boutique hotel had only just been completed a week earlier (said our waiter on the rooftop when we ordered breakfast the next morning). I mused whether it would even be there in a decade from now. But that's enough negativity from me!
Here's my quick 1-minute video of our 24 hours here in Malibu!

Where to stay in Malibu
We stayed at the Surfrider Malibu, a former 1950s motel called the Malibu Shores, where surfers and hippies would come and stay to ride the break literally across the road, but over the years it lost its vibe and sat kinda unloved for a long time.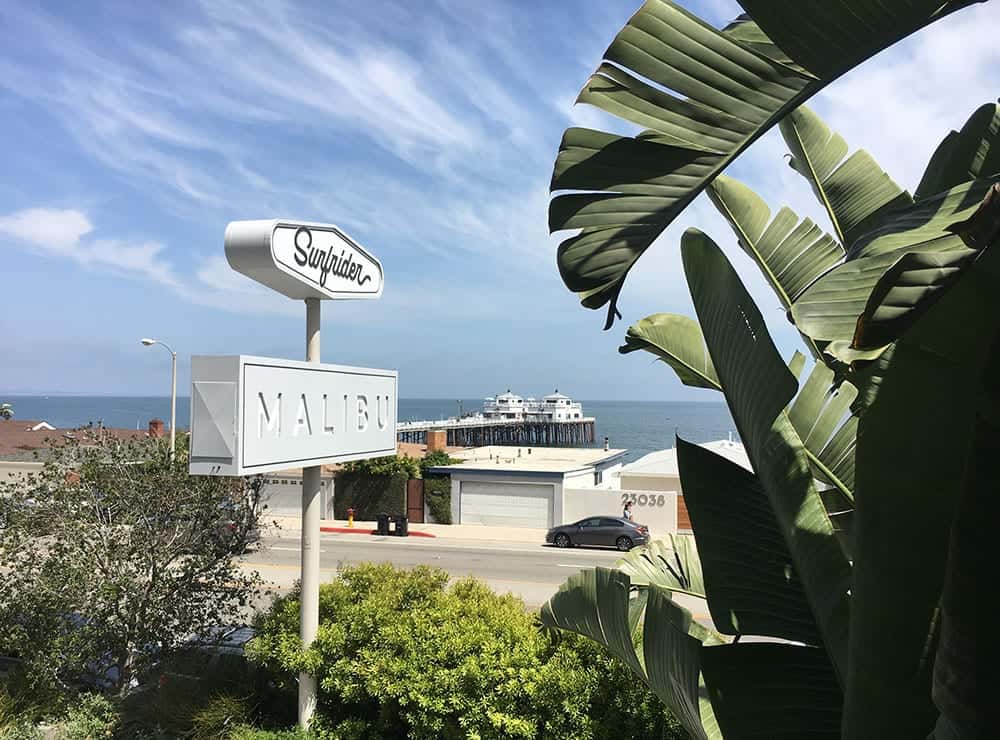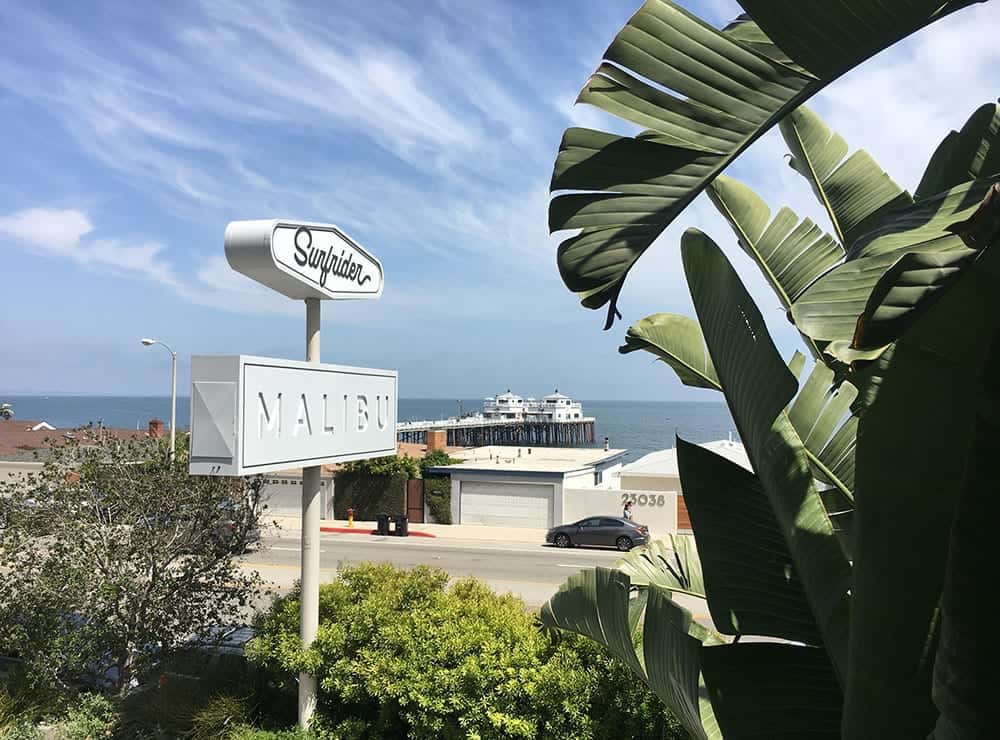 But in 2017 it found new owners and was stripped back to its bare bones, against the cliff behind it and with the Pacific Coast Highway in front, so that all that remained was the footprint.
Then like a phoenix it rose into a new California beach house designed boutique hotel with 20 rooms and a rooftop bar and restaurant area with the best views in town. We were lucky to get the last room available for our stay.
As you would expect, as well as wifi and local organic food and skincare products, they offer wetsuit and surfboard storage, and even wet suit hire if you fancy taking a lesson across the road. But it's their roof deck and bar that adds the icing on this cupcake of a hotel.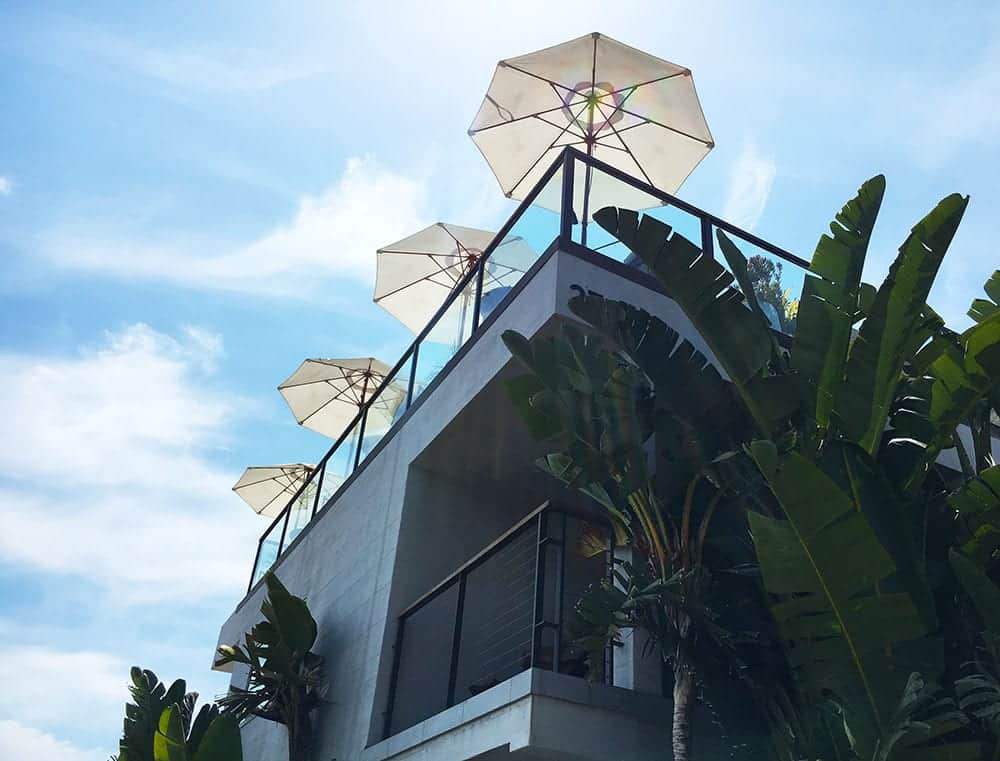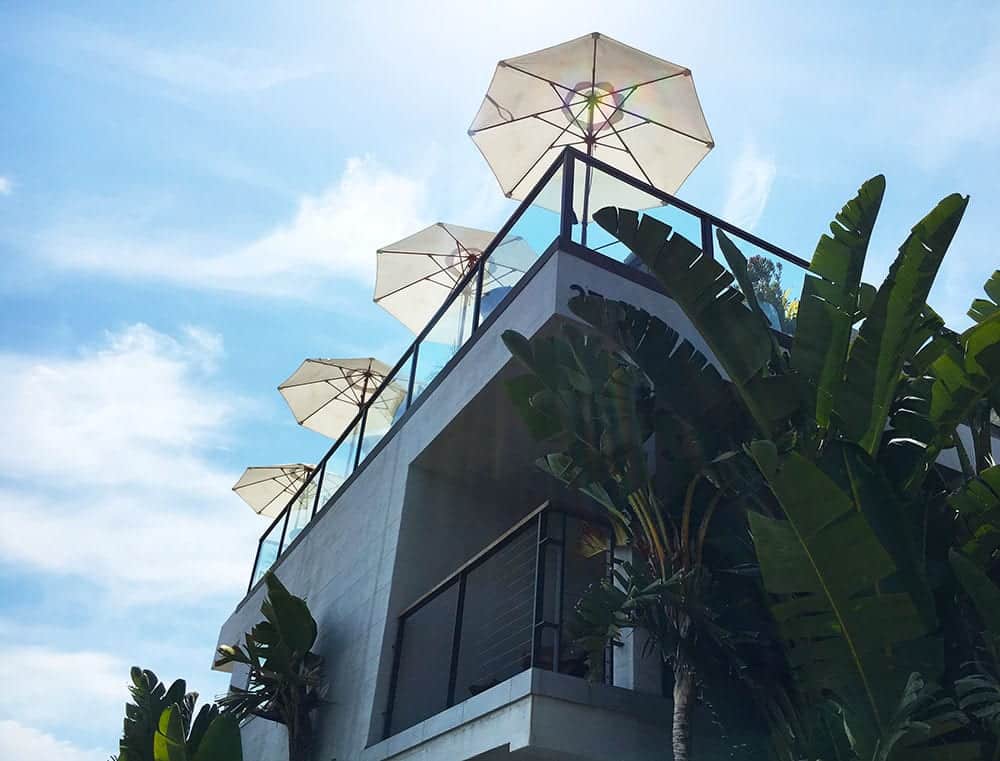 Where to eat in Malibu
We wanted to walk from the Surfrider rather than drive, so while not exactly flush with choices, it's more quality over quantity – although there is a Jack in the Box next door!
In fact, if the it wasn't so windy, we could have sat on the rooftop on one of the couches or a small table, or even at the bar for dinner, but tonight wasn't the night for that so we wandered across the road. The PCH that is! Don't worry, there are pedestrian traffic lights to stop the two lanes each way from hurtling into you!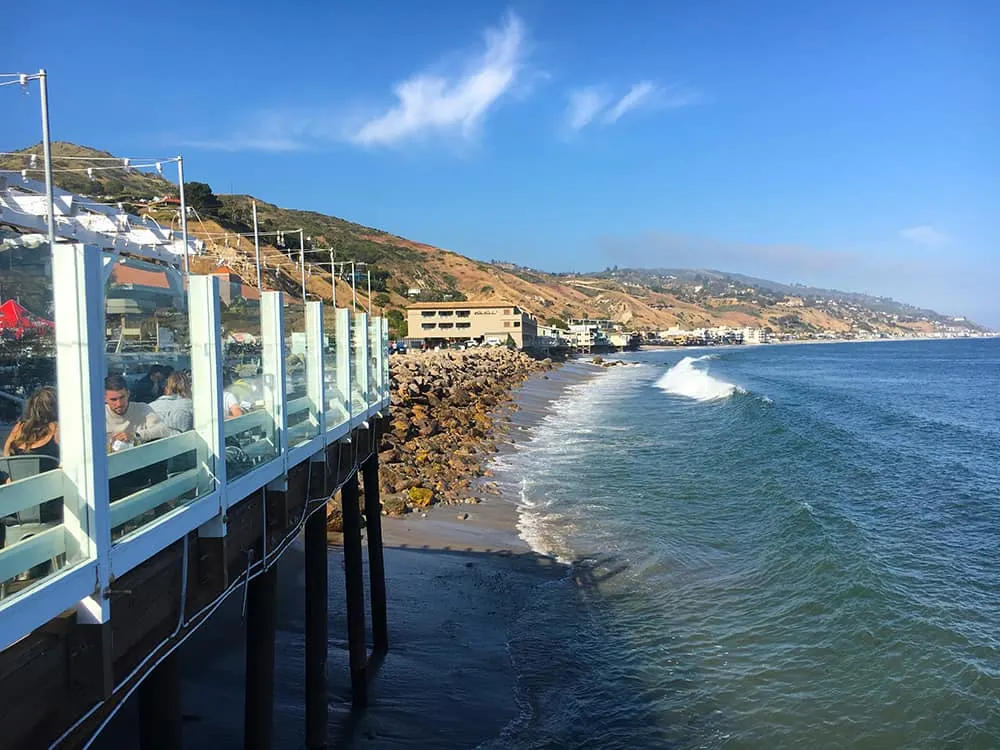 The hotel sits opposite the pier so that was our first look. It was a glorious afternoon and I was still mesmerised by the surfers, some with kids on the front and dogs too (although not all on the same family board!)
We walked to the end, chatting to people with fishing rods slung over the side hoping to catch their dinner, past a caravan selling handmade wooden gifts and to the end where there is a cafe. A police boat was moored out further, sloshing around and had been there all day. We hoped some poor bugger didn't have to sit there presumably waiting for a rescue that never came. In fact the next morning it was there too, so now my thoughts are it is there for police to get to quickly and speed away should they need to. Anyhoo…
We checked out the restaurant at the beginning of the pier and liked the menu. It was only 5.30pm so we were going to make a booking, but decided to see what else was on offer.
Along the road we walked and came to CBC, Carbon Beach Club restaurant inside the Malibu Beach Inn.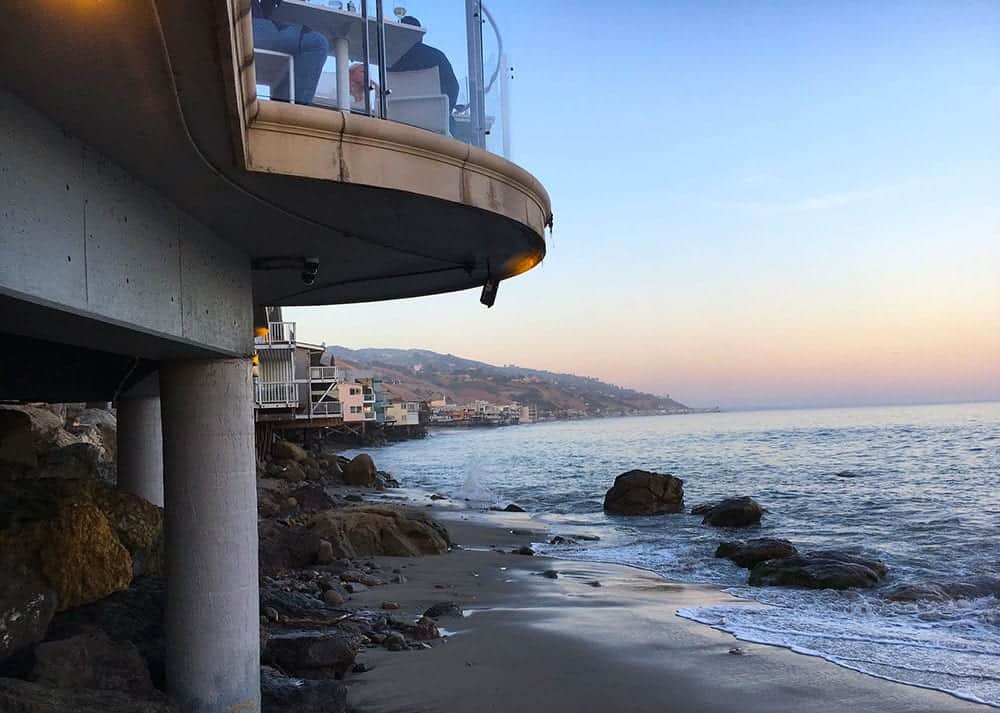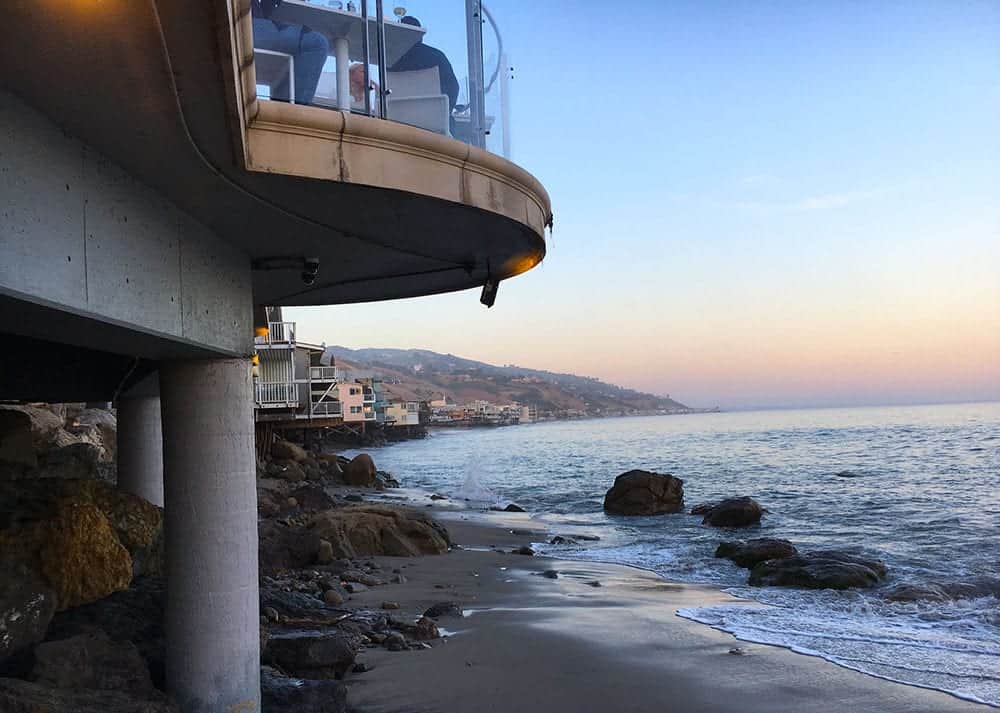 This was us! Even though Nobu was just a little further along for incredible Japanese food, it was the CBC location that had me. We made our booking and came back at 7pm and were shown to quite possibly the best table in the restaurant; out on the patio with the waves lapping underneath and facing the sunset. (I went a little crazy with my camera making movies and taking too many photos like a millennial).
Let me take you through what we ate first… for the starter we chose tuna tartare, served raw (for that is what tartare is) with avocado and a few thin crackers.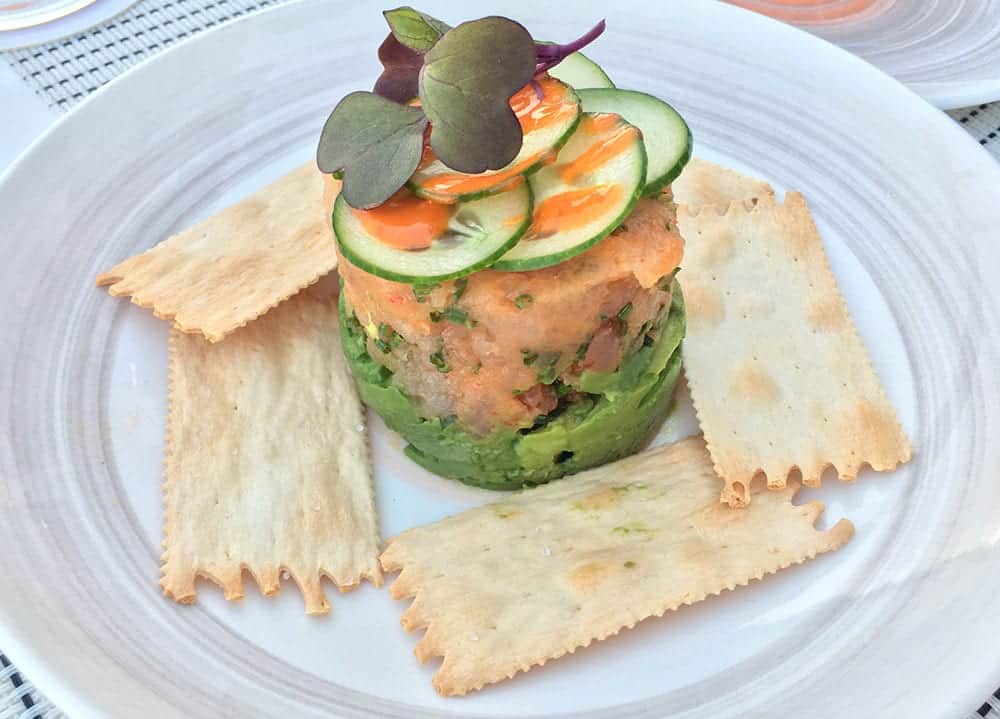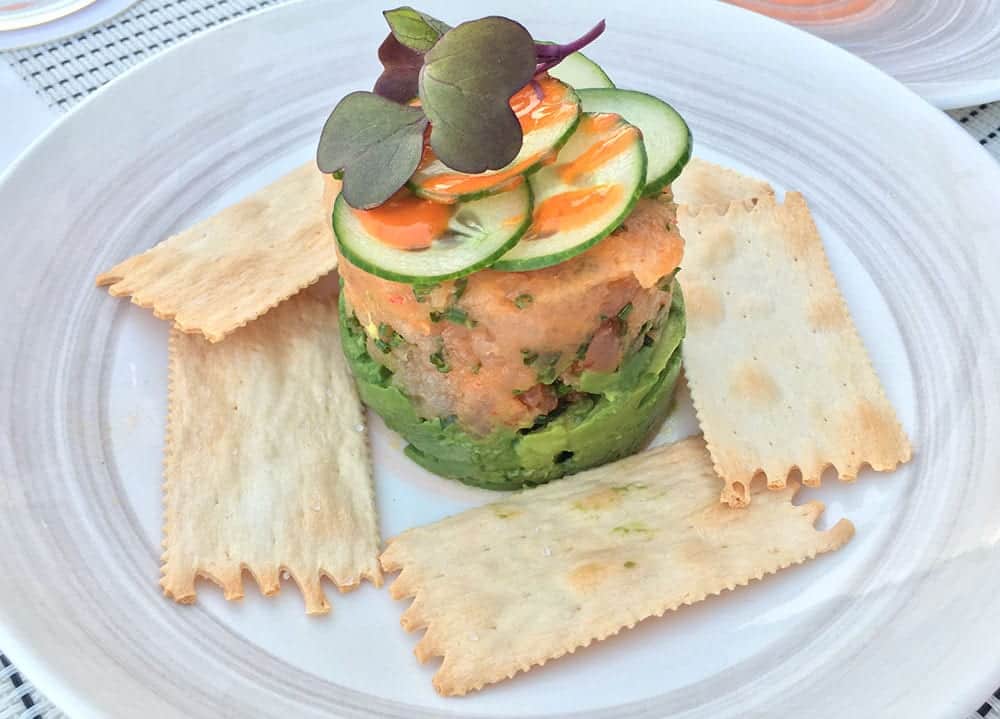 I washed that down with a glass of local sauvignon blanc, I always try and go local when I travel! I chose the Storm from the nearby Santa Ynez Valley (where we'd been wine tasting outside Santa Barbara the day before). It wasn't sold by the glass but the delightful sommelier said he'd open the bottle for me. He explained that if he has more than two bottles, he's happy to open one for a diner.
Hubby had lobster ravioli for his main while I felt like the grass fed beef burger with frites. He also got a whiskey with smoked bacon in it, while I made another dent in that bottle.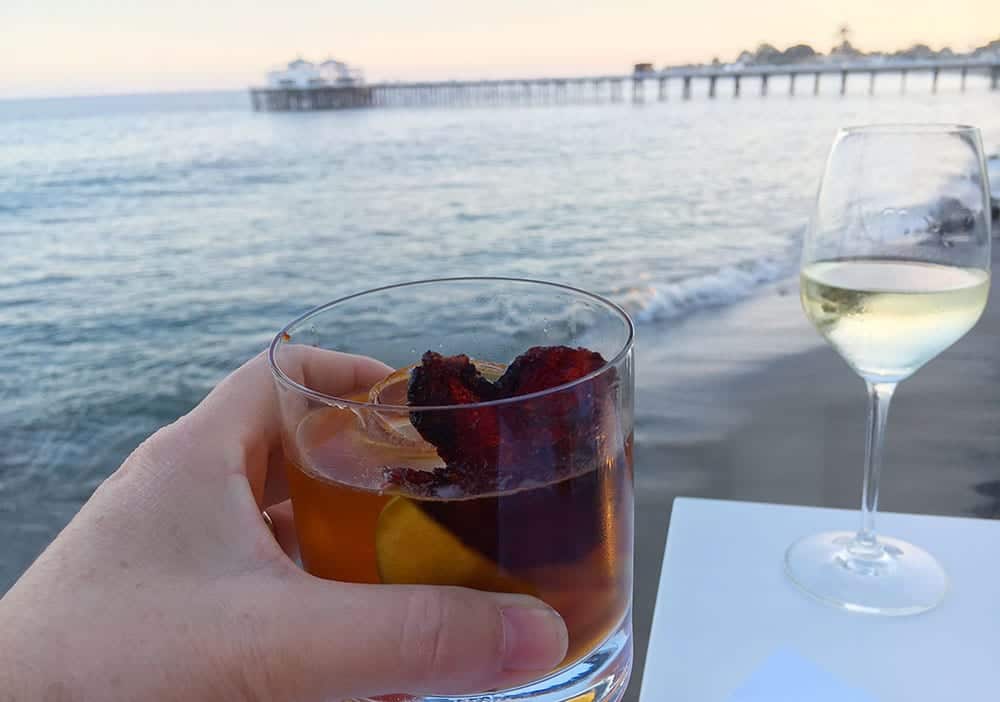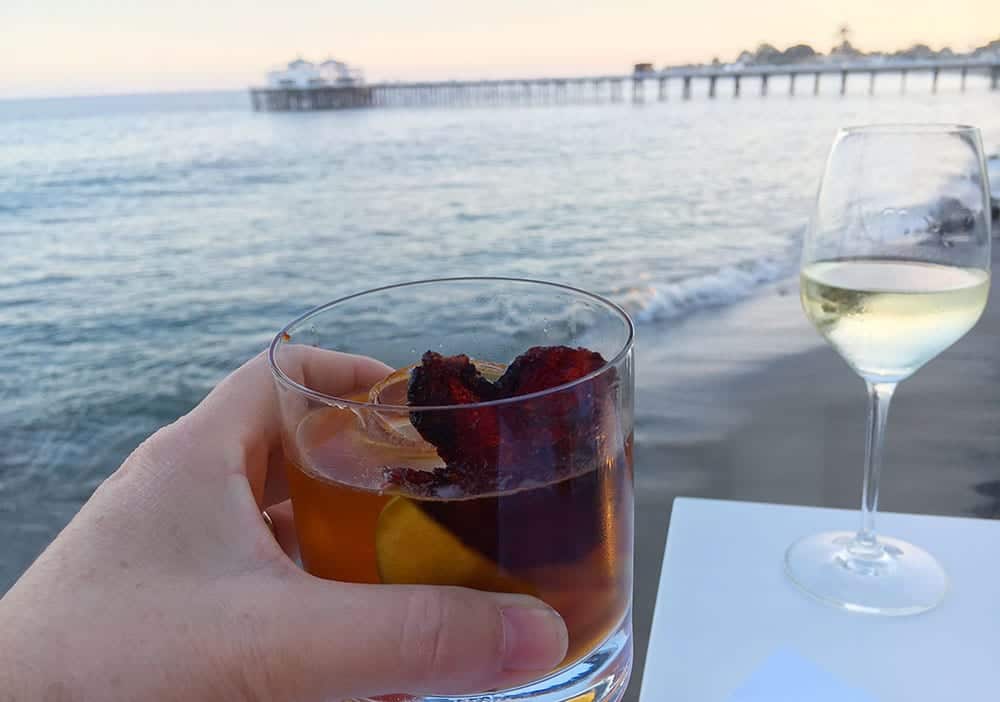 But the next morning we may have even topped that meal with breakfast on the rooftop back at Surfrider. The sun was up, the wind was gone, the surfers were waiting on waves and smashed avocado with a poached egg with a flat white was on my table as I drank in the whole scene.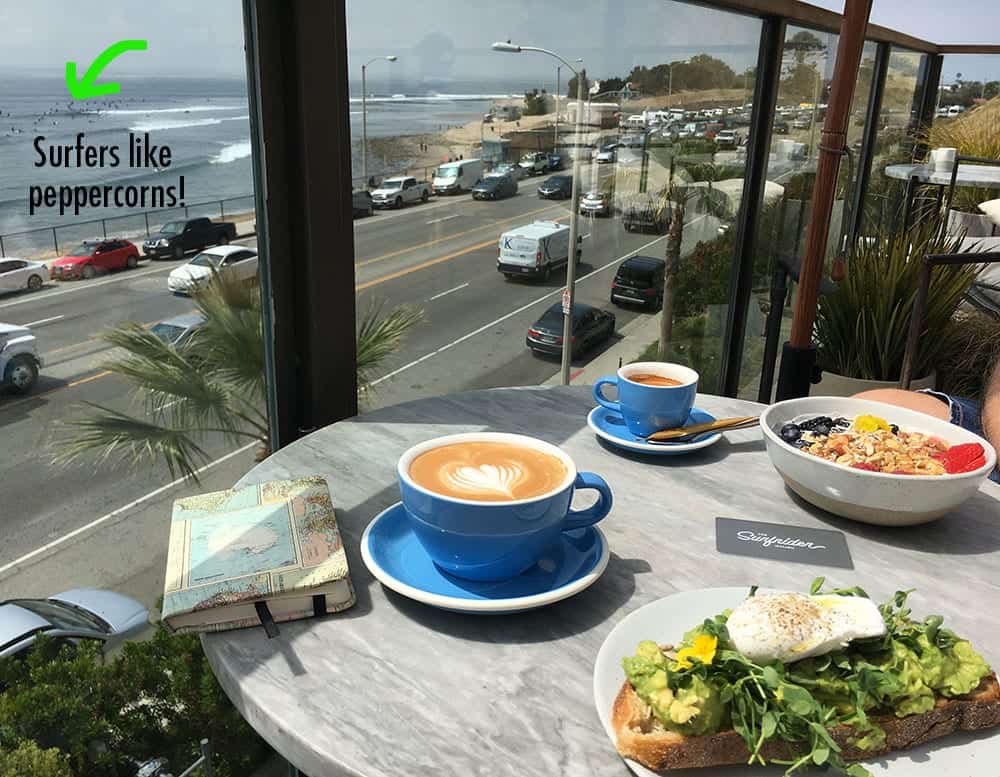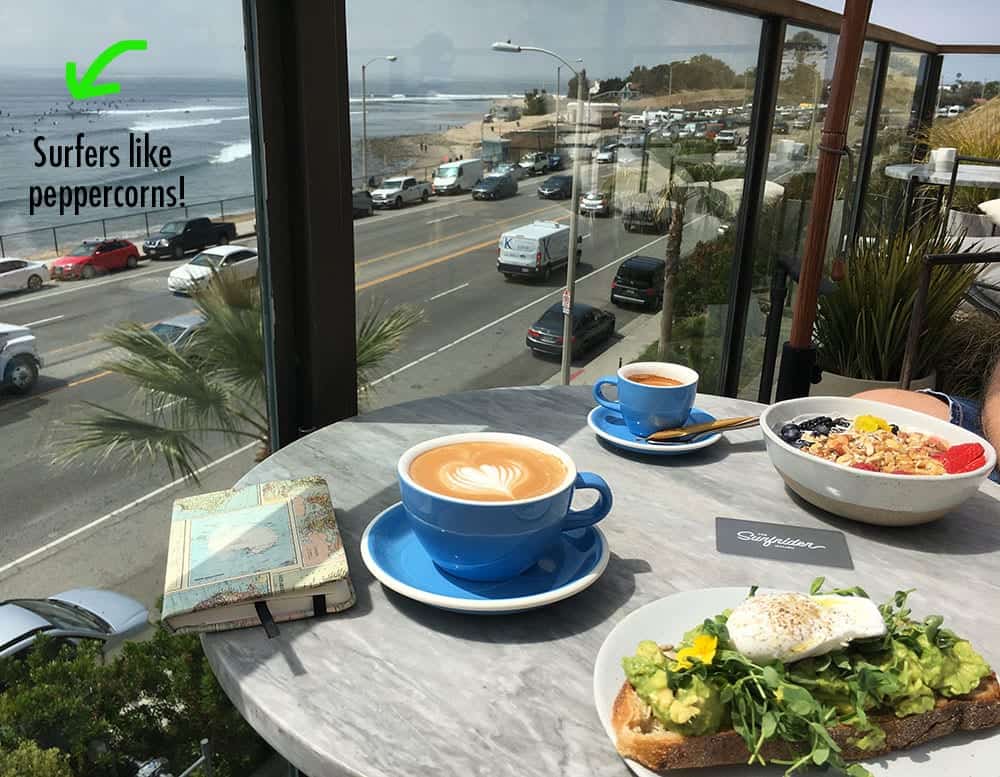 Where to shop in Malibu
For a little town, you'd be surprised at the shopping options.
Within a five minute walk from the Surfrider we poked around at the Malibu Country Mart. This is an eclectic mix of designer fashion stores like Fred Segal alongside handmade jewellery and gift stores with an outdoor kids play park (where you should keep your eyes peeled for celebrities pushing their little princesses on a swing), plus restaurants and cafes.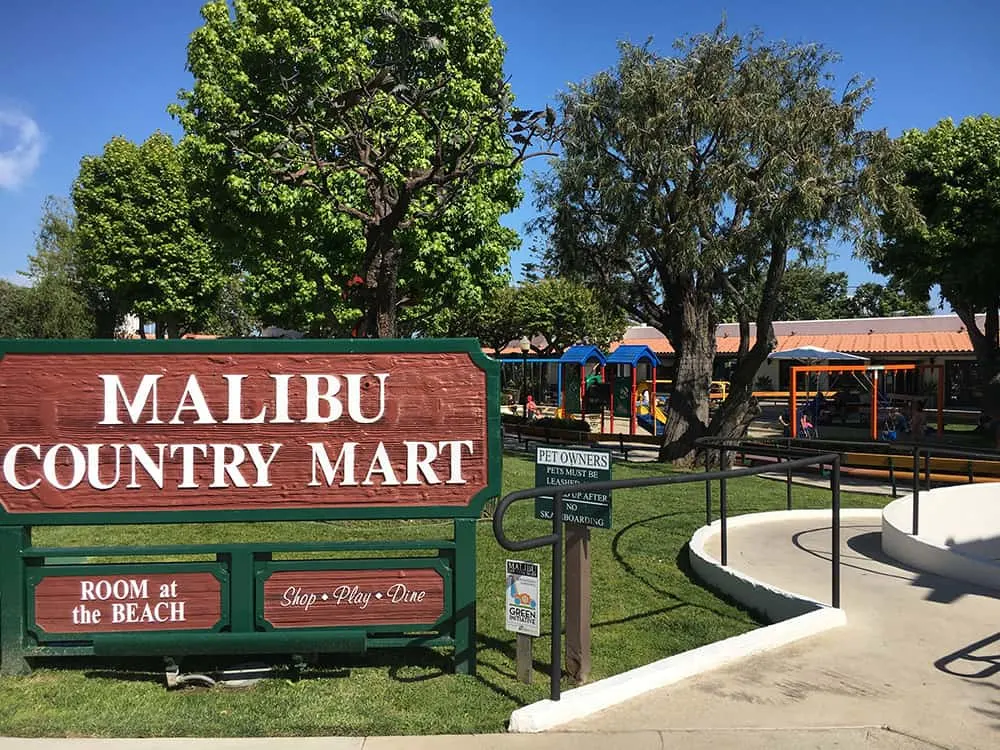 Across the road is Malibu Village, which is a U-shaped strip mall edged around a car park. Here you'll find high street stores like Fred Segal and makeup store Sephora next to a dry cleaner, with an old fashioned country grocery store selling cheeses and meats by the weight and where you will most likely see Lady Gaga shop, and a few cafes.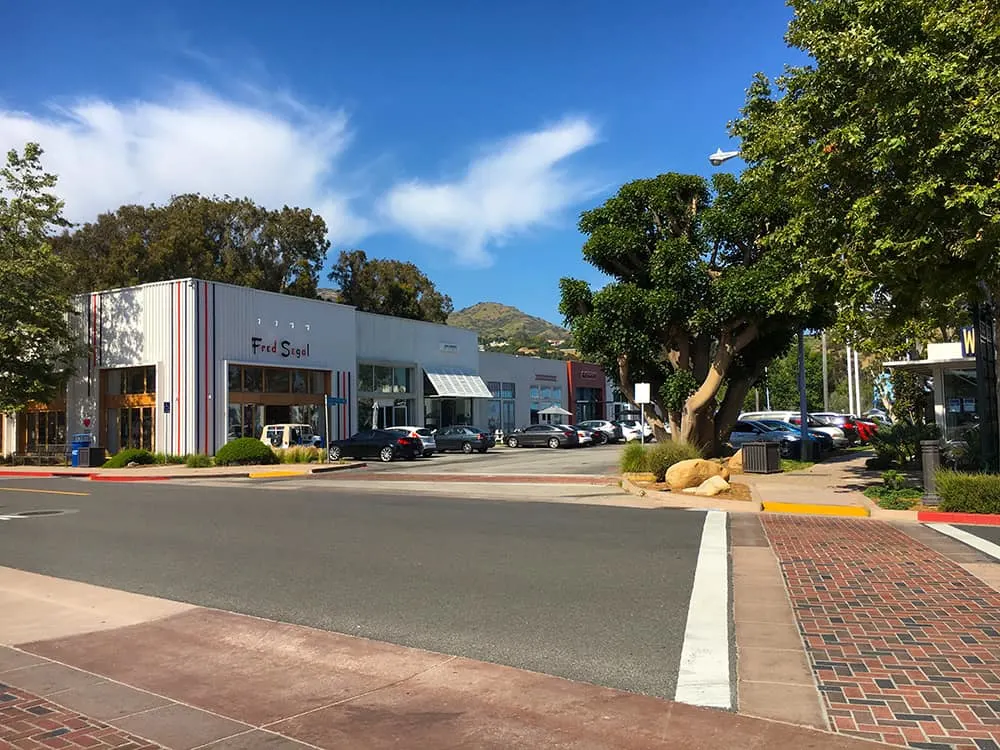 Plus Grom, a gelato store that called us in…
How did it know we were in the mood for ice cream? Or more likely, how was it able to put us in the mood for ice cream? I'm not sure, but not having had lunch and planning to have a delicious dinner (read about that below – one of the most sublime nights of my life) we found ourselves sitting in the Cape Cod chairs with two scoops of gelato each. Coconut and strawberry for me thanks!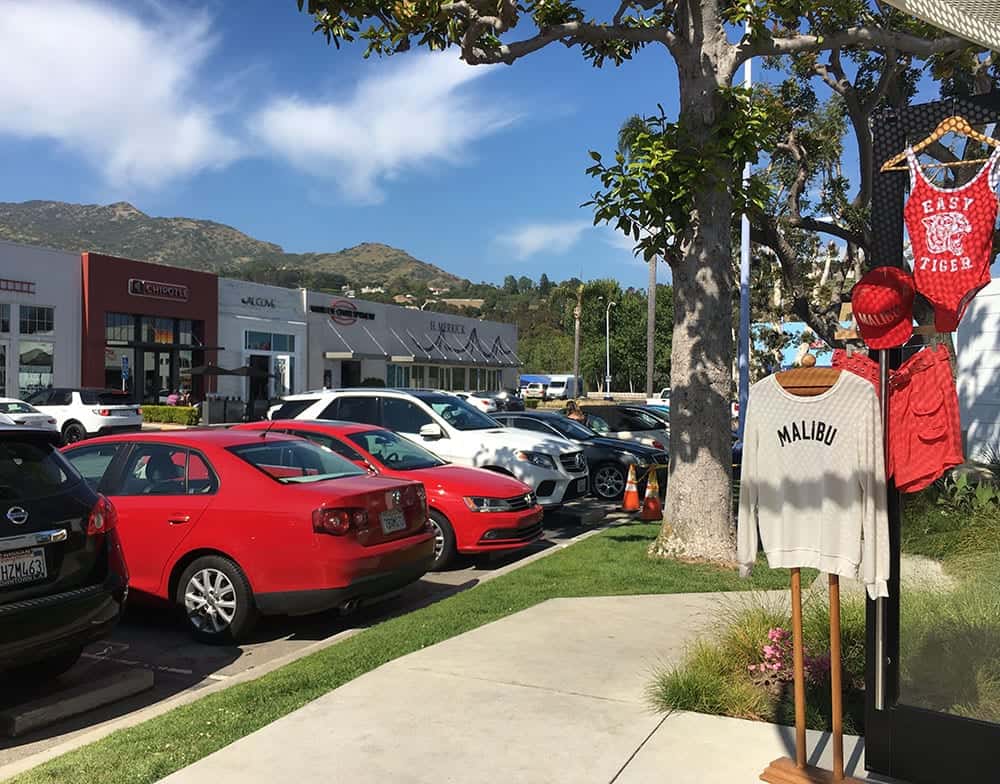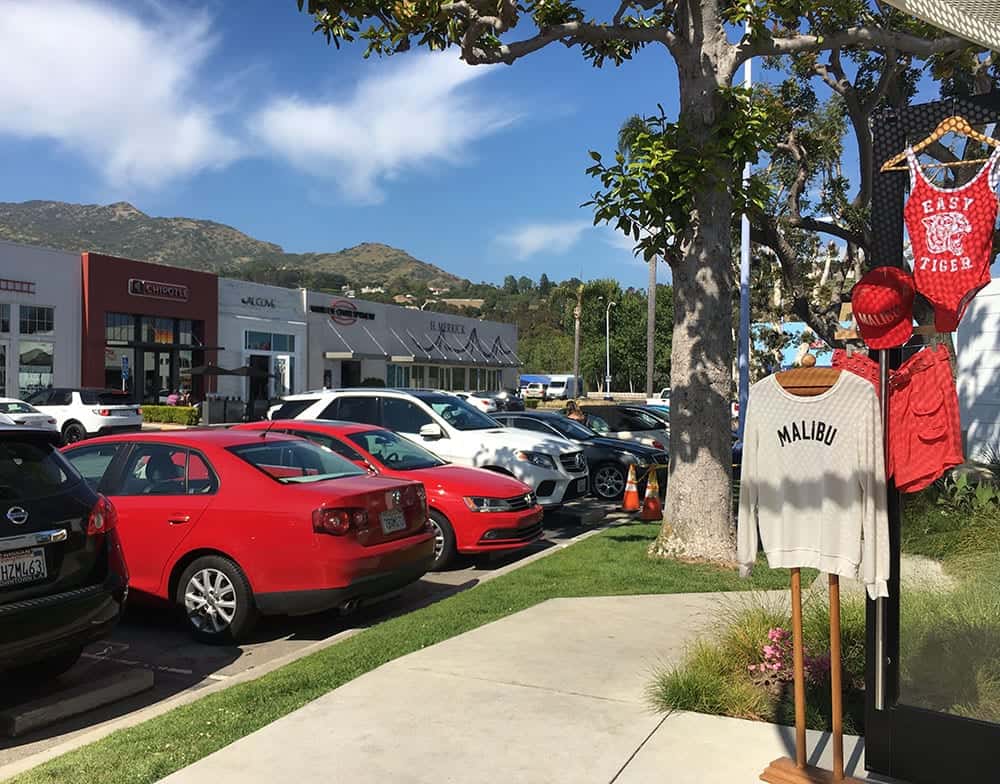 And to top our walk off, we came past a little family of chipmunks gobbling their lunch on the grass with the lagoon in front and that huge platter of ocean with another wave of surfers waiting for their turn to ride.
Hit the beach
Malibu is edged by 21 miles of coastline, segmented into several private and public State beaches.
Surfing is the main beach sport in Malibu, but there are lovely beaches here whether you plan to just sit with your coffee and watch the waves, walk the dog, or take a dip or join the surfers.
Topanga State Beach
Malibu Lagoon State Beach is near where we stayed opposite Malibu Pier, where Malibu Creek meets the ocean.
Malibu Surfrider Beach is as its name suggests and the name of the gorgeous hotel we stayed in, with its beach vibes and rooftop bar.
Dan Blocker Beach
Point Dume State Beach
Zuma Beach is the largest beach in Malibu.
If you're thinking about a Pacific Coast Highway road trip, I did a brilliant LA to San Francisco roadie in five days. It was really great fun and this post covers my day by day itinerary with where to stop, shop and stay if you'd like to read it. LA to San Francisco 5 Day Road Trip >>