I've just spent a week in Vanuatu, stayed in three of these properties and had lunch and a nosey around the rest (which I most definitely want to return and stay at!) So if you're thinking about a trip, here are my suggestions for some great Vanuatu accommodation options:
The Terraces Boutique Apartments
If you like a modern, designer apartment you'll love The Terraces. Owned and managed by young Kiwi couple Michelle and Callum, each unit has its own plunge pool.
The bedroom is on the second level with a huge stone bathtub that fills from the ceiling. That's your wow moment right there! Downstairs you have a kitchen, dining area and lounge.
Perched up high on a ridge with killer sunrise views, you're not on the beach, but if getting out and exploring is your thing, that won't be an issue. Their next door villa property, Mangoes, is where the dining occurs for both resorts.
Sister property to The Terraces, Mangoes is where guests from both hotels come to dine. I like this resort for its traditional Pacific Island style.
Each villa has a king sized bed, bathroom and kitchenette and three plunge pools (including one large enough for lengths) are splashed around the grounds. But 10 villas have their own personal pools, so my tip would be to grab one of these and enjoy nudey swims before falling into bed under the ceiling fan.
You can hire scooters for a day or half a day and plenty of activities are able to be booked from their office for exploring the beautiful mainland island of Efate. You're about a 2km walk into town or flag a taxi van for about 150 Vatu.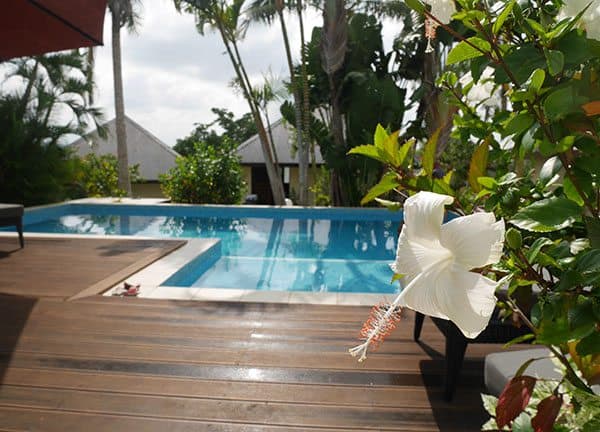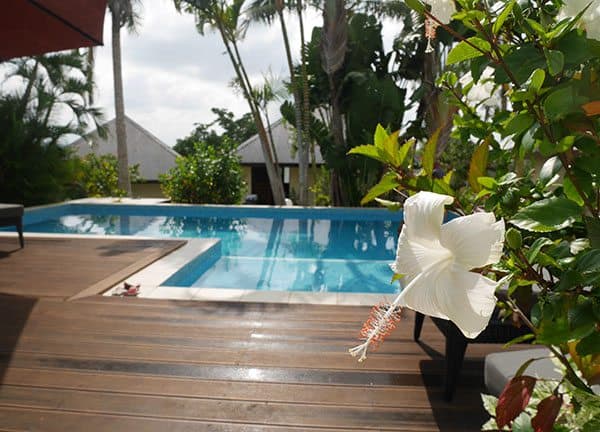 This huge resort is a hit with families and travelling groups, conferences, weddings, etc.
The beachfront and garden villas are in duplexes dotted around the grounds. The décor is a little tired, but the facilities more than make up for that.
At the kids club I met a family trying to coerce their son to join them, such was the great time he was having there. Water sports, swimming pools (plural), a spa and two restaurants as well as large conference facilities mean it's really popular with Aussies and Kiwis. The overwater bungalows are have been refurbished.
Located about a 40-minute drive around the island from Port Vila, The Havannah was heavily damaged in the cyclone, but has reopened to its gorgeous self. I popped in to see the work being done on these luxury villas as they worked towards reopening a couple of months after I visited.
The former managers at the property had weathered more than a dozen cyclones in their hotel management career and consequently took a lot of preparatory action, pruning and chopping trees down and the huge nakamal roof over the main atrium/dining area survived the storm thanks to the genius idea of bolting it down.
This is Vanuatu luxury with your own plunge pool in some villas, right on the beach.
Accommodation on Espiritu Santo
Fly out to the island of Espiritu Santo and take a water taxi ride (I took a glass bottom boat ride across) from Luganville to Aore Island Resort where chalets are dotted along the beachfront of the sprawling grounds.
We ate delicious Santa beef steaks in the huge open-air nakamal (whare) before I slipped back to my room on the water's edge.
This is a great spot to get away from everything and relax. Also great for snorkelling, but easy to transfer back to Luganville to explore the mainland and dive the WWII wrecks at Million Dollar Point or dive into some amazing blue holes.
(Here's my post on Million Dollar Point, which can be explored at low tide without getting wet!)