In the last four years I've been to Fiji three times. But on each occasion I've never stayed outside of Denarau Island, where the majority of Kiwi and Aussie travellers go to fly and flop. Not this time!
This is my fourth appearance in the land of smiles and I've been invited by Outrigger to stay at their newly bought bure resort on Castaway Island. You get here by 1.5 hour boat ride which hops like a bus around the islands dropping passengers off, or by helicopter with Island Hoppers, who met us at Nadi Airport and brought us to their lounge to wait for our departure!
The wow factor was immediate from the moment the helicopter lifted up as if on a piece of string stretching down from heaven and we flew across the deep blue ocean with its shades of peacock blues and greens while the coral reefs and sand below fought for their colours to be noticed too.
Little islands surrounded by sandy beaches look like salt around a margarita glass studded with lush tropical rainforest which hides treehouses and bures pop out of the impossibly blue sea.
We gently put down on the helipad at Castaway and some of the staff are there shielding their eyes and waving a welcome. Bula! Within moments the lads have whisked our bags off to our beachfront bures and we are winding our way down the brick path into the resort.
Upstairs at the Sundowner Bar the cocktail list looks like just the thing to top off our grand arrival, as we fill out the required registrations forms then are led to our rooms. Mine is #13, a beachfront bure with a high ceiling covered in tapa cloth under traditional thatched roofing with a modern bathroom and big comfy bed covered in crisp white linen. A large bowl of water has been placed on my veranda so I can rinse the sand off my feet and wipe them on the bathmat that has been handily placed inside the door.
It's simple and stunning and if I wasn't so keen to shoot around in the final hour before sunset with my camera, I'd flop into the hammock outside my door and watch the families playing on the beach or the game of beach volleyball.
Kids Club on Castaway Island
There are 66 bures on the island so the place is certainly not overrun by guests, but families are well catered for. There is a family/kids pool in front of the Kids Club where water falls from various squirting sculptures and the kiosk cafe serves snacks and drinks.
Families can hire their own nannies (mei mei's) and when I poke my head in, two little boys are playing in the sand with theirs. There are daily activities on the board and I ask about what is typically available for kids:
Lei making, basic Fijian language lessons, dancing classes, marine education and baby coral planting.
In the evenings the kids can follow the fire lighter as he runs through the resort lighting the kerosene lamps, they can go out for a night snorkel (and so can the adults!). Sometimes it's beach bonfire night and on Wednesday nights it's traditional Fijian dining out by the tennis court where the food is cooked hangi-style in the ground and the staff entertain guests with a cultural show.
Castaway for Romance
But don't think for a moment that the place is overrun by kids. With so much to do, you hardly see them!
I would absolutely recommend Castaway Island for honeymooners or couples looking to get out of Denarau and relax. Think hammocks, snorkelling right in front of the resort, a large pool edged in lounge chairs and umbrellas and of course your own bure for time out.
There are free watersports equipment like kayaks, paddleboards and catamarans, or paid ones like the jet skis and scuba diving.
Cloud Nine
But if you want to live like the cool people, for $140FJ you can be driven out to Cloud Nine by super fast boat Miami Vice-style. This privately own floating pontoon lounge bar gathers visitors from several nearby resorts. Here's a tip: it opens at 10am, so get here early to bags the daybeds.
Bring your snorkelling gear from the resort and a towel and spend the day jumping off the rig (the crazy ones jump off the second level), snorkelling the reef that we're attached to and then dining on woodfired pizza made onboard. Food and drinks are not included in that price so bring your wallet, your book and sunscreen and just lounge around until it's time to return.
Note, this is very popular so take my tip and get here first!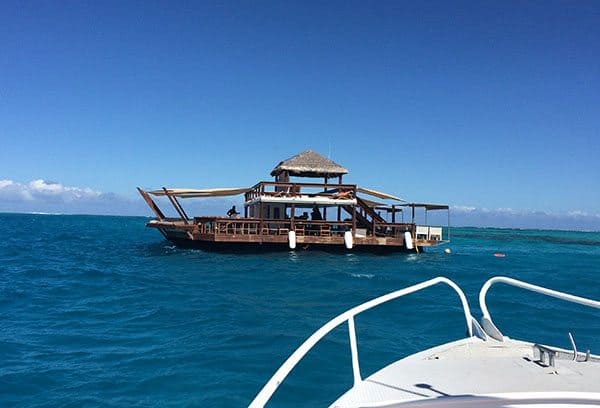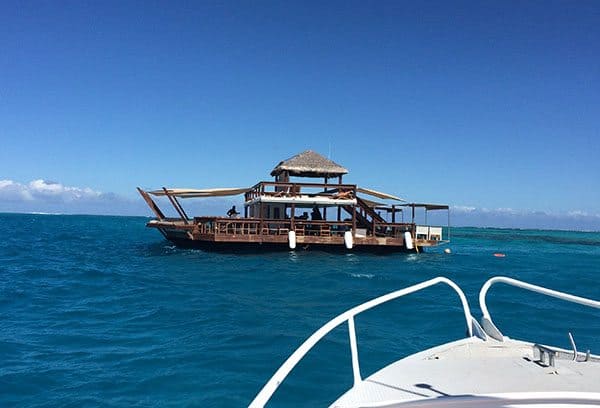 (Check out the best rate for Castaway Island here on Booking.com>>)
Save