The reason I was in Istanbul is to join an 8-day cruise to Nice with Companie Ponant on one of their 3 small ships.
L'Austral is only one year old, very sleek and stylish with lots of natural colours and fabulous photos of scenes from their cruises along the hallways. When I say small, we're talking 132 cabins – and about 130 crew including entertainers, waiters, cooks, engineers, cabin stewards and 30 other roles including a doctor who doubles as a jazz pianist.
Click here for my video of highlights of the whole cruise!
The cabin has great storage, suitcases fit into the wardrobe and the shower is big enough for two! The bath products are L'Occitane. Flat screen TVs have 4 TV channels or you can choose to view from the camera on the bridge or watch a selection of movies.
Bring your iPod too as each room as a dock for sounds from home – or a playlist you've made for your cruise.
I met Jerome Pierrre, our cruise director who speaks French and English with equal ability so that we weren't sure what his mother tongue actually was. Turns out both his parents are French but he went to school in England. He's funny in both languages, but we heard very little from him really. Unlike the larger ships when the cruise director gets on the blower every 5 minutes to interrupt your day, they make a point of not doing that here so you can do your own thing (read take nana naps) without getting a fright through the speaker system.
Dr Daniel Roure was a neurologist for 30 years before joining Ponant 10 years ago. A visit will set you back a hefty amount, but he is so charming and even has a CD of his music that he gave me. (Tip: take out travel insurance!)
The ship is larger than I thought it would be with 6 decks: 4 levels of cabins, 3 levels with a balcony – some are suites. There are three bars, two restaurants, a theatre for informative lectures and shows from the very energetic dancers onboard, a spa and hair salon and a gym equipped with great new gear. I know this because I actually used it and watched the sun rise while on the treadmill on Day 2. Thank you.
The food is great. Breakfast and lunch are buffets (or you can order room service at no extra charge). We've enjoyed breakfast sitting outside on deck 6 around the pool with our fruit, bircher muesli, or the plate of the day made for you by the chef. There's a selection of French cheeses and breads at every meal.
The buffet lunch changes themes daily, but at least half of time I have been pottering around the ports or on a tour seeing some ancient ruin. However I did make it back for the seafood buffet which was just outstanding. Wine is included with lunch and dinner, your only concern is knowing when to say when.
Dinner is served in two restaurants. The 2nd floor in the main restaurant is an a la carte menu with a choice of 5 courses, 2 options for each, and complimentary wine. Or if you make a reservation you can sit on the 6th deck – and outside if you get in quick enough – for the nightly buffet dinner. My preference has been the main restaurant where I can be served!
Here are some examples of the food to make you drool…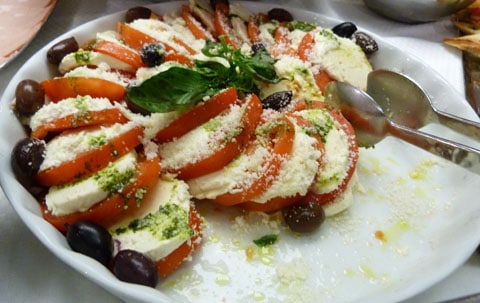 After dinner there is a show for those who aren't knackered and crashing into bed, then at 11.30pm a DJ spins some sounds on the dance floor and the energetic have been up until 2am. I am not that energetic.
Our 8-day itinerary started with squeezing through the 20m wide Corinth Canal (our ship is 18m wide), then two 2 stops in Greece to see the most ancient sites on the planet. I have taken probably a thousand photos and we're only half way through. I will blog about Delphi in Itea next, because this site was amazeballs and has ruined me for ruins forever more.
Then two more days in Sicily to see rooftop cities and fishing villages, listen to buskers play music that sounds like a scene from the Godfather. We stopped in Salerno, Italy and I took a trip to Pompei to see the petrified ruins of an entire town from 79AD, then Corsica – a French island, before arriving in Nice, where we stayed at the stunning Hotel La Perouse)
The beauty of being on a small ship is not only the smaller ports we can get into, but the excursions include a local guide and when we've arrived at iconic sites and seen passengers from other ships wandering around with bewildered expressions, I am grateful for the inside info.
_________________________________________________
Click here for my 5-minute of highlights from the cruise >>>