I wrote this post about how to visit London on a budget after returning from an epic two weeks in this great city!
I lived here for five years back in the day and I absolutely love it… But on this last visit I also noticed how expensive it is!
There are actually lots of great tips for travelling on a budget so you can still see the world without the breaking the bank. You might also like my tips for seeing New York on the cheap too!
Here are 7 tips to visit London on a budget
1 Affordable accommodation
Check out AirBnB* for a flat or an apartment in the area you want to spend the most time in – or choose by price. Remember it's so easy to get around on public transport in London, so you're never really very far from anywhere.
*If you choose to stay in an AirBnB by clicking on the link below, I will receive a small commission at no extra cost to you.
2 Use a local laundry!
Whatever you do DON'T send your clothes out to be cleaned via your hotel. You can expect to pay about £3 for each pair of undies if you do!
If you have a couple of hours, you could wash and dry your clothes for a few quid, but if you're in a hotel instead of an apartment with a washing machine, ask the concierge for directions to the nearest laundrette and have them do it. We had two bags of laundry washed, dried and folded for £13 and picked it up at the end of the day.
3 Ready meals!
Eating in pubs is not as cheap as it used to be (expect to pay £10-15 for one piece of fish and chips, or a beef and ale pie). We found the Marks and Spencers food hall and Whole Foods to be better value for easy meals to eat at home. Afterall, one can only bear so many deep fried dinners!
I have a penchant for dips and breads, so sometimes after a day that had involved a pub lunch, I'd hook into the deliciously fishy taramasalata and a baguette with a glass of wine we picked up from Marks (Tescos also does great ready to eat meals).
We also loved the sandwich stores Pret a Manger (which are everywhere) which does things like rocket and crayfish (all made on the premises) for about £5.95 or a tuna mayo for £4.95. (By the way, I worked for half a day Pret for a story many years ago, here's my tale of drama and disaster…)
4 See a cheap movie
If you fancy seeing a movie and don't want to spend £20 each on a ticket way up in the circle, DON'T go to the Odeon in Leicester Square! We watched 007's Spectre there, and admittedly it is an iconic cinema which had just hosted the premiere, but the screen is tiny if you're up the back.
Friends watched it in Marble Arch for half that price. However we did come out and stumble upon this scene… See Bradley Cooper signing autographs in the bottom right?
5 Getting around London
Use your paywave credit card instead of pre-loading an Oyster card. They work exactly the same way, except (so the bus ticket inspector told me) at the end of the month if it calculates that you have done more buses than tubes, and vice versa, and spent more in single fares than a monthly pass would have cost, it'll automatically switch your billing to the cheaper pass price.
Besides, it's more convenient than an Oyster card as you don't need to preload it with money. (Note: my husband had difficulty with his Visa being accepted only intermittently. My Mastercard worked fine for two weeks). Make sure you swipe in and out with the same card. And slap it on the device, don't just hover it near (I think that might have been husbands problem *rolls eyes).
Another tip for using cheaper public transport is to travel after 9.30am to avoid the rush hour fare.
6 Cheap way to go sightseeing in London
The Hop On Hop Off buses are great for a commentary as you go. But you could also just fill in a day by hopping on a bus that'll take you to the area you fancy exploring (we took the Number 11 from Victoria to St Paul's) and headed off for £1.50.
Bear in mind that if you change buses, you'll pay another £1.50. But on this occasion we sat upstairs and had a great view of the poppy day goings on at Westminster Abbey, the protesters outside Downing Street and just generally people watching.
We hopped off at St Paul's, then walked across Millennium Bridge to the Tate Modern and took a tour of the Globe Theatre next door with the money we had saved.
7 Head to a rooftop bar
Rooftop bars in London don't have to cost the Earth! Sure you can go to expensive ones with sweeping views across the city, but there are some very cool rooftop bars in London like car park rooftop bars and others in London's south-east that have the vibe without the hit to the wallet.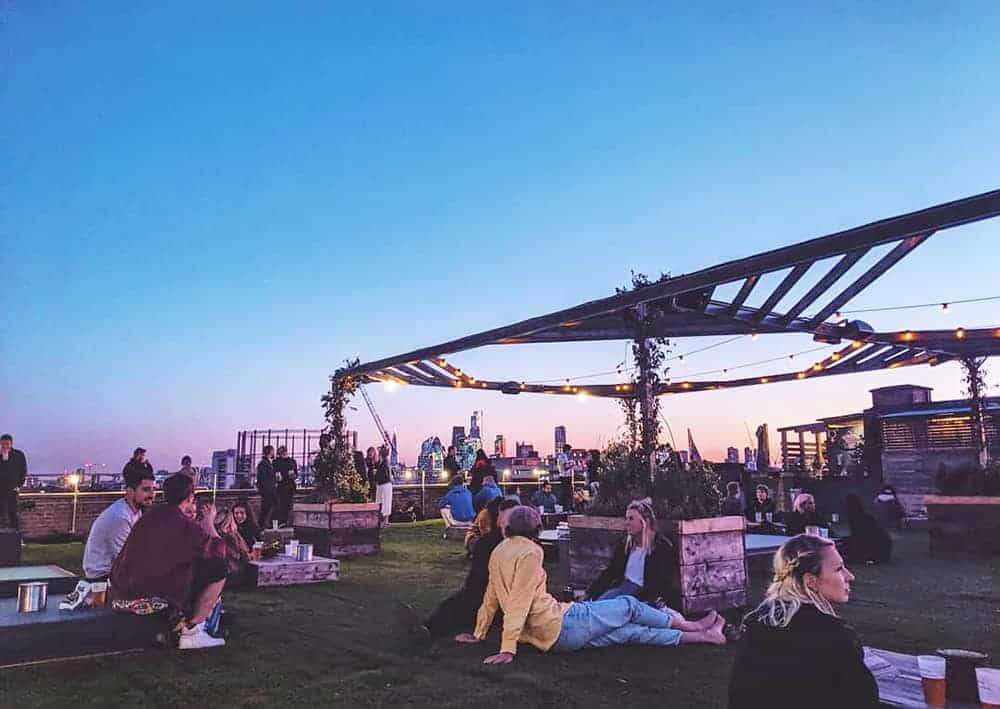 If you're not sure which part of London you want to be in, check this post out for where to stay in London.
Aside from these cheap things to do in London, there are also free things to do in London to make your stay even better!
You might also like to read 25 of the best things to do in London to help you plan your ideal holiday here.