A friend messaged me this week asking if I had any recommendations for where to take his parents for afternoon tea in Auckland. Gosh, it's been a while since I enjoyed the conviviality of delicate china tea cups and a stack of teeny sandwiches and hot scones.
So I did what every good blogger does, I put a call out on my Facebook page to ask for advice from my fans. They were exceptionally helpful so I have now added a little of my own research and present, for your pinky-extended pleasure, the best places in Auckland for afternoon tea and why…
Cordis (formerly the Langham) With the very posh title of "High Tea by Cordis" this is probably the most well known afternoon tea place in Auckland when it comes to dressing up and taking your mum somewhere special. Now under the new name, afternoon tea is still served in the sunken lobby lounge where you'll sink into wing-back chairs and enjoy handcrafted sweets, pastries and fluffy scones served on elegant fine bone China. The even have a Tea Sommelier who will help you choose the perfect blend or splash out and indulge in a glass of Louis Roederer Champagne. $59-$109 pp.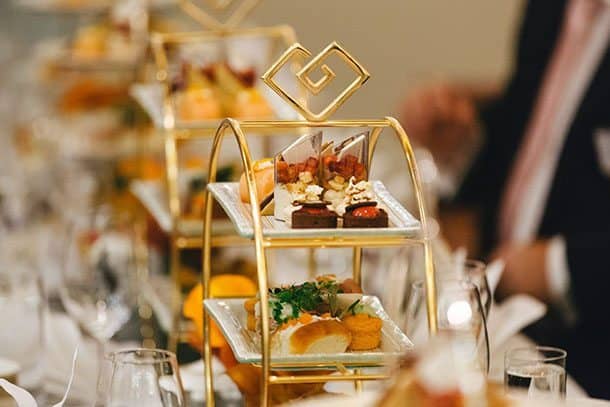 Waitakere Estate Drive out into the Waitakere ranges, west of Auckland, and hidden high up in the hills, surrounded by native bush you'll find the elegant Waitakere Estate hotel and restaurant. The front lawn offers fantastic views over the city and their high tea, in front of the log fire, is delightful. High tea is served on Saturdays and Sundays only from 12-4pm and costs between $35 and $45 pp. Start with madras chicken sliders or smoked salmon pide, try the mango cheesecake or strawberry panna cotta and of course, hot scones with jam and cream. We enjoyed these teas as well at Oruawharo Homestead, a historic homestead in Takapau, New Zealand.
Stamford Plaza I feel story for the Stamford with all the road works rerouting traffic through 2017, so if you do too, then I think choosing to enjoy high tea would be a lovely gesture. You'll sit in their lobby in cosy chairs and enjoy a 3-tier service that includes their signature curry puffs, mini quiche and even a dinky watermelon and buffalo mozzarella salad, as well their warm and fluffy mini scones with jam and cream, salted caramel profiterole, macarons, Stamford's banoffee pot, a coconut and lime baked cheese cake. They also do gluten-free high teas. Served daily from 11.30am-4pm. Cost from $42 to $67pp with champagne.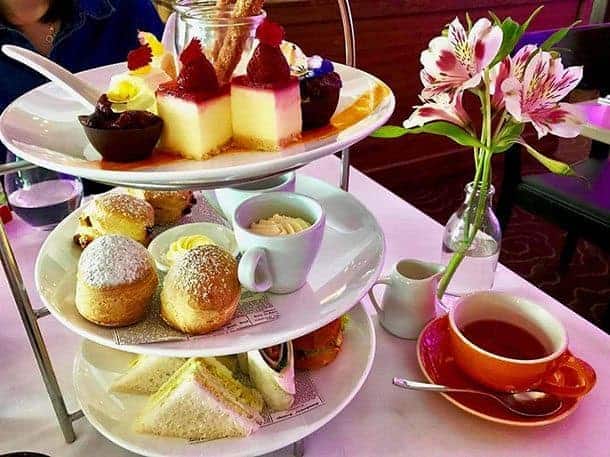 Cornwall Park Bistro This is a great idea for a sudden urge. Set in the beautiful surrounds of Cornwall Park, you can get high tea here every day from 2pm which reminded me of Oruawharo Homestead. Three generations of the Harney family have continued to preserve the tradition of high tea here since the 1960s and are purveyors of fine and rare black, white and herbal teas. Start with a yellowfin tuna sandwich or a duck and cucumber crepe and move on to buttermilk scones, a dark chocolate tart and cheeses. Cost $40 or $50 with champagne.
Orbit Sky Tower This is the ideal high tea if you want to head up the Sky Tower for just the price of your afternoon tea and get the 360˚ rotating restaurant views at 190m over Auckland thrown in. They do a modern twist on the traditional high tea with things like a pumpkin and spinach quiche, mini lamb burger and a breaded fried mushroom stack with feta. For sweet there's macarons, tarts and choux puffs and most importantly scones with jam and cream. High tea is served on Saturdays and Sundays between 2.30pm and 3.30pm for $40 pp.
Puhoi Cottage Tea Rooms. Located north of Auckland, about a half hour drive from the Harbour Bridge) this is one of the oldest tea rooms in New Zealand and the oldest to serve Devonshire cream teas. Savoury treats, finger sandwiches, fluffy scones and little cakes with your choice of 22 teas, this is a classic high tea set in a rural garden where kids will find giant jenga and other games to keep them amused while you sip.