If you're heading south and looking for things to do in Cromwell, this post is for you!
Where is Cromwell?
For those of you reading this from outside of New Zealand, or maybe just outside of the South Island, Cromwell is a little land-locked town in the heart of Central Otago's wine region.
It's a great pivot point for visiting several of New Zealand's best wineries, and we spent a couple of nights, rented a car, and tootled off to see what else this region has to offer.
The nearest airport is Queenstown (about 1 hour drive away), but you can also see that Wanaka is very close too.
For a longer road trip, you could fly into Dunedin or Christchurch and immerse yourself into this amazing part of New Zealand, incorporating Cromwell into your itinerary.
We flew into Queenstown and rented a car and took about five days all up.
Wineries between Queenstown and Cromwell
Central Otago is known world-wide for its amazing pinot noir (I had to try several glasses just to be sure). But heading out of Queenstown you'll have to make a call about where you're going to stop. This trip I chose these two:
Turning off the main road, you'll drive up a dirt road and if you look down you'll see the Kawarau bungy jumpers leaping into their fears.
We popped in for a taste with the lovely Pauline, the charismatic host and fanciful story teller of Chard Farm's wines. She started us on an unoaked chardonnay and if you're a sauvignon blanc drinker like me, you will be pleasantly surprised.
But it's the reds everyone comes for. I'm not going to steal her stories, but suffice to say if you pick up the phone and order a Saturday nighter, they'll know what you mean!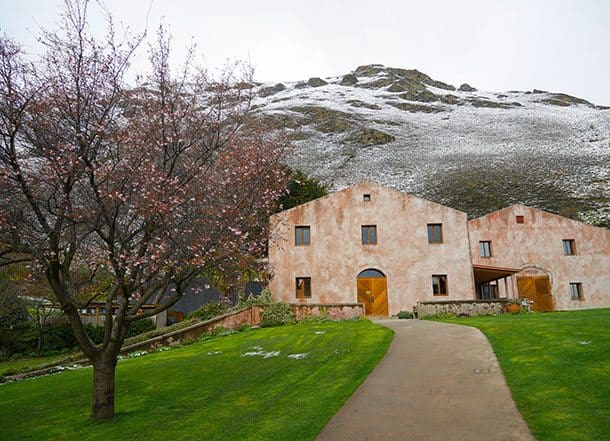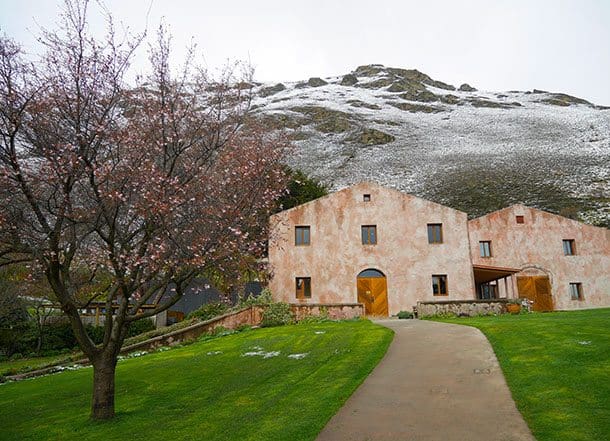 This has a huge restaurant with indoor and outdoor seating, a large cellar door and a gift shop and cheesery on site. It's frequented by big groups as well as drop ins like us – although if you want to eat, it'd pay to make a booking.
We sat on a couch with a coffee to eat our lunch because it was so full. Probably the most iconic wine maker in the region. They have just added 24 luxury villas if want to spend the weekend here!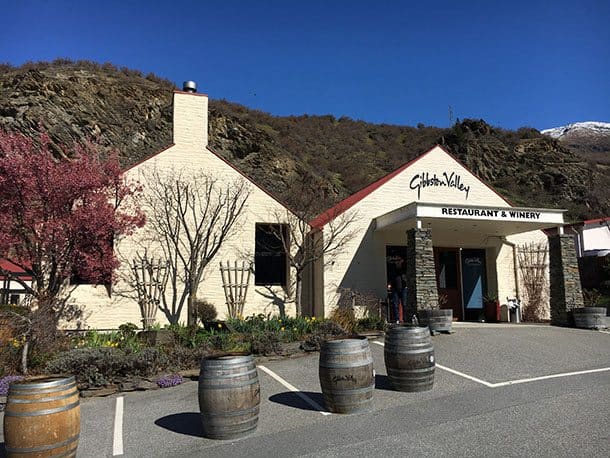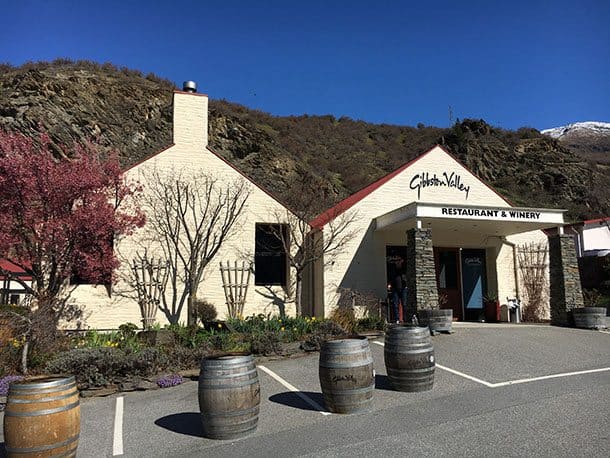 Cromwell itself
If you're of a certain vintage you'll remember Cromwell as the town that was partially flooded in the early 90s for the creation of the Clutha Dam. It was controversial at the time, but they've gotten over it now as this region gets such little rain fall.
I remember coming through here on a family holiday when I was in my teens and being very concerned that they would get the people out before they flooded the town. Apparently they did, but word is there are still cars and buildings under the water.
But historic Cromwell is as cute as a button with a few little gift stores and cafes for you to browse in. The rest of the town, well….
Things to do in Cromwell
But don't get me wrong, Cromwell is a great hub to base yourself in the summer for all the events and activities that happen on the lake, the nearby wineries of Bannockburn and Lowburn (including Carrick and Mt Difficulty).
You're also only 45 minutes away from Queenstown in one direction and Wanaka in the other, so a great base in the winter to play in both towns for skiing, shopping, and exploring.
Wineries surround you and an afternoon in the historic village of Clyde is well worth it. In fact, stay for dinner at Oliver's. You'll thank me later!
But one of the coolest things I did in Cromwell was spend a few hours at Highlands Motorsport Park. I was lucky enough to join a pro race car driver and did a couple of fast laps (ridiculously fast laps which I wrote about and videoed here) in a McLaren race car (worth about half a million dollars).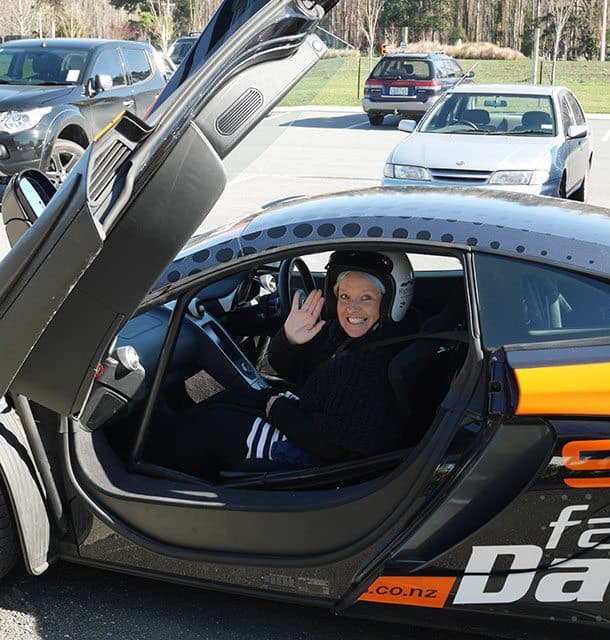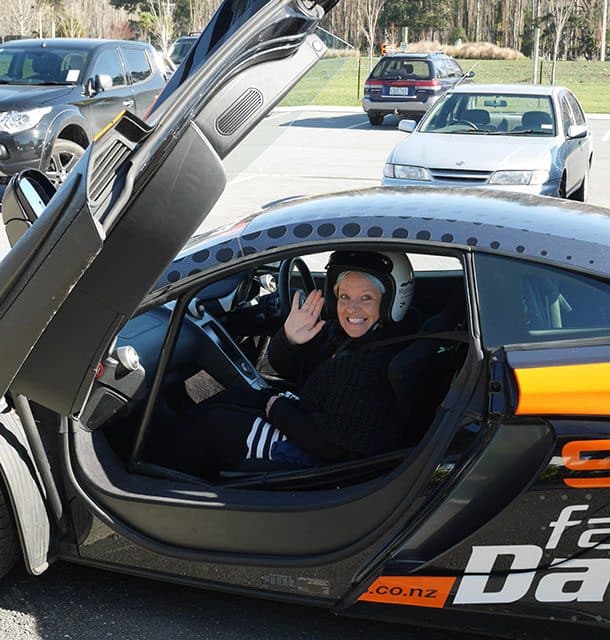 Where to stay in Cromwell
We drove 7km out of Cromwell to Pisa Moorings where the Heritage Boutique Lake Resort is located literally over the calm and clear waters of Lake Dunstan with your own Jacuzzi downstairs under the veranda and ducks drifting and chattering around beside you.
It's apartment style accommodation so tie your boat up at your own jetty and with a fully equipped kitchen and large dining and living area, it's a home away from home.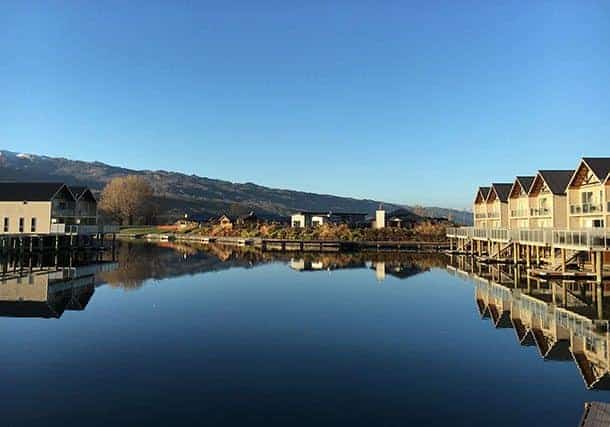 The architecturally designed over-water villas have been constructed to look like boat sheds. Hugging the lake's edge, the elegant villas can sleep up to eight people and are separable in to one, two and three bedroom configurations with magnificent lake and mountain views.
They are fully self-contained with high spec interiors and outdoor hot tubs in some of the villas. Oh and you can bring your own boat, jet-ski or kayak to moor next to your villa in summer.
For dining, there is on-site is The Mooring restaurant and bar and just completed is a wedding and conference venue for up to 120 people.
Save
Save