A Denmark driving vacation may not be on the top of your list when you plan on visiting Europe, but this little Scandinavian country has a lot to offer.
Prepare to be enticed by the countryside, the history – and the best restaurant in the world!
That's right, Noma with chef René Redzepi, was named best restaurant in the world by 1000 food writers and critics in October 2021. And another Copenhagen restaurant, Geranium, was named in the Top 50 restaurants in the world.
Denmark is really just a bite-sized country (see what I did there?) and for that reason it is a great place for a road trip: distances are short, roads are wide and the scenery is car-stoppingly beautiful. Oh, and Sweden is just across the bridge!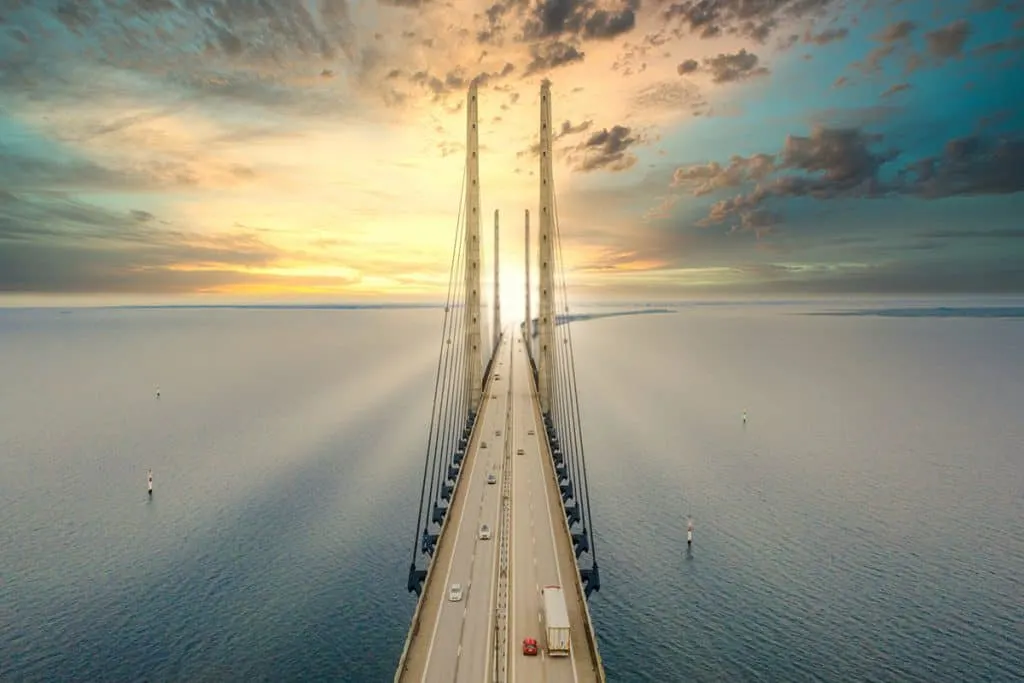 The people of Denmark are famed to be the happiest people in the world, and it is easy to understand what the Danes are smiling about. The country has one of the oldest monarchies in the world and is packed with culture, history, beautiful nature and loads to see and do.
Even with only a couple of days available, driving in Denmark will make it possible for you to experience much of what this little country has to offer in a short time.
If you don't want to drive yourself, you could take a tour. This 7-day Taste of Scandinavia tour starts in Copenhagen and ends in Oslo, taking in Sweden and Norway and a visit to Malmo. It includes hotels, transport, meals and a local guide.
Planning your visit to Denmark
Planning your vacation to Denmark is half the fun, if you ask me. And planning a road trip here is fairly straightforward. All larger tourist sites, hotels and tourism organizations have English websites and most things can be booked online in advance.
Your driving license will generally be valid as a tourist in Denmark, but always check the current rules at the Danish Transport Authority. Depending on where you are coming from, you may need a tourist VISA to enter the country.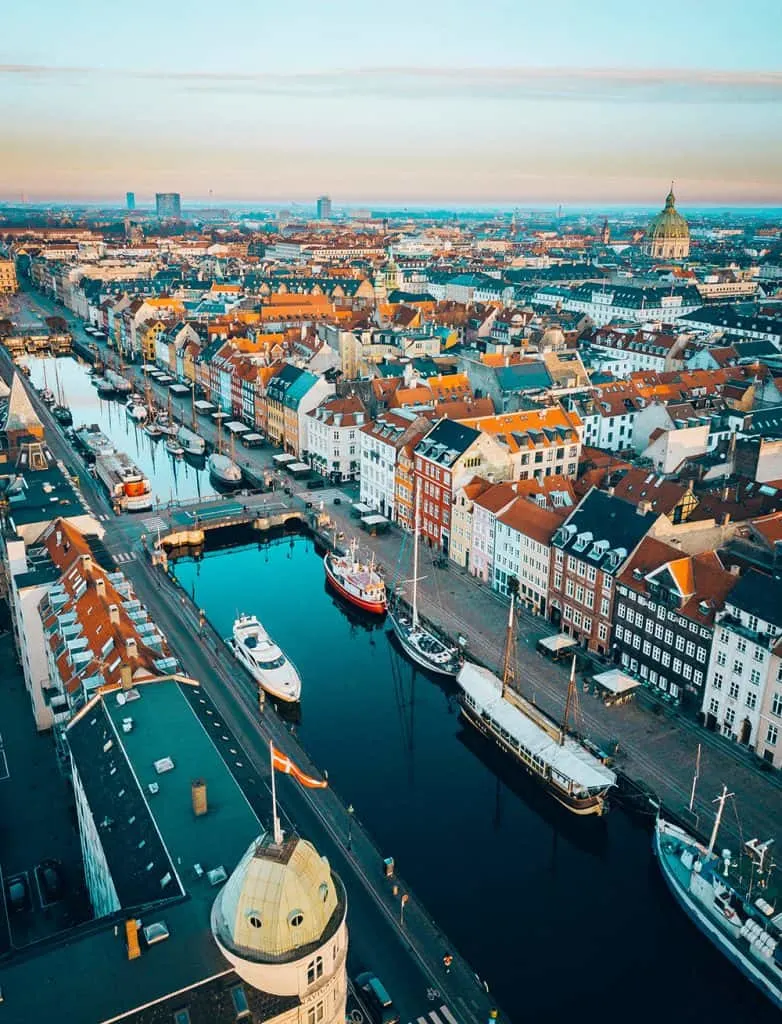 Driving in Denmark
Danes drive on the right side of the road like in the US and most other European countries. The roads are generally wide, flat, and very straightforward to drive. So even if the thought of driving abroad makes you break out a little sweat, a Denmark road trip will be a gentle start to your career as an international road tripper.
Remember to pay attention to the cyclists that you will meet everywhere in Denmark, most often in their own bike lane. Especially in the larger cities, the cyclists are a force to be reckoned with and something to get used to when driving in Denmark.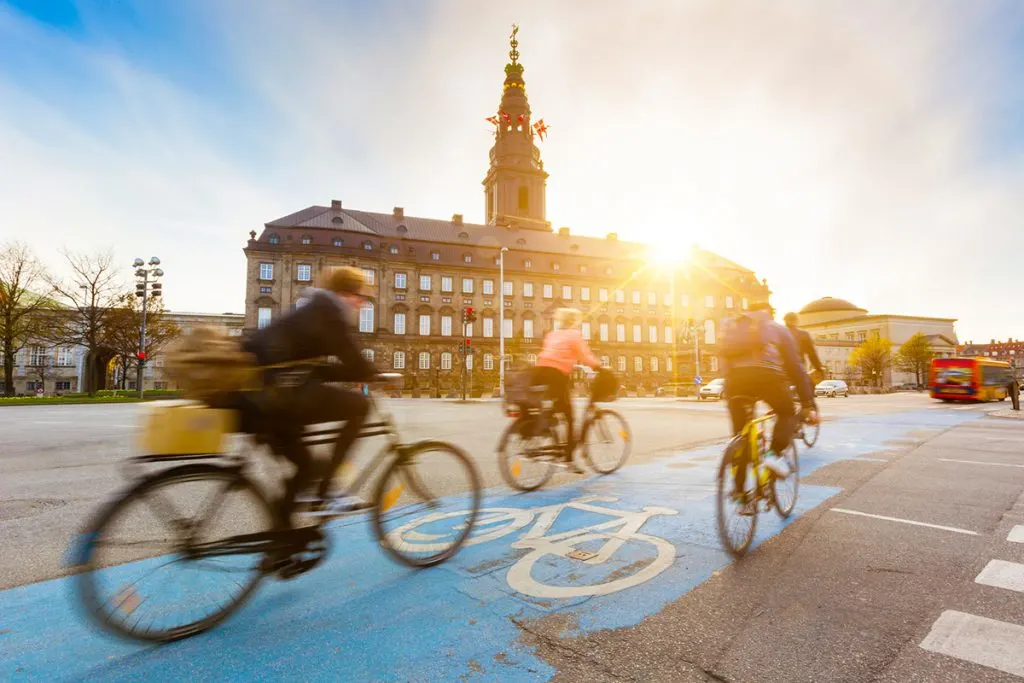 There are two toll roads in Denmark: the Øresund Bridge from Denmark to Sweden and the Storebælt Bridge between the islands of Zealand (home to Copenhagen) and Funen.
As Denmark comprises numerous islands, you may want to take a ferry during your road trip – you can bring your rental car with you on board, and you can (and most often should) book your ticket in advance online. See a list of ferries on the official tourism organization Visit Denmark.
Renting a car in Denmark
All major international car rental companies have branches in Denmark, and though it is not known to be a particularly cheap destination, you should be able to find a good car rental deal – especially outside of the main summer holiday season.
Danishcarrental.com has pick up spots in all major cities and international airports and offers premium cars in all sizes.
Note that most Danish cars have manual transmission (stick shift!). Though it is possible to rent a car with automatic transmission, make sure to have it specified when you rent if the thought of driving with a stick makes you nervous.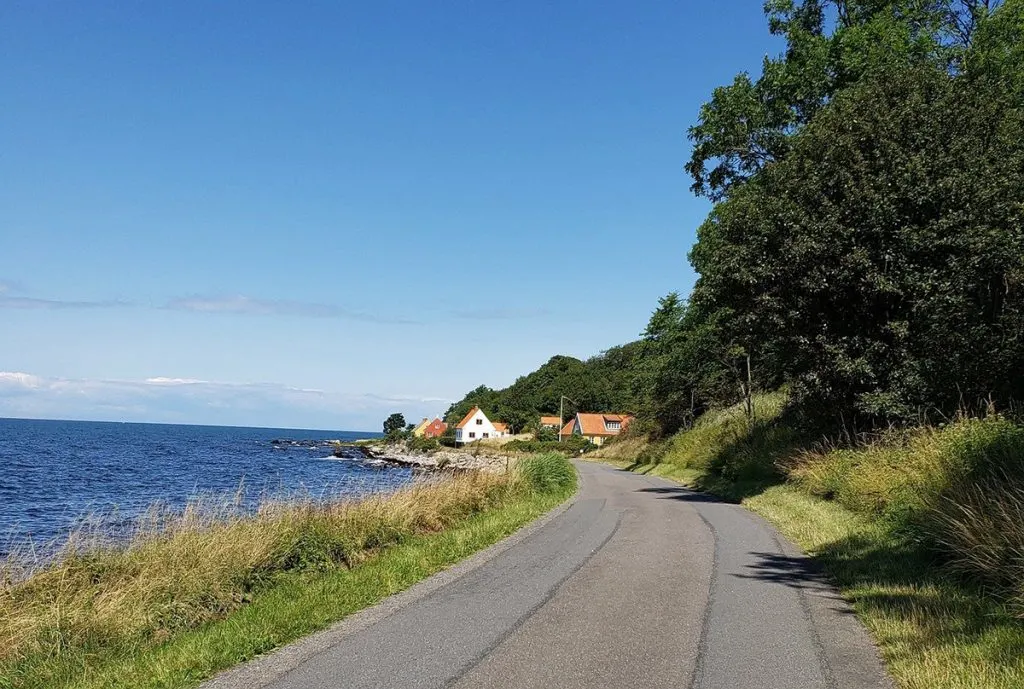 Things to do in Copenhagen
Most international tourists start their Denmark vacation in the capital city of Copenhagen. This charming, medieval city boasts more than plenty of sights and attractions for several days.
Copenhagen is particularly known for its gastronomical scene with numerous Michelin starred restaurant. As I mentioned at the top, world renowned restaurant Noma has several times been dubbed the best in the world. Book your table far in advance and expect to spend a whole monthly salary – but the experience is out of this world!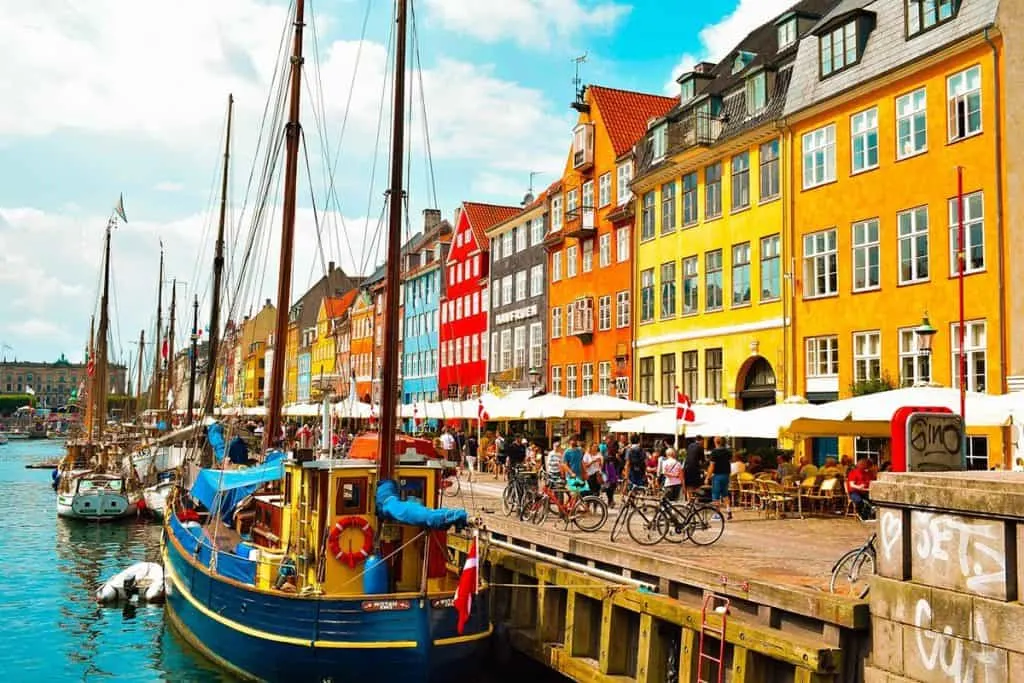 If you are not able to secure yourself a reservation, which can be difficult, you can get a little taste of Noma at their nearby burger restaurant Popl Burger, which offers simple but yummy burger menus with or without table reservations.
Copenhagen is not large and is very walkable. If you want to cover distances more effectively, the best way to get around is by electric scooters or bicycles, which are for rent all over the city. However, strolling along the narrow streets of the medieval city centre and taking in the beauty and history of the city on foot is a big part of Copenhagen's appeal.
A lovely way to spend an hour is a canal boat tour past the colourful buildings for a bit of sight-seeing.
You could also book a cycle tour of Copenhagen, which is a great way to see the best of the city with the help of a local guide.
And you couldn't visit Copenhagen without getting the obligatory selfie with the famous Little Mermaid, you'll find this bronze statue at Langelinie harbor, where she has sat on a rock, since 1913.
Tivoli Gardens, within walking distance of City Hall, is an enchanting place to visit. It opened in 1843 and is a national treasure. Hans Christian Andersen took inspiration from here for his fairy tales, and Walt Disney was said to have visited several times.
Today it is also an amusement park where new rides are still being developed. But there is something for everyone: historic buildings, architecture and lush gardens dotted with fairy lights which twinkle at night.
Tivoli's oldest and most popular ride, the wooden Roller Coaster opened 1914 and is one of only seven roller coasters in the world which has a brakeman on board every train. But you'll also find rides for thrill seekers like the Vertigo, which will turn you upside down at 100 km/h. And in 2021 Villa Vendetta opened. This is so not me! It is a scary house with actors in 12 different rooms.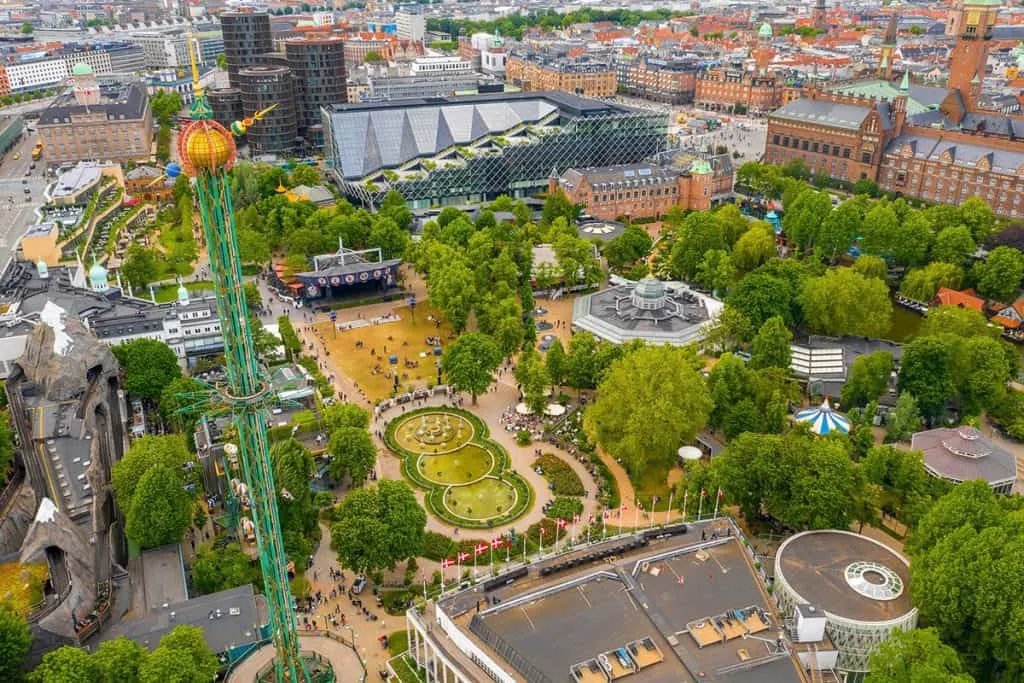 Holidaying like the Danes
Tear yourself away from Copenhagen and wander off the beaten path to enjoy your holiday the same way the Danes do – by going to the countryside.
Copenhagen, the capital of Denmark, is situated on the island of Zealand, and the surroundings have plenty to offer on a scenic drive.
Visit the UNESCO World Heritage Site of Roskilde Cathedral, where Danish kings and queens have been buried for centuries, or drive south to the other UNESCO site of Zealand: the beautiful geological site of Stevns Klint.
In Roskilde you will love the Viking Ship Museum with five world famous Viking ships here and clever interactive exhibits where you'll learn about Viking boat building and tales of the country's maritime past.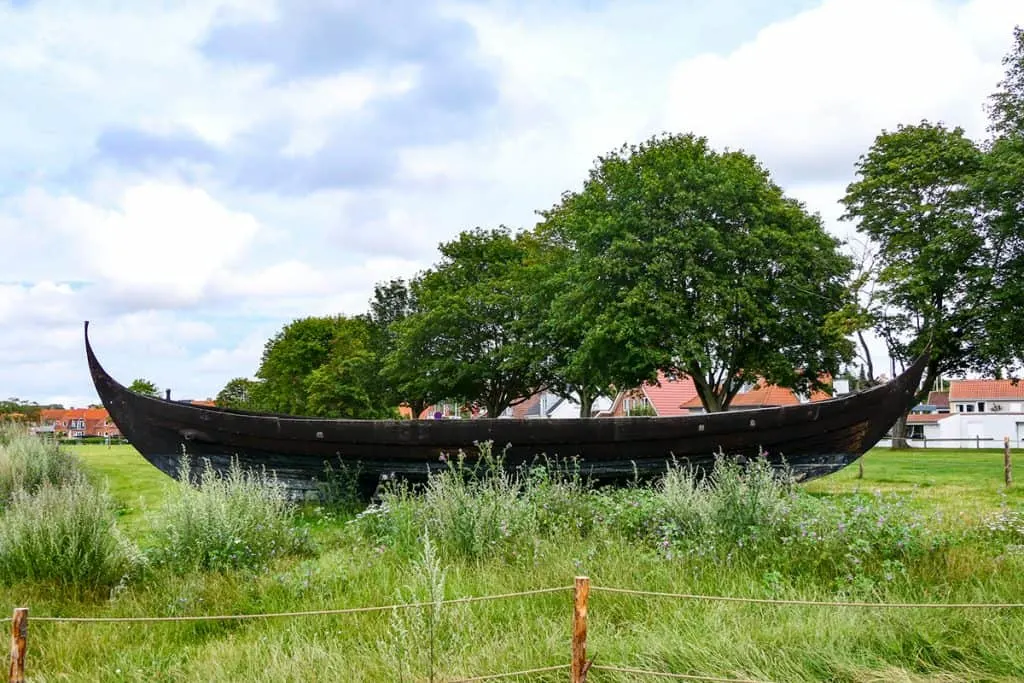 If you love Viking history, you'll also want to visit Lindholm Høje, just north of Aalborg which dates to 1000–1050 AD during Viking times and is famous for its Viking burial grounds.
Northern Zealand is scattered with small fishing villages along the coast, brimming with gorgeous, white sandy beaches. This stretch of coastline is known as "the Danish Riviera".
Some of the most popular villages are Tisvildeleje, Gilleleje and Hornbæk. Flea markets, ice cream shops and pop up restaurants scatter these upmarket destinations that are buzzing with life in the summer season.
A visit to the former Frederiksborg Castle, now the National History Museum reveals 500 years of history. It is a unique Renaissance castle perched in the centre of the castle lake in Hillerød. It is the largest in Scandinavia, built by Christian IV in the first decade of the 17th century. It is a great place to visit to see historical paintings, portraits, period furniture and stories!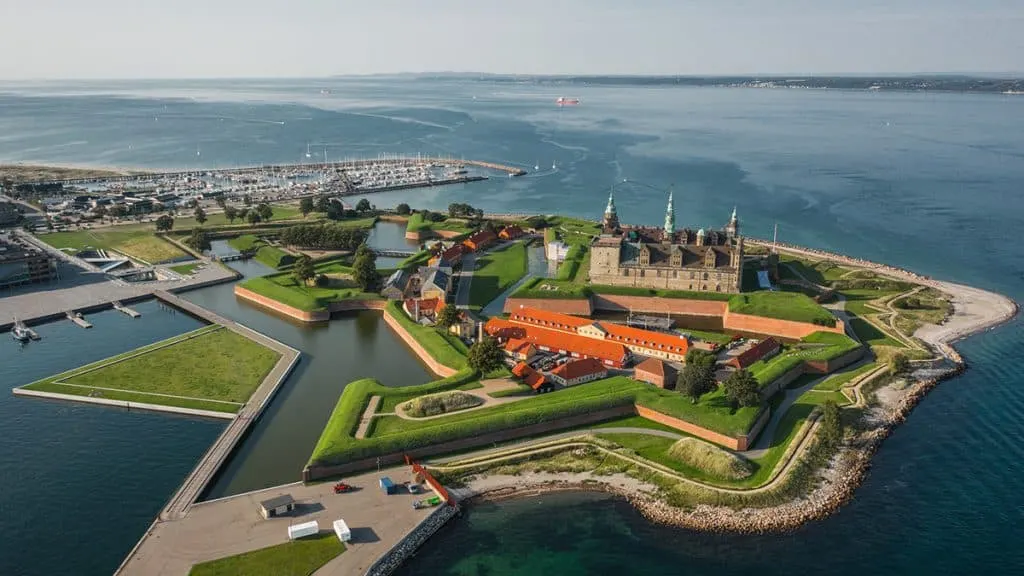 Also visit nearby Elsinore to see Kronborg castle, the castle where the Shakespeare play of Hamlet takes place and where Hamlet himself famously coined that "there is something rotten in the state of Denmark". I digress, Denmark is truly lovely and you will most likely not encounter anything remotely rotten!
The central island of Funen
If you continue west from Zealand, you will cross the Storebælt Bridge and arrive on Funen, the central island of Denmark and home of the third largest city: Odense.
The city was home to the world famous fairytale writer Hans Christian Andersen, whose childhood home is today the Hans Christian Andersen Museum and a must visit for fairytale lovers – and to pick up some lovely souvenirs.
Though the island of Funen can be crossed in an hour by car, it is definitely worth a night or two to experience the beautiful countryside, the south Funen archipelago and the many cultural and historical sights.
If you enjoy combining history with action, visit Egeskov Castle with an abundant amount of things to do and see in the historical surroundings.
When on Funen, don't miss their famous local pastry brunsviger. Sweet bread covered in the most delicious sugar/butter coating. VERY addictive!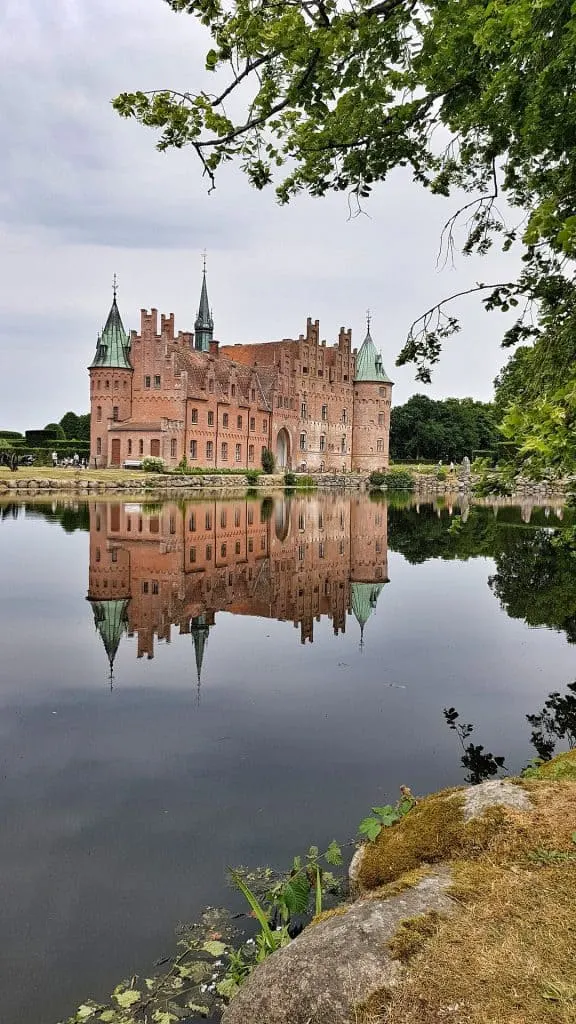 Jutland – the heart of Denmark
If you continue onwards from Funen, across the bridge, you will reach the Jutland peninsula. The largest land mass of Denmark and an area with lots to explore!
The second largest city of Aarhus is located more or less in the middle of the peninsula and has the renowned art museum of Aros as well as the historical museum of Moesgaard, situated in beautiful natural surroundings.
The city is somewhat of a mini-metropolis with lots of shopping, restaurants and nightlife for the city slickers.
Northern Jutland
The far northern part of Denmark is less densely populated and has the wildest nature that the small country has to offer.
Skagen, the far northern town, has been a popular holiday destination for centuries and still attracts large crowds of Danes in the summer months. The village is beautiful and known for its special light.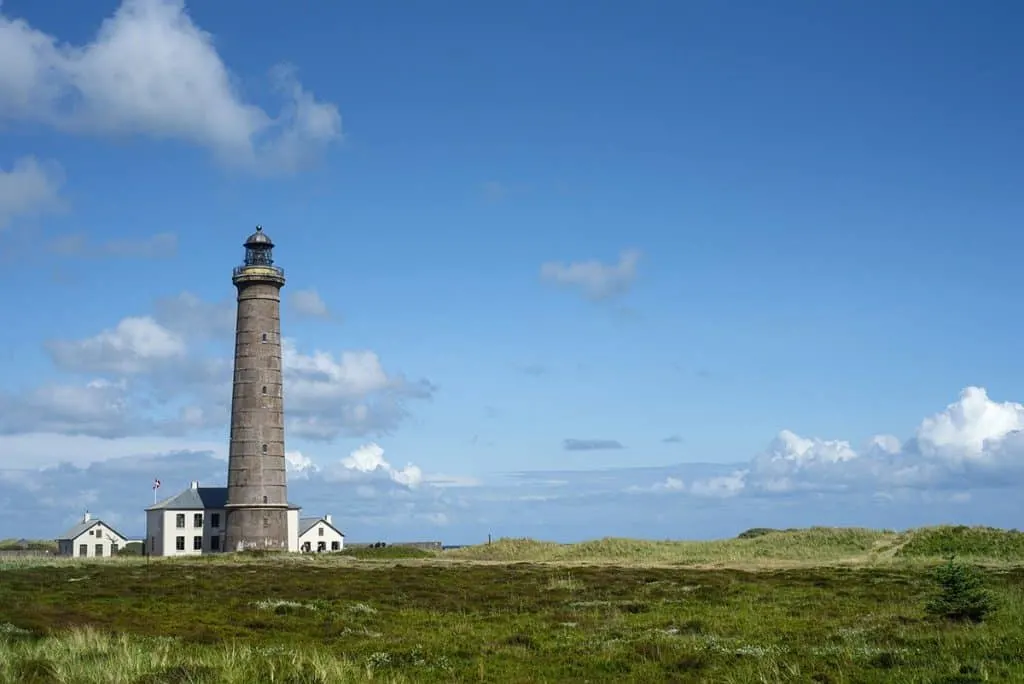 Ruths Hotel is a very popular and charming place to stay or just enjoy a traditional, Danish lunch with loads of fresh fish and seafood. Book your table in advance.
Other places of interest in the area are Rubjerg Knude, Råbjerg Mile and nationalpark Thy. All three stunning natural sites!
Go to Aalborg if you want to experience city life in Northern Jutland and some fascinating Viking history. The fourth largest city and located in northern Denmark, it has great shopping and is amorously (and humorously) dubbed "the Paris of the North" by locals.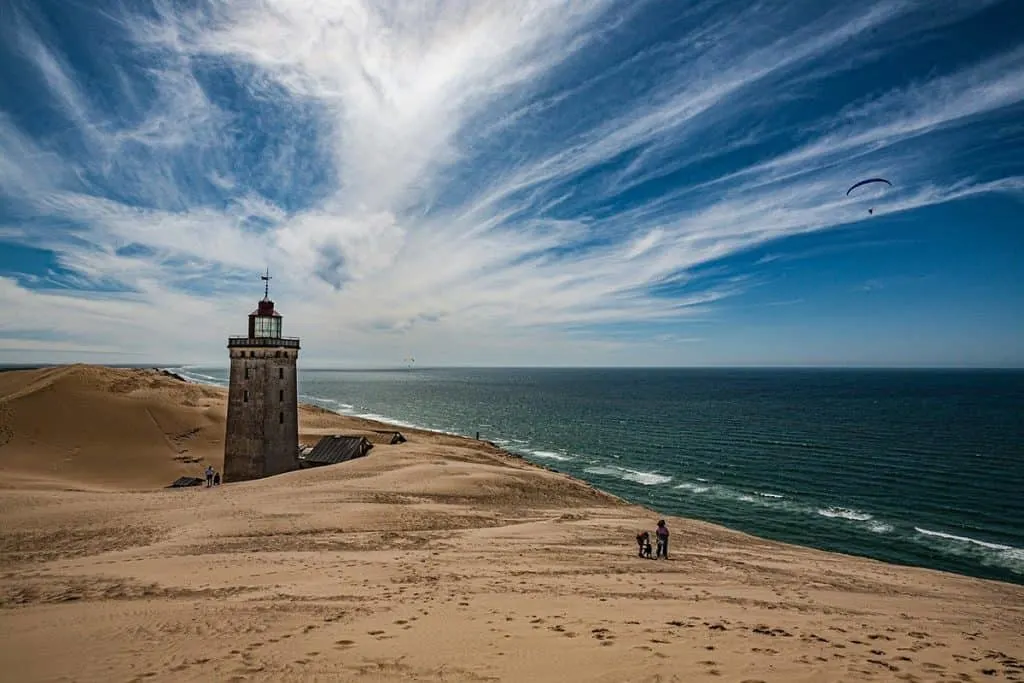 Central Jutland
Central Jutland is home to Aarhus but offers much more. Most famous is probably the amusement park LEGOLAND, in Billund, where children and those young at heart can easily spend a day or two enjoying the wild rides and huge LEGO exhibitions. There's even a hotel here for true fans.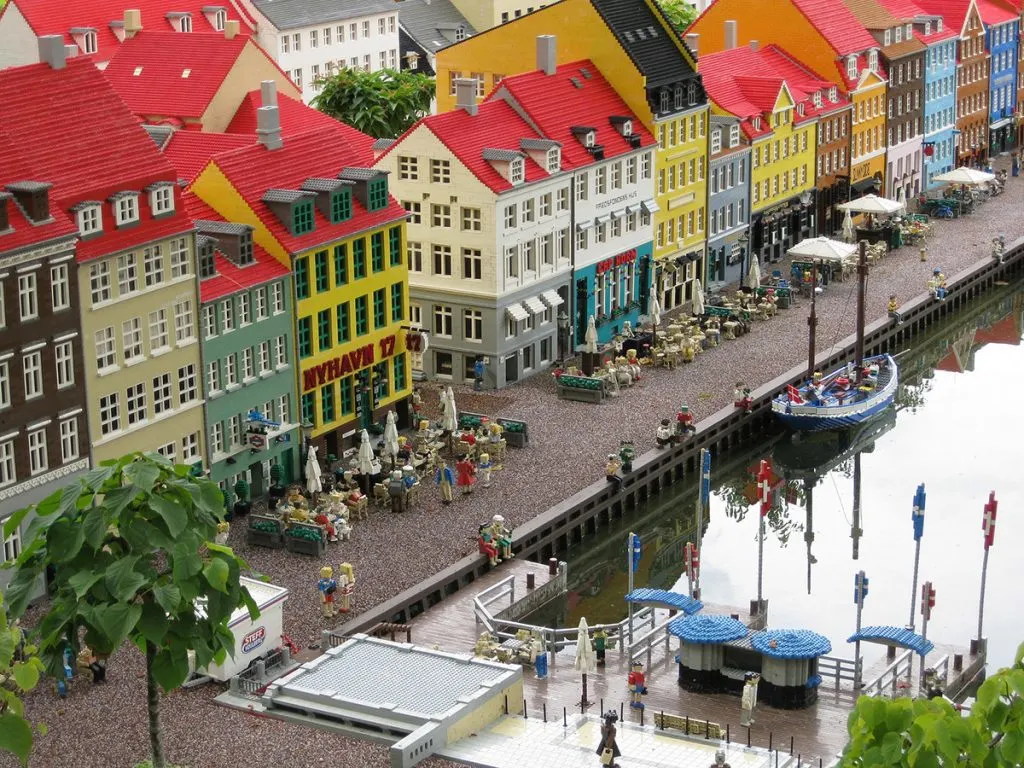 If you are driving through central Jutland, a nice place for a pit stop is Silkeborg, a town surrounded by lakes and forests, or Randers where you can spend a rainy day indoors in the "Randers Rainforest".
Central Jutland also has the two highest peaks in Denmark – Yding Skovhøj and Møllehøj, both around 170 meters above sea level. Yes, you read correctly. Denmark is REALLY flat. Though maybe not exactly a must see, both are situated close to the main highway E45 and make for a nice pit stop with a view.
Southern Jutland
Southern Jutland is home to some of the most impressive historical sights in Denmark.
The town of Ribe is the oldest town in Denmark and was once the capital city. It is today a small and quaint village, but the cathedral and old timbered houses tell a tale of bygone times.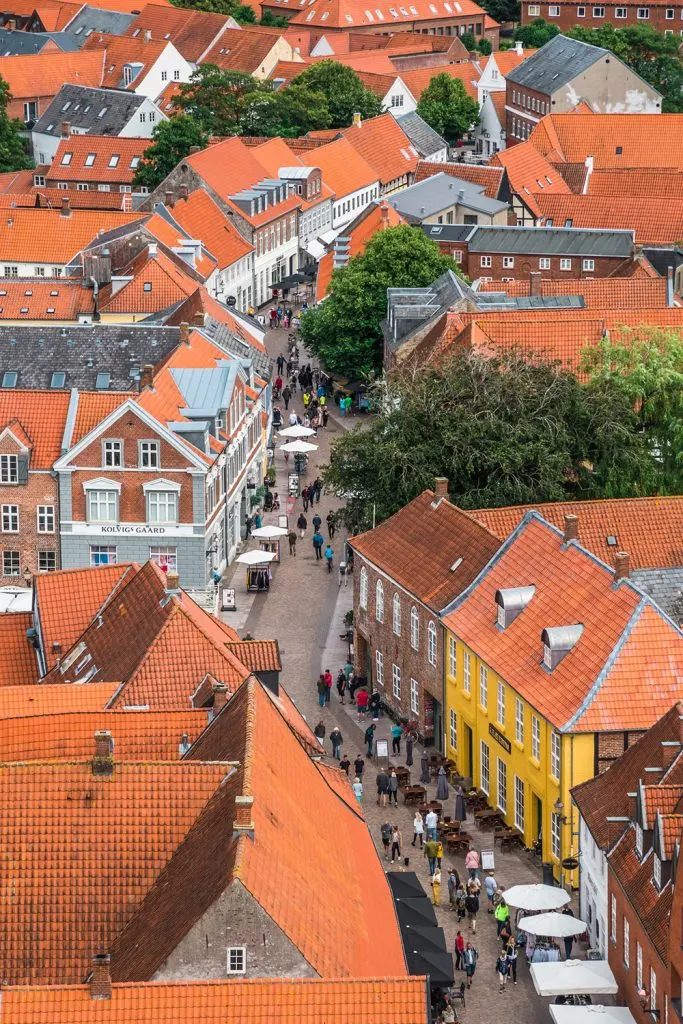 When in Southern Jutland, it is imperative to try their famed "South Jutland coffee table". This is somewhat equivalent to the British afternoon tea ritual with a Danish spin.
The coffee table should consist of at least 14 different cakes, and they are served in a very specific order – first the buns, then the pastries, then the sponge and short breads and then the abundant layer cakes and pies. The ritual ends with several types of cookies and biscuits.
You can try "Sønderjysk kaffebord" many places, and most often you need to buy tickets or book tables in advance. Some of the most charming and popular places to enjoy a "Sønderjysk Kaffebord" are: Gram Castle, Den Gamle Kro in Gråsten, Kommandørgården in Rømø, Hohenwarte Farm Stay, Als Monastery. Essential tip: Skip lunch!
Experience the UNESCO World heritage site of the Wadden Sea
A uniquely Danish UNESCO World Heritage site is the Wadden Sea in the far south western corner of Denmark. It is the longest tidal flats system in the world extending along the coasts of Denmark, Germany and the Netherlands.
Even though it is on the exact opposite side of the country to Copenhagen, it is a mere 3-4 hour drive from the capital, which illustrates the diminutive nature of Denmark well. It is truly very driveable.
In the Wadden Sea you will find the three islands of Rømø, Fanø and Manø, all popular with Danish and German tourists alike.
Rømø is connected to the mainland by a road dam, the others can be reached by ferry. They are all wonderful destinations for going to the beach, enjoying walks in nature or going on an oyster safari to pick up your own world class oysters for later consumption.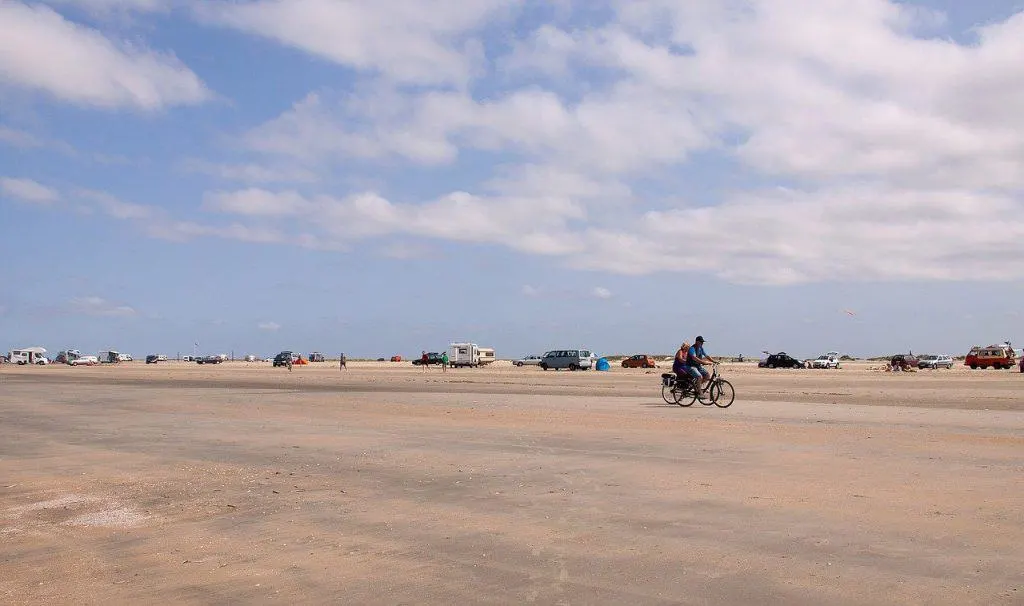 Go off the beaten track
Visiting some of Denmark's many islands is the best possibility for a roadtrip far off the highway to experience authentic, rural life in Denmark. The islands are also where many Danes go, when they have a holiday.
The most popular holiday destination among the Danish islands is Bornholm, reachable by ferry from Køge in Zealand or Ystad in Sweden. The island offers unique, rough nature, charming towns and a great food scene.
Other islands more than worthy of a visit are the far northern Læsø and Anholt or some of the many islands south of Funen of which Langeland and Ærø are the largest.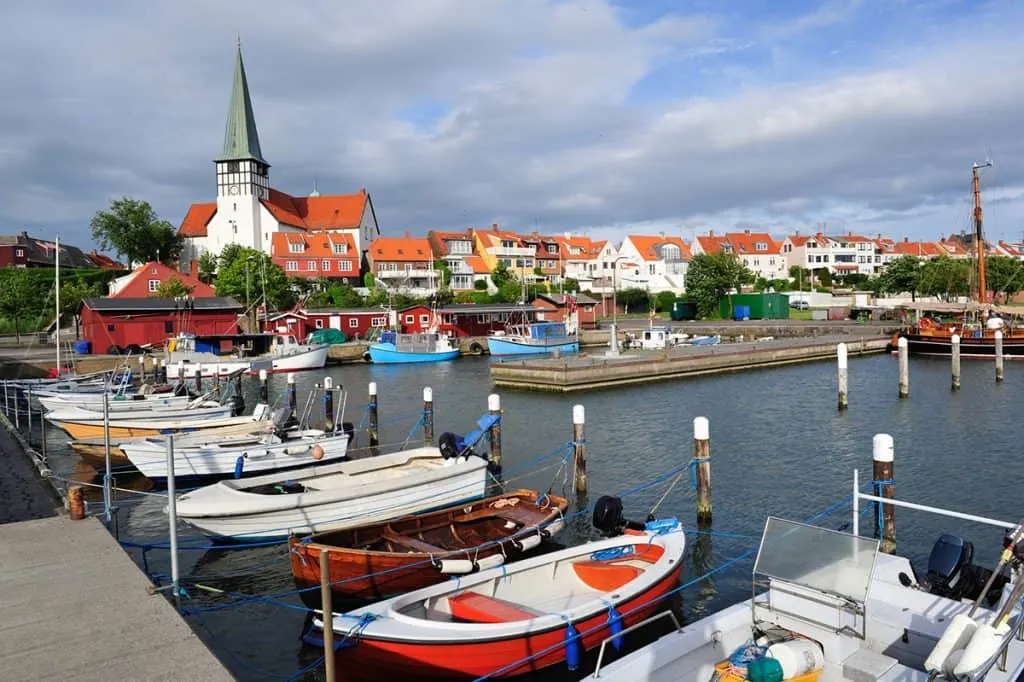 Driving in Denmark and beyond
Though you can easily spend a week or much more driving in Denmark, you may wish to venture off to some of the neighbouring Scandinavian countries or even Germany.
Remember to check your car rental agreement to make sure you are allowed to drive outside of the country. If you are, Malmø in Sweden is only a short drive (about 30km) from Copenhagen and makes a lovely day trip. It is a charming city and a holiday destination in its own right. You can also venture further into Sweden or even continue north to Oslo, the capital of Norway.
If you drive south instead, you can reach both Hamburg and Berlin in Germany within a day's drive.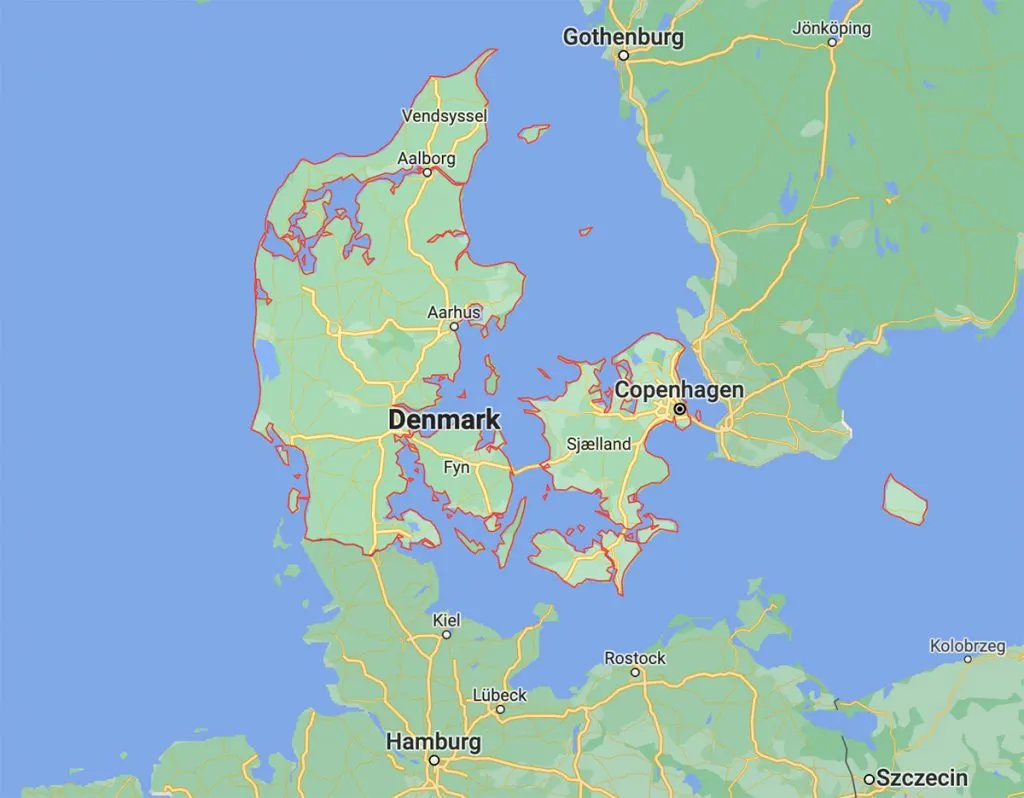 FAQ about road tripping in Denmark
When is the best time to visit Denmark?
Though all seasons in Denmark have their charm, most tourists choose to visit Denmark in the summer. Because of the Northern position of the country, days are long and nights never get completely black. When the days are longest, the sun doesn't set until after 10pm and rises again around 4am.
The summer in Denmark is mild, if you are lucky it may even be hot and sunny with temperatures between 25-30 degrees celcius (77-86 degrees fahrenheit). But the Danish summer is also notoriously unreliable, so pack for rain spells and cool, windy days as well.
The spring is beautiful with flowers blooming and the sun returning, but winter often keeps lingering until well after Easter, and the weather is even more unreliable than in the summer.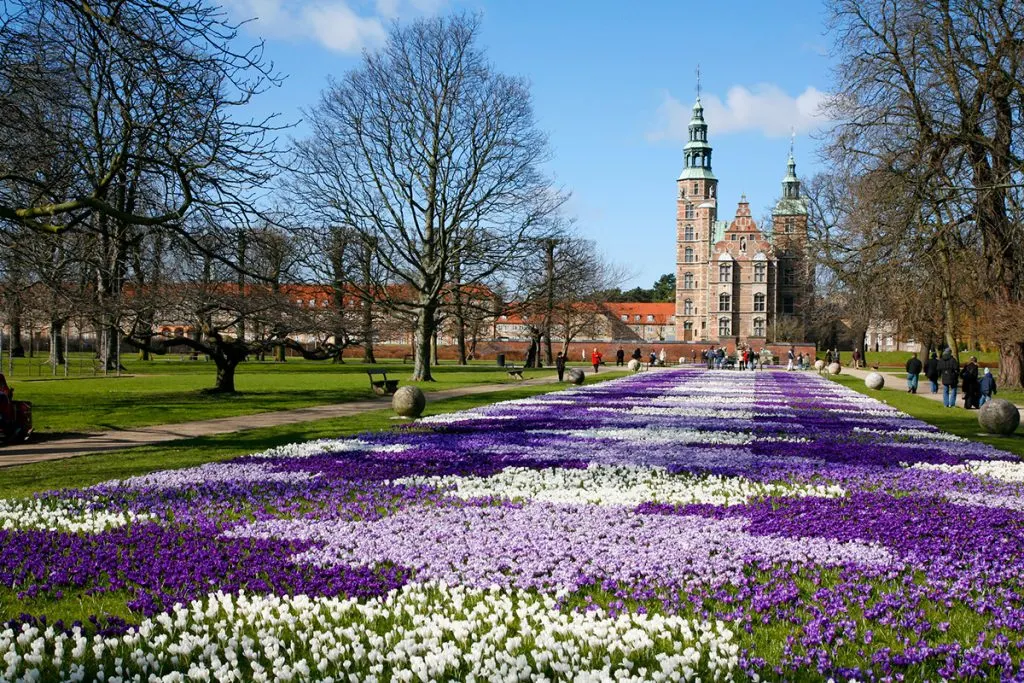 Autumn in Denmark is the wettest season of the year, but also offers occasional beautiful blue skies and of course the changing colors of trees and bushes.
Danish winter brings with it the famous Danish hygge, where Danes gather indoors to enjoy each other's company sheltered from the cold weather and short days. Danish winter is most often wet and mild and snowfall is not as heavy as in the neighboring countries of Sweden and Norway.
However, winter will probably not be the optimal time for a road trip in Denmark, unless you dream of driving in sludge and wearing loads of layers to beat the cold.
Can you see the Northern Lights from Denmark?
Actually while you can see them from some locations in Denmark, it's not the best place. You'll have more luck in Finland or Norway to catch them.
Is Denmark an expensive holiday destination?
Let's be real: Denmark is not the obvious destination for a holiday on a budget. Costs of living are high, and you will probably find everything from supermarkets to tourist attractions and restaurants relatively expensive.
Staying at motels, bed and breakfasts or Airbnbs will typically be cheaper than hotels and you will experience prices being much lower when you travel off the beaten path far from the largest cities.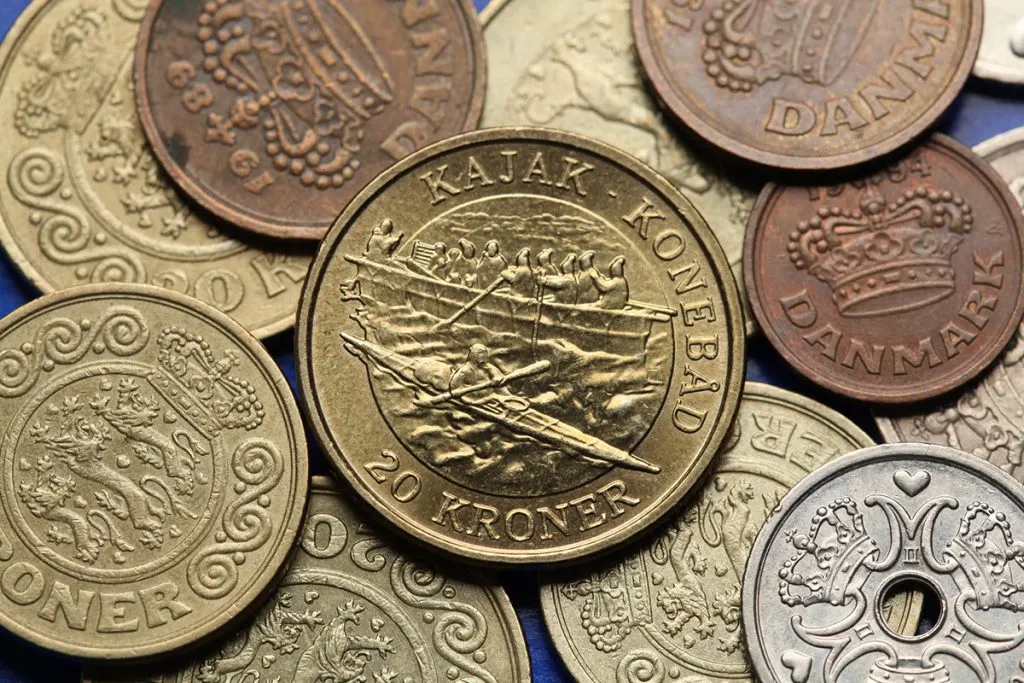 How much time should I spend in Denmark?
This depends entirely on how much time you have available. Denmark has more than plenty to offer for several weeks of vacationing. If you want to see more of the country than Copenhagen and enjoy a road trip through different parts of Denmark, I would suggest spending at least 5-7 days.
What is the covid-19 status in Denmark?
Denmark is known worldwide for its successful handling of the coronavirus, and as of now there are no restrictions, and face masks are not widely used.
Instead, there is thorough testing, free for both residents and tourists, in all larger towns in the country. Learn about the current rules for entry in Denmark from the official covid-website from Danish authorities here.
Is Denmark safe?
Yes, Denmark is considered a very safe country, also for solo, female travellers. Crime rates are low and both police and health services are effective. Danes are generally progressive in terms of LGBTQIA and friendly towards all types of people.
What language do they speak in Denmark?
The Danes speak Danish, a language closely related to Swedish and Norwegian. Most Danes are also affluent in English, and many also speak a level of German, French and/or Spanish, as these languages are taught in school.
If you love this road trip in Denmark post you might also like this post on a 2-week road trip in France itinerary.