One of the highlights of Tahiti is the food!
Freshly caught fish is a speciality in the islands and the Tahitians give it a French twist. You'll find tuna salads, mahi mahi and the delicious poisson cru (raw fish salad). I have included the recipe below…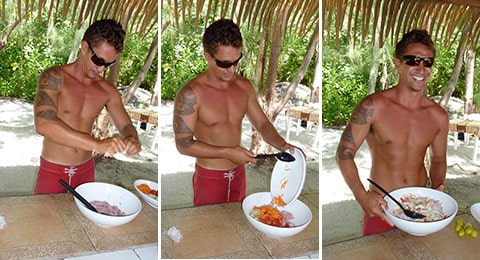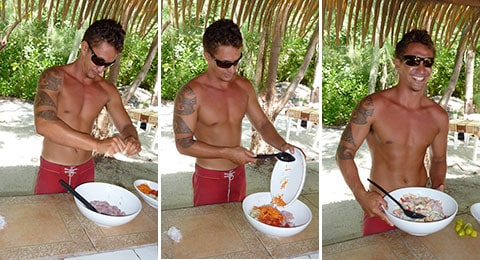 If you're heading to Tahiti book a motu picnic. Lots of hotels can arrange it for you, but I have twice done it from the InterContinental Resort and Spa on Moorea and enjoyed watching this dish thrown together in front of me.
You'll set off for lunch on a power boat at about 10am, stopping at a sand bar about 10 minutes from the hotel to snorkel, take photos of the fish and watch the guys feed stingrays and reef sharks while hapless tourists leap up and down on the white sandy bar shrieking as the docile, mushroom-like rays glide past their legs.
Another 5 minutes on and you'll arrive at the little motu. It's a tiny sand island set up for hosting lunches and they've got it down to a fine art. Different groups will all descend but you will have your own serving area set up with plastic tables and chairs from which they provide local beer (Hinano) and softdrinks.
Remember to bring snorkelling gear from your hotel activity desk as there is about an hour after lunch to laze around, swim, snorkel and if you save a piece of bread, the fish will eat out of your hands.
A barbecue is sizzling away to feed everyone and a team of shirtless Tahitian guys will bring the food to you while Amo made fresh poisson cru for us. This raw fish salad is a spin on the South American cerviche and here's how he makes it:
How to make authentic Tahitian Poisson Cru:
Dice your raw, skinned and boned fish into cubes and throw into a large mixing bowl
Squirt over a generous amount of lemon juice and a liberal seasoning of salt to "cook" the fish
Add diced tomatoes, a finely sliced onion, chopped cucumber and grated carrot
Pour freshly squeezed coconut milk (or use a can)
Mix together and voila!
Serve with a crusty French baguette.