I've seen the light! I'm a convert to rail travel in Europe and here's why:
No checking in at airports two hours before your flight, take as many water bottles as your heart desires, train stations are in city centres not miles away on the outskirts, you can move around the carriage at will, some trains even have WiFi, you see the countryside roaring past your window at 300kph – old farmhouses, rows of hedges, tiny towns, crops, people doing their peopley thing…
Here's an itinerary you could follow (although I'd recommend a couple more nights in some cities)…
Day 1: From London take the Eurostar to Brussels where Belgian beer and chocolate await. Wander the city and check out the 34 buildings covered in famous cartoons (Tin Tin and the Smurfs are Belgian!). If you're an art boffin, head to the new Magritte Museum and buy Belgian waffles from the combi-van parked outside.
Day 2: Travel from Brussels to Paris on the Thalys train in just over an hour. This train has WiFi for updating your Facebook status and sending an enviable Tweet to all your jealous followers. Eat garlic snails and plenty of wine. Visit Opera Garnier and if you're not going to an actual performance, a tour of the building is a must.
Click here for my Paris post if you want a little more info. Wander the river banks and buy original art, eat baguettes from a local cafe. There is so much to do in the City of Love that this itinerary finishes back in Paris so you can add a few more days on.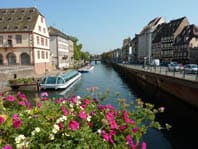 Day 3: Paris to Strasbourg. This little city on the French/German border was a delightful surprise. I reckon it's quite possibly the cutest city in Europe! The historic part is surrounded by a river and around every corner is another photo op, cobblestone street and picturesque buildings. They can date human settlement here to 3000 years. Take a tour and hear tales of Torture Bridge, wander the weekend flea market, visit the mighty Cathedral of Or Lady that took 200 years to build. Click here for my Strasbourg post and a few pics if you need further enticing…
Day 4: Strasbourg to Lucerne, via a quick change in Basel. Lucerne is famous for Chapel Bridge, its amazing wooden bridge that was bursting with red geraniums and begonia when I walked across it. Don't miss the historic town centre across the lake for a bit of shopping and to read the many plaques on these ancient buildings. But the biggest highlight for me was seeing Lion Monument – the sculpture carved into rock of a dying lion to commeroate the loss of 600 Swiss Guard at the Tuileries in 1792 who were there to protect Henry XVI. That was the last time the Switzerland took sides in a war. Warning: you might cry. Click here for my separate Lucerne post for more info and pics.
Day 5: Lucerne to Geneva – the seat of the United Nations where the public can go and here presentations in 17 languages. Just outside the immediate city are farms and 400 vineyards, 50 of which can be visited. This is a lovely walking city across the lake to outdoor cafes in summer or if you're there in winter, you're only an hour from skiing in Chamonix.
Day 6: Geneva to Montpellier. My 2nd fave city on this tour behind Strasbourg. This is a university town near the south of France with a Mediteranean climate. But unlike student towns your mind might conjure up, Montpellier is elegant with beautiful city squares and 88 fountains (now you can win Trivial Pursuit) and little cobblestone back streets that wander past bars and cafes until you pop out at a big old cathedral. It's 1000 years old and considered young by European standard and is famous for violin making. There wouldn't be an orchestra in the world that doesn't have a violin from Montpellier.
Day 7: Montpellier to Paris where you can now spend a couple more days to explore, take a cruise on the Seine – or a little backwater canal like St Martin Canal. Have dinner at Café de L'Homme, overlooking the Eiffel Tower as it gets dark. Take a tour in a 2CV Citroen around all the mega sights for something a bit different and to save your feet from the miles of walking you'll invariably find yourself doing.
___________________________________