I went to Bali last year and really loved it. When some people think Bali – they think surfing and Schapelle Corby. Others think luxurious white sandy beaches and lavish resorts, still others have visions of cheap shopping, noodles, beer and nightclubbing dancing through their heads.
But there is another side that the more intrepid think – white water rafting in Bali down the Ayung River.
What is white water rafting?
I recently had the privilege of experiencing one of Bali's best-kept secrets, an adventure that only a select few have had the pleasure of discovering. It's called white water rafting, and while it may be renowned in places like New Zealand, it remains relatively undiscovered in Indonesia.
Now, let me whisk you away on an exhilarating journey as we delve into the heart-pounding world of white water rafting in the awe-inspiring landscapes of Bali. But before we dive in, you might be wondering what exactly is white water rafting, and why does it hold such acclaim?
This activity is different from river cruising where it's all about luxury, calmness, and relaxation, especially on the world's mighty rivers. All of that is the opposite of white river rafting.
Picture this: You, a sturdy raft, a team of enthusiastic paddlers, and a roaring river filled with rapids and twists. White water rafting is an adrenaline-fueled water sport where you navigate through the untamed waters, conquering rapids, and immersing yourself in the raw power of nature.
Rapids are areas of a river where the water flows quickly and turbulently, and they can be challenging to navigate.
Why is white water rafting in Bali so popular?
Over the years, Bali's white water rafting has gained popularity due to its unique and varied rapids. The Ayung River, which is the most popular destination for white water rafting in Bali, offers a variety of rapids for all levels of experience.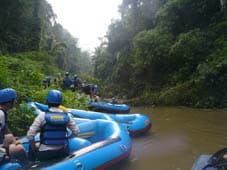 In addition to the varied rapids, Bali's white water rafting is also popular due to its stunning scenery. The Ayung River winds its way through a lush rainforest, and there are plenty of opportunities to see monkeys, birds, and other wildlife.
And then there's their unique and fascinating culture. The people of Bali are friendly and welcoming, and they are always happy to share their culture with visitors. This was apparent when we asked so many questions to our chosen Bali tour guide. He was very patient and sharing on how they do things in their communities.
Lastly, white water rafting in Bali is very safe. All of the rafting companies in Bali are licensed and insured, and they use experienced guides who are trained in safety procedures.
Unforgettable rafting excursions
Anyone who knows me knows I will never be described as 'intrepid'. Assured that the river was a grade 2/3, and the rest of my party keen as river beavers to do it, off we went for the 11km ride with Sobek Bali Utama tours. About 8 rafts were waiting in the fast flowing river thanks to the thunderstorm that crashed around us.
We floated effortlessly through lush jungle foliage beside stone walls carved with Balinese figures, then we hit the rapids. Our guide yelled 'forwards', 'stop', 'backwards, backwards', 'stop', at the top of his lungs, and we paddled like our lives depended on it.
This gave way to hysterical giggles and when we landed in each other's laps or grabbed each other from the brink of death, it was all too much, and we roared like kookaburras.
Conquering the rapids of Ayung River and a battle against nature's obstacles
As we continued our exhilarating white water rafting adventure along the Ayung River, little did we know that we were about to encounter a true test of our skills and teamwork. Rounding a bend, we suddenly came to a screeching halt, our path obstructed by a massive stand of bamboo uprooted by a recent downpour. Mother Nature had thrown down the gauntlet, challenging us to overcome this unexpected obstacle.
The adrenaline coursing through our veins reached new heights as we assessed the situation. It was a scene of chaos, with fallen branches and debris strewn across the river, seemingly mocking our progress.
But we were not about to let nature win this battle. Determined to forge ahead, we rallied our spirits and, with the guidance of our experienced guides, prepared to conquer this unexpected challenge.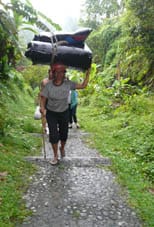 For the next 15 minutes, we engaged in an intense flurry of cutting, thrashing, and hacking, utilizing our collective strength to clear a path through the tangled bamboo. As we worked diligently, I couldn't help but notice some fellow rafters indulging in a brief respite, puffing on cigarettes they had unearthed from their waterproof bags. Meanwhile, our team of spirited kiwis remained focused, determined to push through and emerge victorious.
With a surge of triumph, our guides managed to create a narrow opening in the blockade. It was a testament to their skill and resourcefulness. We Kiwis showed them our paddling prowess, pushing over fallen branches, bouncing through the turbulent currents, and even spinning in donuts, all under the enthusiastic and show-off instructions of our guide.
Finally, we reached the end and hauled ourselves back up the hill while these ladies carried our deflated rafts weighing 45kg on their heads all the way up to the company office!