Hey there, fellow adventurous souls! If you're anything like me, you know that being the aunty of a 15-year-old boy comes with its own set of challenges. When it comes to entertaining them for a couple of days, you quickly realize that the typical shopping mall experience falls flat.
Trust me, I've been there and done that. It turns out, trying on clothes and sipping flat whites with a teenager is about as harmonious as mixing oil and water – a complete mismatch.
To the Rescue: Tree Adventures in Woodhill Forest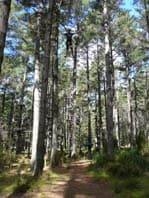 But fear not, my fellow aunties! I've discovered a game-changer that will not only earn you some serious Aunty Brownie Points. I will also leave your adventurous nephew grinning from ear to ear.
Picture this: a thrilling escapade to Tree Adventures in Woodhill Forest, where he can strap on a hard hat, attach a jingly belt of hooks and carabinas to his waist and swing.
Bid farewell to mundane shopping trips and embrace the excitement of soaring through the treetops, suspended between 3 and 14 meters above the forest floor. It's an exhilarating escapade like no other!
Safety first: Preparing for the Tree Adventures
As we arrived at Tree Adventures, the anticipation in the air was palpable (goodness, this place is miles from Auckland – past Kumeu and Waimauku). My fearless nephew, Jake, who was ready to embrace the thrill that awaited us.
There was a class from a local school there, so Jake slunk in on their safety and rules briefing about how to attach one carabina at a time, before choosing a helmet and harness. He eagerly absorbed every detail of the orientation and learning the ins and outs of it.
The attention to safety was impressive. Adventurers of all ages could fully immerse themselves in the excitement with peace of mind.
High ropes course
We started on Course 5 (out of 9) so as not be way-laid behind 30 excited 9-year-olds who started at #1. Aunty followed underneath with a camera and quite often a hand over her mouth at the more gravity defying leaps.
We decided to kick-start our adventure on Course 5, strategically avoiding potential bottlenecks caused by a group of enthusiastic 9-year-olds who had embarked on Course #1.
Flexibility is the name of the game at Tree Adventures, allowing you to choose any course that suits your fancy. Each course presents its own unique challenges and levels of difficulty. It ensures that both kids and adults can find their perfect fit and unleash their inner adventurers, the way I unleashed my inner action hero in Vegas.
As Jake fearlessly swung through the trees, executing aerial acrobatics, I played the role of the awe-struck auntie. I followed underneath with a camera and quite often a hand over my mouth at the more gravity defying leaps.
Unexpected rescue and Tarzan-like feats
The park itself was a sight to behold, with majestic pine trees painting a picturesque backdrop for our treetop expedition. It was remarkable to witness the wide range of courses available, catering to adventurers of all ages and skill levels. From the littlest daredevils to seasoned thrill-seekers, Tree Adventures had something for everyone.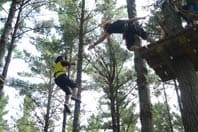 All went without a hitch, except for one boy (not Jake, thankfully) who'd hooked himself to a hand rope instead of the wire rope. He was left dangling in mid-air requiring a dramatic rescue.
The highly trained instructor swung into action like a real-life Tarzan. He executed a daring rescue mission. The next thing we knew, he was swiftly navigating through the treetops, scooping smaller kids out of the way.
It is actually very safe, and I only heard a couple of terrified squeals – usually from the girls, as the flying fox hurtled them into a rope net at the end.
Time flies in the forest
Time seemed to fly amidst the treetops, as if the forest itself had woven a spell that made hours feel like mere minutes. Before we knew it, we had spent an action-packed three hours immersed in this captivating realm.
As we reluctantly bid farewell to Tree Adventures in Woodhill Forest, he couldn't contain his excitement. Jake tells me we're definitely going back. He's already planning our return to conquer even more daring courses. The experience had left an indelible mark on both of us, forging a bond through shared thrills and unforgettable moments.
Thrilling Tree Adventures and my rave reviews
Tree Adventures in Woodhill Forest has become a sought-after destination for a wide range of activities. I asked around, and the staffs told me they cater birthday celebrations and team bonding experiences. Jake and I have been raving about their unique and fun nature of the park, especially the safe yet thrilling adventure.
One of the standout aspects of Tree Adventures are the supportive staffs. They are always ready to lend a helping hand every time you approach them for something. The park is commitment to safety and their equipment are well-maintained.
Tree Adventures has also garnered praise for its versatility, making it an ideal destination for various occasions. Whether it's a family outing, team-building activity, school or scouts group adventure, the park offers an array of challenges suitable for all.
Book your adventure today!
Bookings essential. Jump here to Tree Adventures website or phone 0800 TARZAN or 0800 827 926. You can also email them at contact@treeadventures.co.nz and reach them on Facebook or Instagram.