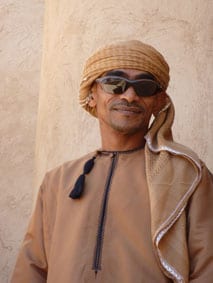 The World's Fastest Omani has just driven me like a rally driver for 2 hours over the dirt road of Wadi Bani Awf. His name is Salim and not only is he our driver, he will be our very capable guide over the next week, navigating the endless sand of the desert and not getting us lost!
We're about an hour and half from Muscat (entrance near Nakhal) and this is known as the most diverse and challenging wadi. This is actually a hikers dream, but as I don't dream like a hiker, I'm grateful for the 4WD.
I'm also grateful for Salim. Not only that he's fast, he knows a lot too about the place. Some of these corners and hills would not be good without knowing exactly what you're doing.
A wadi is a dry gorge, and there are hundreds in Oman. But when it rains you want to be tsunami distance away from them as the rising waters washing from the mountains will carry you down to Yemen if you don't scamper.
Long way down our 8-day itinerary
In 8 days we're going to drive over 2200 km from top to bottom, Muscat to Salalah, over sand dunes, along dirt roads, on 6-laned tar-sealed roads, through the flat and dry Empty Quarter, past tiny towns and oil wells, stop to photograph camels on beaches and the rugged, rocky scenery, and turquoise ocean.
Our itinerary offer a unique chance to experience Oman's natural beauty and culture. And with the world's fastest Omani, who also serves as our capable guide and driver, we are able to explore some of the most diverse and challenging terrain in the country.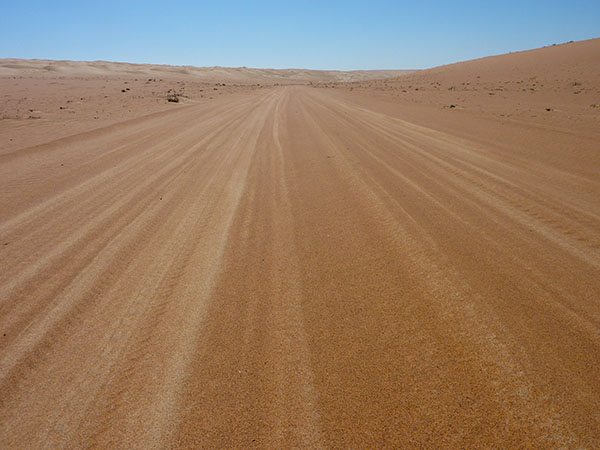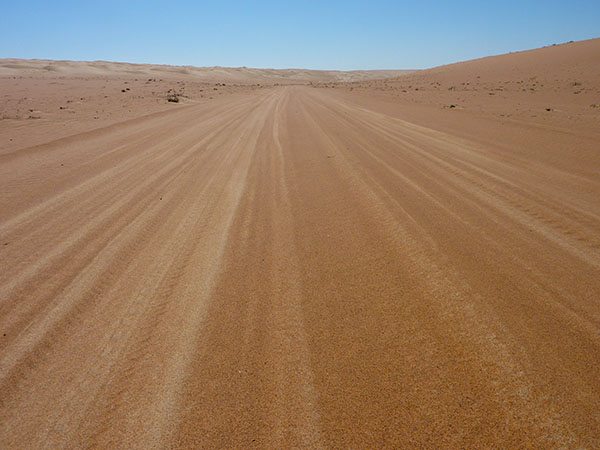 Salim, the world's fastest Omani
We have two 4WDs for our little group of 5 plus 2 guides. Salim, 41, is our lead driver and guide. He is a slight man with the curliest eyelashes I've ever seen. He speaks in a gentle voice – so gentle in fact that we in the back seat have to crane forward to hear what he's saying.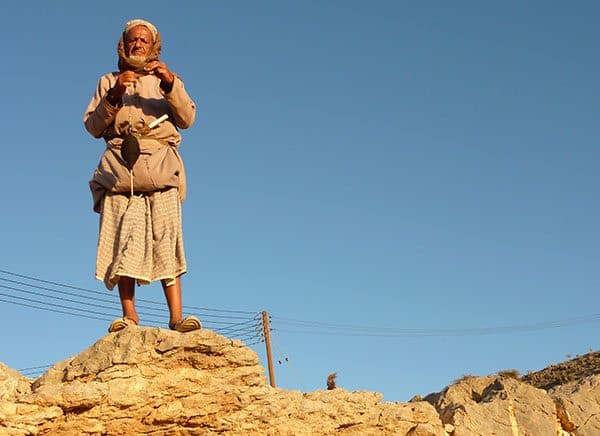 It's worth it though, as he is very knowledgeable and after a few days with some typical Aussie/Kiwi banter he chortles along with the rest of us.
As we travel along the winding roads and treacherous terrains of Oman, Salim's expertise and skills as a driver become evident. He navigates the rough roads with ease and speed, all while keeping us safe. His knowledge of the local area and its history is impressive, and he takes pride in sharing it with us.
But what truly sets Salim apart is his humble nature. Despite being a famous tour guide, he remains grounded and always puts our safety and enjoyment first. He takes the time to ensure that each of us is comfortable and having a good time, even stopping to take pictures or answer questions.
Jebal Shams Camp
We arrived about 6pm at Jebal Shams Camp. The place is full and there are accents ranging from the posh English school-boys to crazy Dutch people doing this crossing by bicycle and local families with cute black-eyed children.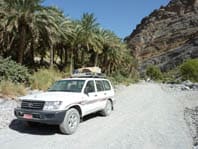 Our buffet dinner consisted of plenty of hummus and dips, pita and roti bread, pieces of chicken tikka, fish and spiced beef, cucumber, tomatoes and salad, plus a hot vege curry.
Alcohol is not available, but we have a sneaky duty-free supply that we just purchased the tonic and coke for at the petrol station just before leaving Muscat, so had a pre-dinner tipple as the sky turned pink.
Remote is an understatement, and that's why we have the world's fastest Omani with us. Yet, there are villages dotted here and there through the wadi with stones for gardens.
Kids get bused to school from even these remote villages and that is a tribute to their leader who has built many schools throughout Oman. If you look up, you can see litter caught in the branches of trees, so the rain stories are definitely true.
Ok, it's now 3am, and I'm wide awake. The time zone conversion hasn't kicked in, so in bed with eyes on sticks by 9pm means up and about in the dark at 3.
I shall blog…
Glamping
The two-hour drive over the gravel road today was rather quease-inducing with an emergency pull-over required for one girl. Mind you, she had consumed half a bag of gigantic orange cheese twirls moments earlier. The road is only about 20 years old and is graded every day to keep it clear and as smooth as possible. It's still pretty bumpy, but you won't find many potholes.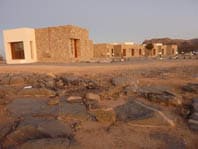 It's mid-November and daytime temperatures are in the high 20s C. The heat of the day dropped markedly at the summit, where we are camping at Jebal Shams Camp. Well, more like glamping. It's a bit more glam than roughing it. Duvets not sleeping bags are the giveaway.
I have my own motel-style unit with a modest bathroom and twin beds. The odd mozzie is gliding about, but I am armed in repellent and have successfully taken three of them down.
Sunrise and the Beduoins
In a couple of hours, the sun will rise, and I'll whiz out and take photos. We arrived on dusk, so haven't had a chance to look around yet. We're also off to visit a local beduoin family after breakfast (Nutella on roti bread for me, thanks). They raise goats and the kids make jewellery to sell. I'm in awe of this place.
Oman is only an hour's flight from Dubai or Abu Dhabi, so if you're thinking of a stopover to Europe or making it your final destination, you'll love it. And be sure to look for Salim, the world's fastest Omani, for your tour guide.