I've been planning this trip for months, and I can't wait to show you the beautiful land of The Last Frontier – a state like no other! So let's dive in and uncover some of the lesser-known, hidden gems in Alaska that you won't find in the guidebooks.
For a start, Alaska is a vast and sparsely populated wonderland located in the northwestern corner of North America. It is filled with stunning natural beauty that will leave you breathless!
And let's not forget the wildlife! Alaska is home to a wide variety of majestic creatures, including bears, moose, and whales, just waiting for you to discover them!
Best seen by sea
I reckon Alaska is best seen by sea. But I would say that because I've only seen it that way. However, since the capital city – Juneau – is only reached by sea, I might just be right!
Our sea voyage gave us the opportunity to see some of Alaska's most iconic landmarks up close. We sailed past glaciers, whales, and towering mountains, and even visited remote villages and towns that are only accessible by boat.
A unique state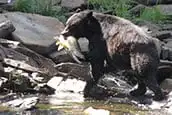 This amazing state of America was owned by Russia until 1867, but didn't become an official United State until 1959. It is also the northernmost and westernmost state, and the only state that borders two oceans.
It is very different from any other state in the US. I mean, you're hardly likely to see bears wandering out of the forest to catch a salmon in a Californian river. And if you do, you should call a policeman.
7-day Alaskan cruise
I did a 7-day cruise onboard Holland America Line and saw some of the most spectacular scenery on earth. We did a slow cruise up the Inside Passage (no I'm not going to labour the gag) which includes the towns of Juneau, Sitka, Ketchikan, and Skagway as well as Glacier Bay National Park. This was a real highlight and one of the best hidden gems in Alaska that I found.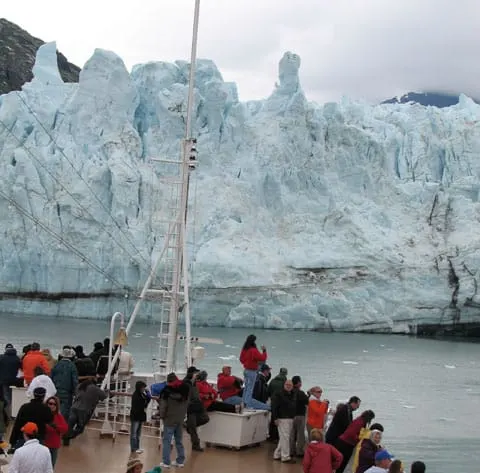 The 104 km fjord meets in a cul-de-sac of glaciers and is also unreachable by road – although you can fly there.
We didn't get off the ship to join the hikers or kayakers, rather did a half-hour slow donut, taking photos, and listening to the cracks that echo like rifle shots across the water just before the blue-tinged ice calves into the sea with a roar.
Margerie Glacier
Margerie Glacier is the main one that comes down to the water's edge – actually it reaches 30m below sea level. It's also 76 m above sea level – about 25 stories high!
Whales also play in this area, and we nearly capsized the ship rushing to one side just in time to see one breach, which I'm told is rare in cooler waters.
Mind you, after a few days at sea seeing whales all around us, we got very blaze. Poor things. Try as they might to show off, rounding up fish and gulping up through the middle of the frenzy.
Discovering the hidden gems in Alaska with shore excursions
Exploring Alaska's rugged and remote wilderness is the highlight of any trip to the state, and one of the best ways to do it is through shore excursions during a 7-day cruise trip. These excursions offer a chance to experience the natural beauty of Alaska up close and personal.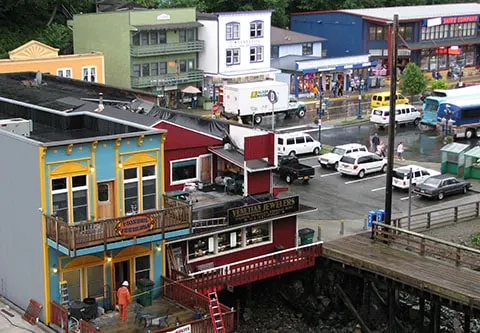 As with all cruises, shore excursions should be booked as soon as possible once you get onboard, or better yet, add them at the time of booking, so you don't miss out on something as remarkable as dog sledding or taking a ski plane to see those bears in the river catching their own sashimi as American Bald Eagles sit beady-eyed hoping for a morsel. Phew, that was a mouthful! Only limited numbers can hop on these planes and sleds, by the way.
Dining options and a little game of shuffleboard
Onboard there are loads of very good food. Several dining options from posh restaurants with a couple of dress-up nights to pizza bars. On the deck the kiwis took on the Belgians at a game of cut-throat shuffleboard and after losing the 1st (warm up) game, we whipped them soundly.
Of course a mighty shuffleboard win should be celebrated by a drink with an umbrella in it on the deck, but even though it was summer in Alaska, you can only expect temperatures in the mid to high teens Celsius.And d'you know that Juneau is officially the wettest city in the United States? (Say that out loud. It's my terribly funny d'you know/Juneau gag.)
Exploring the hidden gems in Alaska and its local culture
When you reach the towns, make sure to spend the day exploring them. Pat husky dogs, buy Russian dolls (and there are gazillions of them here), try on Daniel Boone hats, and pop in for a beer at the local before dinner is served onboard.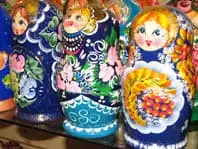 Of course, exploring the local cuisine is also a must-do when visiting a new place. Alaska is known for its fresh seafood, including salmon, halibut, and crab. In many small towns, visitors can try local specialties like reindeer sausage or fresh berry jams.
However, be prepared to bring your coat, a beanie, and hiking boots. Even though it was summer in Alaska, temperatures were quite chilly, especially in the early morning and evening.
But don't let the weather discourage you from exploring the hidden gems in Alaska and its local culture!