Who knew there was more to Dubai than seeing miles of sand and watch rich sheiks and fast cars race down the motorway?
I have been pleasantly surprised to explore more of the local vibe, the desert, some lessons in culture and great places to dine outdoors when the weather is as perfect as it is in December/ January/ February.
I have listed 6 cool things to do, but if you're looking for a place to go for dinner, I really like The Beach, a little strip on the beach dotted with restaurants and entertainment – and of course a lovely family beach, or you could also go on some fun day trips from Dubai.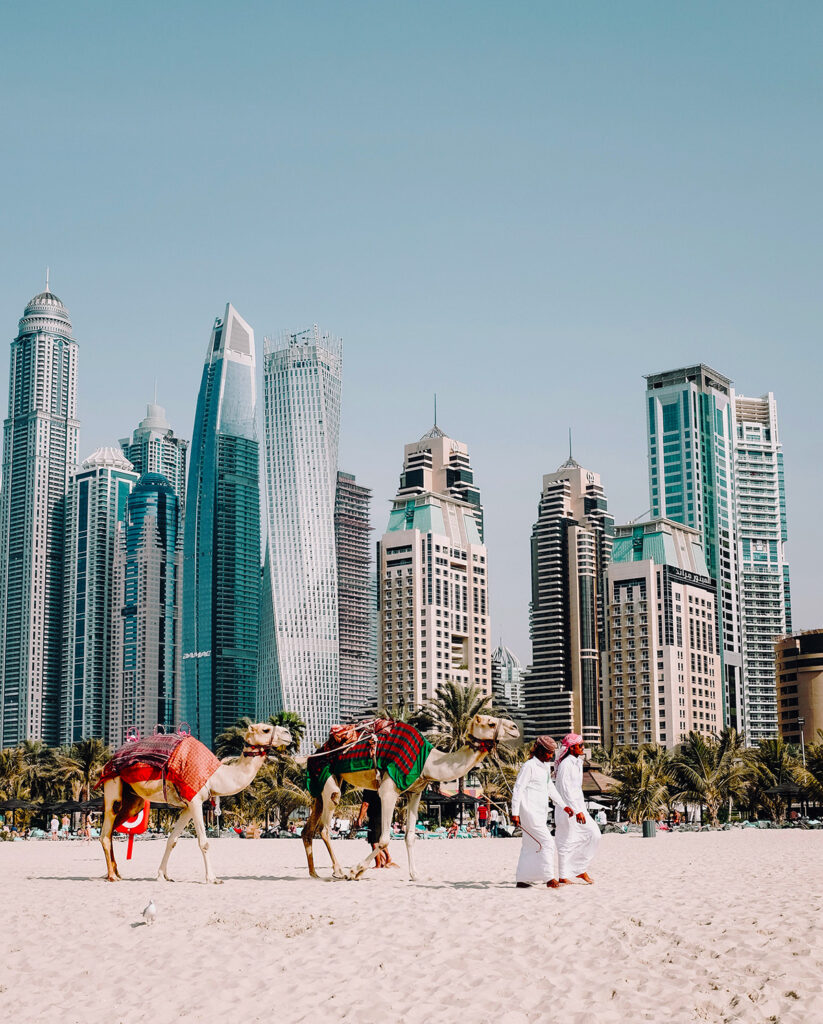 Dubai is expensive without doubt, and you don't want to have to take taxis everywhere so you'll like this post on how to get around in Dubai.
And while you won't be able to buy alcohol at restaurants in areas such as The Beach, there is a nightclub scene in Dubai! Most of them are in hotels, which gets around the alcohol restrictions. Be sure to check out the dress codes, cost and requirements for entry in this post covering the best nightclubs in Dubai.
If you only have a layover in Dubai you can take a guided tour for a few hours, even if you're in Dubai after midnight and have time to kill, you can be shown around this fascinating city.
Ok, an example of rich sheikdom, the tallest building in the world (828m) is open to sight seers on the 124th floor.
There are various levels you can buy tickets for. If you want to go to the very top (level 148) cost is 379AED (US$103). Lower floors (still with epic views about 20 floors down on levels 124 & 125) from 149AED.
From all levels you will gaze down, down, down across kilometers of sand and the cluster of buildings at your feet that is Dubai.
This is the tower that Tom Cruise did his own breathtaking stunts leaping in and out of one of the ridiculously high windows in Mission Impossible – Ghost Protocol. (Click here to see some behind-the-scenes video >>)
Directly below the tower are huge fountains in a "lake" which dance to music every half hour from 6pm and you can watch from the steps. It's designed by the same people who did the famous Bellagio fountains in Las Vegas, but this makes that fountain look like a back lawn sprinkler.
It's also connected to Dubai Mall so you could quite feasibly spend a whole day here, then potter around the fountain lake and choose one of the restaurants to stay all night.
When you're in a desert city you must get out there and see some dunes and camels. In fact you can ride them on this evening dinner tour.
It's a great night for the whole family and one of the most authentic, mass experiences you'll find anywhere in the world when it comes to showcasing culture.
Arabian Adventures is owned by Emirates and they have exclusive access to this desert just out of the city and take all sorts of tours.
I was picked up for the dinner safari which started with a falcon display from this little bird Gizmo who had a helmet over his eyes to keep him calm before swooping in to try and catch the "prey" his handler was spinning on a rope.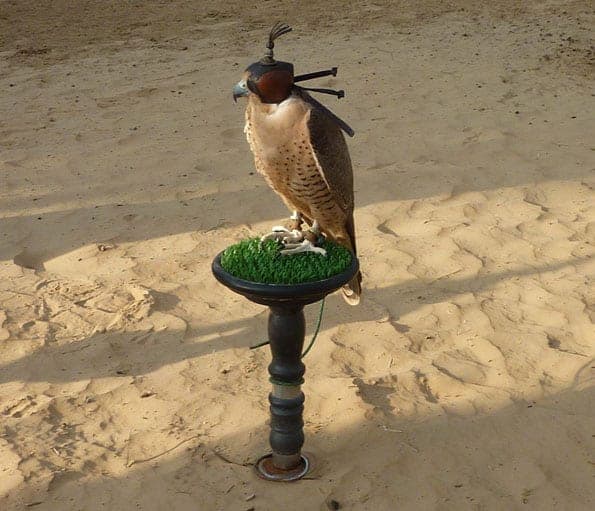 Then into the 4WDs we hopped, tyres lowered, and 270 of us were treated to some dune bashing for the next 15 minutes, hurtling around sandy corners and over blind sand castles following the leader and occasionally not following the front car because he was skidding on the steep dune!
We stopped for sunset photos then off again to the camp where dinner was just about ready.
Set up like a beduoin home, rugs were thrown on the ground and we sat on cushions around low tables drinking and eating. Starters included samosas, falafels and shwarmas then dinner was bbq'd beef kebabs, lamb chops and chicken drumsticks with salads, houmus and tabouleh. Fresh dates and Arabian coffee followed and wine and beer was included.
After dinner the belly dancer came out and did a few tummy stunts, but any time during the evening you can have a henna tattoo and smoke the sheesha.
Looking around Dubai you see no shortage of cash. The largest shopping mall in the world was not content to just do retail, so they added a 10 million litre aquarium with 140 species where bored shoppers can don SCUBA gear and head underwater to feed the fish.
If you're looking for the ultimate retail therapy, Dubai is definitely one of the top cities for shopaholics.
There's also an Olympic sized ice skating rink and an entire theme park games station called Kidzania. So that takes care of them and you can now concentrate on the important task of shopping at the 1200 stores from high end labels, to gold souks and local brands.
The Address Dubai is a 5-star hotel attached to the mall and with 120 restaurants you won't starve either!
Spice and gold souks
As I write this post on the plane (Emirates A380 actually, you can read my Business Class review here >>>) I have Iranian saffron in my luggage. I am fully confident I will be allowed this into New Zealand, as I brought Turkish spices home last month. But so excited was I at the price, I bought 2 lots.
Saffron is made from the stamen (stigma) of the crocus flower and there are only 3 red strands per flower. You can imagine how many flowers have to die for a bright yellow risotto.
In the spice market in Istanbul, it was going for 25 Lira per gram (about $15). Here in Dubai I paid about $3 per gram.
At the Spice Souk in Dubai you'll find imported spices from all over the world, as well as frankincense from Oman, tea from India and that saffron from Iran. (And yes, NZ Customs waved me through after declaring).
The Deira Gold Souk is best described as Bling Street and will mesmerize you if you are a magpie with windows filled with gold jewellery studded with precious stones.
The international gold price is displayed on digital screens at each end, but you are free to bargain. This is the place to come for diamonds (you'll get an authentication certificate) and one-off pieces of quality jewellery.
Apparently they tried to move the gold sellers and jewellery designers into the malls, but it didn't work. This is where people come to spend their squillions, although there is so much of it, I found it overwhelming!
This was fascinating and if you're a newbie to Arabic and Muslim culture, this is an informative, yet laid back and even funny presentation over lunch.
Open doors, open minds is their philosophy so sitting on cushions (you need good knees) around a large table cloth on the floor, large platters of traditional food were placed for us to hoe into while we listened to the beautiful Manal tell us all about why women wear black abiyas and burka (the face mask) and men wear white dishdashers.
She encouraged us to ask questions like how many wives does her father have and all about arranged marriages.
Here a volunteer demonstrates that the face piece – the burka – is a covering to protect the cheeks, nose and forehead from the desert sun. Today it's about modesty.
Part of the Mall of the Emirates – yes a shopping mall – is this 3000sq m ski park.
It's the craziest example of a developer with more dollars than sense, but has become a place where serious skiers learn some new moves (they have black runs) and kids can play until their hands freeze off.
Being the nana that I am when it comes to shushing gracefully down the slopes, I grabbed the 'snow park' pass ($45) which entitled me to putter around on snow biscuits and bob sleds.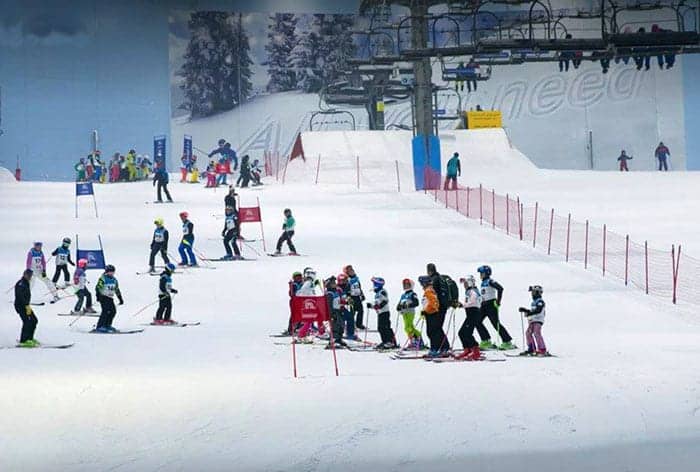 For an extra $10 I could have jumped inside the inflatable ball and rolled down the hill, but to be honest when the staffer spun me at top speed down the kiddy slope I screamed like someone's embarrassing aunt, so that was enough excitement for me!
Save