There is a whole lot more to Dubai than seeing miles of sand and watch rich sheiks and fast cars race down the motorway at 200kph!
I just visited Dubai for my third (and fourth) time, stopping over twice en route via the Middle East to Italy from New Zealand, and home from Greece. It truly is a global village with around 200 nationalities living and working here.
Consequently, in this city of 3.6 million people, there really is a lot to do here: for solo travelers, families and couples and across all price points.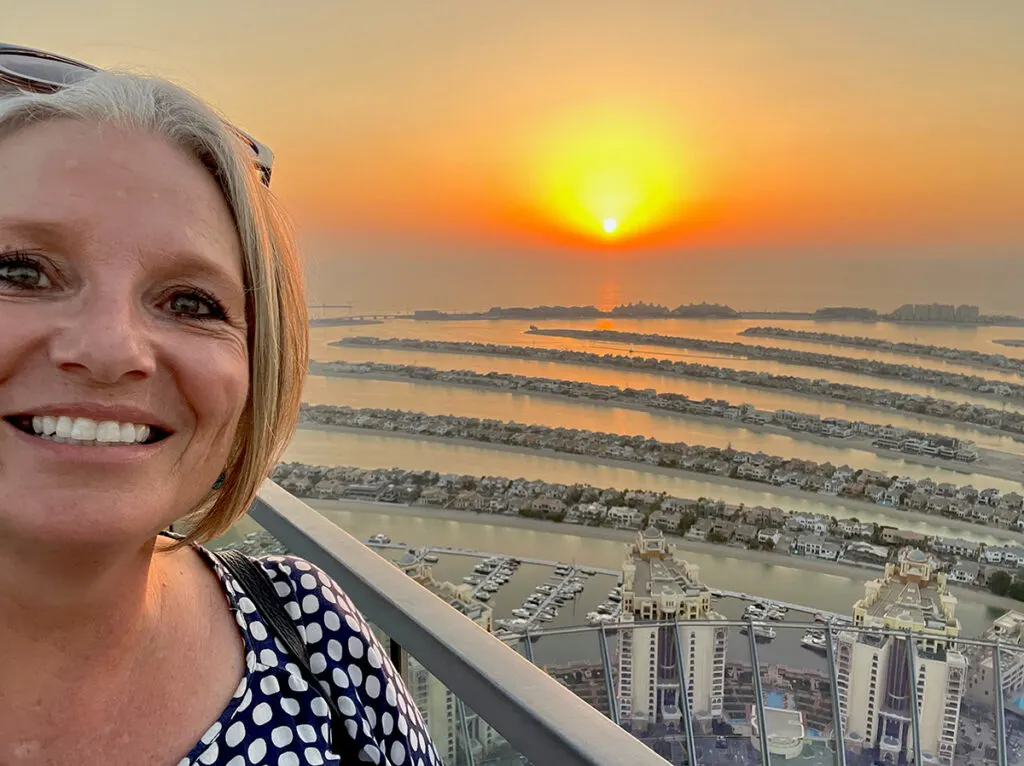 I have listed some cool things to do, but if you're looking for a place to go for dinner, I really like The Beach, a little strip on the beach dotted with restaurants and entertainment – and of course a lovely family beach, or you could also go on some fun day trips from Dubai.
I have also listed my top picks for tours at the end of this post.
Dubai is expensive without doubt, and if you don't want to take taxis everywhere you'll like this post on how to get around in Dubai. The best way is probably still by taxi, but also the hop on hop off buses are a great way to get your bearings, while getting around all the best sights.
This post contains affiliate links. If you make a purchase, I may make a commission at no extra cost to you.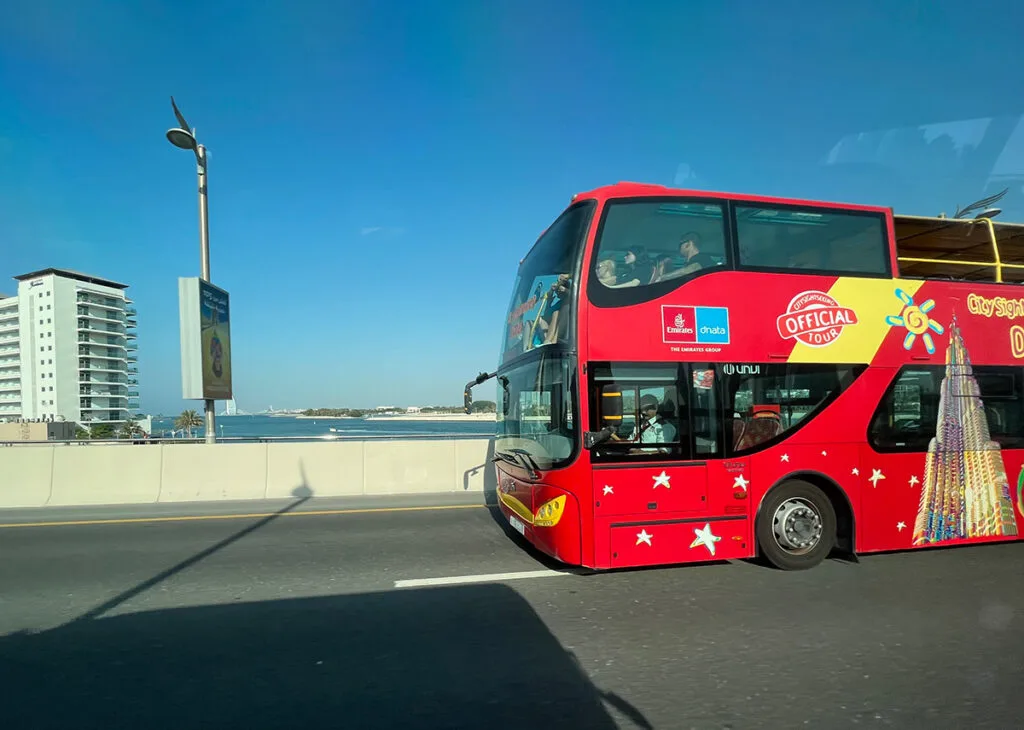 And while you won't be able to buy alcohol at restaurants in areas such as The Beach, there is a nightclub scene in Dubai! Most of them are in hotels, which gets around the alcohol restrictions. Be sure to check out the dress codes, cost and requirements for entry in this post covering the best nightclubs in Dubai.
If you only have a layover in Dubai you can take a guided tour for a few hours, even if you're in Dubai after midnight and have time to kill, you can be shown around this fascinating city.
Here are 10 things to get your Dubai visit started!
1. See views from the top of Burj Khalifa
The world's tallest building is an example of rich sheikdom at 828m. It is also open to sightseers. Yes, your ears will pop (several times) as you whiz up in the elevator.
There are various levels you can buy tickets for. If you want to go to the very top (level 148) cost is different to the lower floors (which still with epic views about 20 floors down on levels 124 & 125).
From all levels you will gaze down, down, down across kilometers of sand and the cluster of buildings at your feet that is Dubai. It's best to go on a clear day as it can look very hazy from up here.
This is the tower that Tom Cruise did his own breathtaking stunts leaping in and out of one of the ridiculously high windows in Mission Impossible – Ghost Protocol. (Click here to see some behind-the-scenes video >>)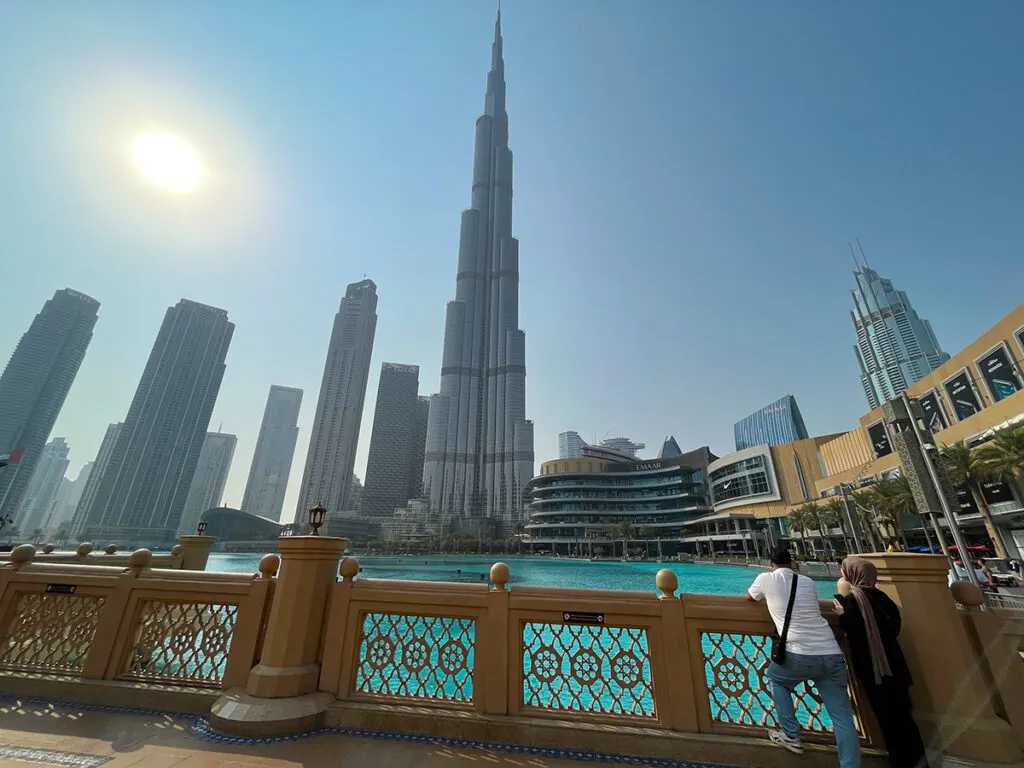 It's also connected to Dubai Mall so that's one of my tips if you only have a day, you could quite spend a few hours in the mall, then visit the top of the tower and end at one of the restaurants for fountain views. I was surprised to find all the fast food outlets in the prime locations in front of the fountains, so we went to Kata for Japanese food.
Note: the fountains only play for one song on the hour and the half hour.
Get your Skip the Line tickets to Burj Khalifa at Get Your Guide >
2. See the Burj fountains every night – for free!
Directly below the Burj tower, and in front of Dubai Mall, are huge fountains in a "lake" which dance to one song every half hour from 6pm and you can watch free.
It's designed by the same people who did the famous Bellagio fountains in Las Vegas, but these ones makes the Bellagio fountains look like a lawn sprinkler!
I was shocked to find the restaurants facing the fountains are mainly fast food (looking at you KFC, Pizza Hut, Nando's!!) but was happy to find a Japanese restaurant called Kata inside the mall, but where I look the photo below from. Go there for dinner/snack from 6pm!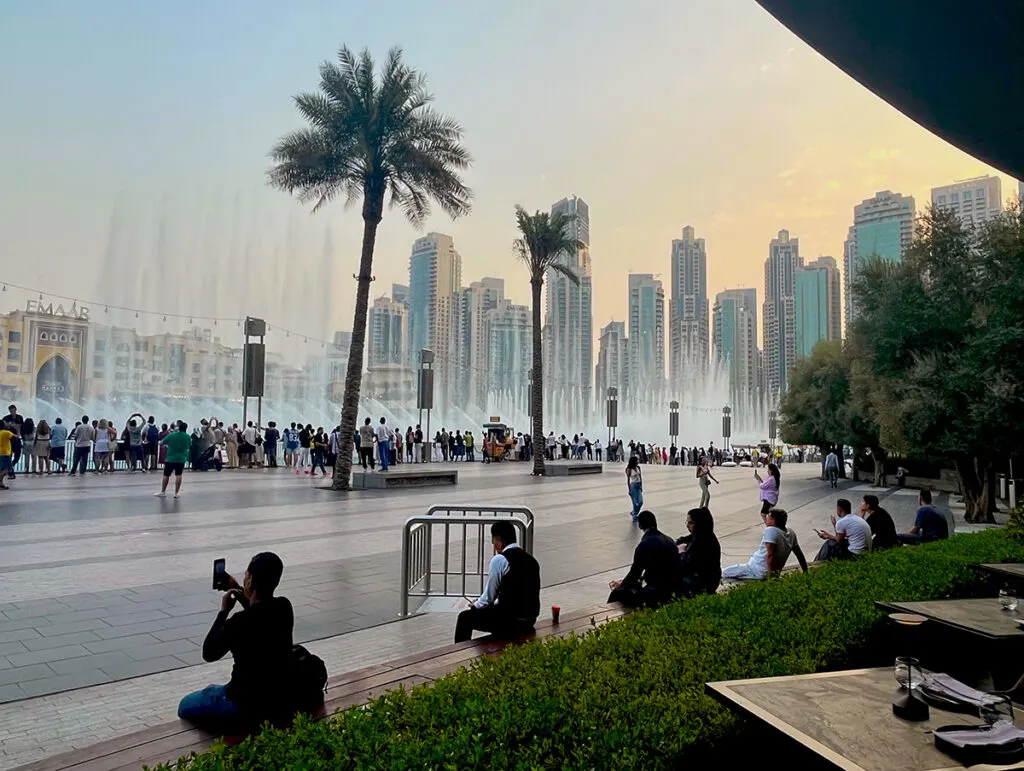 Here's a cheeky tip: You'll also get great free views of the Dubai fountain show from the Apple store inside the Dubai Mall. The second floor views through their enormous floor to ceiling windows are worth buying a new iPhone for!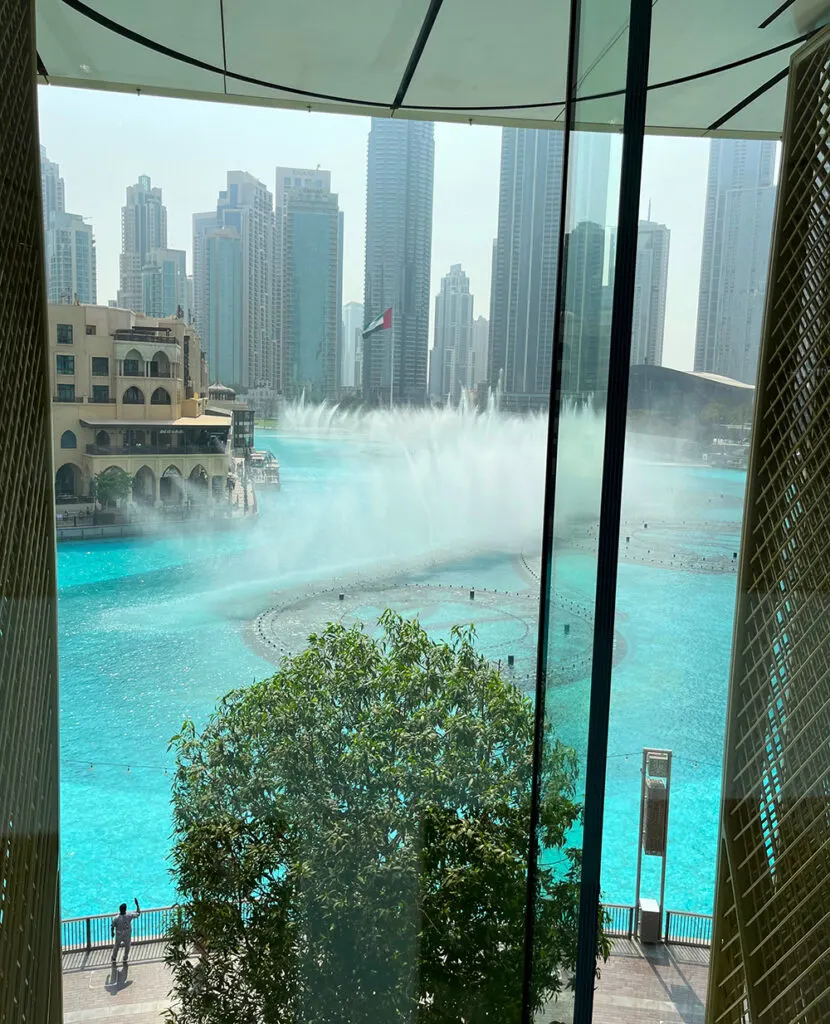 3. Go on a desert safari, dune bashing and dinner
When you're in a desert destination you must get out there and see some dunes and camels. In fact you can even ride them on this evening dinner tour.
This is one of the best things you could do in Dubai and I can't recommend it highly enough. It's a great night for the whole family and one of the most authentic, mass experiences you'll find anywhere in the world when it comes to showcasing culture.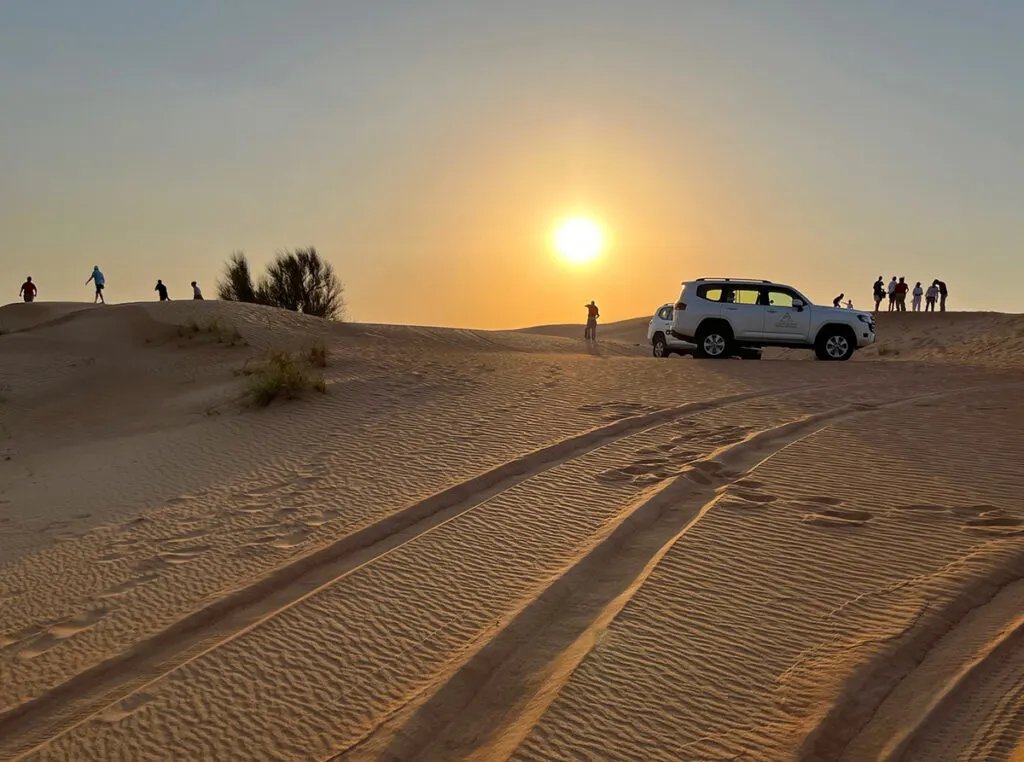 Arabian Adventures is owned by Emirates were the company we used, but I have searched through more tours and added one that includes a photo stop at the famous red dune, as steep as a black diamond run. Your photos here will be amazing.
They pick up from your hotel in 4WDs and off we went to the spot where they lower their tyres and aboutr 150 of us were treated to some dune bashing for the next 15 minutes, hurtling around sandy corners and over blind dunes, doing rooster tails of sand, following the leader.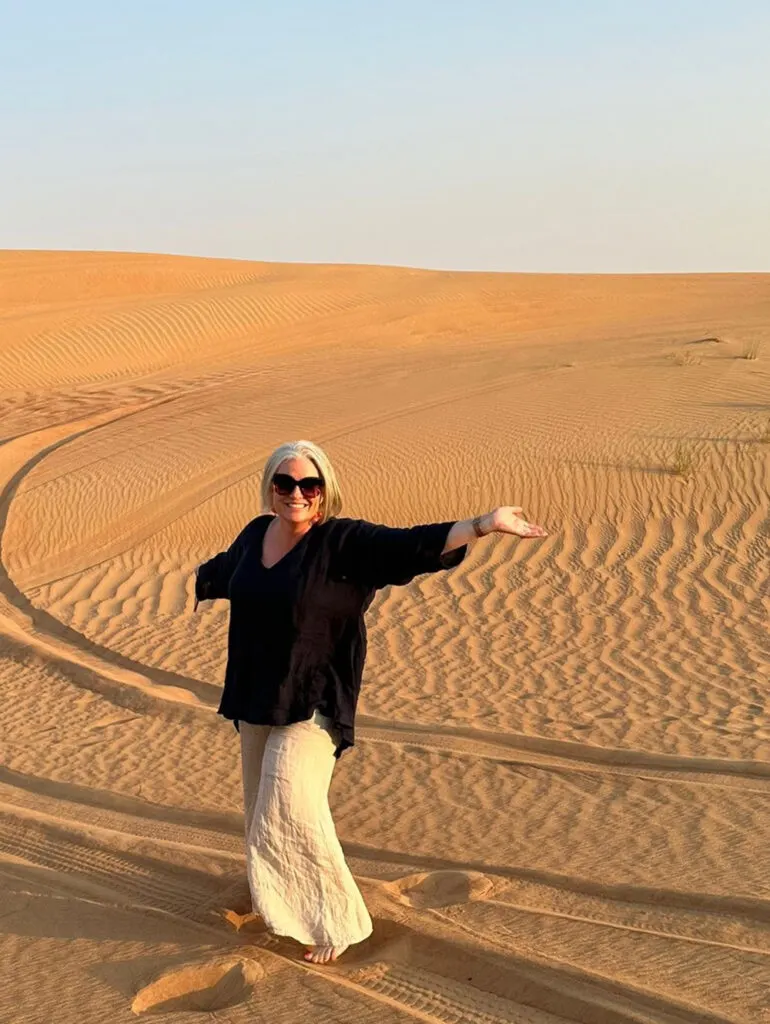 We stopped for sunset photos then off again to the camp where dinner was just about ready.
Set up like a beduoin camp, rugs are thrown on the ground and we sat on cushions around low tables drinking and eating. Starters included samosas, falafels and shwarmas then dinner was bbq'd beef kebabs, lamb chops and chicken skewers with salads, houmus and tabouleh. Fresh dates and Arabian coffee followed and wine and beer was included.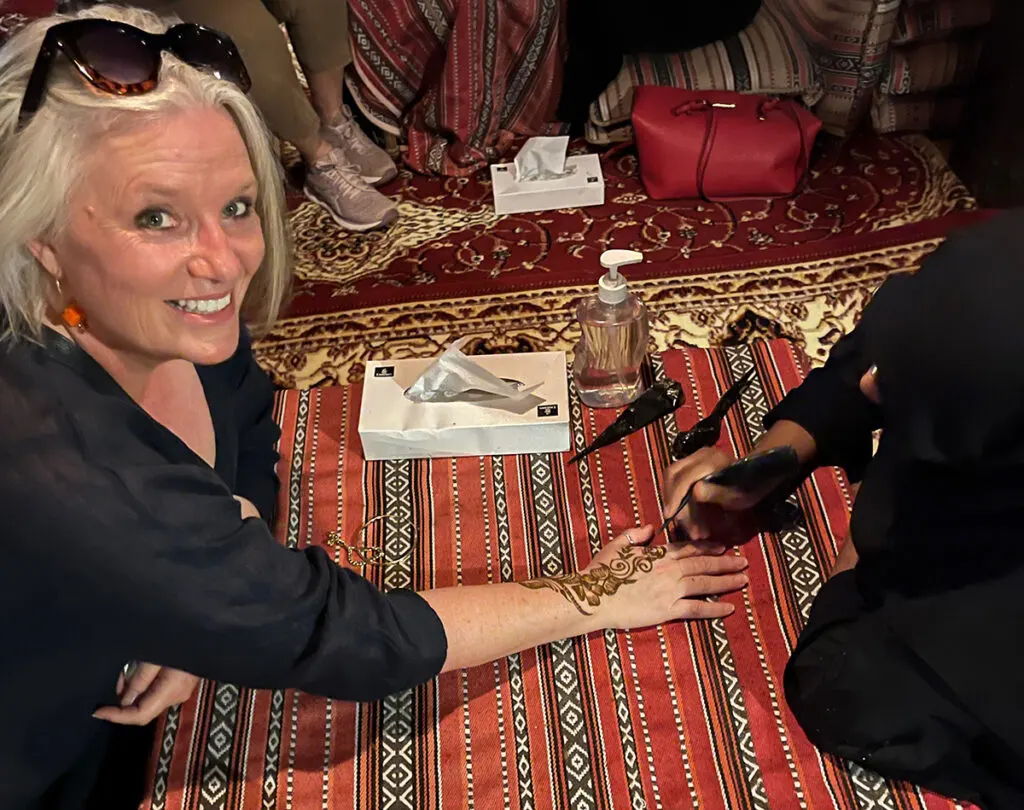 After dinner the belly dancer came out and did clever tummy moves, there was fire dancing and an incredible whirling man. Upon arrival you can have a henna tattoo, camel ride and smoke the sheesha.
4. Check out the views from the Frame
Since I was here last, the gigantic frame is a new, ostentatious building that looks like a frame. It stands 150 metres high and 95 metres wide and exists just to see the views of the city.
It's only about a 10th (ok, 9th) the height of the Burj Khalifa, but I think that gives better views as you're not at risk of haze making the distance disappear and you're also close enough to take some great photos, rather than the city and desert looking like a miniature world.
The price is also another good reason to pick this for your view stop. It's about US$15.
Buk skip the line tickets to the Dubai Frame here >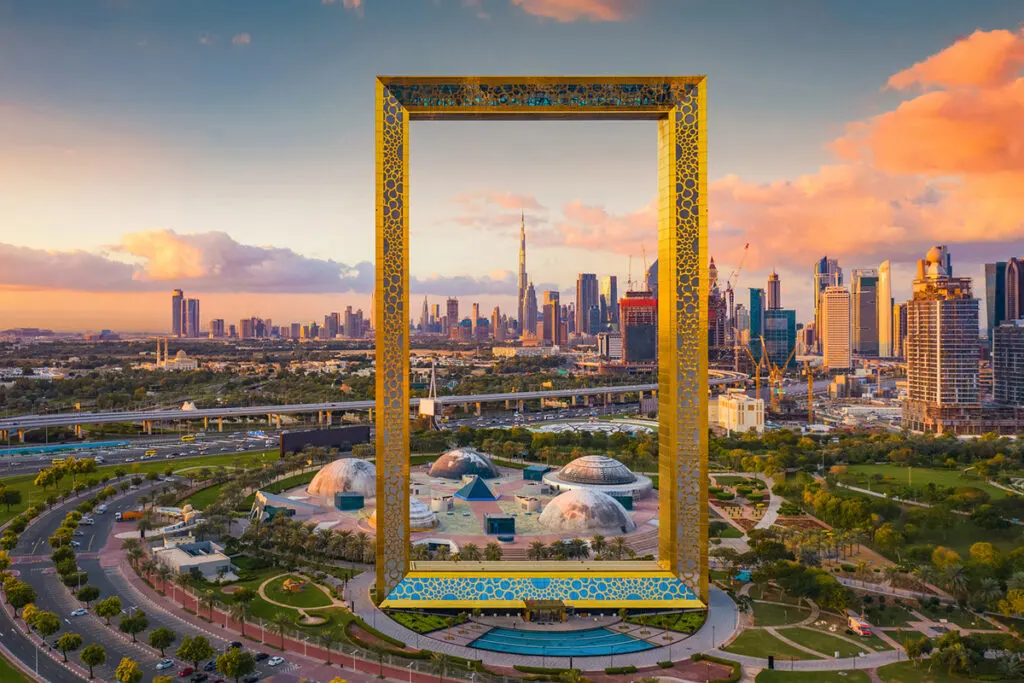 5. Shop the Dubai Mall
If you're looking for the ultimate retail therapy, Dubai is definitely one of the top cities for shopaholics. Plus this is one of the best places to hang out away from the desert heat.
Looking around Dubai you see no shortage of cash. The Mall of Dubai is largest shopping mall in the world. It has 1200 retail outlets and is located at the foot of the Burj Khalifa.
This makes for a great afternoon (or day, depending on your proclivity for shopping), as you can hang out in the mall, dine here, even visit the Dubai Aquarium here (see more below), then with your skip-the-line tickets to go up the Burj, just head to the entrance (within the mall). Tip: do not just show up and hope to get in, as the lines can be super long and you may miss out.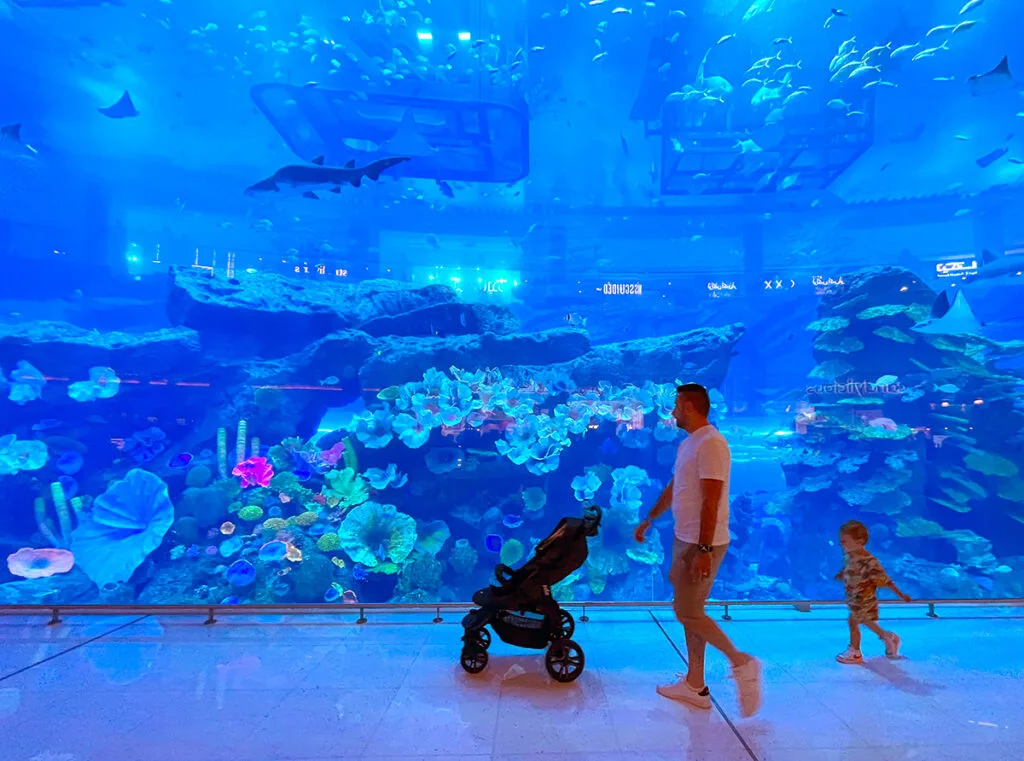 6. Feed the sharks at Dubai Aquarium
Dubai Aquarium, yes – located inside the Mall of Dubai, consists of a 10-million litre aquarium with 140 species where bored shoppers can don SCUBA gear and head underwater to feed the fish, dive with sharks and explore rain forest, set over two floors.
You don't actually need to get in the water, but the crazy thing is you can!
There's also an Olympic sized ice rink here and an entire theme park games station called KidZania.
7. Shop the Mall of the Emirates
This other monstrous shopping mall is smaller than the Mall of Dubai, with only 630 stores. This one has the famous Ski Dubai ski field in it (see below), which is a great place to drop the kids if you want some shopping time! I saw locals coming with their own skis, presumably taking lessons here before heading out into the real world.
The shops will be almost the same at the Mall of Dubai, but at half the size, you'll still get your step count up, but it will be more manageable.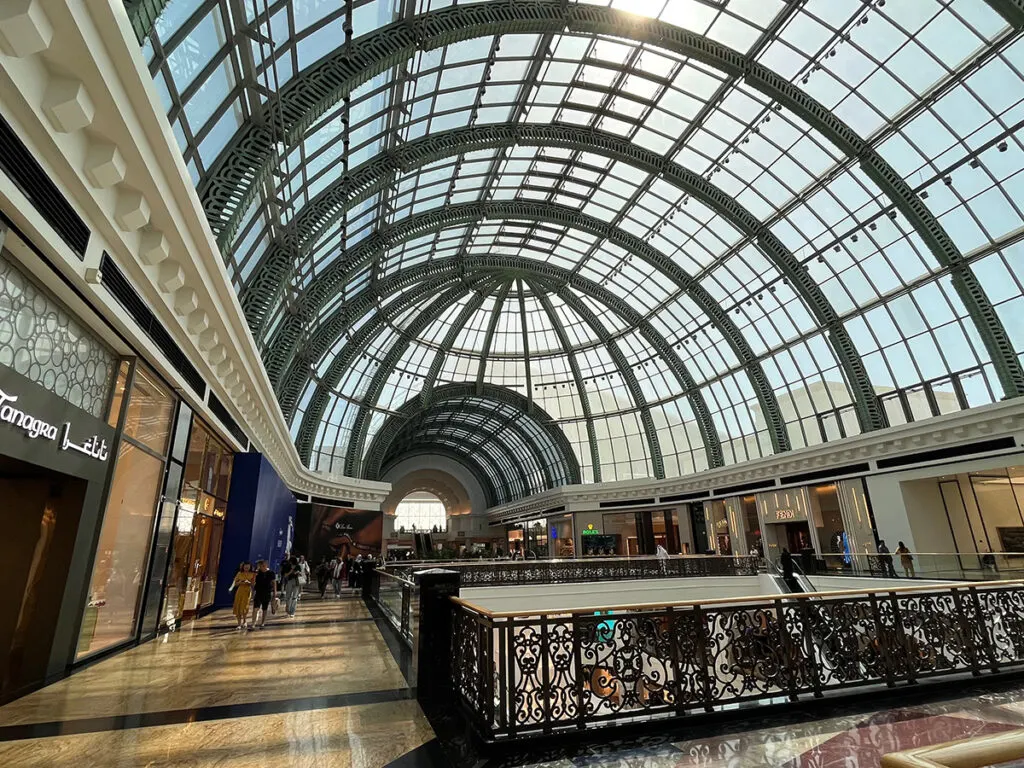 8. Ski in the Dubai desert!
At the Mall of the Emirates – yes a shopping mall – is a 3000 square metres ski park complete with black diamond runs, chair lifts, mini dodgem cars, luge and activities for the kids too.
Ski Dubai is the craziest example of a developer with more dollars than sense, but has become a place where serious skiers learn some new moves and kids can play until their hands freeze off.
Being the nana that I am when it comes to shushing gracefully down the slopes, I puttered around on snow biscuits and bob sleds, the first time I visited.
I could have jumped inside an inflatable ball and rolled down the hill, but to be honest when the staffer spun me at top speed down the kiddy slope I screamed like someone's embarrassing aunt, so that was enough excitement for me!
Or, better still, just view it from the surrounding restaurants and shops.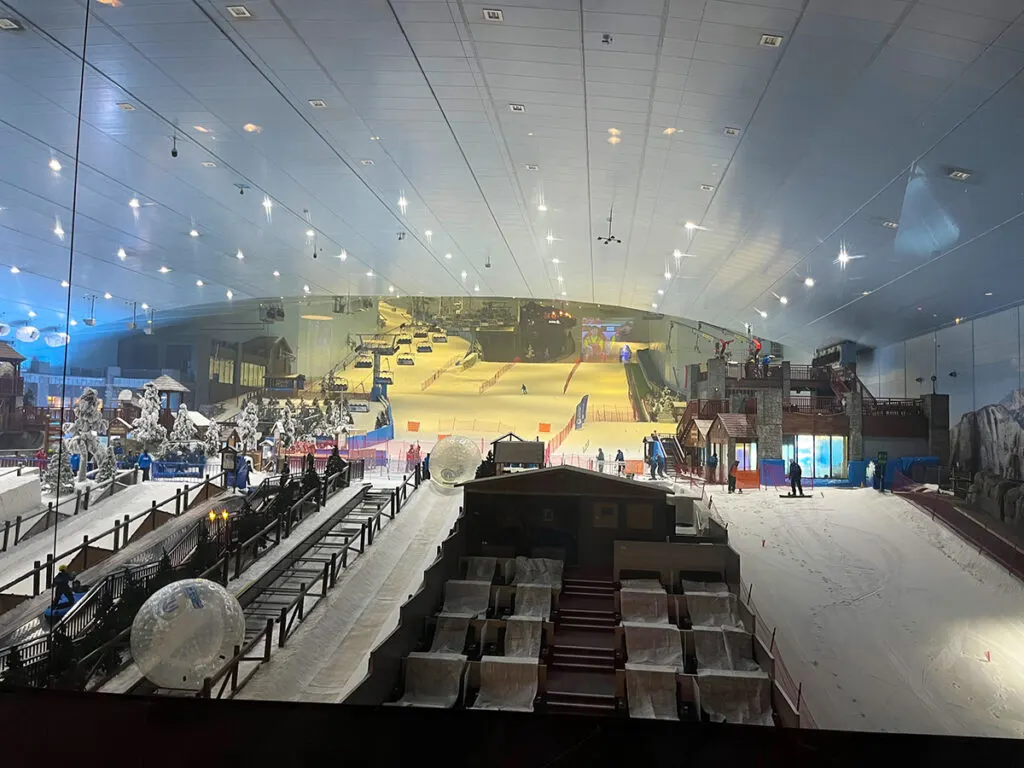 9. Get wet at Atlantis Aquadventure Waterpark
Located at the famous Atlantis at the top of the Palm (see my pick for where to find the best sunset views of the Palm next), this water park is a whole day trip!
Dubai has the kind of climate you want to get wet in, but this water park is more than a few splashy pools.
The daring can try Odyssey of Terror, the world's tallest waterslide, of feel weightlessness on the Zoomerango's vertical wall. There's also a tube slide that goes through a shark-filled underwater lagoon on Shark Attack. Practice your goofy foot in the surf area, cliff-jump at Immortal Falls, or just let little ones play in the Splashers Kids' Play Area.
Get your Aquadventure admission tickets from Get Your Guide.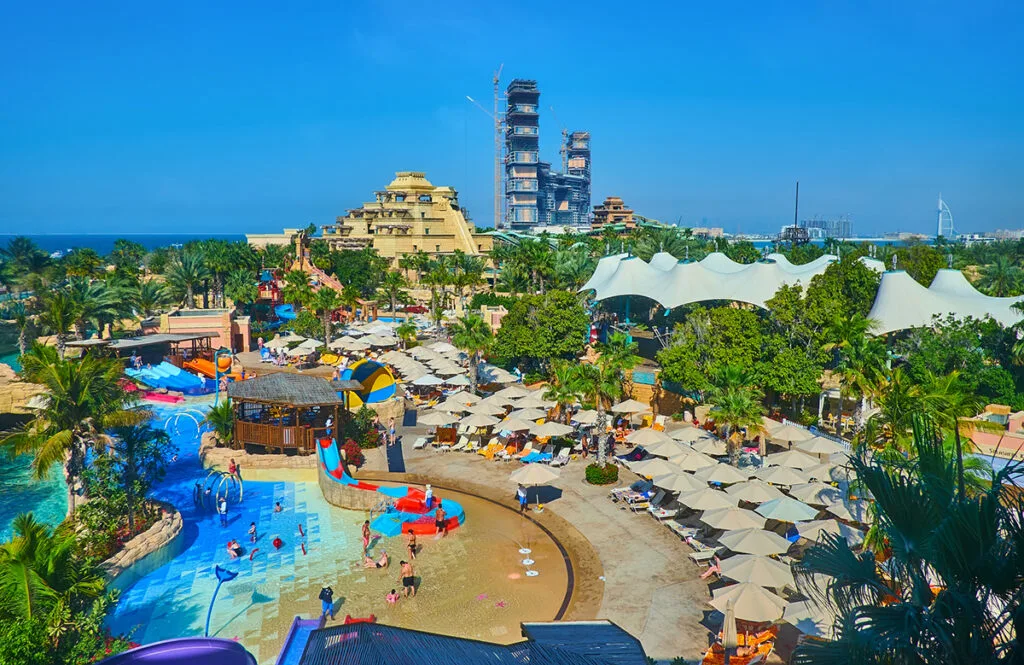 10. See the sunset with views of The Palm
This one is a hidden gem! You won't find many people suggesting you head for the observation deck at the Nakheel Mall in Dubai, but it's the perfect place to see views like the ones below straight up the 'palm tree'.
I prefer it over the Burj Kahlifa because that tower is so high everything on Earth is like a dot!
The palm islands are manmade feats of engineering, shaped like a palm tree, with Atlantis Hotel in pride of place, located at the top of the tree. Tens of thousands of people live in the enormous houses (not condos) on the fronds of this manmade island. Some have boats in their own docks.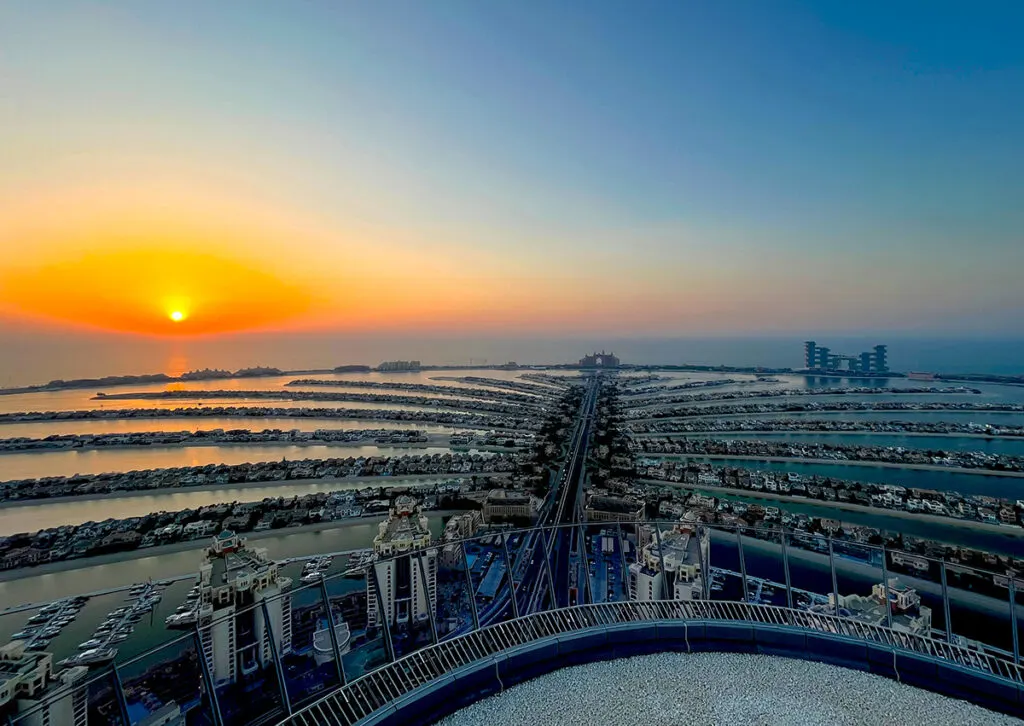 We bought our tickets online and chose the pick-up option to be delivered to Nakheel Mall, where we followed the signs to Palm Views. Up there they walk you through a fascinating and interactive account of how this island came to be, then you head up in the evelator to the 52nd floor for views.
We deliberately came about an hour before sunset to capture these views and killed some time in the small cafe where a Peroni beer will set you back about NZ$30 and a wine double that. The top floor is an open viewing platform and guests are only allowed 10 minutes up there, so time it right to get your pics. They did ask us to leave, so it's monitored.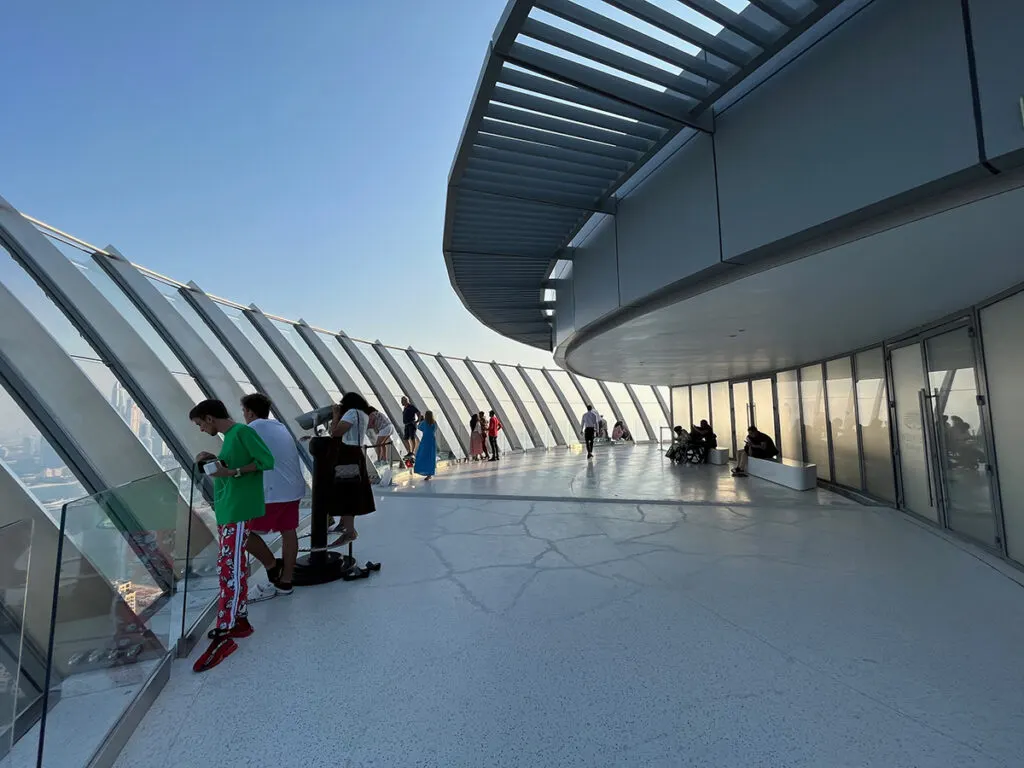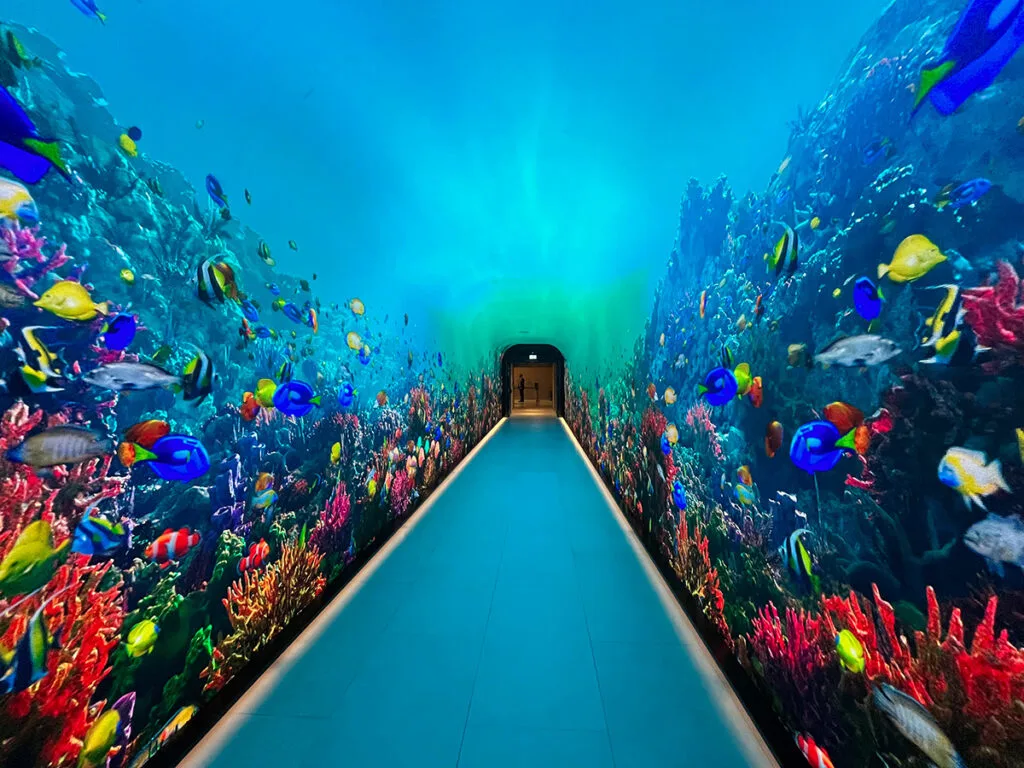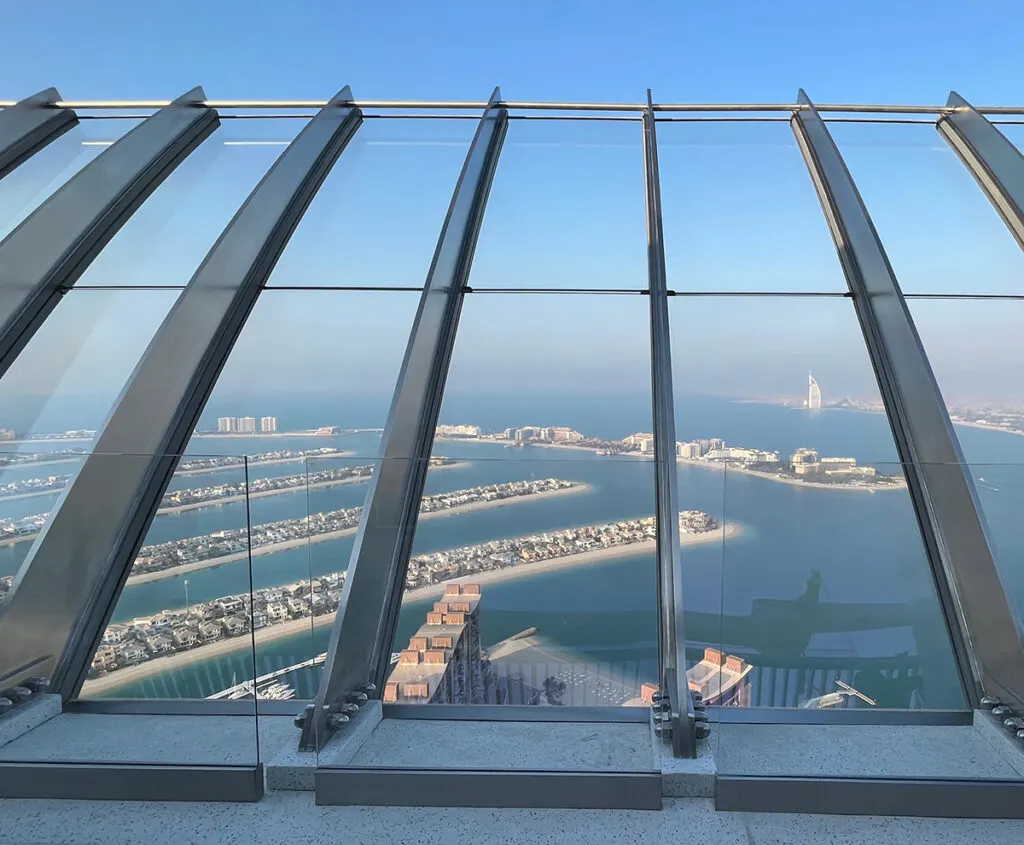 11. Visit the spice and gold souks
At the Spice Souk in Dubai you'll find imported spices from all over the world, as well as frankincense from Oman, tea from India and that saffron from Iran. (And yes, NZ Customs waved me through with my saffron – after declaring it).
I would describe Deira Gold Souk as Bling Street as it will mesmerize you if you are a magpie, with its windows filled with gold jewellery studded with precious stones.
The international gold price is displayed on digital screens at each end, but you are free to bargain. This is the place to come for diamonds (you'll get an authentication certificate) and one-off pieces of quality jewellery.
Apparently they tried to move the gold sellers and jewellery designers into the malls, but it didn't work. This is where people come to spend their squillions, although there is so much of it, I found it overwhelming!
12. Visit Old Dubai
On the banks of Dubai Creek is Old Dubai. Dubai is actually a very new city. It's only been popping with skyscapers since the 1970s. If you want reeeeeally old, you should visit nearby Oman. That is probably the most fascinating country I've ever been to.
But around 50 years ago, Dubai was a fishing village in the desert, surrounded by sand dunes. In the Old Town you'll see the oldest building – original clock tower built in 1965, and some iconic sites of the first bridges and crossings as Dubai blossomed rapidly into the mega city it has become.
We had lunch at the Sheikh Mohammed Centre for Cultural Understanding, which was fascinating for me as a newbie to Arabic and Muslim culture.
It was an informative, yet laid back and even funny presentation over lunch.
Open doors, open minds is their philosophy so sitting on cushions (you need good knees) around a large table cloth on the floor, large platters of traditional food were placed for us to hoe into while we listened to the beautiful Manal tell us all about why women wear black abiyas and burka (the face mask) and men wear white dishdashers.
She encouraged us to ask questions like how many wives does her father have and all about arranged marriages.
Where to stay in Dubai
I've just had two quick stopovers in Dubai as part of my Europe trip and stayed at two different hotels in different parts of the city. They were both great locations, so it depends on how much time you have, how hot it is (i.e. if you go at Christmas – winter – you'd probably walk around the marina or along the beaches), and whether you want easy access to the malls!
On the way over we stayed at Swissotel Al Marooj within about 500m walk of the Mall of Dubai. It was a fabulous location for a few hours of shopping in the world's largest mall (with over 1200 stores), plus walk to the Burj Khalifa and view the fountain show each evening.
The weather was super hot, so some taxxied to the mall, (about 20 dirham/US$5)
The swimming pool was a welcome place for an icy pina colada to kick our amazing European holiday off.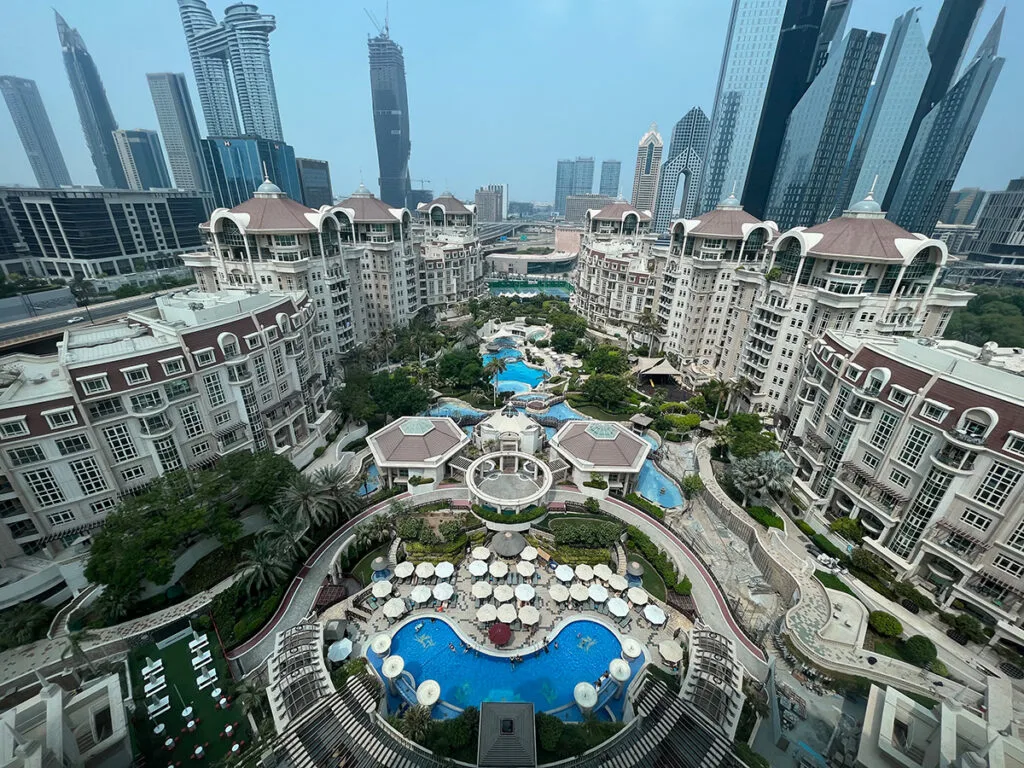 On the way home I chose Sheraton Jumeirah Beach for three nights. This location is beach front with a pool in front of it, and a view of the (non-working) Dubai Wheel, which apparently has a crack in its foundation. Yikes. Work is meant to start at the end of 2023. The Dubai Marina is located over the other side, with lots of dining options including dinner cruises.
It was too hot to walk there when we visited (October), but in winter you would (under the cobweb of motorways!) so maybe you'd rather taxi.
The ground floor atrium also serves as the breakfast restaurant and beside this, with a veranda leading outside, is Black Goose Buns and Brews, for some indoor respite. But if it's nice enough (and even autumnal evenings can be) the outdoor Bliss Lounge for cocktails or Al Hadiqa Restaurant and Tent for alfresco dining.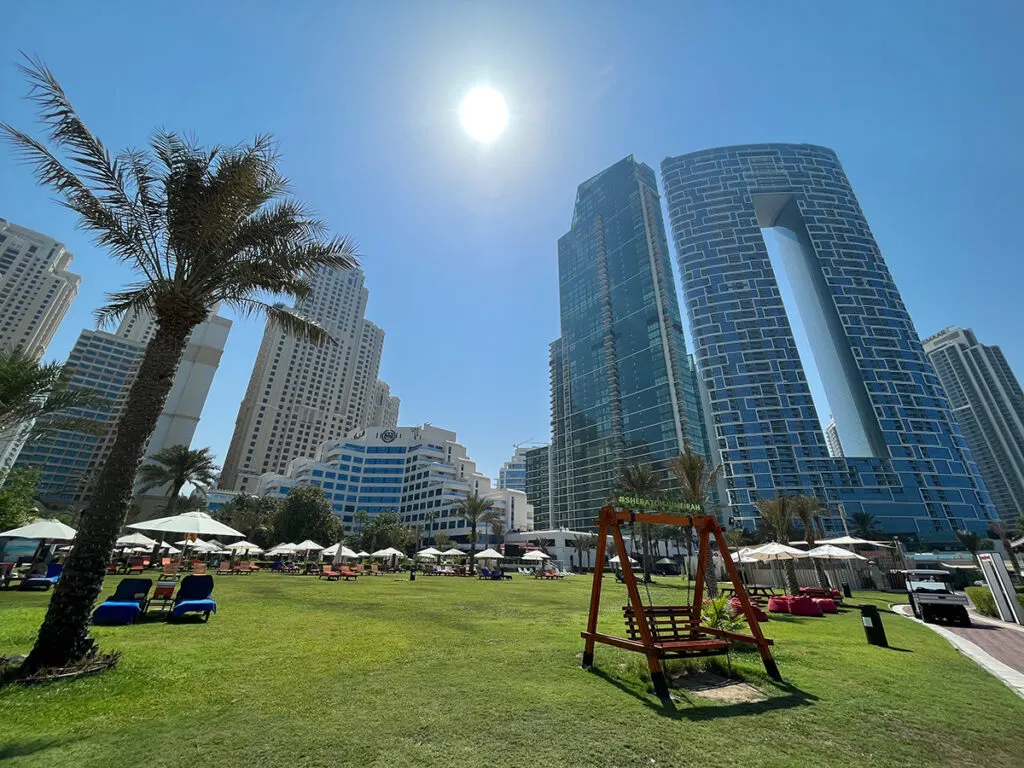 When is the best time to visit Dubai?
The weather in the United Arab Emirates (so that includes Abu Dhabi just up the road), is brutally hot in summer. They say the mercury never officially hits 50˚C (122˚F), as that would mean a total city shut down, but evereyone knows it does get that hot.
So while the best time to go is winter (November to February), don't expect to need a jacket! Over night temperatures can get as low as 15˚C in January though and as high as about 26/28˚C (80˚F) during the day. This is the kind of weather where outdoor, beachside or marina dining is so nice.
Some great Dubai tours
If you only have a day to two, these tours are a great way to see the best of Dubai and nearby Abu Dhabi.
Dune bashing, camel rides and BBQ dinner – this is a must-do in Dubai. I picked this tour for the photo stop at the steep sand dune like a black diamond slope. At magic hour you'll have these photos as screen savers for years!
Visit the top of the Burj Khalifa – get skip the line tickets to the top of the tallest building in the world
Visit the Palm Jumeirah view from Nakheel Mall – with a skip the line ticket best views of the palm fronds at sun set
Take a cruise in Dubai Marina – including breakfast, lunch or BBQ dinner. My pick would be dinner under the lights of the surrounding skyscrapers and luxury hotels
Visit the Museum of the Future – a new museum in the most spectacular building in Dubai
Take a Dubai helicopter tour – fly over this city with the most astonishing architecture in the world
Take a speed boat tour – including Burj Al Arab, Atlantis, the Palm Jumeirah and Dubai Marina
Visit Dubai Global Village – it opens from 4pm and is filled with pavilions from about 90 different cultures, selling their wares and food
A day trip to Abu Dhabi and visit the Grand Mosque, Louvre Museum, and Emirates Palace
Visit Abu Dhabi with tickets to Ferrari World – plus stops at other sites for photos
Hire a private driver for the day to be at your disposal. A wonderful way to tailor the perfect itinerary for you and you group, from $185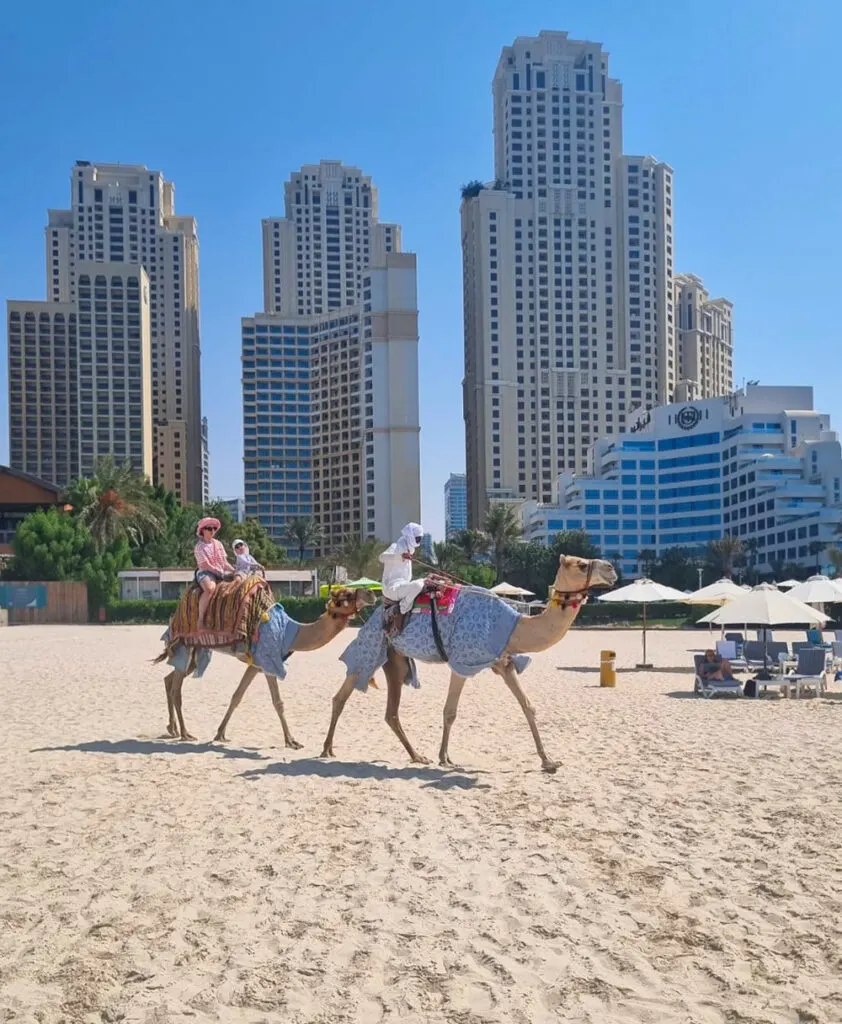 Save