Looking for a fun and affordable getaway in the sunny city of Sarasota? You're in luck!
I commissioned this guest post from Wayne Kask, a local, so you're in great hands with these ideas including lots of hidden gems, for your visit.
Sarasota makes a great Florida spring break option, a weekend away (depending on where you're coming from!), or stay for a week!
Located in Sarasota County on Florida's Gulf Coast, about an hour's drive south of Tampa, Sarasota is renowned for its white sand beaches and abundant wildlife. But this city has much more to offer.
From sightseeing to cultural activities, nature walks to outdoor recreation, this city will never disappoint.
In this post, we will dive into some of the free attractions and activities in Sarasota that you shouldn't miss. Let's go!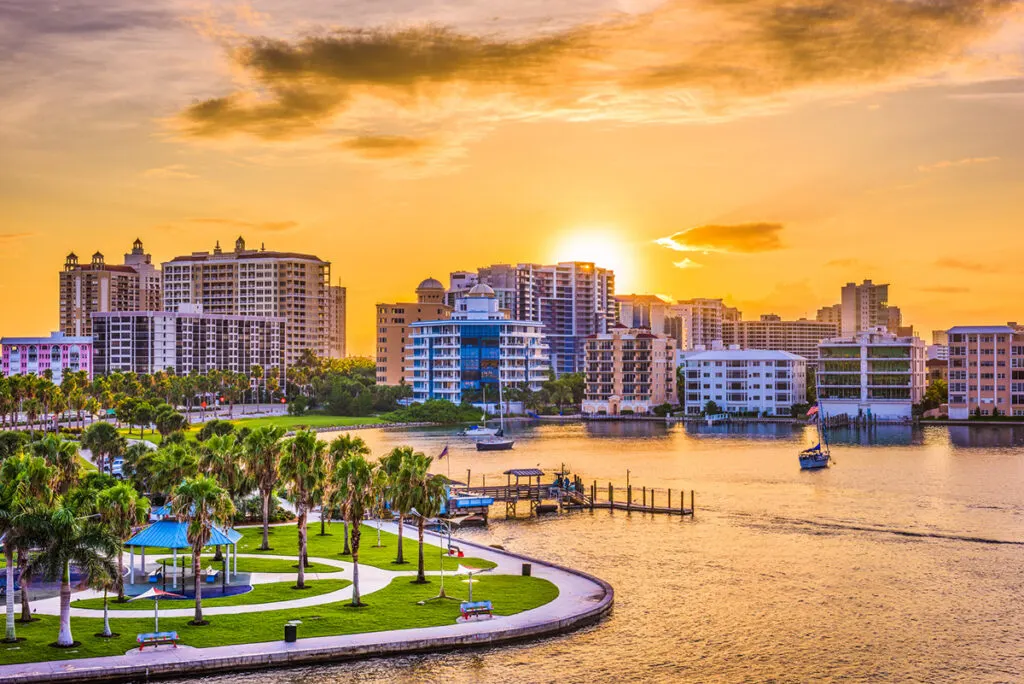 1. Sarasota Pier
Sarasota Pier is a popular landmark for locals and tourists visiting in Florida. Located in the heart of the city, it's a great place to unwind and take in some fantastic views.
The pier stretches out over Sarasota Bay and offers stunning views of the waterfront, including boats and marine life. It is the perfect spot for a romantic sunset and soaking in the picturesque scenery of the coastline and wildlife.
You can also enjoy some activities like fishing, strolling along the boardwalk. If you get hungry, you can surely grab a bite at one of the many cafes and restaurants near the pier.
2. Ringling Museum of Art and Bayfront Gardens
Free admission on Mondays. If you're looking for a unique cultural experience in Sarasota, the John and Mable Ringling Museum of Art and Bayfront Gardens is perfect for you.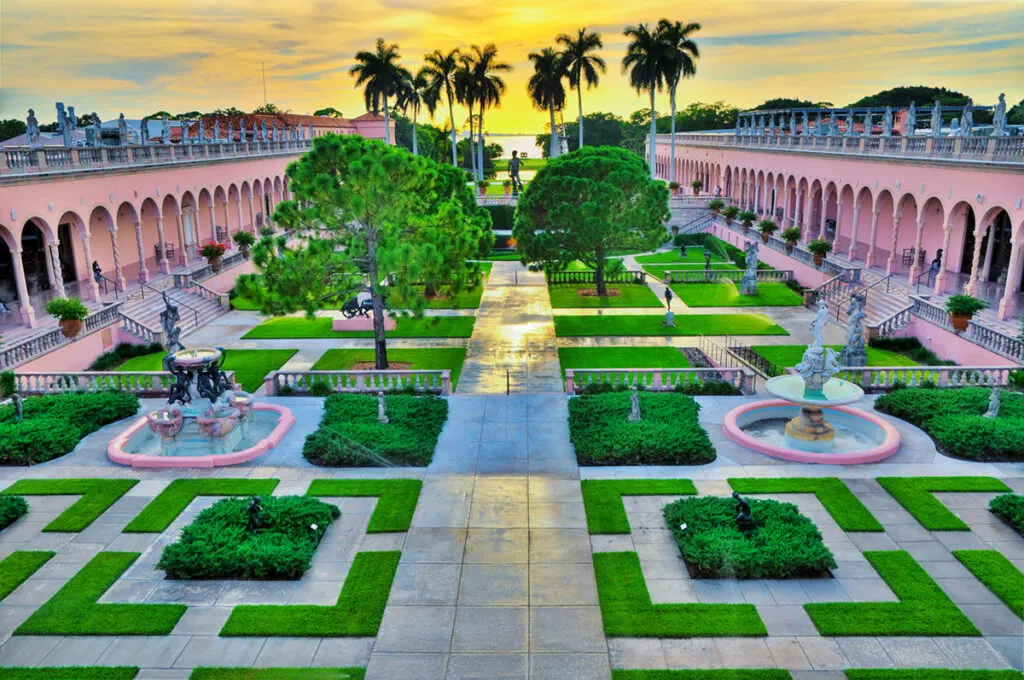 This museum is a treasure trove for art and history lovers. You can explore a collection of more than 28,000 works ranging from Western and non-Western artworks from different periods.
One of the highlights here is visiting the stunning Bayfront Gardens. The gardens consist of beautiful walking paths with various plants for a scenic stroll. You'll also find stunning sculptures and fountains that add to the peaceful atmosphere.
3. Siesta Key Beach
Siesta Key Beach, located six miles south of Sarasota on the southwest coast of Florida. It is popular for locals and tourists because of its white sands and clear blue waters.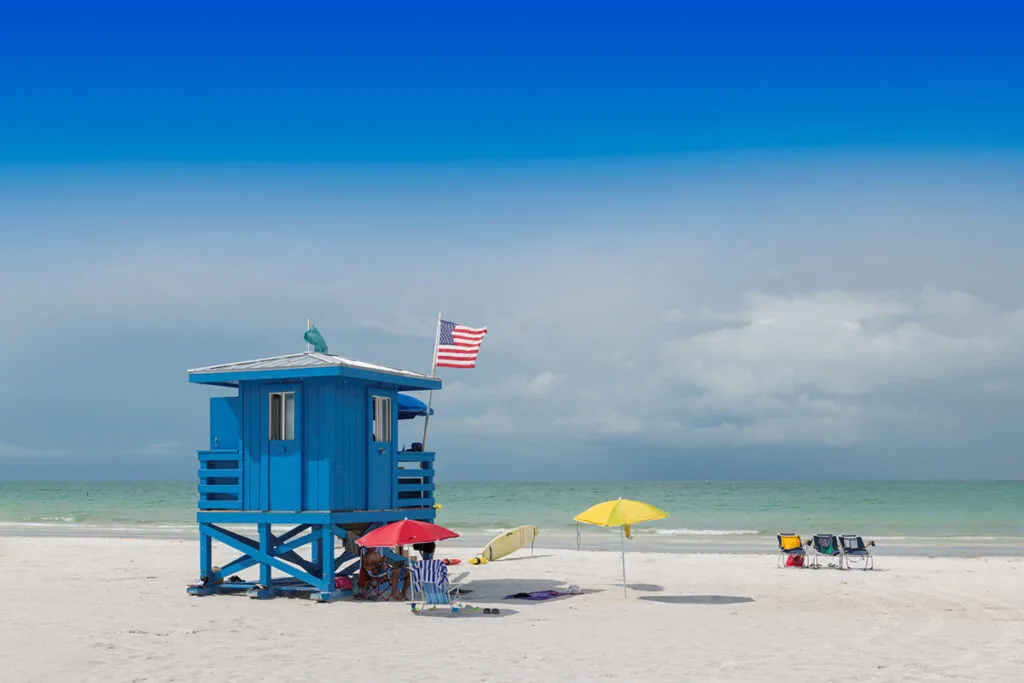 It has also been ranked as the 2nd best beach in the US in 2023 by Tripadvisor's Travelers Choice Awards. It is a wonderful place to relax, soak up the sun and enjoy a variety of fun activities including playing volleyball or letting your kids play on the playground at Siesta Beach Public Pavillion.
At night, you can chill and listen to the Siesta Key Drum Circle as they play lively beats and music every Sunday on the beach.
4. Bayfront Park
Bayfront Park is a popular spot to go for a walk or jog in Sarasota offering a beautiful view of the city and island.
Aside from its wide area, it also has interesting chairs to sit and relax on while watching the boats and enjoying the sunset. This pet-friendly park in Sarasota offers a bunch of activities for your pets (if you have one) to play around. They even have a water fountain for dogs on leashes.
It is a great place for nature lovers to explore on foot and go for a walk. You can definitely buy some drinks at one of the tiki bars while enjoying the beautiful view of boats and birds perched in the harbor bay.
5. Farmers Market
One of the best places to visit, the Sarasota Farmer's Market in Downtown Sarasota is also a must-visit and very easy to get to.
What makes this market special is the fresh agricultural produce from the local farmers in Sarasota.
Aside from the local produce and amazing food, this market also offers the best entertainment in Sarasota, where you'll get to experience live music while shopping for great local finds.
Don't forget to check out the different stores and booths for souvenir shopping and trying out some local foods.
The Farmers Market is on Saturdays, has free admission, and is open from 7am to 1pm. Go early if you want to beat the crowd.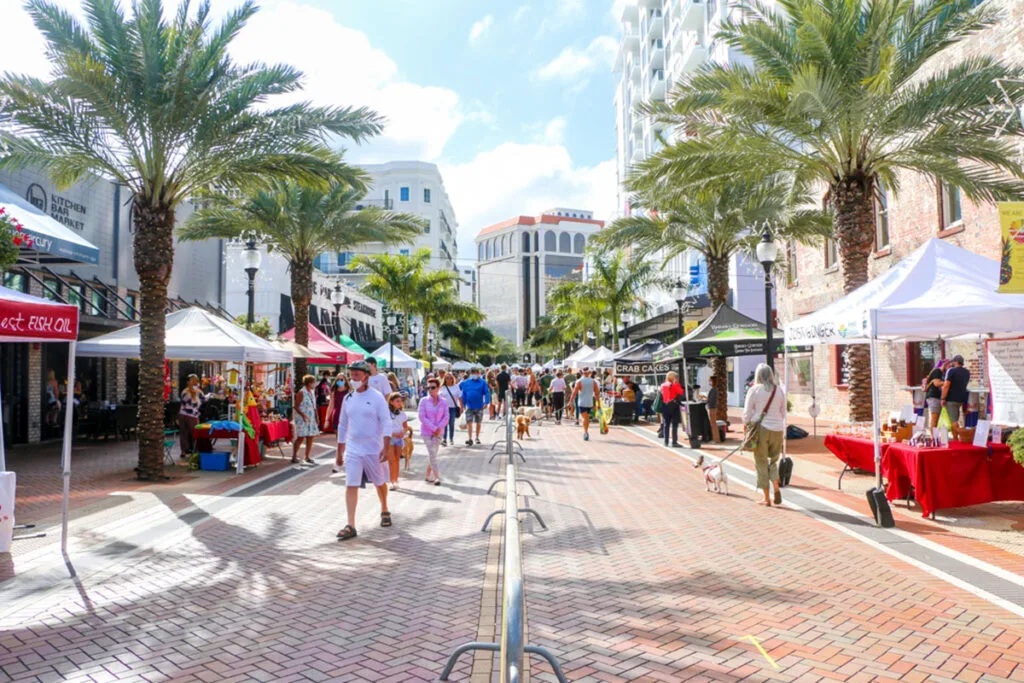 6. Sarasota Art Museum
Free second Sunday of the month. If you're a fan of modern art, this gem in Sarasota is for you!
The Ringling Art Museum is the first contemporary art museum in Sarasota that focuses on the works of contemporary artists.
Visitors will get the chance to see provocative art displays and participate in an educational initiative to learn more about the meaning and artistic culture of the city.
You will find beautiful art exhibitions and sculptures in this 15,000 square feet museum. The galleries are closed every Tuesday, but you can definitely hang out at their Bistro, or buy some art souvenirs at the museum shop.
If you don't want to spend on admission tickets, the museum is free to all visitors every second Sunday of the month.
7. Bird Key Park
Another famous location in Sarasota is Bird Key Park, located at the John Ringling Causeway halfway between Sarasota and Lido Key.
This newly renovated park is surrounded by beautiful palm trees, stone balls, and many benches for you to relax while enjoying the beautiful scenery of the bay. It is a great place to enjoy the wildlife and breathtaking views of Sarasota.
This place is a favorite spot to go for a walk and jog for many locals. You can also take your kids at the children's playground and take advantage of the park's picnic areas. They are also pet-friendly so feel free to bring your pets!
This park is definitely free and they have a huge parking lot if you like to bring your own car.
8. Siesta Key Rum Distillery
I you're in the mood to learn about the history and the rum-making process in Sarasota, then you should visit the Siesta Key Rum Distillery.
I can say that their hand-crafted rums are good, and that's why many tourists and visitors come to this place to taste and drink world-class rum in the city.
You can buy your own bottle at the Gift shop or go for a tour for a fun and educational rum experience.
Aside from the rum itself, one of the best things in visiting this distillery is that the tasting and tours are completely free! You just have to register on their website first to be available for the free tour.
The Tasting Room is open from Monday to Saturday at 10am to 5pm.
9. St. Armands Circle
St. Armands Circle is an outdoor mall in Sarasota is a great place to be if you want to spend a day strolling and going shopping on the island of Sarasota.
Located on St. Armand's Key just across the John Ringling Bridge, this circular shopping center is home to high-end boutiques and entertainment.
With over 100 stores to choose from, you will find unique items from luxury to budget. You can also see the view of the coast from here while being surrounded by lush green parks and plants!
This outdoor mall is actually big so you might want to make a stop at one of the restaurants to eat and drink.
10. Sapphire Shores Park
This 80-acre waterfront park is another hidden gem in Sarasota. Sapphire Shores Park is an excellent destination for outdoor enthusiasts, who want to enjoy the breathtaking views of the Sarasota Bay and try some different activities.
You can take your family and kids out to go for a picnic at the playground. Or go for a stroll around the park with your pets!
This place is also a popular location to catch colorful sunsets in the city.
11. Anna Maria Island Beaches
Anna Maria Island boasts some of the most beautiful beaches in all of Sarasota, making it a must-visit destination for beach lovers.
Anna Maria Island beaches are an idyllic setting for a day of sun and relaxation with crystal-clear waters and sugary white sands, it is the perfect place to be for an amazing beach day in Florida.
Some of the most beautiful beaches here include Coquina Beach, Holmes Beach, Public Manatee Beach, and Bean Point.
If you get lucky, you will witness some dolphins on the bay side of the beaches. Additionally, Anna Maria Island offers a variety of restaurants and bars where you can indulge in delicious seafood while enjoying the scenic view of the ocean.
12. Lakewood Ranch
If you ever find yourself around Sarasota on a Wednesday, make sure to visit Lakewood Ranch – a beautiful master-planned community.
As a local, I highly recommend checking out the Ranch Nite Wednesday at the Waterside Place which takes place seasonally in Lakewood Ranch.
This recreational event is perfect for families and individuals alike, as there are various activities like live music, and entertainment shows from local artists. You can also try some foods at the weekly night market from different street vendors.
Don't forget to bring your appetite because there are plenty of delicious options!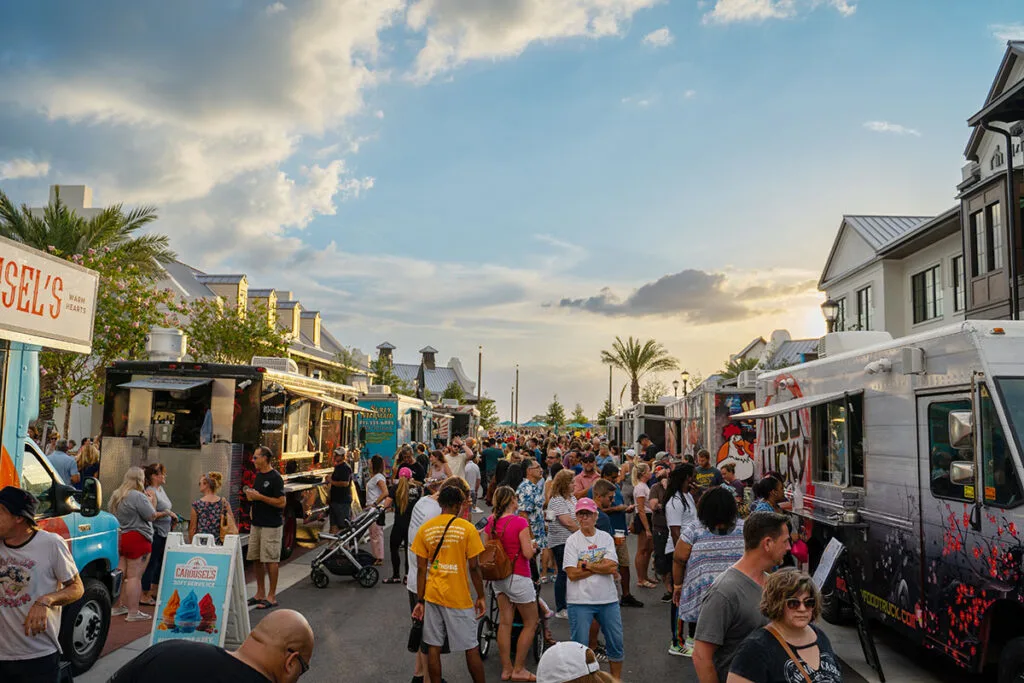 13. Turtle Beach
Turtle Beach is a famous nesting ground for sea turtles, where they lay their eggs each year on the barrier of the beaches.
If you're looking for a more laid-back, less crowded experience in Sarasota, then Turtle Beach is a great option. Located at the south end of Siesta Key, Turtle Beach offers a quiet and peaceful atmosphere.
In addition to the pristine vibe, Turtle Beach also offers stunning scenery and the best wildlife opportunity experience in Sarasota.
14. Free Events At The Bay
Situated at the heart of Downtown Sarasota, The Bay is one of the best public parks in Sarasota that offers the best free entertainment and sunset views.
Whether you're a local or just visiting, the free events every Sunday at The Bay where you can experience local outdoor music and performances in Sarasota Bay.
Depending on the day, you can experience live music concerts, Latin events & festivals, and even a movie night. You can also book yourself to a yoga class and other fitness programs if you like.
15. Payne Park
Payne Park in Sarasota is a beautiful and vibrant public space that offers tons of activities for people of all ages. From amazing walking pathways to playgrounds, basketball courts to a skate park, Payne Park is the perfect place to enjoy the sunshine and spend quality time with your family and friends!
The circus-themed playground makes Payne Park a unique and fun destination for kids. It is complete with slides, swings, and climbing attractions suitable for all children.
You can take advantage of the long pathway to go for a walk and run. It is also a great location for picnics, where you can find plenty of picnic tables and benches to use. For a more relaxing experience, you can also visit the Café and enjoy some food, drinks, and live music on Fridays.
16. Lido Key Beach
You might not want to leave Sarasota without visiting the famous Lido Key Beach. It is easily one of the most beautiful beaches in Sarasota, and perhaps even on the Gulf Coast.
The pristine sand, crystal clear turquoise waters, and the stunning panoramic view is to die for. This beautiful beach is an ideal place for sunbathing, swimming, and water activities like kayaking or paddleboarding. It's also a popular spot for shelling, dolphin-watching, and sailing.
If you want to extend your vacation, there are a few hotels and resorts situated on the beach which offer unbeatable views of the sunset.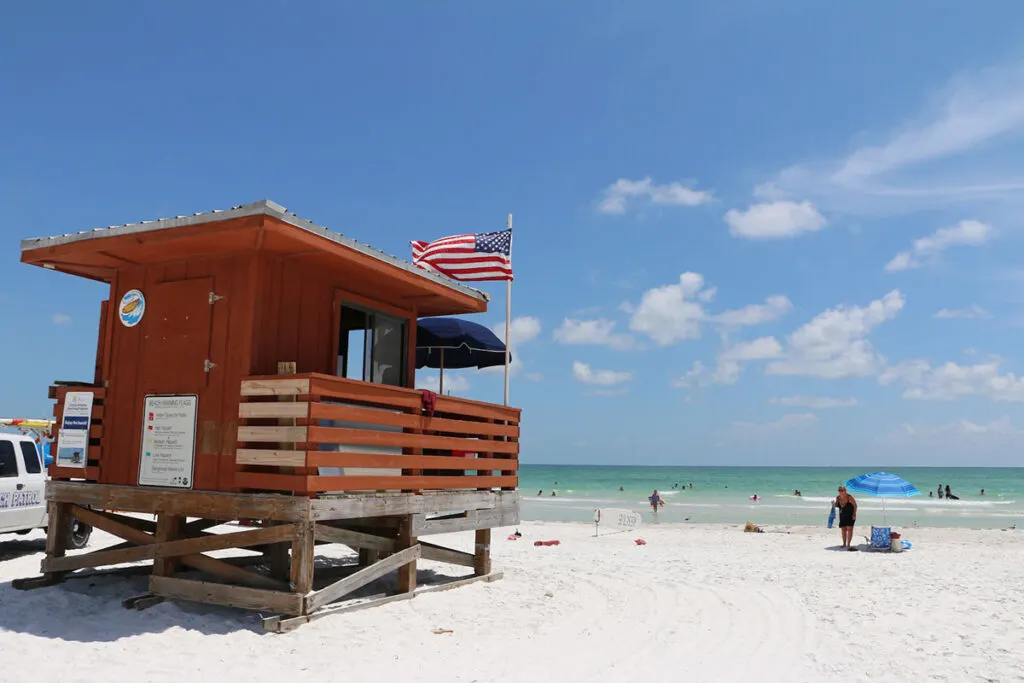 17. Robinson Preserve
Located in northwest Bradenton, Robinson Preserve is a breathtaking nature reserve that sprawls over 600+ acres of coastal habitat, including marshes and mangroves.
This coastal refuge offers visitors a unique opportunity to explore and appreciate the beauty of Florida's marine ecosystem while engaging outdoor activities.
You can take a hike, go for a long walk, or paddle through the mangrove tunnels in a canoe or kayak.
18. Nathan Benderson Park
Another unique recreational spot in Sarasota that provides public for all visitors is Nathan Benderson Park. This man made park is surrounded by a 400-acre lake and provides an excellent venue for outdoor excursions like kayaking and paddleboarding.
The park is renowned for its lovely bike trails and hosted several international rowing competitions in Florida. It has also become a popular destination for both locals and tourists who love to go running or just simply go for a stroll on the long paved and shell trails.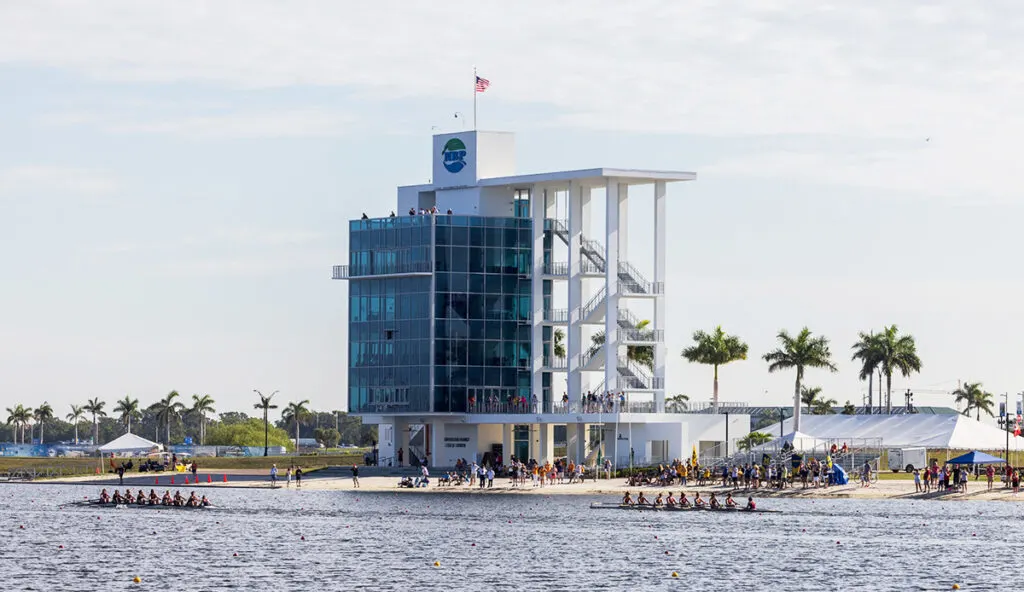 19. Bradenton Riverwalk
Located in Downtown Bradenton, the Riverwalk is one of the most beautiful areas in Sarasota that you should visit.
This picturesque park is situated right along the Manatee River and features stunning views. You can also see several unique art installations every third Sunday of the month from local artisans.
The boardwalk is also a great place for walking and biking while enjoying the view of different yachts and boats in the bay. Along the wharf, you can try some fishing or just relax at the concrete lounges while reading a book. You can also find a lot of restaurant options nearby.
20. Historic Downtown Venice
If you're up to exploring the historic areas of Sarasota, be sure to check out the Historic Downtown Venice down Venice Ave in Florida.
Historic Downtown Venice is a charming and vibrant area in Sarasota that offers a mix of history, culture, and entertainment. Featuring beautiful architecture, quaint shops, and vibrant parks and green spaces, you will get to experience some of the old Florida atmosphere.
Less than a mile away, you may visit Venice Beach where you can stroll the shorelines and discover fun facts about why Venice, Florida the Shark Tooth capital of the world.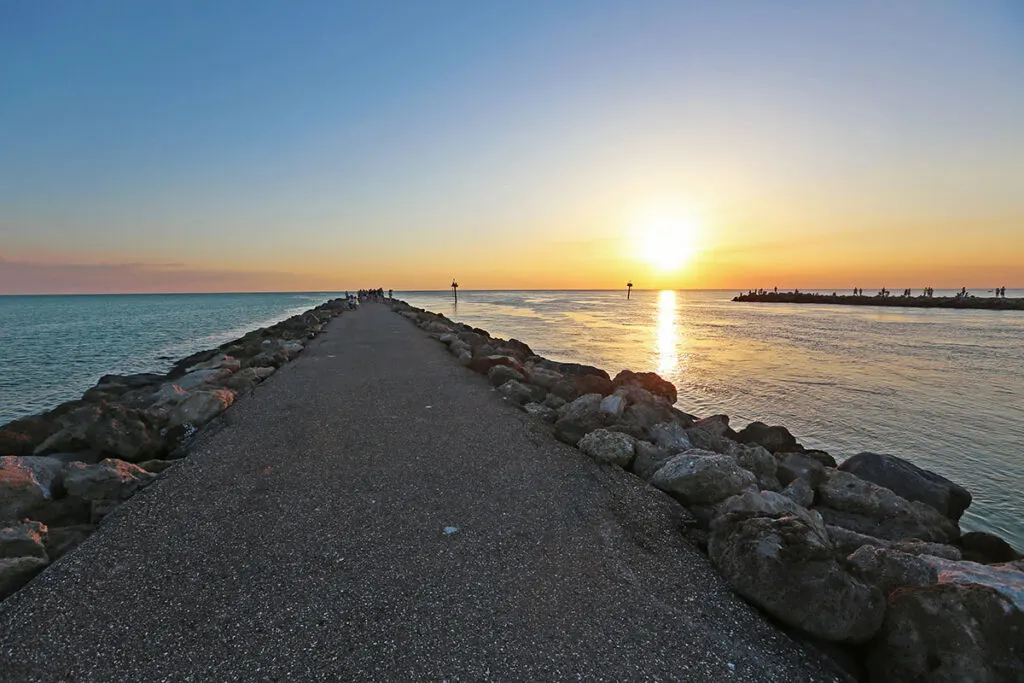 21. Nokomis Public Beach
Situated on Casey Road in Florida, Nokomis Public Beach offers plenty of free activities for every visitor to enjoy. Also known as the oldest public beach in Florida, Nokomis Public Beach is perfect for swimming and relaxation.
The best part here is you will not find any major establishments and pier within the beach which keeps a more pristine vibe. You can also enjoy some fun activities like kayaking, picnicking, playing volleyball, and fishing.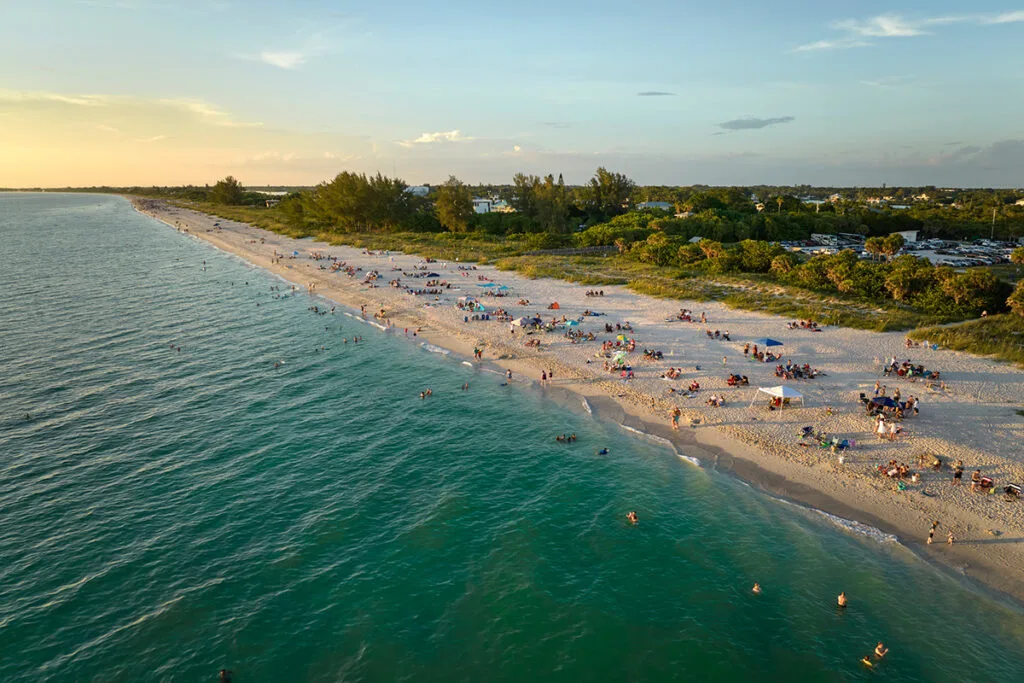 22. Ringling Causeway Bridge
Crossing the Ringling Causeway Bridge in Sarasota is a must if you want to see the stunning skyline views of the city. Just a 7-minute drive away from St. Armands Circle, this causeway draws a long list of history since 1925 when it was first opened.
Now that it has been improved and modernized, the walking bridge is also best for those who want to exercise and enjoy the scenic views of Sarasota.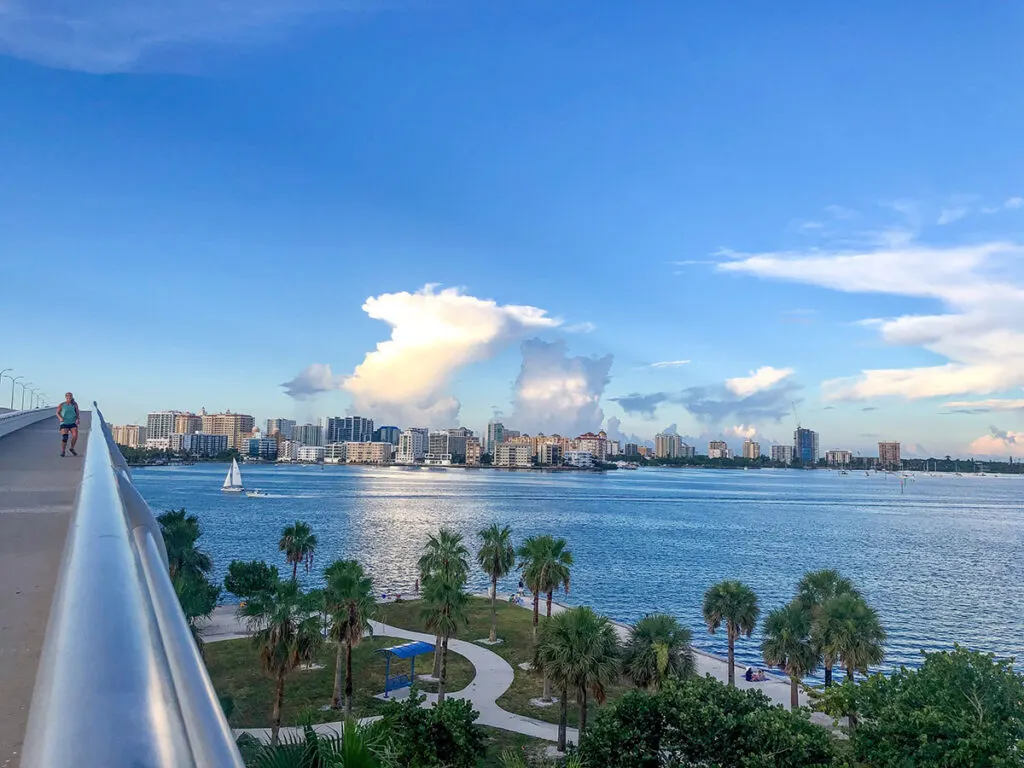 23. University Town Center Events
The University Town Center is a hub of activity and excitement, offering various events in Sarasota. You can enjoy live music concerts, art exhibits, fitness classes, and more in this beautiful mall in Sarasota.
Go for a stroll along the walking trails or go for a picnic with your family and friends at one of the many green spaces. You will also find an array of stores and dining options to try as you go for a leisurely stroll.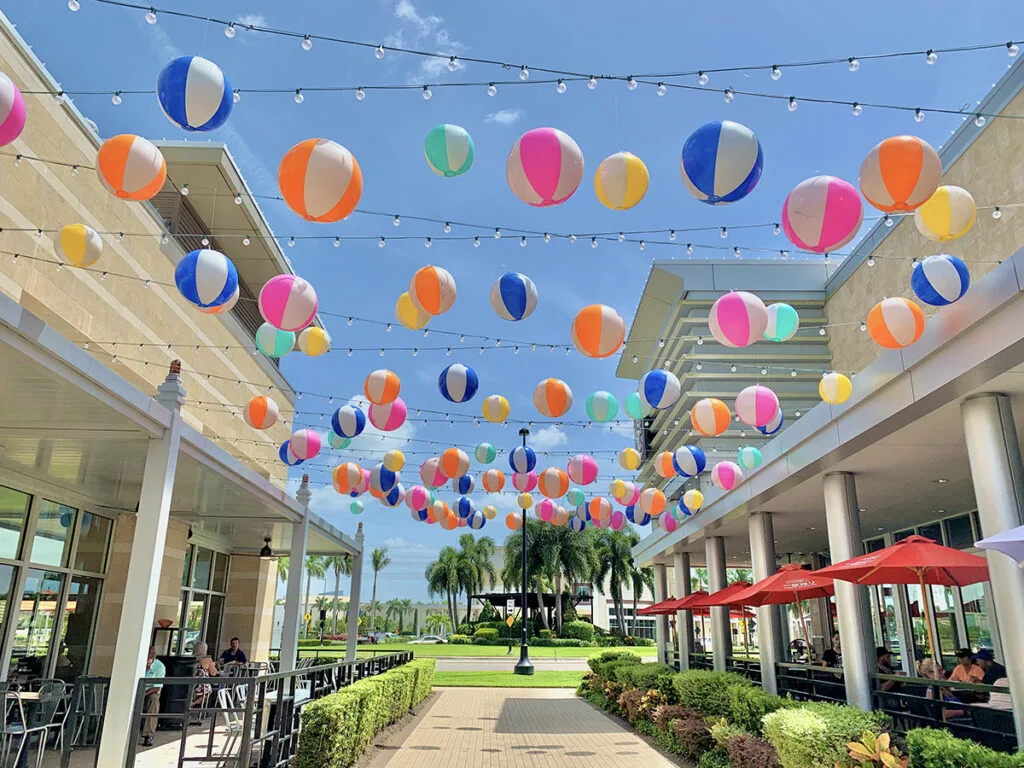 24. Anna Maria Pier
While Anna Maria Island has some of the best beaches in Florida, the Anna Maria Pier offers the best views of Tampa Bay and Sunshine Skyway Bridge along the gorgeous coastline of the Gulf of Mexico.
This 700 foot-long landmark in Anna Maria Beach is a perfect place to relax and enjoy some sightseeing activities. The Pier is also a favorite spot for anglers, with its abundant variety of fish. You can stroll around the pier or bring your own fishing gear and try your luck at catching some fish. Also don't forget to watch the spectacular sunset from the pier!
25. Bridge Street Pier and Shops- Bradenton Beach
Located in the charming town of Bradenton Beach, Bridge Street Pier and Shops is a great place to catch the sunrise and take beautiful snaps of the harbor and sailboats.
The view around the pier with different birds will not disappoint! Be sure to take photos of the pelicans on the railing.
It's one of the most fun things to do on this barrier island and a great place to shop for souvenirs including local art, handmade jewelry, and beach apparel.
You can also find nearby bars and restaurants with awesome dining options and a vibrant nightlife. Anna Maria Oyster Bar and Bridge Tender along Bridge Street are some of the best restaurants in Anna Maria Island.
26. Point of Rocks
Point of Rocks is a hidden gem in Sarasota that offers a great view of the beach with plenty of birds and marine wildlife.
Located on the other end of Crescent Beach in Siesta Key, this small stretch of coastline features distinctive rock formations that jut out into the water.
Walk around the wall and be amazed at the beautiful view and tide pools. You can often see pelicans and herons perched on the rocks. As well as crabs, clams, sea urchins, and even small sharks. Different activities await including snorkeling, and dolphin and manatee watching.
Frequently Asked Questions
What is Sarasota Florida best known for?
Sarasota, Florida is best known for its stunning beaches, cultural arts scene, and vibrant downtown area. Sarasota is the home to some of the country's breathtaking beaches including Siesta Key, Lido Beach, and Longboat Key Beach. It's also famous for its wildlife and natural beauty, with opportunities for bird and dolphin watching.
Is Sarasota expensive?
Yes, Sarasota Florida can be considered slightly expensive compared to other cities in the United States. However, it offers many free attractions and activities that everyone can enjoy without breaking the bank.
Is Sarasota a walkable town?
Definitely! Sarasota is a walkable town with plenty of sidewalks, pedestrian-friendly streets, and beautiful scenic areas to explore on foot.
When is the best time to visit Sarasota Florida?
The best time to visit Sarasota is in the Spring, between the months of March through May. The chances of rain are little and the weather is mild, perfect for those who want to soak in the sun and beaches of Sarasota.
About the writer: Wayne is a travel blogger and creator of Always On The Shore. He loves to write about the best attractions, restaurants, and resorts in Florida and the southeastern U.S. When he is not writing, he is running outdoors, spending time with family, or planning his next trip.
You might like more of my Florida posts!
This Miami to Key West Florida Keys road trip was a fun four days.
We loved Key West and I wrote about things to do in Key West if you just have a day, like on a cruise. This is on my Day Tripping USA blog.
This post covers some of the best RV parks on the Florida Keys for a fun family or couples break.